Compound Horse Feedstuff Market
Global Market Study on Compound Horse Feedstuff: Customization - the Key to Growth
Compound Horse Feedstuff Market Segmentation By Performance, Senior, Old, Professional, Mare and Foal Type in Pellets, Crumbles, Cubes, Powder, Mash Form Used Cereals, Supplements, Cakes and Meals Ingredients
Compound Horse Feedstuff Market
Introduction
The animal feed industry is growing at a rapid pace with an increased number of products hitting the market every passing year, wherein several companies providing animal-specific feeds, such as horse feed. Straight feed has been provided to horses as a pertinent source of energy for many years, however, the incompleteness of this feed has paved the way for compound horse feedstuff.
Moreover, the traction for horse nutrition & health has grown significantly in recent years in line with the dire need for various supplements that are more apropos for horses than regular hay and pasture. Compound horse feedstuff is a mixture of nutritionally-rich ingredients, including wheat, barley, maize, and other supplements. For that matter more and more horse owners and breeders have placed their focus on compound horse feedstuff over straight feed to cater to the growing demand for complete nutritional requirements of horses.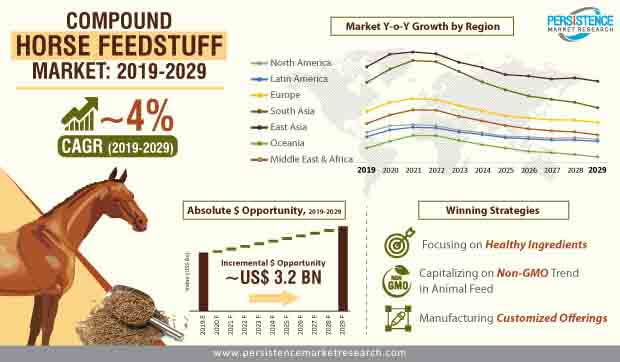 In view of the growing penetration of health and wellness trend in different kinds of animal feed, the traction for compound horse feedstuff continues to gain substantial momentum, owing to its rich ingredients profile that includes cereals, supplements, cakes/meals, and others.
Multifaceted health benefits of feeding compound meals to animals has further propelled Persistence Market Research (PMR) analysts to evaluate the market dynamics and growth prospects of the compound horse feedstuff market.
While the horse population, horse racing, and recreational activities continue to accelerate at a steady pace, the demand for high-in-nutrition compound horse feedstuff is growing. In fact, as per PMR analysis, the compound horse feedstuff market was valued at ~US$ 6,862 Mn in 2018, and its sales are highly likely to grow 4% in 2019.
Find Out More about the Report Coverage
Companies
Company Profiles:
GAIN Equine Nutrition
BAILEYS HORSE FEEDS
Purina Animal Nutrition LLC
Equifirst
Big V Feeds
Nutrena World
Cavalor
Triple Crown Feed
Epol
West Feeds
Allen & Page
Rowen Barbary
Impact of Undercurrents on Compound Horse Feedstuff Market
Equestrian Sports in Limelight
The appeal of equestrian sports has grown substantially over the years as some of the most popular sporting events worldwide, specifically in the developed region. Growing international recognition of equestrian sports, such as horse racing, events, dressage, endurance riding, among others continues to create a stream of growth opportunities for the compound horse feedstuff manufacturers.
This falls in line with the fact that equestrian sports demand rigorous competitiveness, which in turn has driven the traction for impeccable racing horses among riders and enthusiasts. While the nutritional needs of such horses are quite specific and high, compound horse feedstuff has emerged as a viable option to fulfill the dietary needs of horse.
Additionally, as compound horse feed enhances the performance and meets the high energy requirement of horses, equestrian sport trainers are increasingly placing their bets on this feedstuff for animal health and wellness.
Quest for High Performing-Horse Swelling Demand for Multifunctional Feed
Polo sports that has been and continues to be the sport of kings, in particular, and others, in general, has been driving the demand for healthy, professional and performance-promising horse. This in turn has been hard pressing horse owners, breeders and trainers to give them multifunctional feed, while creating a demand for compound horse feedstuff in the form of pellets, crumbles/cubes, and powder/mash.
As per the PMR analysis, preference for compound horse feedstuff pellets has been growing over that of crumbles and powder, owing to the ease in handling offered by them. Sales of compound horse feedstuff pellets worth ~US$ 2,858 Mn in 2018 and will grow by 1.4 X through 2029. It is pertinent to note that the lucrativeness of compound horse feedstuff cubes is also likely to grow, as they are anticipated to expand at ~4% CAGR through 2029, in line with their increasing popularity, better palatability, and digestibility.
Growing Horse Population Pushing Demand
As per the FAOSTAT stats, global horse population is growing at a rapid pace, with ~ 60 million horse worldwide. With ten countries having over 1 million horse residing in their national borders, the quest for proper, rich-in protein and complete feed for horse is growing rapidly.
What's Bothering the Stakeholders?
Highly volatile pricing of the ingredients, such as maize, wheat, barely, and plant meal including soy, rape meal, and sunflower meal that are used to produce compound horse feedstuff continues to impede the growth of stakeholders. This can be attributed to the wide gap between the demand and supply of wheat, maize, barley, and others at the international level, which has been affecting the production of compound horse feedstuff.
Customize this Report
Explore Intelligence Tailored to Your Business Goals.
How Market Players are Coping Up?
Focusing on Healthy Ingredients
As the competition in the compound horse feedstuff market continues to grow, several market players have placed their focus on developing a novel range of quality-ensuring variants that promise enhanced output. Stakeholders are also focused on customized need- and trend-based offerings to appeal to a wide pool of ingredient-specific audience.
Capitalizing on Non-GMO Trend in Animal Feed
With the growing non-GMO trend already underway in the animal feed industry, a large number of companies are filtering the ingredients used in manufacturing compound horse feedstuff. As compound horse feedstuff ingredients, such as cereals, including corn and soya can be genetically modified, and hold the potential to negatively impact the health of animals, stakeholders are looking forward to viable alternatives to underpin sales.
For instance, a leading producer of compound horse feedstuff- Allen & Page, offers authentic non-genetically modified horse feed to cash in on the lucrativeness of the growing non-GMO trend. The rapidly pacing non-GMO feed products trend is highly likely to radically change the big picture of the compound horse feedstuff market in the years to come.
Compound Horse Feedstuff Market Competition Landscape
The global compound horse feedstuff market is moderately consolidated with the leading market players collectively accounting for half of the overall market value share. Leading market players have placed their focus on strengthening backward and forward integration to attain a better position in the highly competitive market landscape.
As an increased number of manufacturers are looking forward to appeal to a growing pool of label-conscious horse breeders and owners, they have laser sharped their focus on offering organic-certified and clean label compound horse feedstuff worldwide. Customized manufacturing of the compound horse feedstuff has emerged as the pivotal growth strategy of companies that are vying to attain a competitive edge in the growing market.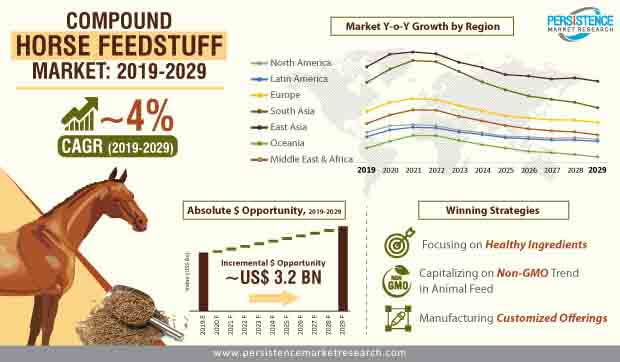 Market Research Methodology - Perfected through Years of Diligence
A key factor for our unrivaled market research accuracy is our expert- and data-driven research methodologies. We combine an eclectic mix of experience, analytics, machine learning, and data science to develop research methodologies that result in a multi-dimensional, yet realistic analysis of a market.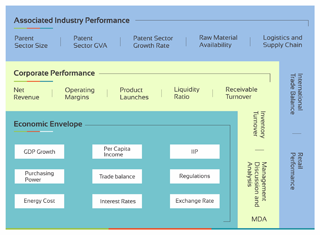 North America Leading the Way
North America continues to remain the hotbed of growth opportunities for stakeholders, as it resides 1/3rd of the global horse population, and creates a significant demand for multifunctional compound horse feedstuff, for professional and performance horse to be specific.
Additionally, as North America organizes five of the top 12 leading horse races, and is a large base of horse racing enthusiasts, the region continues to remain the key area of focus of the compound horse feedstuff manufacturers.
As per the PMR analysis, though North America continues to remain the trailblazer in the compound horse feedstuff market, the lucrativeness of Asia is also growing substantially. South Asia and East Asia are rapidly emerging as the huge potential growth region for compound horse feedstuff market, owing to the increasing demand for nutritional horse feed in China, India, and ASEAN.
Moreover, in view of the recent lift of 60-year ban on horse-racing in China, coupled with the increasing popularity of adventure sports and horse riding in India and ASEAN region, compound horse feedstuff market is anticipated to witness substantial growth in Asia through 2029.
Explore Persistence Market Research's expertise in promulgation of the business !
Analyst's Viewpoint
The author(s) of the compound horse feedstuff market anticipates a 4% CAGR growth in the compound horse feedstuff market during the foreseeable period owing to the increasing popularity of horse racing events.
With compound horse feedstuff garnering growing traction as the most viable option to suffice the specific and high nutritional requisites of racing horses, the market is highly likely to grow significantly in the years to come. Stakeholders that continue to explore less volatile and label-free ingredients for manufacturing compound horse feedstuff hold high chances of gaining a stronger market stand hold in the forthcoming years.
Compound Horse Feedstuff Market – Segmentation
The PMR detailed research study on the compound horse feedstuff market also sheds light on the market attractiveness by analyzing the key market segments. The global study also presents a region-wise valuation to better understand the demand and supply ratio of the compound horse feedstuff market.
The incisive study report provides an assessment based on the type, form, ingredients and region. Each of these segments has been mentioned and evaluated by the analysts to obtain valuable intelligence apropos of the compound horse feedstuff market.
This PMR study on the compound horse feedstuff market mentioned the historical, current, and futuristic trends that continue to shape the growth of these segments, in particular, and the industry, in general. Moreover, the report provides value chain analysis, Y-o-Y growth analysis, as well as the supply chain analysis of the compound horse feedstuff market.
Type

Performance
Senior/Old
Professional
Mare & Foal
Others
Performance
Senior/Old

Form

Pellets
Crumbles/Cubes
Powder/Mash

Ingredients

Cereals
Supplements
Cakes/Meals
Others

Region

North America
Latin America
Europe
South Asia
East Asia
Oceania
Middle East & Africa
Compound Horse Feedstuff Market - Key Questions Answered
This detailed market report on the compound horse feedstuff market mentions distinguished insights into the growth prospects during the forecast period. This detailed research report addresses the key concerns of the stakeholders and the companies looking forward to penetrate the compound horse feedstuff market. Some of the salient questions addressed in the report includes:
What type of compound horse feedstuff witnessed highest traction in 2018?
What are the key ingredients that are anticipated to drive maximum sales of the compound horse feedstuff in 2020?
How will the North America compound horse feedstuff market evolve during 2019-2029?
What are the key determinants that are hindering the growth of the compound horse feedstuff market?
What rate of ROI can compound horse feedstuff market stakeholders expect from using cereals based pellets in the next five years?
What will be the Y-o-Y growth of compound horse feedstuff market between 2012 and 2025?
Our Clients