Compound Semiconductor Materials Market Outlook (2022-2032)
The global compound semiconductor materials market garnered US$ 32 Bn in 2022 and is likely to hit US$ 65 Bn by 2032, advancing at a CAGR of 6% from 2022 to 2032 (forecast period).
Asia Pacific is projected to hold the highest share of the global market throughout the forecast period.
| | |
| --- | --- |
| Compound Semiconductor Materials Market Size (2022) | US$ 32 Bn |
| Projected Market Value (2032) | US$ 65 Bn |
| Global Market Growth Rate (2022-2032) | 6% CAGR |
| Asia Pacific Market Share (2022) | 41% |
Emergence of 5G Technology to Massively Boost Compound Semiconductor Materials Market
Despite being widely used in a variety of end-use applications such as military systems, wind turbines, and sensor systems, the worldwide compound semiconductor materials market is projected to be driven mostly by the telecom industry.
Compound semiconductor makers have a plethora of possibilities with 5G connectivity for telecom applications. Increasing demand for radio frequency (RF) semiconductor devices is driving the growth of the telecom industry. Furthermore, the telecom sector is rapidly expanding in both developing and developed nations around the world.
The transition from 3G to 4G/LTE and now 5G connectivity has boosted network traffic via smartphones and caused increasing network disruptions throughout communication channels. Compound semiconductor materials are increasingly being used in wireless communication due to their superior speed and efficiency over silicon-based semiconductors.
As the telecom industry moves toward 5G connectivity, the amount of RF content consumed per smartphone is estimated to rise, resulting in a higher need for compound semiconductor materials. As a result, the global compound semiconductor materials market is expected to witness massive growth during the forecast period.
Moreover, it is critical to combine power amplifiers produced with compound semiconductor materials to meet the specifications for 4G and 5G, including saturated and linear efficacy. As such concepts acquire traction, leading players in the compound semiconductor materials market are projected to benefit from higher returns.
Increasing Use of Compound Semiconductors Materials in LED Applications
LEDs are substituting compact fluorescent lamps (CFLs), fluorescent bulbs, and incandescent lights. LEDs are becoming more prevalent in a variety of applications, including automotive lighting, signage displays, and general lighting. The increasing use of compound semiconductor materials in LED applications is estimated to drive the global compound semiconductor materials market.
LEDs are manufactured from compound semiconductor materials that are composed of elements from the periodic table's groups III and V. (these are called III-V materials). III-V materials that are frequently used to make LEDs are gallium phosphide (GaP), gallium arsenide (GaAs), and gallium nitride (GaN).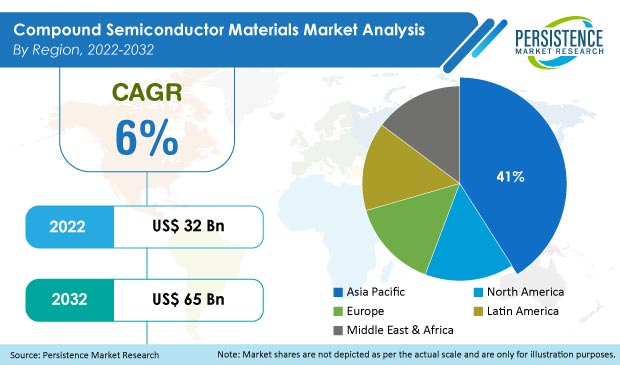 Asia Pacific to Dominate Global Market
Asia Pacific is likely to dominate the global compound semiconductor materials market during the forecast period. The existence of major vendors such as Rohm, Nichia, San'an, and Samsung Electronics, among others, is expected to bolster the compound semiconductor materials market in Asia Pacific.
Moreover, demand for compound semiconductor materials in the region is also anticipated to be driven by the commercialization of 5G services in emerging economies such as Japan, South Korea, and China.
Furthermore, rapid urbanization and the rise of the region's consumer electronics market are estimated to boost the compound semiconductor materials market in Asia Pacific.
Market Players' Growth Strategies
The worldwide compound semiconductor materials market is extremely fragmented and competitive due to continually evolving consumer preferences. Companies in the compound semiconductor materials market are primarily concerned with differentiating themselves in terms of product offerings.
They are also interested in obtaining core skills related to various service offerings through multiple methods such as mergers and acquisitions, vertical integration, and strategic alliances throughout the value chain.
IQE plc formed a strategic alliance with Porotech in May 2022. This alliance aims to develop, scale, and commercialize Porotech's unique wafer technology, called PoroGaN.
GlobalFoundries and IQE plc formed a strategic collaboration in October 2021. The goal of this long-term collaboration is to develop gallium nitride on silicon technologies for use in mobile and wireless infrastructure.
Product Overview
Compound semiconductors materials are a compound, which comprises elements from more than two different groups in the periodic table. Compound semiconductors materials can be in the binary form, ternary form, and quaternary form, among others.
Depending upon form, there is a wide range of compound semiconductors available. Based on form, the compound semiconductor materials are classified as III-Vs, II-Vis, IV-IVs, and sapphire, among others. III-IVs crystallize in a zinc blend structure while II-VIs have a crystalline structure. Compound semiconductors materials offer a wider choice of bandwidth than elemental semiconductors such as Si and Ge.
Compound semiconductor materials offer higher electron mobility, wider band gap, and lower thermal noise than elemental semiconductors. Compound semiconductor materials can generate microwave signals.
The market for compound semiconductor materials was mainly driven by optoelectronics devices and wireless technologies. There is huge demand for compound semiconductors in optoelectronic devices. Rising demand for mobile and wireless devices has been the key factor in the growth of compound semiconductors in the past few years.
Compound semiconductor materials have properties such as wide temperature limits, high electron mobility, and lower power consumption which are useful in electronic devices and equipment. Compound semiconductor materials are also used in light emission applications such as light-emitting diodes (LED) and lasers.
Due to high resistance to radiation and heat compound semiconductor materials are used in space applications where they are incorporated with solar cells mounted on satellites.
Compound semiconductor materials are sensitive to magnetism and are hence used in sensor applications. Compound semiconductor materials are also used in optical data storage devices. Despite so many applications, fragile crystal structure compared to silicon and higher manufacturing costs associated with compound semiconductor devices are anticipated to hinder the growth of the market in the years to come.
Key Market Players
Some of the key manufacturers of compound semiconductor materials are Air Products and Chemicals, Inc., Cree Inc., Dow Corning Corporation, Galaxy Compound Semiconductors Inc., Momentive, and Nichia Corporation, among others.
Compound Semiconductor Materials Industry Report Scope
Attribute

Details

Forecast Period

2022-2032

Historical Data Available for

2012-2021

Market Analysis

USD Million for Value

Key Countries Covered

U.S.
Canada
Brazil
Argentina
Mexico
Germany
France
U.K.
Italy
Spain
Russia
BENELUX
India
Thailand
Malaysia
Indonesia
China
Japan
South Korea
Australia
New Zealand
Turkey
GCC
Northern Africa
South Africa

Key Market Segments Covered

Key Companies Profiled

Cree Inc.
Air Products and Chemicals, Inc.
Galaxy Compound Semiconductors Inc.
Dow Corning Corporation
Nichia Corporation
Momentive

Report Coverage

Market Forecast
Competition Intelligence
DROT Analysis
Market Dynamics and Challenges
Strategic Growth Initiatives

Customization & Pricing

Available upon Request
Compound Semiconductor Materials Industry Research Segmentation
By Type:
Group IV-IV
Group III-V
Group II-VI
Sapphire
By Application:
Electronics & Consumer Goods
Aerospace & Defense
Telecommunication
Others
By Region:
North America
Latin America
Europe
South Asia
East Asia
Oceania
Middle East & Africa