Introduction
Compounding pharmacy is a pharmacy, operating with a licensed pharmacist, licensed physician, or a person who is under the guidance of a licensed pharmacist and alters, combines, or mixes APIs to create a drug, tailored to meet the needs of an individual patient. Animal drug compounding can be defined as a process involving manipulation and customization of approved drug products on a licensed veterinarian prescription.
Compounded animal drug preparations are extemporaneous drug preparations that do not require an FDA approval to demonstrate their safety and efficacy. Animal drug compounding is performed by a licensed veterinarian/pharmacist on the order of a veterinarian specialist. Animal drug compounding pharmacies are regulated by state boards of pharmacy and FDA.
Unavailability of Branded Drugs with Desired Active Ingredients Boosting the Demand for Animal Drug Compounding
In order to provide suitable medical therapy, animal drug compounding containing the desired active ingredient are available. For instance, currently, no FDA approved drug is available in the market for the treatment of megacolon (constipation) in cats. In 2000, Cisapride, the only safe and effective therapy for treatment of chronic constipation in cats was removed from U.S. market.
Hence, animal drug compounding remains the only choice for veterans to provide cisapride for animals in need of effective pro-kinetic drug therapy. In addition, drugs containing bromides were also removed from the U.S. market in the 1970s, however, due to the safety and extended efficacy of bromides, the drug is prescribed by animal drug compounding pharmacies for the treatment of idiopathic epilepsy in dogs.
Unapproved FDA Drug Products for the Treatment of Veterinary Diseases Propel the Demand for Animal Drug Compounding
The spectrum of therapeutic need in the animal medicine industry is wide, while the availability of FDA approved drug products for all animal diseases/indications is relatively limited. As a result, animal drug compounding is of utmost importance in order to fill the therapeutic gap among animal species.
Apart from this, it has also been estimated that animal drug compounding demand is considered to be significantly larger than that for branded prescription drugs. For instance, in 2015, the U.S. FDA estimated that 75,000 pharmacies in the U.S. fill 6,350,000 animal drug compounding prescriptions.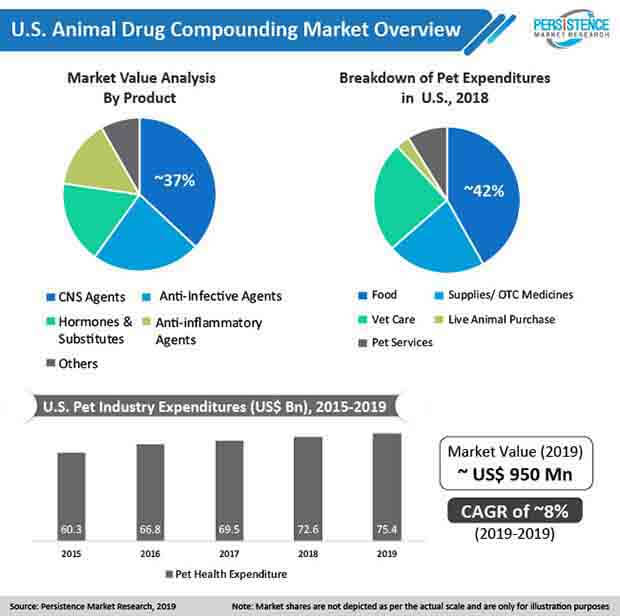 Availability of Flavored Products in Animal Drug Compounding Will Gain the Attention of Consumers
Availability of flavored animal drug compounding for cats, dogs, exotic pets, and some zoo animals has increased the treatment/drug adherence of individuals. For example, animal drug compounding of metronidazole with sardine or tuna flavoured suspension increases its palatability, thus making it taste better and increasing its compliance. Exotic animals such as birds and sugar gliders prefer sweet flavors such as strawberry, banana, or tutti frutti. Therefore, the availability of flavored products in animal drug compounding is gaining the attention of consumers.
Extremely Well-Informed Pet Owners Expect Higher Level of Veterinary Care
Increased humanization of pets, rising adoption of animals in developed nations, and increased influx of medical information over the internet are factors promoting animal drug compounding. American Pet Products Association, in this regard, has estimated that families in the U.S owned 70-80 Mn dogs and 74-96 Mn cats in 2015. Availability of ready information makes pet owners extremely perceptive and thus raises demand for animal drug compounding.
Given non-availability of reimbursement for animal drug compounding, most of the expenses are borne out-of-pocket by pet owners. In such circumstances, undesired potency levels, dissolution characteristics, and sub-standard dosage are factors deterring the uptake of animal compounding drugs, despite a steady increase in revenue generation of animal drug compounding.
Increasing Compliance to Regulatory Requirements
Self-nomination for inspection and clearing FDA approval process for adherence to cGMP guidelines is expected to increase drug and brand value for animal drug compounding in the future. To achieve this, animal drug compounding pharmacies need to abide by stipulated FDA norms and also be prepared for surprise inspections.
Regulatory inspections of animal drug compounding pharmacies are expected to boost good manufacturing practices and thus, increase consumer uptake for these compounded drugs. For example, the PCAB notes that less than 3% of animal drug compounding pharmacies are accredited by the PCAB as of 2015.
Furthermore, only 48 facilities in the U.S. are registered and authorized to engage in bulk API manufacturing. If the over 3,500 animal drug compounding pharmacies in the U.S. obtain FDA and PCAB certification, it could largely impact customer uptake for these types of customized drugs.
Animal Drug Compounding Market: Segmentation
The subsequent sections analyze the U.S. animal drug compounding market on the basis of product type, animal type, and formulation to present a forecast for the period 2019–2029. The market is segmented as follows:
Attribute
Details
basis of type

CNS Agents
Anti-Infective Agents
Hormones and Substitutes
Anti-inflammatory Agents
Others

basis of animal type

Companion Animals
Livestock Animals

basis of formulation