Global Plastic Compounding Market Attractiveness Analysis by Region
Among all the regions, Asia Pacific is estimated to account for 40.3% value share in the global plastic compounding market by 2025 end followed by Europe with 25.1% value share by 2025
Asia Pacific is anticipated to show a higher incremental value during the forecast period compared to other regions
North America is projected to register a CAGR of 5.0% over the forecast period to account for 21.3% value share by 2025
The global plastic compounding market is estimated to account for over US$ 420 Bn by the end of 2017 and registering a CAGR of 5.2% during the forecast period (2017–2025), is projected to reach a market value of about US$ 645 Bn by 2025 end.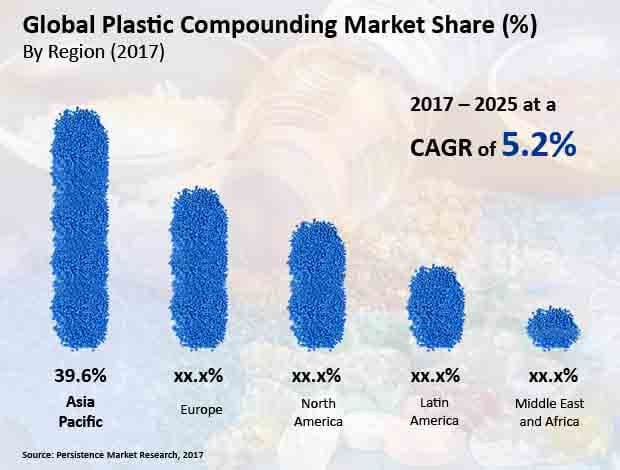 Increasing demand for plastic compounds driving the market
Increasing plastics demand in construction, automotive and electrical & electronics sectors is expected to be a major factor driving global plastic compounding industry growth. Synthetic polymers such as PVC, PE, PC, PP, and PU have been traditionally used in various applications such as packaging, electronic components, automotive components, toys, furniture and construction materials.
Regulatory intervention to reduce gross vehicle weight to improve fuel efficiency and ultimately reduce carbon emissions has driven automotive OEMs to adopt plastics as the substitute to metals such as steel and aluminum for fabricating automotive components. With growing thermoplastic and thermosets demand in automotive component fabrication, plastic compounding is expected to gain prominence due to increasing quality and material specification requirements from automotive OEMs.
Increasing demand in infrastructure development
Plastics demand is increasing in the construction sector in floorings, insulation materials, storage tanks, performance safety windows, doors, pipes and cables. Growing residential and commercial projects in developing countries is boosting infrastructural development. Further, consumer awareness regarding attractive interiors is increasing the demand for these materials in interior designing. A booming construction industry is anticipated to complement the plastic compounding market during the forecast period. This industry will register significant growth in the end-user segment of the market.
Large investments in sectors such as water and sanitation management, irrigation, building & construction, power, transport, retail etc. are continuously being made. PVC and CPVC play an important role in the sustainable management of this sector through various products like pipes, wires & cables, water proofing membranes, wood PVC composites, food and medicinal packaging. This will also boost the plastic compounding market in the foreseeable future.
Increase in prices of plastic compounds hampering market growth
There are three basic ingredients or raw materials, namely polymers, additives, and fillers, utilized in plastic compounding. Polymers consist of PP (polypropylene), which may be categorized into homopolymers or block copolymers. PE (polyethylene) is also used in compounding, along with certain elastomers. Plastic compound prices have been rising gradually primarily due to fluctuating petrochemical prices, and high substitution potential from its bio-based counterparts.
Oscillating petrochemical prices can hamper the growth of the plastic compounding market during the forecast period. The fluctuating price of crude oil is also likely to have an impact on the price of plastic compounds and hence affect their usage.
Increased used of Polyethylene in the Asia Pacific region a growing trend
Most of the gains will be driven by new ethylene feedstock, including shale gas, coal and bio-based materials. These will give PE – including HDPE, LDPE and LLDPE – an edge; either in terms of price or sustainability. In addition, ongoing development in catalyst technologies will enhance the performance, customization and yield of PE resins.
In regional terms, growth will continue to be driven mostly by Asia Pacific. PE demand will see the largest and steepest rise. China will prompt this increase significantly.
Other countries boosting demand are India and Vietnam. Nevertheless, the growth momentum in this particular region is losing some of its earlier steam. Hence the companies that are the manufacturers of PE will have a decent market share in this region.
Market Segmentation
Attribute
Details

By Product Type

Polymer/Copolymers
Additives

Anti-Oxidants
UV Stabilizers
Reinforcement Agents
Colorants
Others(CO2 Barrier Agents, Oxygen Scavenger, Metal Deactivators, Anti-foaming Agents, Anti-block, Anti-static, Flame-Retardant, Anti-microbial, Thermo-stabilizer, and Laser-marking)

By Application

Automotive
Building & Construction
Electrical & Electronic Appliances
Textiles
Packaging
Healthcare
Industrial Goods
Consumer Goods
Others

By Region

North America
Europe
Asia Pacific
Middle East & Africa
Latin America
- Companies Covered in This Report -
BASF SE
DuPont
Coperion K-Tron
Adell Plastics
S & E Speciality Polymers
RTP CO.
Agiplast
Sojitz Corporation
Kingfa Science & Technology Co. Ltd.
Plstiblends India Ltd.
Ravago
SO.F.TER. SPA
Citadel Plastics
AKRO-Plastic GmbH
Resinex
Arkema Group
Asahi Kasei Corporation
Celanese Corporation
Covestro
DSM N.V.
Others.