BASF SE has all Guns Blazing in Silica Gel Market – Competitors Beware!
---
Date : Sep 01, 2017 Author : Nikhil Kaitwade Category : Chemical and Material
Invests in high-performance silica adsorbents sustainable production plant in Germany.
In April 2017, BASF, one of the global leaders in the silica gel market, announced the completion of a substantial investment at its adsorbents manufacturing plant in the city of Nienburg, Germany. The two highly advanced dryers are a step towards fulfilling the company's long-term promise to its discerning customers and it also supports BASF's corporate objectives.
The company has pledged to create chemistry that ensures a sustainable future and this investment goes a long way in reducing their CO2 emissions while simultaneously increasing the annual output. BASF produces a diverse array of catalyst carriers and silica adsorbents at the Nienburg site that can be considered a performance benchmark in the industry. Some of their leading products in the silica gel market are KC Trockenperlen – internationally marketed as Sorbead, Sorbead Orange Chameleon, and Perlkat.
The high performance, durable, and robust adsorbents are particularly useful in technical gases, liquids, and drying air. The primary application areas are hydrocarbon dew point adjustment, liquid hydrocarbon recovery from natural gas, natural gas drying, and compressed air systems. BASF adsorbents are widely used in a number of industries such as natural gas, automotive, packaging, electrical transmission, steel, chemical, and power plants.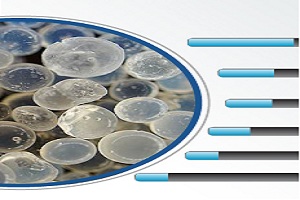 Detlef Ruff, Global Senior VP, Process Catalysts at BASF, stated that the company has been a leading adsorbents supplier in the silica gel market for more than half a century. He added that they could not be happier to strengthen their long-term customer commitment in both compressed air drying and natural gas processing.
The investment made enhances BASF's production technology and strengthens their resolve to meet their customers' aspirations in terms of consistency, performance, and quality. The Sorbread products made by BASF are renowned for their quality and performance and Sorbread assists customers by reducing operational cost. In addition, Sorbread is more long-lasting and durable than any other material available in the silica gel market.
Bets Big on India with a new Innovation Campus in the Commercial Hub of Mumbai
BASF SE seems to be a firm believer in the India story as it recently announced that its new Innovation Campus Asia Pacific is up and running in Mumbai. The total amount is anticipated to be almost €50 million which will make it the largest R&D sum that BASF has invested in the South Asian region as a whole. All global research operations conducted at the Asia Pacific Innovation Campus will come under the jurisdiction of BASF Chemicals India Private Limited – a subsidiary of BASF SE.
The innovation campus should expand BASF's current R&D in India to include both regional and global research in many specialty chemicals. Some of the topics under consideration are process development, crop protection, organic synthesis, and personal and home care.
An ever-rising need for clean water, food, energy, and natural resources coupled with a rising population pose huge challenges which chemistry-based innovations can help solve. Therefore, BASF SE is expanding its R&D network, particularly in the emerging Asian region as they seek to drive technological advancements and address all the needs of the silica gel market. Mumbai seemed like the perfect location as a regional hub for the company as it the most dynamic city in the vibrant Indian market.
The innovation campus expands BASF's Indian research capabilities by leaps and bounds and covers advanced process research, molecular modelling, organic synthesis, and agricultural research. The Innovation campus consists of state-of-the-art labs for analytics, process and application development, and chemical synthesis. The Campus brings all the BASF R&D activities in the city under one roof- both new as well as existing.
The Innovation Campus can accommodate almost 300 students and should bring together top scientists from across the world. The campus is approx. 20,000 sq. meters and houses technical and scientific labs, a full-size auditorium, employee amenities, cafeteria, and modern offices. More than 50% of the building lighting is powered by renewable energy with the active encouragement of BASF SE.
The Campus has been built to adhere to the LEED silver standards – the most authoritative green building verification source. BASF also operates an R&D center and an Agricultural Research Station in Mangalore and Pune respectively. These facilities are the base that drives projects with a regional or even global impact.
---