Product Innovation to Propel Growth of Global Automotive Interior Materials Market
---
Date : Oct 05, 2017 Author : PMR Editorial Staff Category : Chemical and Material
According to a recent report, the global automotive interior materials market is expected to register a CAGR of 5.6% over the forecast period, 2017-2025.
Increasing preference for lightweight materials including synthetic leather and smart textile has led to an upsurge in demand for the automotive interior materials globally. Market players are increasingly focusing on mergers and acquisitions in order to expand their services.
Acquisition to Impact Global Market Growth
Market players are also increasingly focusing on collaborations with the software companies in order to use interior materials that are equipped with enhanced technology. A recently published news report states that Samsung Electronics Co Ltd., an electronics company based in South Korea has announced its acquisition of Harman based in the U.S. The acquisition of the auto and audio parts supplier was acquired for nearly US$ 8 Bn by Samsung.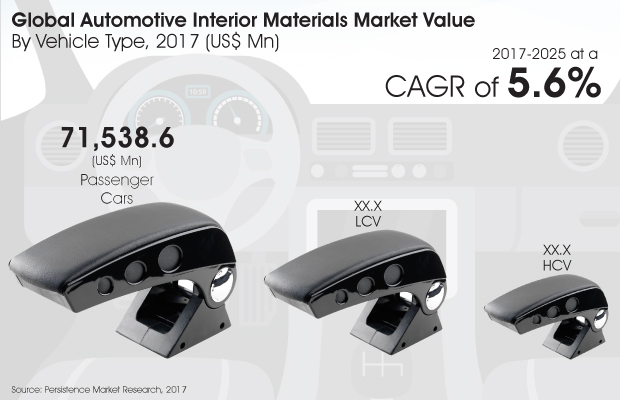 At a Frankfurt Motor Show, the company announced that it has established a strategic business unit that will provide services for the advanced and autonomous driver assistance services. The company further plans to provide US$ 300 Mn investment for the technology in the automotive start-up. President and chief strategy officer of the company, Young Song stated that Samsung has been developing this business for some time. The company now plans to enter the autonomous driving market.
Product Innovation to Boost Sales
Samsung represents a leading semiconductor globally in terms of revenue and offers various consumer electronic products including memory chips, TVs, phones, and displays. Song further stated that the company believes that the assets under Samsung along with the inside tracks with the car makers, which is offered by Harman unit is likely to give the interiors of the vehicle a competitive advantage as compared to other market players in the automotive industry.
Well known for the consumer audio speakers, Harman derives nearly 65% of the sales through supply of navigation services, vehicle networks, and on-board entertainment systems. Moreover, the services to the mobile networks and cars for connectivity also continue to fuel sales of the services offered by Harman. John Absmeier will be the vice president of the Samsung automotive business division. He will also be head of the smart machines for the Innovation center and Samsung strategy in the Sillicon Valley.
Sohn further stated that the ADAS/Autonomous business unit will recruit hundreds of that are working under Samsung for autonomous driving technology. A spokesman stated that these new engineers will mainly work on developing the connected cars business of Harman. The news report further revealed that Samsung has also secured licenses for autonomous driving in California and South Korea.
---