Uv Lamps Market
Global Market Study on UV Lamps - UV LEDs Are the New Growth Engine
UV Lamps Market Segmented By UV Curing Lamps, UV LED Market, UV Disinfection, UV Purification lamps, UV Lights
Introduction
UV lamps have been harnessing the power of ultraviolet (UV) light which is widely used in A plethora of applications every day, and is measured across a range of 10nm to 400 nm as UVA, UVB or UVC emissions. Extensive applications of UV lamps in UV germicidal lamps, UV air treatment, UV curing lamps, UV tanning lamps, ballast water treatment lamps, and phototherapy lamps have been creating a hotbed of growth opportunities for stakeholders.
In light of the growing need for safe drinking water, specifically in the developing regions, the adoption of UV disinfection systems has grown in recent years, which in turn has pushed the sales of UV lamps. This growing traction for proper disinfectant systems propelled the PMR analysts to conduct research study on UV lamps market.
Increasing use of UV lamps to disinfect water, air, and cleaning wastewater continues to create a stream of opportunities for stakeholders. Growing stress on hygiene and safety concerns, specifically in food and healthcare industries is highly likely to widen the growth path for the companies that are operating in the UV lamps market through 2029.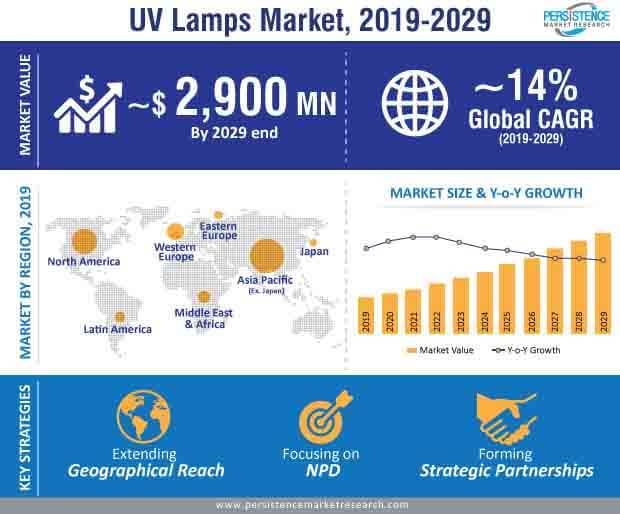 Find Out More about the Report Coverage
Companies
Company Profiles:
Xylem Inc.
Calgon Carbon Corp.(Kuraray)
Trojan Technologies Inc.
OSRAM Gmbh
Signify(Philips)
Severn Trent PLC
Heraeus Holding GmbH
Lumileds Holding B.V.
Luminus Inc.
Seoul Viosys Co. Ltd.
Mapping the Evolution of UV Lamps Market
The ultra violet technology traces back to the early 1800's, when the scientists discovered the UV bacterial action, which further led to the development of UV LED in 1906. The first full scale UV disinfection system was developed in 1910 for use on the pre-filtered water from the river Durance in Marseille, France.
This marked the beginning of the UV lamps applications for water treatment. Since then, a growing number of companies have been deploying UV lamps based disinfection systems, owing to their effectiveness at inactivating most viruses, spares and cysts. As per the PMR analysis, the UV lamps market valued~US$ 700 Mn in 2018, and is anticipated that the sales will pick pace by ~14% in 2019.
Customize this Report
Explore Intelligence Tailored to Your Business Goals.
Compelling Trends that are Shaping the Growth of the UV Lamps Market
Water Treatment Application Leading the Way
Growing concerns pertaining to the public safety and environmental impact issues continue to result in the imposition of stringent rules and regulations that govern water and wastewater treatment facilities worldwide. Growing awareness about UV lamps based water disinfection systems as a safe, chemical-free way to treat water has been widening the opportunities for the manufacturers of UV lamps.
High efficiency of UV exposure at making chlorine-resistant microorganisms harmless has been underpinning the adoption of UV lamps based disinfection systems. Furthermore the eco-friendly aspect of UV lamps based water disinfection systems, coupled with no compromise on the taste of water is highly likely to push the growth of the UV lamps market in the forthcoming years.
Market Research Methodology - Perfected through Years of Diligence
A key factor for our unrivaled market research accuracy is our expert- and data-driven research methodologies. We combine an eclectic mix of experience, analytics, machine learning, and data science to develop research methodologies that result in a multi-dimensional, yet realistic analysis of a market.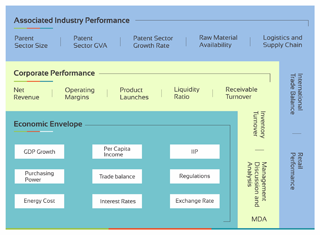 Promising Performance Betting Higher Gains
The UV-LED lamp technology continue to advance at a rapid pace and now offers enough power and capability to back a wide range of existing as well as novel industrial applications. This has led to a significant shift in consumer preference from traditional UV curing lamps to UV-LED variants.
UV-LED are increasingly becoming more and more efficient in delivering higher energy to the media, and are increasingly driving not just the throughput and process flexibility but also eco-friendly and energy-efficient solutions. While the benefits and applications of UV-LED curing technology gain momentum, a large number of consumers are leveraging this technology.
Explore Persistence Market Research's expertise in promulgation of the business !
Amalgam UV Lamps under Spotlight
While the amalgam UV lamps continue to promise virtually constant disinfection performance over the lamp operating life, they are witnessing an increased adoption for water disinfection, reduction of pollutants in industrial exhaust air, and grease and odor control for foodservice kitchens.
Growing awareness about the fact that amalgam UV lamps offer 10 times the UV power density of traditionally used low-pressure mercury lamps, and is compatible with high ambient temperatures of up to 90°C, has been favoring the market. Additionally, the increasing demand for temperature fluctuation-proof lamps continues to strengthen the sales of UV LED lamps.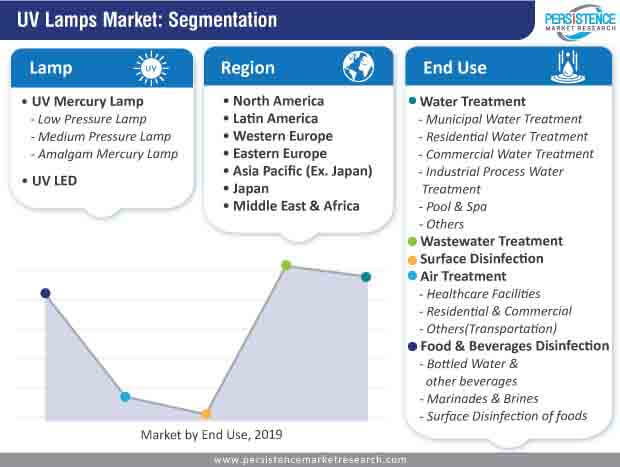 Winning Imperatives
Extending Geographical Reach
In view of the growing focus of various regions on ensuring supply of clean drinking water, the opportunities for stakeholders remain abound in various regions. To tap the growing traction for proper water and wastewater treatment, leading players in the UV lamps market have placed their focus on expanding their geographical reach.
An increased number of stakeholders are setting up new offices and collaborating with local distributors to cash in on the increasing demand for water and wastewater treatment facilities. UV lamps vendors are specifically focusing on expanding their businesses across APEJ, Western Europe and Japan, owing to the growing demand for high performing disinfection systems.
Unleashing the Competitor Killer: NPD
While the stakeholders continue to focus on strengthening their position in the fragmented scenario of UV lamps market, new product development has emerged as a key growth strategy to strengthen position. For that matter, an increased number of UV lamps vendors are diversifying their offerings in terms of technology, and lamp to cater to an extensive pool of applications.
For instance, in April 2019, Nichia, Japan-based LED maker launched 280nm UVC NCSU334A deep blue ultra violet-outputting LED with an objective to address the growing demand for air sterilization and water purification using solid-state lighting.
UV Lamps Market – Competitive Landscape
In April 2019, Trojan UV installed TrojanUV3000Plus at a plant in India to disinfect 120 MLD (5,000 m3/hr) of wastewater before it discharges into the river.
In 2018, Trojan Technologies improved its UV lamps technology and UV water disinfection equipment and technology for sleeve cleaning and controls and automation. Trojan Technologies newer UV water disinfection systems promise substantial energy, labor and maintenance savings.
The global UV lamps market is moderately fragmented owing to the presence of large number of players worldwide. Leading market players, such as Trojan Technologies and Severn Trent PLC, continue to uplift their product portfolio to appeal to a wide pool of customers.
Market frontrunners are constantly working on improving UV lamps technology to have a competitive edge in the market. Several UV lamps vendors have also shifted their focus on improved R&D activities to introduce UV LEDs for large scale disinfection application.
Analyst's Point of View
The authors of the UV lamps market envisage 4.1X growth in UV lamps market by the end of 2029, while accelerating at an impressive CAGR of ~14% during the forecast period. Though the significant usage of conventional methods of water treatment, coupled with high initial costing of UV lamps based disinfection system has been impeding the growth of the market, the lucrativeness of UV LED continue to fuel the market growth.
Market frontrunners that are increasingly setting their bets on advanced and cost-competitive offerings are anticipated to attain a better position in the UV lamps market in the years to come.
UV Lamps Market – Segmentation
This exhaustive research report on the UV lamps market provides derailed study of the market attractiveness by evaluating the key market segments. The global study also includes a country-wise valuation for better understanding the demand and supply ratio of the UV lamps market.
The detailed report offers an assessment on the basis of the lamp, end use and region. Each of these segments has been covered and analyzed in this comprehensive report in order to attain actionable intelligence apropos of the UV lamps market.
This PMR study on the UV lamps market provides historical, current, as well as futuristic trends that have been shaping the growth of these segments, in particular, and the market, in general. Moreover, the study offers value chain analysis, supply chain analysis, and Y-o-Y growth analysis of the UV lamps market.
Lamp

UV Mercury Lamp

Low Pressure Lamp
Medium Pressure Lamp
Amalgam Mercury Lamp

UV LED

End Use

Water Treatment

Municipal Water Treatment
Residential Water Treatment
Commercial Water Treatment
Industrial Process Water Treatment
Pool & Spa
Others

Wastewater Treatment
Surface Disinfection
Air Treatment

Healthcare Facilities
Residential & Commercial
Others(Transportation)

Food & Beverages Disinfection

Bottled Water & other beverages
Marinades & Brines
Surface Disinfection of foods

Region

North America
Latin America
Western Europe
Eastern Europe
APEJ
Japan
Middle East and Africa
UV Lamps Market - Key Questions Answered
This detailed study report on the UV lamps market gives in-depth overview that provides distinguished insights into the growth prospects during the projection period. This exhaustive research report address the key concerns of the market players that are operating in the UV lamps market. Some of the salient questions addressed in the report includes:
What was the UV mercury lamps demand scenario in terms of value and volume in 2018?
What are the key determinants that are shaping the growth of the UV lamps market?
How will the Europe UV lamps market evolve during the forecast period?
What are the key factors that are impeding the growth of the UV lamps market?
What rate of ROI can UV lamps market players can expect from growing application of these lamps for water treatment in the next couple of years?
What will be the Y-o-Y growth of UV lamps market between 2019 and 2025?
Our Clients