Duvet Market Outlook (2022-2032)
The global duvet market is projected to expand at 3.2% CAGR and reach US$ 2.64 Bn by the end of 2032, up from its current market size of US$ 1.93 Bn.
Worldwide sales of duvets account for 3%-7% share of the global bedding products market at present.
| Report Attribute | Details |
| --- | --- |
| Duvet Market Size (2022) | US$ 1.93 Bn |
| Projected Sales of Duvets (2032) | US$ 2.64 Bn |
| Market CAGR (2022 to 2032) | 3.2% |
| Market Share of Top 5 Duvet Manufacturers | ~7% to 12% |
Demand Analysis of Duvets (2017 to 2021) Vs. Market Projections (2022 to 2032)
From 2017 and 2021, worldwide demand for duvets increased at a steady CAGR of 2.4%, with the United States, Japan, China, Russia, and the U.K. holding significant shares in the global market.
Rising tourism sector, lavish hotel room bedding & amenities, and a variety of other fashion-related consumer trends have driven the retail sales of duvets over the past decade. Modern-style comforters/duvets leading to strong demand for viscoelastic duvets, ubiquitous presence of affordable microfiber bedding, and an extensive online market have been key influencers on the overall bedding market, and thereby on the market for duvets as well.
An increasing number of consumers are appreciating the benefits of sustainable approaches and eco-friendly products that the growing number of bedding product businesses are manufacturing. Awareness of the significance of environmental perception and sound leadership is on the ascent, highlighted via the rise in consumer-level bedding brands.
Additionally, more desirable and ethical products are being appreciated, such as sustainable duvets made without animal ingredients or with a questionable production process.
The efforts of major bedding manufacturers for the mass production of biodegradable bedding and environment-responsible duvets are making headway. Apart from the production of high-end eco-friendly duvets, several companies have joined environmental-protection groups to promote social action, be it planting a tree per sale, exploring alternative energy sources, or limiting water usage. Such factors are driving the sustainability factor in the duvet marketplace.
Evolving bedding trends are also expected to lead to the growth of the duvet market across the globe over the coming years. All in all, over the next ten years, worldwide sales of duvets are anticipated to increase at 3.2% CAGR.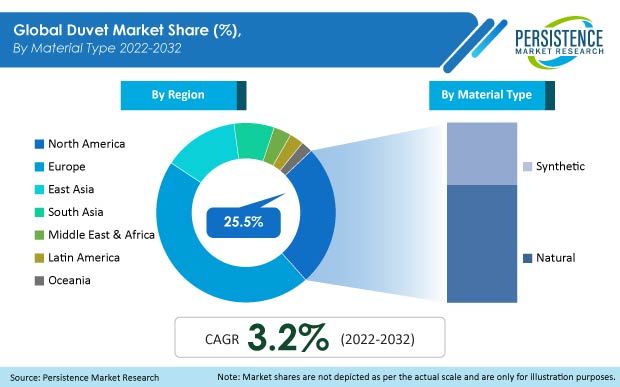 What is Aiding the Sales Growth of Duvets?
"Growth in Hospitality Sector to Drive Sales of Duvets in Global Market"
The global hospitality market is anticipating a healthy growth rate due to the growth of interest in the service sector over the short term. In emerging countries, the hospitality industry is burgeoning, not only in the growth of hotels and resorts but also in prospects for attracting new guests who have high demands for premium and luxurious products and services.
As tourism grows in developing economies, more hotels are being opened in a growing number of locations to meet the exact needs of potential travelers. These trends are expected to give hotel developers a solid foothold in emerging markets around the world, further boosting the demand for bedding products such as duvets.
"Initiatives by Regional Governments & Organizations to Aid Market Growth"
A duvet is a blanket consisting of down, feathers, or other kinds of soft materials such as soft plumules. Down or lightweight stuffing is used across the world for duvets, which come from birds such as ducks or geese.
In addition to regional governments, many different governments and local authorities are dedicated to saving animals and stopping the use of animals to exploit filling materials employed in the production of duvets. This has compelled duvet manufacturers to utilize processed and synthetic rubber instead of natural feathers and fur.
Moreover, different creative designs, textures, patterns, and colors are the trendy aspects looked upon by the consumers, which is expected to aid market expansion going forward
Country-wise Insights
How is Product Targeting Boosting Duvet Sales in the U.S.?
The duvet market in the U.S. is expected to progress at a CAGR of 2.9% during the forecast period.
Personalized custom bedding has grown increasingly popular, even among millennials. Besides the increasing overall trend for contemporary styles in bedding, consumers are also favoring unique, soft, and luxurious bedding products.
Targeted shopping has become popular nowadays. Manufacturers are creating items targeted at a particular audience segment. Following the trend, synthetic comforters are becoming popular in warm climates. In fact, in these locations, products such as microfiber duvets that are lightweight, mildly warm, and simple to care for are witnessing rising popularity.
To attract more consumers, reversible duvets have been introduced into the market, which is resulting in more product adoption in the country.
What Role Does Waterproof Duvets Play in the U.K. Market?
The U.K. is one of the significant markets in the Europe duvet industry and accounts for 34.8% of the regional market share. The duvet market in the United Kingdom has seen a dramatic increase over the last decade with the development of waterproof duvets.
An advantage of using a waterproof duvet cover is that it protects the mattress or bed base. Economy waterproof duvet covers are fluid-proof and can easily be wiped and cleaned from any spillages. The category offers comfort and hygiene at a very affordable price. Waterproof duvets are ideal for children as they have longevity even after multiple instances of bed wetting.
Why are Silk Duvets Hugely Popular in Japan?
Japan is one of the progressing markets in East Asia and is anticipated to register a growth rate of 2.1% in terms of value over the forecast period.
Japan has a large market for silk duvets and the nation's growing reliance on these quilts is related to the popularity of Western duvets. These duvets, also known as kakefuton, are similar to their Western counterparts, but are exquisite in their silk fabrication and are especially useful for those suffering from allergies because they tend to repel mold and dust mites.
In addition, unique designs and patterns of duvets are driving customers' interest in the country, which is boding well for market growth in Japan.
Category-wise Insights
Why are Natural Duvets Gaining Immense Popularity in the Market?
According to the analysis under material type, natural duvets hold a major share of around 62% in the overall duvet market in 2022.
Over the decades, the fashion industry has been slow and mixed. Along with customization, environment-conscious materials and varied production processes are new trends. With new styles constantly being introduced, sustainability is among the criteria used today to determine a brand's value.
Customers are searching for bedding that is low-cost and durable. Natural duvets are insulated and have hypoallergenic properties while remaining lightweight and warm, which is why the segment enjoys a fair share in the overall market.
Will Hospitals Account for Higher Duvet Sales in the Commercial Sector?
According to the analysis, the hospitals segment is estimated to account for a value share of 37.7% in the commercial duvets segment in 2022. Overall, the commercial sector category is expected to remain dominant in the global market.
The latest innovation of breathable, waterproof fabric used to make duvets protects a person from every type of liquid stain, besides dust mites and bed bugs, which are major causes of asthma, eczema, and rhinitis. As hospitals are devoted to hygiene, they are more interested in waterproof duvets as a means to reduce their laundry budgets.
Will Online Sales of Duvets Continue to Rise at a Fast Pace?
Modern trade is estimated to account for 17.3% of the market share by the end of 2022. Global sales of duvets from online retailing are expected to rise at a CAGR of more than 4% during the forecast period.
e-Commerce is revolutionizing commercial activities all over the world.
In fact, Rite Aid introduced its online distribution platform, Letgo, during the COVID-19 pandemic as a way to help create more opportunities for consumer spending.
Another major driver of the impact of online sales has been lockdowns, which brought an upturn in online shopping due to the fact that it was the only option immediately available outside the brick-and-mortar sector. The e-commerce sector offers great opportunities for companies and online services, which will give an added push to duvet sales.
Competition Landscape
Duvet manufacturers are implementing a variety of penetration strategies to increase their sales in lucrative markets. These strategies include product launches, collaborations with key players, partnerships, acquisitions, and strengthening of regional and global distribution networks.
Key market players are closely involved in executing their decisions directly with or by means of joint ventures with local area players. Increasing attention to high-quality products and services will increase the opportunities for duvet manufacturers over the coming years.
Duvet Industry Report Scope
Attribute

Details

Forecast Period

2022-2032

Historical Data Available for

2017-2021

Market Analysis

US$ Mn for Value
Units for Volume

Key Regions Covered

North America
Latin America
Europe
East Asia
South Asia
Oceania
MEA

Key Countries Covered

United States
Canada
Brazil
Mexico
Germany
U.K.
France
Spain
Italy
South Africa
Northern Africa
GCC Countries
China
Japan
South Korea
India
Thailand
Malaysia
Indonesia
Australia & New Zealand

Key Market Segments Covered

End Use
Material Type
Sales Channel
Region

Key Companies Profiled

Sheela Foam Ltd.
Hanesbrands Inc.
John Cotton Group Ltd.
DYKON A/S
Hollander Sleep Products
The White Company
Slumberdown
Duvet Pillow & Linen Co.
Old Europe Duvet Company
Brooke + Wilde Limited
Others (on request)

Pricing

Available upon Request
Key Segments Covered in Duvet Industry Research
Duvet Market by Material Type:
Natural Duvets

Down Filling
Feather Filling
Silk
Wool
Others

Synthetic Duvets
Duvet Market by Bed Type:
Single Bed
Double Bed
Queen Size
King Size
Duvet Market by End Use:
Duvet Market by Sales Channel:
Wholesalers & Distributors
Modern Trade
Convenience Stores
Specialty Stores
Multi-brand Stores
Online Retailing
Independent Small Stores
Others
Duvet Market by Region:
North America Duvet Market
Latin America Duvet Market
Europe Duvet Market
East Asia Duvet Market
South Asia Duvet Market
Oceania Duvet Market
MEA Duvet Market