Duvet Market
Global Market Study on Duvets: Demand Surge being Witnessed from Hospitality Sector across Geographies
Duvet Market Segmented By Down Filling, Feather Filling, Silk, Wool as Natural Material and Polyester as Synthetic Material for Single Bed, Double Bed, Queen Size, King Size Bed
About the Report
Consumers, especially the younger generation, appreciate technology more than previous generations. Busy lifestyle and desire for comfort & convenience has resulted in an upsurge in the demand for smart duvets. SMARTDUVET launched a smart duvet that makes the bed itself, and is a boon to people with limited mobility. The company has also launched a dual-zone temp self-making bed, a product that converts the existing bed into a dual-zone climate-controlled self-making bed, and allows setting the preferred temperature individually for each side of the bed.
Sustainable approach and eco-friendly products are receiving accolades at the consumer end. Awareness regarding a healthy Earth and good environment practices have been on a high for some time. Rise in direct-to-consumer bedding brands reflects higher quality goods at fairer prices. Additionally, higher quality goods made with fairer environmental practices are being appreciated more than the softest sheet sets made with chemical- and cruelty-free manufacturing. Biodegradable duvets and certified-organic bedding are gaining traction. Apart from the manufacturing of premium eco-friendly products, a number of companies are partnering with environmental-protection groups to promote social action, be it planting a tree per purchase, exploring alternative energy options, or minimizing water consumption.
Modern bedding styles are fast gaining popularity; duvets add a contemporary touch to the bedroom. An accelerated demand for premium bedding products has a pivotal role in the growing market potential of duvets. Duvets are the most common form of bed coverings, and have reduced the complexity of making a bed. Also, with change in lifestyle and increasing demand for luxury beddings that come with certain benefits such as easy to maintain and clean, and differentiate with climatic condition, such as it can be made warmer than a blanket without becoming heavy, duvets are becoming a preferred choice across the globe.
Evolving bedding trends are also expected to lead to the growth of the duvet market over the coming years. Themed assortment, mix and match of patterns, environment-friendly duvets, and linen texture are expected to augment sales.
Many more unique growth factors have been analyzed in detail, while a comprehensive assessment of some of the key challenges for duvets have also been discussed in the report by Persistence Market Research. The report also has a detailed regional analysis, which points toward Europe holding a lion's share in this moderately competitive market space. A detailed COVID-19 impact has also been included in the report, so as to aid readers in taking well-informed business decisions for the present and future.
Find Out More about the Report Coverage
Companies
Sheela Foam Ltd.
Hanesbrands Inc.
Ohn Cotton Group Ltd.
DYKON A/S
Hollander Sleep Products
The White Company
Slumberdown
Duvet Pillow & Linen Co.
Old Europe Duvet Company
Brooke + Wilde Limited
Other Players (As Requested)
Historical & Future Projections
Luxury beddings, rising hotel staycations, and cotton & feather filling duvets have driven sales ate a steady rate over the past decade. Modern-style, themed beddings, availability of smart duvets, presence of highly affordable microfiber duvets, and an extensive online channel are factors expected to propel market growth at a CAGR of over 3% through 2031.
Customize this Report
Explore Intelligence Tailored to Your Business Goals.
Will the Hospitality Sector Continue Driving the Sales of Duvets?
Across the globe, a positive outlook of the hospitality and service sector significantly creates growth opportunity duvet sales. In emerging economies, the hospitality sector is growing, not only in terms of development of hotels or places to visit, but also as a potential of source market of new guests.
For example, according to the Government of India, the travel & tourism industry's total contribution to the country's GDP was 6.8% in 2019. Growing hospitality and service sector caters to expansion of the travel and tourism industry, increasing demand for hotels, thereby leading to significant investments in the field of hotel development, as such, raising demand for a luxurious feel in hotels.
Additionally, the tourism industry in emerging economies is increasing considerably, and the number of hotels to cater to the specific needs of travelers is rising. Such factors are projected to continue to create significant growth opportunities for duvet manufacturers in emerging economies across the globe.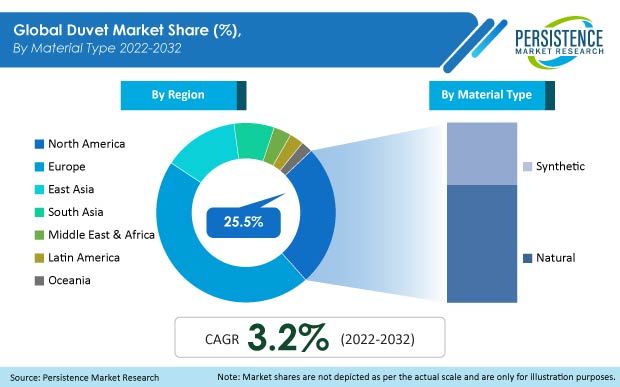 Market Research Methodology - Perfected through Years of Diligence
A key factor for our unrivaled market research accuracy is our expert- and data-driven research methodologies. We combine an eclectic mix of experience, analytics, machine learning, and data science to develop research methodologies that result in a multi-dimensional, yet realistic analysis of a market.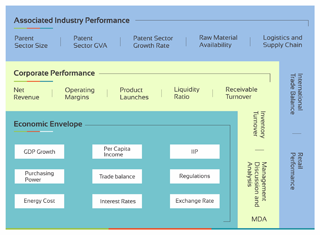 Is Short Life Expectancy of Duvets Resulting in Higher Demand?
According to the Sleep Council, a duvet should last at least 5 years, but a good quality duvet, with high quality filling, should last at least twice that time period. However, due to dustmites, dust, mold, or other allergens, duvets need to be replaced. Children bedding is susceptible to bed wetting, and as a result, regular replacement becomes important. Manufacturers are introducing duvet covers as well as higher thread count; however, the quality fast deteriorates with regular wetting. In hindsight, up-gradation of color scheme, availability of options such as partner duvets, organic fabrics, and lucrative filling are promoting duvet sales.
Explore Persistence Market Research's expertise in promulgation of the business !
How are Changing Trends in Filler Material Beneficial for Duvet Sales?
A duvet is like a sleeping bag, which is filled with feathers, wool, or any other synthetic fiber. Across the globe, light plumules and fluffy clusters are the most common filler materials used to make duvets, which come from beneath the feathers of birds such as ducks and geese. Additionally, governments from various regions are taking initiatives to save animals from abuse and cruelty, and are taking action against manufacturers who use unethical means for obtaining animal feathers to manufacture duvets. This is compelling duvet manufacturers toward using synthetic or artificial filler material in the place of natural filler materials. Moreover, demand for duvets in different colors, textures, and patterns, as well as various creative designs, is the ongoing trend across regions.
How are High Raw Material Costs Challenging the Growth Trajectory of Duvets?
A duvet is high-cost luxury bedding, and rRaw material and manufacturing cost is high due to certain properties. Duvets are manufactured on the basis of tog rating, which differs according to climatic conditions. Duvets are usually available in the tog range 4.5 to 15.0, in which, the tog rating of 4.5 is better for summer, whereas, the tog rating of 15.0 is better winter. For this, duvets are manufactured using various kinds of fillers, such as down, feathers, wool, and other artificial fibers.
Down and feather fillers are costly as compared to wool and any other artificial fiber, but have certain benefits such as being light in weight and warmer than that other duvet fillers. Thereby, the high cost of duvet fillers is anticipated to hamper market growth to some extent across the globe over the coming years.
Country-wise Analysis
How is Product Targeting Boosting Duvet Sales in the U.S.?
Personalized custom print duvet covers are gaining popularity, especially among the millennial population. Apart from this, modern bedding styles are becoming popular as ever, and as a result, driving the sales of duvets. Soft, luxurious, and completely unique custom beddings are trending and driving demand for duvets.
Targeted shopping has become a trend nowadays. Manufacturers are designing products suitable for a section of consumers. Following the trend, lightweight duvets are being promoted in regions with warmer climates. In fact, in such places the consumers prefer the microfiber duvets which are light, mildly warm and easy care. Reversible options are being introduced in the market in order to garner the attention of the consumers.
Brooklinen, Casper, Buffy Breeze and Pottery Barn are offering classic cooling duvets across the U.S. However, down filling still retains its customer base, and to deliver high quality to the consumers, testing laboratories certified by the International Down and Feather Bureau (IDFB) have been established across the country.
What Role Do Waterproof Duvets Play in U.K. Sales Proliferation?
Waterproof duvets make dealing with incontinence much easier and are also more hygienic. Another advantage of using a waterproof duvet is that it protects the mattress or bed base. Economy waterproof duvets are fluid-proof and can be easily wiped clean from any spillages or accidents. The category offers comfort and hygiene at a very affordable price. Waterproof duets are an ideal product for children, since it has longevity even after multiple instances of bed wetting.
Some of the major British brands offering waterproof duvets are Vivactive, comfortnights, Kylie, Eva-Dry, Fledglings, Apollo, and Permalux. NRS Healthcare and completecareshop (an official supplier to NHS) supply waterproof duvets to the health sector. Manufacturers are also diversifying their product portfolio by introducing pet duvets. For example, Danish Design, a duvet manufacturer in the U.K. provides waterproof thick duvets for dogs.
Is Demand for Silk Duvets High in Japan?
Silk duvets are highly appreciated in Japan, and are boosting overall sales in the country. Popular as 'kakefuton', these are similar to Western duvets, and are traditionally made of hand-pulled silk, thus making them a great choice for customers suffering from allergies because of their resistance to moisture and inability to host creatures such as dustmites and mildew. Besides, unique patterns and designs for duvet covers are spiking interest among customers, thereby driving the sales of duvets as well across the country.
Are International Overnight Stays Boosting Sales of Duvets in Germany?
Germany is more popular as a travel destination, more than ever before. The country scores points with its great price-performance ratio and the variety of destinations it possesses. Travelers can choose from beaches, mountains, cities, and rich landscapes.
According to the German Hotel and Restaurant Association (DEHOGA), Germany, as a travel destination as well as a conference and congress location, continues to trend. The number of overnight stays in German accommodation facilities in 2019 increased by 3.7 percent, with a record 89.9 million international overnight stays. The hotel sector is also witnessing a hike in numbers. New hotel rooms are currently in development pipelines, opening opportunity for duvet sales to rise.
How is India Faring in the Duvet Landscape?
Home remodeling and interior decorations have become a trend, predominantly within developing regions such as India. Home decor for bedrooms has a changed pattern, wherein, it is more of a relaxed space. Interior decorating and home conceptualization are increasing, and to give the bedroom elegance and comfort, people are tuning toward trendy, comfortable, and fashionable duvets. Gone are the days where the home was just a place to reside; nowadays, it is a reflection of mood, style, and comfort. Additionally, social media influence has resulted in redefining the home styling trend, and has resulted in excessive emphasis on home decor. Interior styling has gained prominence, and bedroom styling is a prime deal, especially with young girls; thereby driving the demand for duvets.
Category-wise Insights
Why are Natural Duvets Gaining Popularity across Regions?
Sustainability is the new trend in the fashion industry, after decades of fast fashion and superfluous production chains. Along with customization, eco-friendly materials and ethical production are other emerging trends. With brands constantly launching new products, collections & designs, sustainability is one among many deciding factors for brand value. Requirement for cost-effective and eco-friendly beddings is rising among customers. For example, duvets are manufactured as being anti-allergic and warmer, without becoming heavy.
Will Hospitals Drives Duvet Sales in the Commercial Sector?
The latest technology in breathable, waterproof fabric, applicable in duvet and duvet covers, from all liquid stains as well as dust mites and bed bugs, which are a major cause of asthma, eczema, and rhinitis. Since hygiene is the prime concern in hospitals and clinics, in a bid to keep patients' bedding clean and sanitary, and also not overshoot in terms of expenses over laundry, waterproof duvets are gaining demand in hospitals. Waterproof duvets offer unerring protection against spills and accidents that hold the chance to ruin other standard duvets.
How is Sales Channel Vital in Driving Demand for Duvets?
e-Commerce is redefining commercial activities around the world. In fact, the COVID-19 pandemic and lockdowns have raised the involvement of e-Commerce within all industries. The segment of population not familiar with Internet retailing has also adopted it during lockdowns, being the only option available. There is a lot of opportunity for companies and online services to work together to offer greater engagement to consumers.
Internet penetration has been surging year-on-year across various parts of the globe. It enables customers to gain easy access to information about various bedding products available in the market. This factor has encouraged numerous duvet manufacturers to promote and sell their products through various e-Commerce and social media sites.
e-Commerce is also gaining popularity among retailers to monitor consumers' shopping preferences and experiences. There are also many local and domestic players entering online platforms to sell duvets and duvet covers, by offering the convenience of one-click solutions, home deliveries, and various other attractive features. Consumers, particularly the young generation, are also shifting to online retailers due to the availability of a large range of brand options, unique items, and better customer service.
Competition Landscape
Persistence Market Research has profiled the following prominent manufacturers in its report:
Sheela Foam Ltd.
Hanesbrands Inc.
Ohn Cotton Group Ltd.
DYKON A/S
Hollander Sleep Products
The White Company
Slumberdown
Duvet Pillow & Linen Co.
Old Europe Duvet Company
Brooke + Wilde Limited
These aforementioned players rely on multiple expansion strategies to deepen penetration across lucrative markets. These strategies include product launches, collaboration with key players, partnerships, acquisitions, and strengthening of regional and global distribution networks.
Key market players are involved in marking their direct presence in local markets through mergers and collaborations with regional players. Increasing focus on providing quality and eco-friendly products is creating significant growth opportunities for manufacturers.
Report Scope
Attribute

Details

Forecast Period

2021-2031

Historical Data Available for

2016-2020

Market Analysis

US$ Mn for Value & '000 Units for Volume

Key Regions Covered

North America
Europe
Middle East & Africa
Rest of the World

Key Countries Covered

U.S.
Canada
Germany
Italy
France
U.K.
Spain
Russia
India
Indonesia
Malaysia
China
Japan
South Korea
GCC
South Africa

Key Segments Covered

Material
Bed
End Use
Sales Channel
Region

Key Companies Profiled

Sheela Foam Ltd.
Hanesbrands Inc.
Ohn Cotton Group Ltd.
DYKON A/S
Hollander Sleep Products
The White Company
Slumberdown
Duvet Pillow & Linen Co.
Old Europe Duvet Company
Brooke + Wilde Limited

Customization & Pricing

Available upon Request
Key Questions Answered in Report
How will the duvet market expand until 2031?
Persistence Market Research projects the global duvet market to register a CAGR of over 3% across the 2021-2031 assessment period. Growing home ownership, customer appeal for home decor and aesthetics, social media influence, and constant innovations in color palettes, material, shapes, sizes, etc., are anticipated to offer duvet sales increased momentum.
Which is the largest market for duvets?
As per Persistence Market Research's projections, developing countries are expected to pivot expansion, attributed to eco-friendly approach, targeted product offerings, smart products, home renovation, social media influence, and consumer inclination toward-low maintenance, high-thread count duvets.
What is the impact of product innovation on duvet sales?
In recent years, product innovation has taken the lead in generating demand for consumer goods, and consequently, manufacturers are investing in research & development, thereby widening growth prospects. Online retailing is boosting demand for new product variants, as a consequence of which, companies are investing in technological innovations within the category.
Who are the leading players in the duvet market?
Prominent players operating in the global duvet landscape include Sheela Foam Ltd., Hanesbrands Inc., Ohn Cotton Group Ltd., DYKON A/S, Hollander Sleep Products, The White Company, Slumberdown, Duvet Pillow & Linen Co., Old Europe Duvet Company, and Brooke + Wilde Limited, among others.
Enquiry before Buying
Is the research conducted by Persistence Market Research?
Yes, the report has been compiled by expert analysts of Persistence Market Research, through a combination of primary and secondary research. To know more about how the research was conducted, you can speak to a research analyst.
What research methodology is followed by Persistence Market Research?
Persistence Market Research follows a methodology that encompasses the demand-side assessment of the market, and triangulates the same through a supply-side analysis. This methodology is based on the use of standard market structure, methods, and definitions.
Who are the respondents for primary research?
Persistence Market Research speaks to stakeholders across the spectrum, including C-level executives, distributors, product manufacturers, and industry experts. For a full list of primary respondents, please reach out to us.
What are the sources of secondary research?
Persistence Market Research conducts extensive secondary research through proprietary databases, paid databases, and information available in the public domain. We refer to industry associations, company press releases, annual reports, investor presentations, and research papers. More information about desk research is available upon request.
Is a sample of this report available for evaluation?
Yes, you can request a sample, and it will be sent to you through an email.
How can I buy this report?
Persistence Market Research provides a secure online payment system to buy reports seamlessly. You can buy the report securely and safely.
Key Market Segments Covered
Material
Natural

Down Filling
Feather Filling
Silk
Wool
Others

Synthetic
Bed Type
Single Bed
Double Bed
Queen Size
King Size
End Use
Sales Channel
Wholesalers & Distributors
Modern Trade
Convenience Stores
Specialty Stores
Multi-brand Stores
Online Retailing
Independent Small Stores
Others
Region
North America
Latin America
Europe
East Asia
South Asia
Oceania
Middle East & Africa (MEA)
Our Clients