Urinary Catheters Market
Global Market Study on Urinary Catheters - The Future Lies in Biocompatible Material
Urinary Catheters Market is segmented by Indwelling (Foley) Catheter, Intermittent (Short term) Catheter, External (Condom) Catheter, Urinary Incontinence, Prostate Gland Surgery.
Introduction
Urinary catheters are utilized for patients experiencing urinary incontinence, urinary retention, and other urological disorders. A urinary catheter is a flexible tube used to drain bladder and accumulate urine in a drainage pack, which is normally inserted into the patient's bladder by a medical professional. Urinary catheter can either be embedded through urethral catheter or through a little opening made lower mid-region (suprapubic catheter).
Urinary catheters include indwelling (Foley) catheter, intermittent (short term) catheter, and external (condom) catheter. Indwelling (Foley) catheter is an adaptable tube with lumens at two ends. This sort of urinary catheter is embedded into bladder through urethra. An intermittent catheter is an adaptable catheter used to discharge bladder at standard intervals. External or condom urinary catheter is normally utilized for older male patients experiencing dementia (loss of cerebrum work). Condom urinary catheter is formed like a condom and is set over the male genital, with a tube leading to drainage bag, which collects urine.
The worldwide urinary catheters market size in 2018 was ~US$ 1.5 Bn and it is relied upon to develop at a CAGR of ~4% during forecasted period of 2019-2029. Favourable reimbursement policies and increasing interest for cutting-edge urinary catheters are major factors leading to increased demand for urinary catheters, subsequently fuelling the growth of the urinary catheters market. An ascent in the number of medical procedures across the globe is increasing the demand for urinary catheters.
Manufacturers are continuously taking efforts on developing new products with exceptional focus on patient's solace. Increasing ubiquity of locally established haemodialysis and fixer occlude devices are the most recent trends in the global urinary catheters market. Trends in the urinary catheters market include to incorporate technological advancement in urinary catheters, reliable interest in innovative work, and surge in acquisitions and mergers.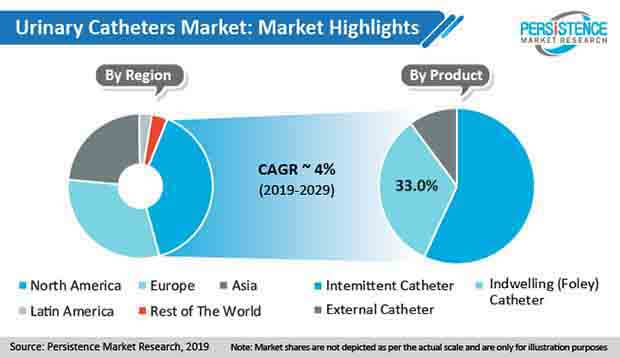 The per capita healthcare expenditure is currently following an uptrend across developed and developing economies, which has made possible to implement quality patient care treatment options. Government and regulatory bodies in several countries are adopting a number of cost-containment measures to reduce the healthcare burden, especially in developed economies. This shift from volume-to-value based system is driven by various initiatives taken by government, radiotherapy service providers, which include outcome-based pricing, profit & risk sharing, price control, and competitive tendering. The value-based healthcare system helps companies to achieve maximum value for money invested in healthcare, and thus improve outcomes through integrated care pathways, but at the same time is imposing pricing pressure on the manufacturing companies and affecting investments in R&D of innovative medical treatment technologies.
Urinary catheter is most regularly utilized in the prostate gland medical procedure who are experiencing BPH. In 2015, The American Academy of Family Physicians (AAFP) estimates that, consistently in the U.S. there are 250,000 surgeries carried out for the BPH with roughly 2 million office visits. This condition may likewise emerge by virtue of injury or damage to the urethra, penis, or bladder and is additionally connected with pregnancy.
The utilization of urinary catheters in the prostate gland surgery remains the most rewarding fragment in the urinary catheters market which holds ~37% of total revenue followed by urinary incontinence, which is accepted to be an untreated and underdiagnosed condition.
Find Out More about the Report Coverage
Companies
Company Profile
Boston Scientific Corporation
Medtronic plc.
Hollister Incorporate
B. Braun Melsungen AG
Coloplast A/S
Becton, Dickinson and Company
Teleflex Incorporation
Cook Medical
Recent Trends Shaping the Urinary Catheters Market
Urinary catheter providers are concentrating on developing technologically advanced products that can reduce UTIs and allow urologists to offer improved urological treatment and patient care. Major players are focusing on introducing urinary catheters, especially intermittent urinary catheters, manufactured using hydrophilic technology, in order to enhance antibacterial properties.
Moreover, key players are increasingly inclined towards developing indwelling or Foley catheters coated with teflon, silicon elastomer, and antimicrobial adhesive agents to meet increasing physician demand for such types of products. Key players are focusing on broadening their existing urinary catheters portfolio by introducing advanced urinary catheter products and developing newer technologies through consistent investment in research and development activities.
Companies are investing in the research and development activities to develop urinary catheters using biocompatible material. The use of silicone to develop urinary catheters is also increasing as it is insensitive to changes in temperature and resistant to chemicals. Urinary catheters made using silicone also reduce the chances of meatitis, urethritis, and trigonitis.
Most commonly used materials are latex and silicone. However, latex has been found to cause infections and reactions, hence, its use in developing urinary catheters has been reduced. Moreover, catheters made using silicone do not require to be changed frequently as compared to the latex ones. Major organizations are introducing new items to hold their places in the worldwide market for urinary catheter.
These new urinary catheter product launches include the utilization of better materials that have biocompatibility. Silicone foley urinary catheter is favoured as it has longer life and minimizes the chances of aggravation or contamination.
Customize this Report
Explore Intelligence Tailored to Your Business Goals.
Restraining Factors Impacting the Urinary Catheters Market
Incidences of urinary tract infection associated with the use of urinary catheters is increasing among patients, which is becoming a major challenge for healthcare professionals and institutions. Most CAUTIs are attributed to the use of indwelling or Foley urinary catheters during urinary catheterization.
Contrasted with different urinary catheter items, intermittent urinary catheter is increasing a great deal of footing in the market as intermittent catheterization is the primary choice and is a safe method. This urinary catheter does not have any contraindications and permits ordinary bladder elements.
Likewise the odds of creating diseases, blockage, and bladder spasm is diminished with irregular catheter. Moreover, intermittent catheterization reduces the hazard of urinary tract disease, improves plausibility of renal recuperation. The single-utilize intermittent urinary catheter is most favored for intermittent as it is convenient and furthermore bring down the risk of long and short term complications. Availability of disposable incontinence products such as adult diapers and pull-on absorbent pants are expected to hamper the growth of the urinary catheters market worldwide, as these products act as substitutes, particularly for external catheters, which need to be changed every day. Additionally, government of major countries such as the U.S., the U.K., and Australia etc., have been offering various reimbursement programs on the purchase of disposable incontinence products, which is anticipated to hamper the market growth during the forecast period
Market Research Methodology - Perfected through Years of Diligence
A key factor for our unrivaled market research accuracy is our expert- and data-driven research methodologies. We combine an eclectic mix of experience, analytics, machine learning, and data science to develop research methodologies that result in a multi-dimensional, yet realistic analysis of a market.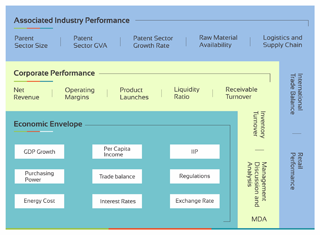 North America Capture Significant Share in the Urinary Catheters Market
North America will continue to be the prominent regional market for urinary catheters due to rising burden of increasing urological diseases and growing elderly population. Moreover, North America has sophisticated healthcare facilities, and the reimbursement coverage contributes to the large market share of the region.
North America holds significant market share in the urinary catheters market with ~40% of total revenue and is expected to grow with a CAGR 3.8% in the forecasted period. On the other hand, Europe represents the second most lucrative region in the urinary catheters market, and is expected to grow 2.6% in the forecasted period with ~31% of market share, due to increase in the number of surgeries as well as product penetration in this region.
Explore Persistence Market Research's expertise in promulgation of the business !
Leading Market Players Harbingers for Growth
B.Braun, Coloplast, Becton Dickson and Company & Medtronic are among the leading market players in the urinary catheters market. Other manufactures are Teleflex Incorporation, Hollister Incorporated, and Cook Medical, which are increasing their footprint in developed and emerging economies globally. They continue to dominate the market landscape of urinary catheters due to investment in research and development, product diversification, and strategic partnerships and acquisitions in order to enhance product and customer base.
In 2018, B. Braun invested over €1 billion in new productions as well as research and development projects to grow and secure market share. B. Braun expended US$ 387.2 Mnin development activities.
On December 29, 2017, BD completed the acquisition of Bard to create a medical technology company that is uniquely positioned to improve both the treatment of disease for patients and the process of care for healthcare providers.
In 2017, Coloplast has acquired Lilial, a French direct-to-consumer home delivery company, is now able to deliver products direct to end users in the company's five largest markets.
Analysts' Viewpoint
A comprehensive view of the urinary catheters market has led our analysts to conclude that, the market is growing at an impressive rate, with North America and Europe holding a large chunk of the global demand for urinary catheters and its applications.
The rising demand for urinary catheters due to increase in the number of applications and indications such as increase prevalence of urinary incontinence and prostate surgeries are spurring the market growth. Strong financial position and technological innovations of key market players will also give impetus to the urinary catheters market.
Companies with research and development capabilities and technological prowess will gain momentum and profitability in the urinary catheters market. Leading players who are leveraging technology will continue to grow exponentially and have a vast market revenue share.
Key Segments of the Urinary Catheters Market
PMR's study on the urinary catheters market offers information divided into three important segments-product type, application type and region. This report offers comprehensive data and information about the important market dynamics and growth parameters associated with these categories.
Product Type

Indwelling (Foley) Catheter
Intermittent (Short term) Catheter
External (Condom) Catheter

Application

Urinary Incontinence
Urinary Retention
Prostate Gland Surgery
Spinal Cord Injury
Other

Region

North America
Europe
Asia
Latin America
Rest of World
Key Questions Answered in PMR's Urinary Catheters Market Report
Which regions will continue to remain the most profitable regional markets for urinary catheters market players?
Which factors will induce a change in the demand for urinary catheters during the assessment period?
How will changing trends impact the urinary catheters market?
How can market players capture the low-hanging opportunities in the urinary catheters market in developed regions?
Which companies are leading the urinary catheters market?
What are the winning strategies of stakeholders in the urinary catheters market to upscale their position in this landscape?
Our Clients