Tantalum Capacitors Market
Global Market Study on Tantalum Capacitors: Demand for Wet Tantalum Capacitors to Rise Faster Than Other Types
Tantalum Capacitors Market Segmented By Solid Tantalum Capacitors, Wet Tantalum Capacitors, Polymer Tantalum Capacitors Type by Surface Mount, Leaded/Through-hole Mounting
Tantalum Capacitors Market
About the Report
With the introduction of high purity powders, automated assembly, and real-time control systems, the base reliability of tantalum capacitors has been increasing steadily in recent years. The global tantalum capacitors market is slated to expand at a CAGR of around 6% over the forecast period (2021-2031), with demand being high for wet tantalum capacitors and surface mount capacitors.
Persistence Market Research's new study covers comprehensive insights about the market trends, value (US$ Bn) projections, recent developments, and dynamics in the global market for tantalum capacitors for the forecast period of 2021-2031.
The report tracks the global value of tantalum capacitors in 10+ high-growth markets, with the regions of North America, Europe, and Asia offering the most opportunities to stakeholders. The report also analyzes the impact COVID-19 has had on the global economy in general, and tantalum capacitors in particular.
Find Out More about the Report Coverage
Companies
Vishay Intertechnology, Inc.
KEMET Corporation
TE Connectivity
AVX Corporation
ROHM Co., Ltd.
Samsung Electro-Mechanics
Vicor Corporation
Abracon
Suntsu Electronics, Inc. (Nemco)
Panasonic Corporation
NTE Electronics Inc.
Exxelia
NIC Components Corp.
Matsuo Electric Co., Ltd.
Sunlord
Historical Trends Vs. Future Market Projections
From 2016 to 2020, the market registered a CAGR of 3.9%. Over the short term, key factors driving the market for tantalum capacitors are extensive usage of tantalum alloys in gas turbines & aviation, and rising demand from the electrical and electronics industry.
As 5G is rapidly growing, the need for tantalum increases. Moreover, replacement of solid capacitors with wet tantalum capacitors is likely to act as an opportunity in the near future. In military applications they are a popular replacement for aluminum electrolytes as they do not tend to dry out and change capacitance over time.
In addition to this, the tantalum capacitors offer a wider operating temperature range and tighter tolerances in military specifications versions (MIL-SPEC). As a result of these factors, the tantalum capacitors market is expected to grow at a rapid pace through the forecast. Overall, the market for tantalum capacitors is projected to fare even better over the coming years, expanding at an impressive CAGR of over 8% through 2031.
Customize this Report
Explore Intelligence Tailored to Your Business Goals.
How will Technological Advancements Impact Demand for Tantalum Capacitors?
The global passive component trend shows growing investments into development of new processes and materials to introduce completely new generation of passive devices. This includes investments into manufacturing equipment and technological know-how.
Tantalum capacitors are recognized for their exceptional stability and reliability in a wide range of temperatures and frequencies. They also have record breaking volumetric efficiency. Tantalum provides the capacitor of choice for high performance technologies and when failure is not an option.
The tantalum capacitor has a large capacitance per unit volume, as tantalum capacitors use tantalum powder with very fine particles, and the dielectric constant of the tantalum oxide film is 17% higher than that of any other oxide film.
In addition, the tantalum oxide film medium in the tantalum capacitor can not only maintain good performance for a long time but is also resistant to corrosion. These features are estimated to further boost the market growth for tantalum capacitors.
Market Research Methodology - Perfected through Years of Diligence
A key factor for our unrivaled market research accuracy is our expert- and data-driven research methodologies. We combine an eclectic mix of experience, analytics, machine learning, and data science to develop research methodologies that result in a multi-dimensional, yet realistic analysis of a market.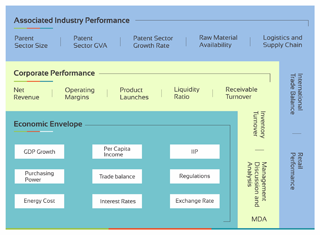 How is the Consumer Electronics Sector Creating High Growth Opportunities for Tantalum Capacitor Manufacturers?
Tantalum capacitors market for consumer electronics will witness growth on account of rise in the demand for digital camcorders, laptops and smartphones, along with their short replacement cycles. Advent of new technologies including 4K & OLED televisions with diversifying functionality and electronic content necessitates the need for increased capacitance, bandwidth, and energy density thus stimulating the product adoption.
They are also commonly used for power supply filtering on computer motherboards and cell phones due to their small size and long term stability, most often in surface mount form. Intrinsically conductive polymers, such as PEDOT (poly (3,4-ethylene dioxythiophene)) and PPY (Polypyrrole), have become the material sets of choice for polymer tantalum capacitors.
Furthermore, the use of tantalum capacitors with polymer cathode systems continues in many industry segments. Adoption of this technology began within the consumer electronics market, with rapid adoption in desktop and notebook computer applications.
Explore Persistence Market Research's expertise in promulgation of the business !
Will Continuous Improvements in Supply Chain Flourish Demand for Tantalum Capacitors
Today, various tantalum capacitor manufacturers, such as KEMAT Corporation, are partnering with mines in other regions of the world such as South America, which contains even greater sources of recently discovered tantalum. Before these deposits were discovered, Africa was believed to hold up to 80% of the world's known tantalum deposits.
Now, that estimate has been revised to just 10% of known deposits while South America has been declared as holding over 40% of the world's know supply. Such additional new discoveries on other continents is likely to generate profitable business opportunities for tantalum capacitor vendors in the future.
Which Factors are Affecting Adoption of Tantalum Capacitors?
Miniaturization, high speed data communication, processing and storage on one end and energy generation, transmission and storage on the other hand are the two main drivers for next generation of electronics. In lieu of this, the closest capacitor rival technology in mass volume to chip tantalum capacitors is Multilayer Ceramic Capacitors (MLCC) class II capacitors based on BaTiO3 dielectric material.
Although, tantalum capacitors have been on the market for many decades recognized as the stable performance, reliable capacitor technology, capable to provide high volumetric efficiency and power density, yet, miniaturization and cost down pressure allowed competing technologies to take over some portion of tantalum capacitor market.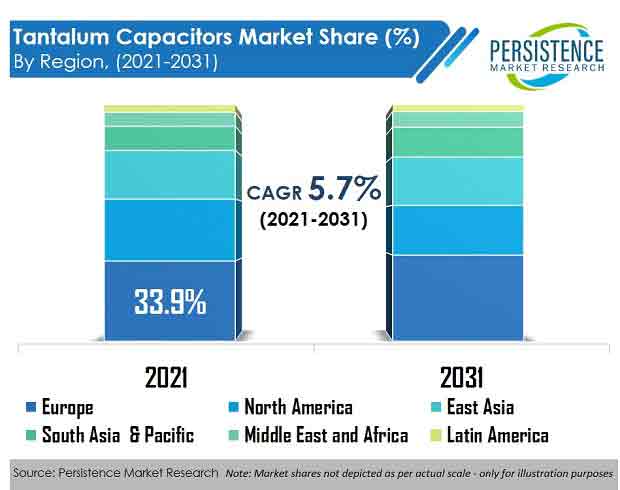 Country-wise Analysis                               
What's Driving Tantalum Capacitor Demand in China?
China had the highest share in the East Asia Tantalum Capacitors market in 2020. The economy is mainly driven by the bolstering demand from end-use industries, such as aerospace, medical equipment, and electronics. High-end military applications and capacitors are the main consumption areas for tantalum in the country.
The Chinese tantalum market is highly competitive. China has strategically minimized its dependency on imported products for cost control considerations and strategic security and vigorously advocated localization of high-end military products, providing superiority and a favorable environment policy for the domestic military tantalum capacitor industry.
How is India Surging Ahead in the Tantalum Capacitors Landscape?
The Government of India has taken several steps for the promotion of the domestic electronics manufacturing industry and exports from the country. In addition to this, in 2019, the National Policy on Electronics aimed to promote domestic manufacturing and export in the entire value-chain of electronics system design and manufacturing to achieve a turnover of approximately INR 26 trillion (US$ 400 Bn) by 2025. Moreover, electronics hardware production in India increased from ~US$ 65.53 Bn in 2019 to ~US$ 73.78 Bn in 2020.
This boom in electronic products in the country had become quite instrumental in propelling the demand for tantalum capacitors in the electronic industry over the forecast period. Given this, the market in India is estimated to cross a valuation of US$ 120 Mn by the end of 2031, registering a noteworthy CAGR of close to 12%.
What Makes the U.K. a Steady Demand Center for Tantalum Capacitors?
The market for tantalum capacitors in UK is likely to witness substantial growth owing to rising individual spending toward electronic appliances along with robust manufacturing of consumer electronic products. Moreover, ambitious government plans pertaining emission reduction coupled with shifting trends toward energy-efficient technologies will enhance the Europe market growth.
Additionally, federal incentives to spur the adoption of renewable energy systems along with increasing initiatives to promote electric mobility will provide a thrust to industry growth. Ongoing residential & commercial development projects facilitated by rising dependency on technology for everyday activities is estimated to further fuel the tantalum capacitors demand.
Category-wise Insights
Why is There Huge Demand for Solid Tantalum Capacitors?
In the field of consumer electronics, the dissemination of small and highly functional products like smartphones and tablet PCs is occurring at breakneck speed. Since these products require capacitors that are compact and have high capacity, many of them use solid tantalum capacitors, which boast superior mounting efficiency per volume.
This characteristic alone has made them the preferred choice of designers seeking aggressive miniaturization while at the same time significantly increasing the functionality of new product designs. The solid tantalum capacitor segment is projected to hold a major share throughout the forecast period.
Will Surface Mount Capacitors Hold Significant Market Share?
The surface mount segment is estimated to dominate the market by contributing for more than 50% of the market share in 2031. Since the 1980s, virtually all electronics hardware is being mass-produced using surface mount technology (SMT). Almost all electronic components are available in forms suitable for surface mounting.
Unlike earlier mounting technologies, the surface mount devices (SMD) associated with surface mount technology offer several advantages in terms of manufacturability and performance. SMDs do not have long leads that necessitates passing through the printed circuit board (PCB).
Rather, they have very short leads that can be soldered directly to the copper pads on the PCB. Manufacturers use different types of SMD packaging, with the evolution trending towards increasing package and pin densities.
Will the Automotive Sector Aid Demand Growth for Tantalum Capacitors?
Automotive-grade polymer capacitors are at the forefront of development. While polymer capacitors have been available for more than fifteen years, a fully qualified AEC-Q200 product has not been available to the industry. Latest advancements in packaging have resulted in polymer designs that can meet all of the requirements of the Q200 document and still deliver the ultra-low ESR performance that has been of great interest to the automotive industry in recent years.
Thus, High-temperature applications continue to demand more from tantalum capacitors. Moreover, automotive applications include ADAS features such as blind-spot detection, adaptive cruise control, and emergency brake assist, as well as safety systems such as airbag occupant detection, alarm systems, and electronic stability control. Tantalum capacitors can also be used in digitalization use cases such as supercomputing, mobility services, connectivity, and infotainment.
How Has COVID-19 Impacted the Market for Tantalum Capacitors?
COVID-19 has halted the growth of several metal markets all around the world. With the restrictions around the world and mining activities halted in almost every major region, the production and trade of tantalum were adversely affected. Thus, manufacturers were facing continued downward pressure on demand and revenues due to the COVID-19 pandemic. Additionally, the impact of COVID-19 on supply chains has also delayed the implementation of 5G on a short-term basis.
However, some of the key players are mainly focusing on research and development to provide innovative products to introduce to the market, thus, boosting the market studied. The recent COVID-19 outbreak is expected to have an impact on the growth of the various end-user industries (excluding the pharmaceutical industry) in the short term. However, the impact is temporary, and the tantalum market is anticipated to show considerable growth during the forecast period.
Market Share Analysis of Tantalum Capacitor Vendors
The global tantalum capacitors industry is fragmented in nature, with a majority of share held by leading tantalum capacitors providers. Companies holding a market share above 10% belongs to the tier-1 group. Tier-1 vendors such as Vishay Intertechnology, Inc., AVX Corporation, KEMET Corporation, and Panasonic Corporation are the most experienced and predominant in the market, and possess substantial regional coverage, globally.
Companies with a market share of 5% to 10% are estimated to be promising players. These companies are expected to showcase a major growth trend and upscale the opportunities that the global market has to offer in order to accommodate business expansion and revenue generation.
Companies occupying a pretty lower size with a share less than 5%, are strategizing to attract new clientele in foreign markets. Companies in this group are Vicor Corporation, Exxelia, and Sunlord, among others.
Competition Landscape   
Persistence Market Research has profiled the following prominent tantalum capacitor manufacturers in its report:
Vishay Intertechnology, Inc.
AVX Corporation
KEMET Corporation
Abracon
Suntsu Electronics, Inc. (Nemco)
Panasonic Corporation
ROHM Co., Ltd.
NTE Electronics Inc.
TE Connectivity
Exxelia
Vicor Corporation
Samsung Electro-Mechanics
NIC Components Corp.
Matsuo Electric Co., Ltd.
Sunlord
These above-mentioned players rely on various expansion strategies to make their presence felt across lucrative markets. These strategies include collaboration with key players, product launches, acquisitions, partnerships, and enhancement of distribution networks at regional and global levels.
For instance, in September 2020, Vishay Intertechnology, Inc. extended its EP1 wet tantalum capacitor with new ratings in the B and C case codes. Offering the industry's highest capacitance per voltage rating and case size for this device type, the capacitor is available with radial through-hole or surface-mount terminations in the A, B, and C case codes, each with a stud-mount option, for increased design flexibility.
In June 2020, the company announced the completion of the acquisition of KEMET by Yageo Corporation. The combined company will have an enhanced global footprint and be better able to partner with long-standing, blue chip customers worldwide through a combined 42 manufacturing plants and 14 dedicated R&D centers.
Report Scope
Attribute

Details

Forecast Period

2021-2031

Historical Data Available for

2016-2020

Market Analysis

US$ Mn for Value

Key Regions Covered

North America
Latin America
Europe
East Asia
South Asia & Pacific
the Middle East & Africa

Key Countries Covered

U.S.
India
Canada
Germany
China
Italy
France
U.K.
Spain
GCC
South Africa

Key Segments Covered

Type
Mounting
Application
Region

Key Companies Profiled

Vishay Intertechnology, Inc.
AVX Corporation
KEMET Corporation
Abracon
Suntsu Electronics, Inc. (Nemco)
Panasonic Corporation
ROHM Co., Ltd.
NTE Electronics Inc.
TE Connectivity
Exxelia
Vicor Corporation
Samsung Electro-Mechanics
NIC Components Corp.
Matsuo Electric Co., Ltd.
Sunlord

Customization & Pricing

Available upon Request
Key Questions Answered in Report        
How will the market expand until 2031?

Persistence Market Research projects the market to register a CAGR worth over 5% across the 2021-2031 assessment period. Market growth is driven by technological advancements and surging demand from various end use industries.

How are tantalum capacitor sales faring?

Because of the advances in technology the tantalum capacitors are used in a wide variety of circuits, electronic gadgets, automotive industry, cell phones and others, most often in the form of Surface Mounted Devices (SMD).

Who are the leading providers of tantalum capacitors?

Prominent players providing tantalum capacitors include Vishay Intertechnology, Inc., AVX Corporation, KEMET Corporation, Abracon, Panasonic Corporation, among others.
Enquiry before Buying
Is this research conducted by Persistence Market Research?

Yes, the research has been conducted by expert analysts of Persistence Market Research, through a combination of primary research and secondary research. To know more about how the research was conducted, you can speak to a research analyst.

What research methodology is followed by Persistence Market Research?

Persistence Market Research follows a methodology that encompasses demand-side assessment of the market, and triangulates the same through supply-side analysis. This methodology is based on the use of standard market structure, methods, and definitions. Request a detailed methodology.

Who are the respondents for primary research?

Persistence Market Research speaks to stakeholders across the spectrum, including C-level executives, distributors, product manufacturers, and industry experts. For a full list of primary respondents, please reach out to us.

What are the sources of secondary research?

Persistence Market Research conducts extensive secondary research through proprietary databases, paid databases, and information available in the public domain. We refer to industry associations, company press releases, annual reports, investor presentations, and research papers. More information about desk research is available upon request.

Is a sample of this report available for evaluation?

Yes, you can request a sample, and it will be sent to you through an email.

How can I buy this report?

Persistence Market Research provides a secure online payment system to buy reports seamlessly. You can buy the report securely and safely.
Our Clients