Market Overview
Polymer clay has come a long way since it was first created in late 1930s to address wartime shortages of materials used in doll making. While natural clay made of water and earth has been one of the most universal materials known to humans, synthetic modeling materials such as polymer clay have been rigorously developed over the years as an ideal medium for arts and crafts. As such material gained immense popularity among students, clay hobbyists, and artists, manufacturers of polymer clay began to alter conventional formulations, expand their product portfolio, and tap into opportunities in different end-use industries. Today, many brands of polymer clay are individually tested and certified as 'non-toxic' art materials.
In 2019, worldwide sales of polymer clay will increase 2.6% to reach ~US$ 29 million, up from ~US$ 28 million in 2018, according to the latest research from Persistence Market Research (PMR).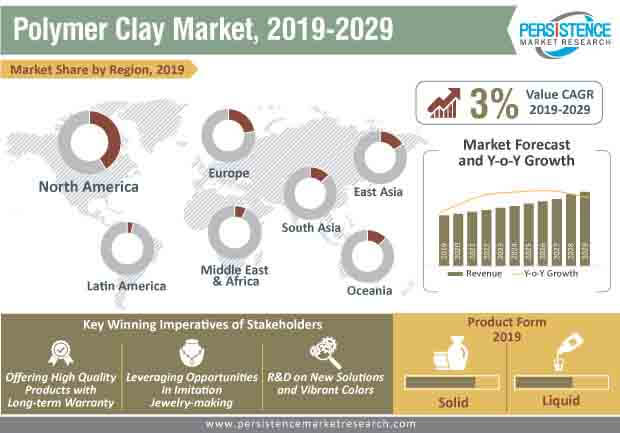 Does the Future Lie in Toy Industry?
In recent years, the global electronic toy industry has been undergoing significant changes, in the view of preferential shifts among consumers, growing dual-income households, downfall of brick and mortar retailing, and rapid rise of e-commerce sites; polymer clay industry is no exception in this revolution. Originally used in doll making, polymer clay has garnered robust traction as a viable material for manufacturing animation models and miniatures of doll houses along with their furnishing and decorations. Subsequently, continued sales of playset dolls and collectibles have been weighing on a same scale as the rising adoption of polymer clay. However, the growing use of smart devices and digital entertainment at an even earlier age has put a spotlight on the need for seamless integration of physical play and the digital world, which is likely to create a hindrance in the sales of polymer clay-based toys.
Apart from being a medium for sculpting dolls and miniatures, polymer clay has paved way for use in children's education. Owing to its ability to be molded into an endless number of forms along with acclaimed benefits of playing with clay in improving essential skills, dexterity, and creativity, the demand for polymer clay continues to be on an upward swing. In addition, increased investment in educational toys for cognitive development in children along with encouragement of play-based or activity learning and greater emphasis on arts and crafts in schools and other educational institutes will contribute to the sales of polymer clay in the years ahead.
However, it is pertinent to note that, there are a few important guidelines to be followed for using polymer clay, though it is certified as non-toxic products. Potential dangers and risks of accidents associated with unsafe toys remain a challenging factor of the polymer clay market.
Polymer Clay Sales to Escalate as Millennials Go Hands-on Handmade
Although the traditional manufacturing of toys and novelty items has seen a consistent decline in the past few decades, today's consumers, especially millennial demographic, are beginning to embrace things that are hand made in small quantities. Significant presence of social networking platforms has enabled millennial artists to share and sell their own creations. In addition to sharing arts and crafts online, these artists are making videos of their work to help others learn an art/craft skill or techniques, and the result is likely to lead to an increased demand for polymer clay.
Realizing the growing popularity of polymer clay in number of applications, especially in DIY and SUPW (Socially Useful Productive Work), manufacturers are focused on rolling out a number of products to manipulate polymer clay, which include pasta machine, acrylic rod, extruder, mold release, texture sheets, and others. Additionally, polymer clay market players are centered on R&D investments and activities to develop new solutions and vibrant colors of polymer clays. For instance, in 2019, Staedtler Mars GmbH & Co. KG added three new liquid colors including gold, silver, and black in their product line, which could create a multitude of design possibilities for decorative ornaments such as sparkling pendants.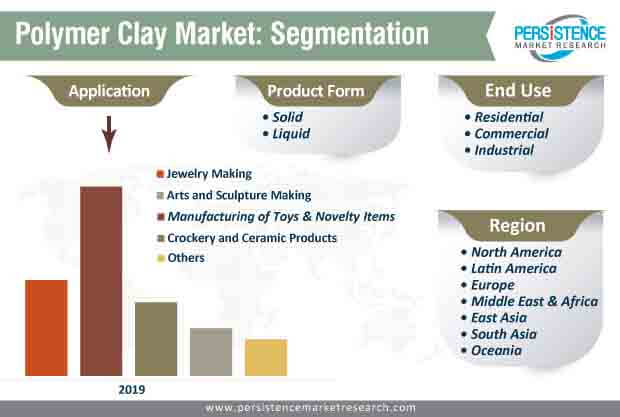 Jewelry-Making Promises a Glittering Future for Polymer Clay Market
While the consumption of polymer clay for manufacturing of toys and novel items continues to account for 43% of the total revenue, growing application in jewelry making is likely to result in increased maraket share, according to the PMR study. In the recent years, consumer appetite for fashion or costume jewelries are appearing more voracious than ever, in the view of 'fast-fashion' trend in apparel industry along with growing number of middle class population. Today, polymer clay is foremost in the minds of imitation jewelry makers, as it not only serves as a sustainable raw materials but also fulfils the demand for attractive jewelries at relatively low costs.
Will Developing Nations Offer Lucrative Opportunities for Stakeholders?
Regionally, polymer clay market continue to flourish in North America, driven by growing pursuit of DIY activities among consumers in line with recent explosion of internet in craft and lifestyle activities. While Europe and East Asia continue to offer greater opportunities due to strong presence of polymer clay artists and miniaturists in these regions, market consolidation in developing countries in South Asia will remain a key to gaining distinct competitive edge.
Manufacturers are not only viewing these countries from target market perspectives but also manufacturing perspectives. Growing South Asian consumer spending in imitation jewelry and DIY markets, on the back of rapid adoption of urban living and growing number of women in the workforce, are likely to work to the advantage of polymer clay market players. Considering relatively low operating and labor costs, stakeholders are eyeing the developing nations such as China and India to expand their manufacturing facilities.
PMR's analyst forecasts that the global polymer clay market will grow at a value CAGR of ~3% during the period, 2019-2029. The proliferation of e-commerce sites and rising number of tutorial videos on social channels such as YouTube have opened new avenues of creativity and sharing of ideas and products. Therefore, polymer clay manufacturers should be looking at a period of sustained demand, according to the PMR analyst.
Market Overview
Polymer clay is a synthetic product manufactured from polyvinyl chloride (PVC), resins, plasticizers, and pigments. It is manufactured in a variety of colors, which can be mixed together with paints. It is a form of modelling clay that has become widely utilized from the past few years among children, adolescents, and adult craftspeople. It is available in two forms such as solid and liquid polymer clay.
Polymer clay is mainly available in solid form. Solid form of polymer clay cures at significantly lower temperature than earthen clays, so it can be easily hardened in home. Liquid polymer clay also comes as translucent and it can be hand-tinted with oil paints, alcohol, ink, powdered pigments or glitter.
Polymer clay is widely utilized as a raw material in jewelry making, manufacturing of toys and novelty items, arts and sculpture making, crockery, and ceramic products, among others. Key distributors and manufacturers of polymer clay provide their polymer clays mainly for manufacturing of toys and jewelry, etc. Few brands of polymer clay includes Premo, Cernit, Formello, Modello, FIMO, Du-Kit, Sculpey, and Kato Polyclay.
The research study by PMR covers comprehensive information about the polymer clay market trends, volume (Tons) and value (000' US$) projection, recent developments, and dynamics in the polymer clay market for the forecast period of 2019 - 2029.
The polymer clay market is estimated to grow with a CAGR value of ~3%. With rapid urbanization, primarily in developing countries, economic development and national growth are inextricably connected. This factor is expected to boost the global polymer clay market. The global polymer clay market is projected to produce an incremental $ opportunity ~US$ 9.0 Mn over the forecast period.
Growing Demand for Costume Jewelry among Youngsters Propelling the Market Growth 
The global jewelry market has witnessed healthy growth in the last few years. The growing demand for cheap jewelry products such as plastic jewelries among the middle-class population is increasing. These jewelry products using raw materials such as polymer clay, which in turn, is expected to propel the global polymer clay market.
Furthermore, increased modernization, coupled with the growing female workforce, are driving the demand for polymer clays. Women prefer imitation jewelry due to its low cost and several options in design. Attributing to this, jewelry manufacturers prefer sustainable raw materials such as polymer clay. Due to these factors, the demand for polymer clay is increasing. The polymer clay market is expected to grow at a significant growth rate by the end of the forecast period.
Inclination of Children towards E-sports expected to Negatively affect the Polymer Clay Market
Use of mobile devices, tablets, and smartphones has increased considerably in recent years. Other than communication, mobile phones are used by children for gaming and other internet services. Preschoolers and children are more inclined towards the use of mobiles for gaming and internet surfing of videos. This tendency and attraction towards technology affect the social life, mental development, and health of children by restraining the use of the body movement.
The initial years of a child's life should focus on physical movement and outdoor games. Electronic gadgets are negatively affecting the growth of the global toy and polymer clay markets.
Growing Market Consolidation: Mergers & Product Launch Key Strategy of Market Players
Major companies in the polymer clay market are focusing on strategic mergers and acquisitions, and product launches to expand their global footprints. Companies are also focusing on expanding their product portfolio of polymer clay as per the growing demand across the globe. For instance,
In 2014, Levine Leichtman, a Los Angeles-based private equity firm acquired Polyform Products Company for a value added partnership to build its product portfolio.
On 1st May 2019, the company introduced its new polymer clay products - Sculpey III, Premo, and solid clay conditioner. These have various vibrant colors for polymer clays.
In 2019, Staedtler Mars GmbH & Co. KG added new solutions to its FIMO range. Three new FIMO liquid colors – gold, silver, and black to fulfill the increased customer demand.
Polymer Clay Market – Competition Landscape
The polymer clay market is a highly consolidated market and the key market participants hold around one-fourth of the market share in 2018. Top market players in the polymer clay market, collectively hold ~80-85% market share of the total market share.
Some of the prominent manufacturers are
Polyform Products Company,
American Art Clay Co., Inc.,
Van Aken International,
The Clay & Paint Factory,
Staedtler Mars GmbH & Co. KG,
Makin's USA, etc.
Polymer Clay Market – Segmentation
Key information featured in the PMR's report can be categorized into four different segments – product form, application, end use, and region. The report offers changing dynamics and trends associated with each segment that can help readers interpret their impact on overall growth prospects of the polymer clay market. Further, it includes market attractiveness analysis and revenue comparison assessment of the individual segments.
Product Form

Application

Jewelry Making
Manufacturing of Toys and Novelty Items
Arts and Sculpture Making
Crockery and Ceramic Products
Others

End Use

Residential
Commercial
Industrial

Region

North America
Latin America
Europe
Middle East and Africa (MEA)
East Asia
Southa Asia
Oceania