India Organic Fertilizer Market Outlook (2022-2032)
Latest industry data on organic fertilizers shows that sales across India are expected to reach US$ 573.9 Mn in 2022, registering Y-o-Y growth of approximately 5.9%. Going forward, the India organic fertilizer market is predicted to expand at 7% CAGR and reach a valuation of US$ 1.13 Bn by 2032-end.
| | |
| --- | --- |
| India Organic Fertilizer Market Size (2021A) | US$ 541.8 Mn |
| Market Estimation (2022E) | US$ 573.9 Mn |
| Market Forecast (2032F) | US$ 1.13 Bn |
| Value CAGR (2022-2032) | 7% |
North India is anticipated to remain a key region in the organic fertilizer business in the country, and the regional market is estimated to surge at a CAGR of 7.1% through 2032.
As of 2021, sales of organic fertilizers comprised between 1% and 2% share of the overall India fertilizer market.
Organic Fertilizer Consumption Analysis (2017-2021) Vs Market Outlook (2022-2032)
Sales of organic fertilizers increased at 4.8% CAGR between 2017 and 2021, with states such as Madhya Pradesh, Maharashtra, Karnataka, Rajasthan, Uttar Pradesh, and Orissa accounting for a substantial portion of the Indian market. Sales in 2020 and 2021 were affected due to COVID-19, which hurt the demand for organic fertilizers from several application areas.
Government initiatives and subsidies promoting organic fertilizer usage in India along with increasing consumption of organic food in the country are set to drive consumption of organic fertilizers across application areas. Well-structured and efficient supply chain network, expansion in production capacity, and crop-specific fertilizer production are expected to remain the key growth strategies of Indian manufacturers of organic fertilizers.
The agricultural industry is recovering, which is also expected to bode well for organic fertilizer sales across the country. As a result, the organic fertilizers market in India is projected to expand, by value, at 7% CAGR during the forecast period of 2022 to 2032.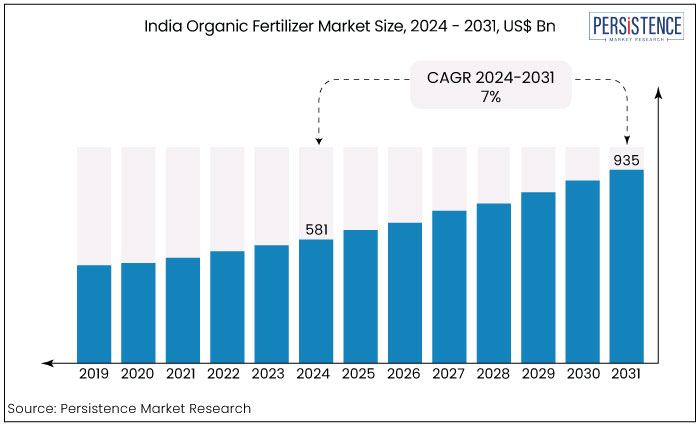 Why is Demand for Organic Fertilizers Expected to Surge across India?
"Rising Consumption of Organic Food to Open Up New Channels for Organic Fertilizer Business"
Organic food has become increasingly popular in recent years, particularly during the COVID 19 epidemic, as people think it to be healthier and better for immunity.
Organic food such as fruits and vegetables is expected to be in high demand in the future years. Organic fruits and vegetables are in high demand in both, the domestic and international markets, due to their high nutritional content. Vitamins, minerals, fiber, carbs, and calcium are abundant in fruits and vegetables.
As a result, in order to develop organic food and maintain its nutrients, farmers are turning to organic fertilizers, which increase the food's richness while still maintaining the authenticity of the product.
Major shifts to organic food, of around 62%, have been reported in metropolitan cities, especially in the domain of fruits and vegetables. This has created an increment of 95% in the last five years in some of the cities such as Delhi-MCR, Mumbai, Cochin, Indore, Chandigarh, and Dehradun.
"Growing Consumer Awareness & Health Concerns Positively Impacting Organic Fertilizer Consumption"
Consumers are becoming more health-conscious. They prefer to invest more in organic items as awareness of the health benefits of organic food grows. Consumers choose naturally developed items for healthy living to reduce the use of chemicals. The entire lifestyle pattern is shifting, and demand for natural and plant-based products is on the rise, becoming fashionable in recent years.
Customers are migrating to organic food goods as a result of different toxic chemicals and diseases, and the government is actively marketing these products. As a result, in order to cultivate natural and organic foods, organic fertilizers are required. This will play a big role in shooting up the demand for organic fertilizers in the future across India.
What is Hindering Market Growth of Organic Fertilizers in India?
"High Cost of Organic Fertilizers a Matter of Concern"
Natural fertilizers are often more expensive than chemical fertilizers, owing to the fact that chemical fertilizers have a higher concentration of nutrients per the weight of the product. To achieve the same soil nutrient level as a single pound of chemical fertilizer, several pounds of organic fertilizers are required.
Thus, higher expense of organic fertilizers is one of the main reasons that organic products are more expensive than non-organic produce. Another major reason is that typical organic yields are lower.
Moreover, as organic fertilizers are lower in nutritional content (n-p-k) value, they need to be applied at higher application rates. In some cases where the soil nutrient content is very low, organic fertilizers alone cannot meet this need.
Although it is possible to create a large amount of organic fertilizers at home, homemade organic fertilizers are usually more expensive than store-bought chemical fertilizers after labor, time, and other resources are factored in. This makes organic fertilizer products relatively expensive.
Region-wise Analysis
What is the Consumption Outlook of Organic Fertilizers in West India?
West India is projected to account for approximately 31.4% of the India organic fertilizer market share by 2032. In 2022, the market is expected to grow 5.7% year-on-year, reaching a valuation of US$ 573.9 Mn by the end of 2022.
Owing to the presence of several key manufacturers and their strategic approach toward producing crop-specific organic fertilizers, the regional market is anticipated to witness substantial growth over the coming years.
Also, Maharashtra and Rajasthan are amongst the top states in the country that produce the most organic fertilizers for both, consumption in the country as well as export purposes.
Why is North India a Key Market for Organic Fertilizer Suppliers?
North India is projected to account for nearly 43.3% of the India market share, creating an incremental opportunity of US$ 242.7 Mn in 2032.
Growing area for organic farming in the North Indian region has resulted in the higher consumption of the product. States such as Madhya Pradesh, Uttar Pradesh, and Punjab are bolstering demand for organic fertilizers. Abundant presence of raw materials and developed trade activities are key growth drivers for the market in the North Indian region.
Category-wise Insights
Which Raw Material Will Remain Key in Organic Fertilizers?
Sales of plant-based organic fertilizers are expected to increase at an impressive value CAGR of 7.1% over the forecast period of 2022 to 2032.
More than 40% of organic fertilizers are produced using plants as raw materials. Plant-based fertilizers such as cotton seed meal and green manure draw the most demand from end users.
There has also been a growth in the preference for plant-based organic fertilizers for flowers and leafy vegetables in the country. Owing to these factors, sales of plant-sourced organic fertilizers is projected to increase over the forecast period.
What is a Key Consuming Application of Organic Fertilizers?
Amongst the two applications, the farming segment is projected to create an absolute dollar opportunity of US$ 470.9 Mn during the period of 2022 to 2032, and account for close to 6/7 share in the India organic fertilizer market.
Organic farming is a type of agriculture process that is gaining high attention due to growing awareness and demand for organic food products. Increase in the area of organic farming will continue providing tailwinds to organic fertilizer sales over the assessment period.
Also, as the population of the country continues to grow, demand for healthy food and agricultural produce will increase, resulting in a boost to market expansion.
COVID-19 Crisis Impact on Market
Impact of the COVID-19 pandemic on the chemicals and materials industry was moderate. Several production facilities in India were entirely shut down because of lockdowns, which had an indirect impact on the sales of organic fertilizers. However, the pandemic led to an increase in the demand for crops, vegetables, and other food source plants.
This increase ensured that in order to maintain the high quality of food, plant and crop sources were adequately supplied with necessary nutrients. Hence, this saved the organic fertilizer market in India from a greater drop.
The industry is progressively rebounding from losses, resulting in positive sales prospects in the organic fertilizer landscape across India. Increasing prospects of organic fertilizers in increasing crop production in various states are also expected to boost demand for these fertilizers over the coming years.
Competitive Landscape
Key market players are focusing on increasing their production capacities to cater to the growing demand for organic fertilizers and boost their market presence. Apart from this, competitors in India are actively introducing organic fertilizers that meet customer-specific demands and are aimed at providing optimum yield from a specific kind of crop.
India Organic Fertilizer Industry Report Scope
Attribute

Details

Forecast Period

2022-2032

Historical Data Available for

2017-2021

Market Analysis

US$ Mn for Value
Kilo Tons for volume

Key Regions Covered

North India
South India
East India
West India

Key Market Segments Covered

Raw Material
Application
Region

Key Companies Profiled

Coromandel International
Madras Fertilizers Limited
Gujarat State Fertilizers
Simbhaoli Sugars Inc.
Eastern Organic Fertilizer Pvt. Limited
Prabhat Agri
Mangalore Chemicals and Fertilizers Limited
Amruth Groups
Chaitanya Agrochemicals
NM India Biotech
Krishna Agro Bio Products

Pricing

Available upon Request
Key Segments Covered in India Organic Fertilizer Industry Research
India Organic Fertilizer Market by Raw Material:
Plant-based Fertilizers

Molasses
Seaweed
Cottonseed Meal
Green Manure
Compost and Compost Tea
Corn Gluten Meal
Soybean Meal

Animal-based Fertilizers

Manure
Fish Emulsion
Urea
Bone Meal and Blood Meal
Milk

Others (Limestone, Rock Phosphate, etc.)
India Organic Fertilizer Market by Application:
Organic Fertilizers for Farming
Organic Fertilizers for Gardening
India Organic Fertilizer Market by Region:
North India Organic Fertilizer Market
South India Organic Fertilizer Market
East India Organic Fertilizer Market
West India Organic Fertilizer Market