Europe Motorized Quadricycles Market
Europe Market Study on Motorized Quadricycles: The Era of Efficient Mobility
Europe Motorized Quadricycles Market Segmented By Light Quadricycles, Heavy Quadricycles Vehicle Class in Electric and Conventional Fuel Operational Form
Europe Motorized Quadricycles Market
Europe Motorized Quadricycles Market: Introduction
The convergence of technology-driven trends and intricate consumer requirements has transformed and will continue to transform the global automotive industry to a significant extent. Throughout the years, increased clamor for fuel efficiency and low-maintenance alternatives has greased the wheels for newer automotive formats to make their debut, with the concept of motorized quadricycles being a remarkable one.
These were launched with a significant purpose- to cater to the demand for affordable four-wheeler options easing personal mobility. However, a wave of resistance to embrace the concept of this came to the fore, for that fact that these vehicles don't adhere to the emission and safety requirements as compared to the regular vehicles.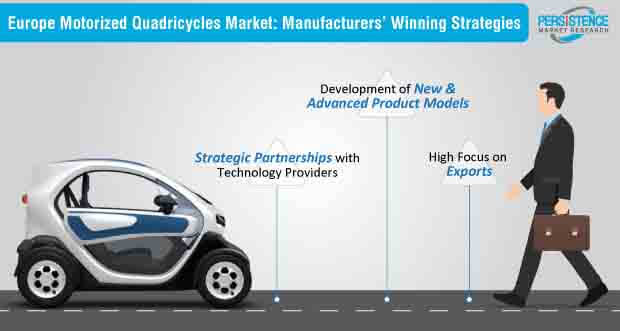 Brands who pioneered in terms of launching their exclusive motorized quadricycle models bore the brunt of regulatory hurdles, primarily on account of safety concerns. The concept of this significantly contradicted the idea of having vehicles with maximum adherence to the safety and emission norms put forth, which continues to be a longstanding challenge for manufacturers.
Persistence Market Research (PMR) conducted a comprehensive assessment of the European motorized quadricycles market, wherein the overall growth trail of this regional market has been outlined. Additionally, the research study also discusses the factors upholding demand and sheds light on untapped corners of this market for manufacturers to reap benefits from.
Find Out More about the Report Coverage
Companies
Aixam-Mega
Renault SA
Bajaj Auto Ltd.
Automobiles CHATENET
Ligier Group
Tecno Meccanica Imola SpA
Estrima Srl (Biro)
Casalini Srl
BELLIER AUTOMOBILES
Motorized Quadricycles: The Journey So Far, and the Road Ahead
The classification of 'quadricycle' was officially made in the 1990s when the European Union came out with the 'Directive 92/61/EEC', wherein it was stated that this fall into the same category as mopeds.
These started gaining immense popularity across the European countries as an affordable and electric vehicle for personal mobility needs, and additional benefits in terms of fuel efficiency and maintenance costs were 'add-ons' to their increasing popularity.
Industrial experts strongly agree on the fact that the European motorized quadricycles market is ripe for disruption with some game-changing developments and innovations on the horizon.
Europe's sales volume stood at around ~45,819 units in 2014, and reached ~ 52,181 units in 2018. Motorized quadricycles, both light as well as heavy ones, have come a long way in the last two decades, as a consequence of technological advances and evolving customer needs. In 2019, this market is estimated to be valued at ~ US$ 503.1 Mn, however, manufacturers will have to break through the inertia and invest in influential marketing campaigns to sustain their business growth.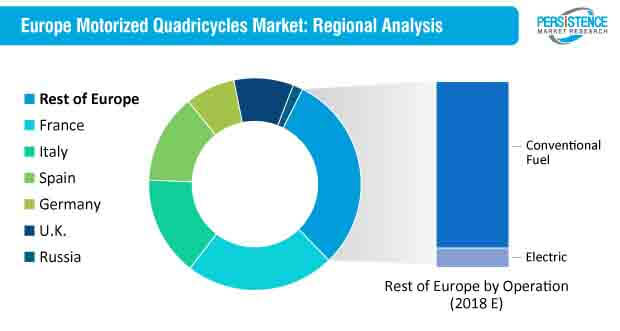 Customize this Report
Explore Intelligence Tailored to Your Business Goals.
Key Undercurrents Shaping Market Growth
Go 'Electric'- The Key Trend
Among all the overarching trends brimming in the European motorized quadricycles market, rising consumer inclination toward this continues to be a prominent one. With governments contributing significantly towards the popularization of electro-mobility and pollution control, use of zero-emission vehicles is being encouraged and incentivized. This, in turn, is enhancing the 'degree of marketability' of motorized quadricycles and creating new revenue opportunities for the manufacturers.
'Rental' is the New Norm
Motorized quadricycles on rent is another key trend that is reflecting new beginnings for manufacturers active in the market. This, being an unconventional yet interesting concept in the automotive spectrum, has always evoked customer interest owing to its 'zero-emission' promises. On that note, customers are showing high interest in renting these for enjoying premium experiences at reasonable costs, which is unlikely in case of the ownership models.
To offer hassle-free rental services to the customers, key companies, such as Axiam and Renault, are offering attractive packages on daily, weekly, and monthly basis, with an objective to expand their customer bases.
Market Research Methodology - Perfected through Years of Diligence
A key factor for our unrivaled market research accuracy is our expert- and data-driven research methodologies. We combine an eclectic mix of experience, analytics, machine learning, and data science to develop research methodologies that result in a multi-dimensional, yet realistic analysis of a market.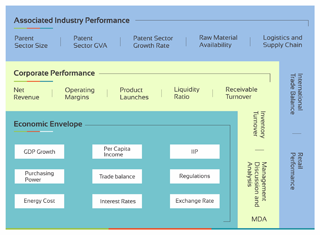 How are Manufacturers Winning?
Key players operating in this market are focusing on refining their product qualities via implementation of new technologies and integration of advanced functionalities.
In 2019, Electric Assisted Vehicles Ltd. launched its new quadricycle model, 'e-cargo bike', which has been designed to fend off carbon emissions during urban home deliveries. The Project 1 eCargo bicycle, which has been named as P1, has a total range of 7-20 miles that depends on the battery size, rendering it a significant addition to door-step food or courier delivery with minimal to no carbon emissions.
In 2019, Micro Electric announced the official launch of its exclusive range of compact electric quadricycles in three new variations- the Carry me box van, the me city car, and the Carry me pick up.
In addition, brands active in this market are also focusing on compliance with regulations and norms put in place for these, as these fall under the category of 'light motor vehicles' in the Europe market entailing several rules and regulations. Manufacturers will continue overseeing multiple factors, including engine power, passenger carrying capacity, speed limit, and others.
Key players active in this market are also focusing on strategic tie-ups and collaborations to reap substantial profits from combined-expertise and shared resource pools. For instance, in 2019, Bajaj Auto entered into a strategic tie-up with Uber for introducing its new range of motorized quadricycle 'Bajaj Qute'. Uber will be including the Bajaj Qute range in its UberXS services, which is a unique step toward rewriting the rules of public transportation and mobility services.
Explore Persistence Market Research's expertise in promulgation of the business !
Europe Motorized Quadricycles Market: The Competitive Landscape
The Europe motorized quadricycles market landscape can be characterized as a highly consolidated, with the leading companies commanding ~ 80% of the market share. The European market reflects an organized structure wherein a limited chunk of manufacturers is putting other manufacturers in the shade, with their large-scale regional presence and strong portfolios.
The leading players are shifting their focus toward revenue-making opportunities brimming in lucrative European countries, including Finland, Poland, and the Czech Republic, for successful footprint expansion. In addition, France will also continue to be a key target country for the market players for setting up new manufacturing facilities and distribution units.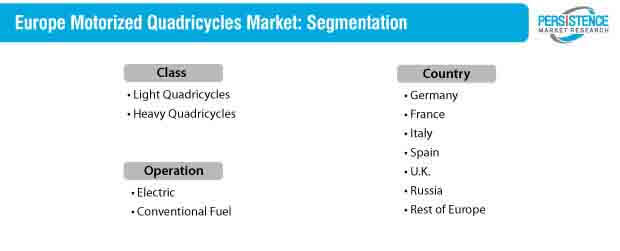 Analyst's Viewpoint
The PMR analysts remain highly optimistic about growth of the European market during the forecast period. As Europe continues to be the hub of automotive innovations, motorized quadricycles will see exponential rise in adoption, primarily in light-weight formats rather than heavy ones.
With electromobility making its mark in the automotive space, analysts are of the viewpoint that the sales of these will start plummeting at a considerable rate and demand for electrical variant will soar up at a considerable rate.
About Quadricycles
These are generally a European vehicle category of four-wheeled microcars defined by limitations in terms of weight, power, and speed. There are two categories defined such as light quadricycles (L6e), and heavy quadricycles (L7e).
This research report contains inclusive information about motorized quadricycles market trends, volume (Units) and value (US$ Mn) projection, dynamics, and recent developments in the market for the forecast period of 2019 and 2029.
The motorized quadricycles market is estimated to grow at a CAGR value of ~5%. Growing traffic congestion in European is expected to be one of the prime factors driving the growth of this market.
Growing Traffic Congestion in European Countries Creating Opportunities for Small & Compact Vehicles
Major countries in Europe such as France, Spain, Italy, etc. witness a heavy traffic congestion and smog formation due to a number of vehicles present on the road. Increased traffic congestion has also significantly increased the commute time, which is a significant concern for end users.
The government has adopted several solutions to handle this situation, such as limiting maximum driving speed, limiting minimum passenger capacity, and penalizing individuals breaking such regulations. One effective solution to the problem of growing traffic congestion could be the adoption of two wheelers, three wheelers, and small-sized and compact four-wheelers.
Thus, motorized quadricycles are expected to present themselves as an effective solution in the upcoming years, and this is anticipated to act as a driver for the European market. The Europe market is anticipated to grow ~1.6X during the forecast period.
Regulatory Institutions Promoting Electromobility and Adoption of Alternative Clean Technology in Automotive Sector
The regulatory bodies in several European countries are making efforts to promote electromobility and reduce automotive emissions by supporting electric vehicles. Automakers in the region are focusing on bringing down pollution levels by adhering to the emission norms.
This is mandatory because the growing population and rising demand for mobility resulted in the increased traffic congestion in major countries such as France, Germany, etc. Small-sized electric microcars serves as a perfect solution to this issue. Thus, countries are witnessing favorable government schemes and initiatives, which are expected to eventually boost the growth of the motorized variants' market in Europe.
In 2015, the French Ministry for Sustainable Development announced a significant investment for the development of electric vehicles to achieve its target of having 2 Mn electric vehicle parc by 2020.
The German Federal Government's 'National Electromobility Development Plan' aims to reduce the dependency on conventional fuel driven vehicles and emissions by speeding up research & development in battery electric vehicles. The plan aims to make Germany a market leader in the electromobility market by the end of 2020. The 'National Electromobility Development Plan' is expected to act as a catalyst for the market growth in Germany over the forecast period.
High Demand for Motorized Quadricycles among Elderly and Young Population in Europe
Motorized quadricycles are popular among the elderly and young population of Europe owing to the favorable legislation. According to the European Regulation 168/2013/EU, which governs the manufacturing and approval of this, the minimum age to drive a light quadricycle is 14 years with an AM license and for heavy quadricycles, the minimum age is 16 years with an AM license. Additionally, if an individual was born prior to 1st January 1988, then no license is required to drive these.
Due to that, the demand for this among elderly and young population is increasing at a significant rate. Furthermore, new models of these in the market with sports and premium vehicle looks are expected to drive the growth of the motorized quadricycles market in Europe.
Product Development and Product Launch – Key Growth Strategies in Motorized Quadricycles Market
The motorized quadricycles market is consolidated, and investment in the product development by key manufacturers could create significant opportunities for vehicle manufacturers as the enhanced performance of vehicles will lead to an increase in the sales figure. There are instances where prominent players have partnered with technology providers to innovate drivetrain components such as motors.
Moreover, manufacturers focusing on new product development and launching new models in the Europe market.
In January 2019, the company introduced a new quadricycle model in its automobiles Ligier series, the LIGIER JS50 SPORT ULTIMATE.
In 2018, the company launched two new range of quadricycles equipped with Euro 4-certifed Kubota engine.
In March 2018, Automobiles Chatenet launched CH46, its new addition to the light quadricycle product range. Its special features include 6kW power, EURO 4 EVO Engine, Front-wheel Drive, etc.
Motorized Quadricycles Market – Competition Landscape
The market is a consolidated market and prominent market players held more than half of the market share in 2018. The top nine players in the motorized quadricycles market collectively hold around 87% to 92% of the market share.
Some of the prominent manufacturers studied under this study on the motorized quadricycles market are
Aixam-Mega
Ligier Group
Renault SA
Bajaj Auto Ltd,
Automobiles CHATENET
Estrima Srl
Tecno Meccanica Imola SpA
Casalini Srl
Bellier Automobiles.
Key Questions Answered in Global Motorized Quadricycles Market Report
How has the motorized quadricycles market evolved over the past four years?
What are some of the prevailing market dynamics in the motorized quadricycles market?
What shape is the motorized quadricycles market expected to take in terms of value during the study period?
What are the competition developments and trends in the motorized quadricycles market?
What are the important key challenges, opportunities, and improvement factors for motorized quadricycles market players?
What are some of the underlying macro-economic and industry factors impacting the growth of the motorized quadricycles market?
What are the important market positioning and key strategies of key motorized quadricycles manufacturers as per the market taxonomy?
How is the competition structured at present and how has it evolved in the motorized quadricycles market over the past few years?
Europe Motorized Quadricycles Market: Taxonomy
PMR's new research study offers key insights into the segmentation of Europe motorized quadricycles market. The segmentation of this market has been offered on the basis of class type, operation type, and country. Also, regional markets have been analyzed in detail, along with regional trends corresponding to every country featured in the study.
Class

Light Quadricycles
Heavy Quadricycles

Operation

Electric
Conventional Fuel

Country

Germany
France
Italy
Spain
U.K.
Russia
Rest of Europe
Europe Motorized Quadricycles Market- Key Questions Answered in the Report
The research study on motorized quadricycles market published by PMR addresses some of the key questions that could help readers get better understanding of the market dynamics. Some of the key questions answered in this market include:
What are few of the latest developments and innovations in the motorized quadricycles market that reflect future possibilities for the manufacturers through 2029?
What are the few of the most influential trends shaping growth of Europe motorized quadricycles market?
What are some of the key challenges to be addressed by the manufacturers of motorized quadricycles market?
Which are the key countries with high potential for manufacturers of Europe motorized quadricycles market to take into consideration?
What are the key differential growth strategies of manufacturers active in the Europe motorized quadricycles market?
Our Clients