Mint and menthol flavor type segment is expected to account for relatively low value share by 2024 end
By flavor type, the mint and menthol segment accounted for a Y-o-Y growth of 2% in terms of value in 2016; this Y-o-Y growth rate is expected to increase to only 2.3% by 2024 end. Mint and menthol is expected to remain a low performing segment in the Europe cigar and cigarillos market throughout the forecast period and is estimated to account for a revenue share of 5.1% by 2024 end.
On the other hand, the tobacco/no flavor segment is expected to remain dominant in terms of value contribution in the Europe cigar and cigarillos market over the period of forecast. This segment created absolute $ opportunity of US$ 382.7 Mn in 2016 over 2015 and is projected to create incremental $ opportunity of US$ 3,794.1 Mn between 2016 and 2024.
The mint and menthol segment was valued at US$ 1,158.8 Mn in 2016 and is expected to expand at a CAGR of 2.2% over the forecast period to be valued at around US$ 1,380 Mn by the end of 2024. Revenue from the chocolate and vanilla segment in the Europe cigar and cigarillos market is expected to increase at a CAGR of 2.4% during the forecast period.
Rising preference of women for cigars and cigarillos is a recent trend boosting the Europe cigar and cigarillos market
Nicotine addiction is one of the important reasons behind the increasing smoking habits among women. Psychological factors such as tobacco dependency also play a significant role that makes them difficult to stop smoking. For instance, women cite psychological reasons such as smoking as a sign of fashion in society and peer pressure.
The social factors include upbringing of children in materially disadvantaged circumstances. These aforementioned factors are making women incline more towards smoking cigars and cigarillos, and to a certain extent, premium cigars. Remarkable cigar consumption among women has been recorded in Sweden.
In order to generate more sales revenue, manufacturers of cigars and cigarillos are focusing on expanding their product portfolio and production capacity. As a result, a majority of manufacturers are adopting strategies such as mergers and acquisitions as well as launching new products.
This factor is creating a positive impact on the Europe cigars and cigarillos market. For example, Altria Group Inc. acquired John Middleton Inc., which is a leading manufacturer of machine-made large cigars, in order to expand its business in the cigarettes and smokeless tobacco products market.
Manufacturers are targeting both online and offline retailers with an objective to expand distribution networks, thereby making products easily available to consumers. Various cigar parlors are also becoming target outlets for cigar manufacturers. Through online sales, manufacturers are also providing various offers and coupons to attract more consumers. For instance, in order to expand and have a strong distribution network, Nomad Cigar Company entered into a distribution agreement with Emilio Cigars.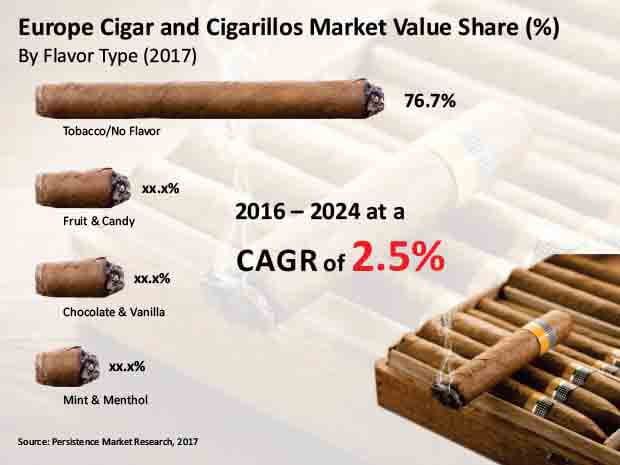 Increasing influence of peers for smoking is expected to support revenue growth of the cigar and cigarillos market in France
In Western Europe, nearly 90% of the NORDIC population prefers tobacco /no flavor cigars and cigarillos followed by chocolate and vanilla flavored cigars and cigarillos. Increasing popularity of cigar parlors coupled with the lounge culture in Italy is anticipated to drive the growth of the cigar and cigarillos market in the country.
In Switzerland, around 80% of the population uses tobacco/no flavor cigars and cigarillos, followed by fruit and candy flavored products. An increasing female smoking population in countries of Russia and Poland is expected to drive the growth of the Eastern Europe cigar and cigarillos market over the forecast period.
Europe Cigar and Cigarillos Market Segmentation
To understand and assess opportunities in the Europe cigar and cigarillos market, the analysts at Persistence Market Research have divided the report into two sections based on market segmentation as under:
Attribute
Details

By Flavor Type

Tobacco/No Flavor
Fruit & Candy
Mint & Menthol
Chocolate & Vanilla

By Focus Region

EU5
Benelux
Nordic
Eastern Europe
Switzerland
- Companies Covered in This Report -
Imperial Brands Plc
British American Tobacco PLC
Japan Tobacco, Inc.
Swisher International Inc.
Swedish Match AB
Altria Group, Inc.
Arnold André GmbH & Co. KG
Agio Cigars GmbH
J.Cortès Cigars
Joh. Wilh. von Eicken GmbH
Dannemann Cigarrenfabrik GmbH
Others.