Cigar and Cigarillo Market Outlook (2022-2032)
The global cigar and cigarillo market is projected to expand at 4.3% CAGR and reach US$ 32.3 Bn by the end of 2032, up from its current market size of US$ 21.23 Bn.
Sales of cigars & cigarillos account for 3%-5% share of the global tobacco products market at present.
| Report Attribute | Details |
| --- | --- |
| Cigar & Cigarillo Market Size (2022) | US$ 20.48 Bn |
| Y-o-Y Market Growth (2021-2022) | 3.7% |
| Estimated Market Value | US$ 21.23 Bn |
| Projected Sales of Cigars & Cigarillos (2032) | US$ 32.3 Bn |
| Market CAGR (2022 to 2032) | 4.3% |
| Market Share of Top 5 Cigar & Cigarillo Manufacturers | 7% to 12% |
Demand Analysis of Cigars & Cigarillos (2017 to 2021) Vs. Market Projections (2022 to 2032)
From 2017 and 2021, worldwide demand for cigars and cigarillos increased at a CAGR of 2.9%, with the United States, Japan, China, Russia, and the U.K. holding significant shares in the global market.
Cigars and cigarillos have been gaining attraction due to the rise in the number of smokers across the world. Although the market exhibits slow growth, it is expected to remain steady during the forecast tenure due to innovation in product offerings and innovative marketing strategies.
The marketing of tobacco products is legal in various Western countries, and, as a result, has served as a business opportunity for manufacturers of cigars and cigarillos. Market players are focused on various developments in cigars and cigarillos by introducing new flavors, advanced filtration, and other enhancements.
Meanwhile, the rising trend of smoking has impacted the demand for cigars and cigarillos among the youth. For instance, as per the latest survey done by the Centers for Disease Control and Prevention in 2021, around 44% of people who smoke cigars are middle-aged and high school students.
Over the next ten years, worldwide sales of cigars and cigarillos are anticipated to increase at 4.3% CAGR.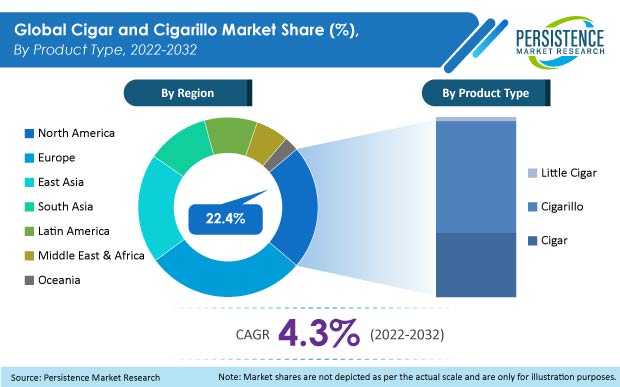 Why are Sales of Cigars & Cigarillos Rising Steadily?
"Growing Popularity of Cigars among the Youth"
Cigar and cigarillo smoking is gaining popularity among younger adults owing to peer influence. The trend has resulted in an increasing number of smokers. There is high demand for tobacco products among young adults. Cigar smoking is one of the most common forms of tobacco consumption, mainly in Middle Eastern and European countries.
Rise in individual income has resulted in a rise in the demand for premium products such as cigars. Meanwhile, aggressive advertisement of these products on media platforms by celebrities is also having a significant impact on smokers.
For instance, in 2022, according to the Centers for Disease Control and Prevention and the FDA, among all high school students in the U.S., 13.4% were cigar smokers. Moreover, over 470,000 individuals under 18 years of age tried smoking a cigar for the first time.
"Cigar Manufacturers Developing Advanced Filter Technology"
Although the cigar and cigarillo market is generating high demand for tobacco products, there is a risk of people getting affected due to toxic gases. As a result, several companies are developing advanced filter technologies to reduce the harmful effects of toxic gases.
To minimize toxicants in cigarettes and improve the smoking experience, cigarette manufacturers are adopting cutting-edge filter technology. In addition to standard carbon, paper, and glue, advanced filters incorporate a high-tech binder. As such, these filters help reduce the risk of toxic gases and provide a great smoking experience, which is resulting in the rise in demand for cigars and cigarillos in the market.
Country-wise Insights
What is the U.S. Cigar and Cigarillo Market Scenario?
The cigar and cigarillo market in the U.S. is expected to progress at a CAGR of 2.8% during the forecast period.
The U.S. is one of the key markets for the cigar and cigarillo business due to the rising number of cigar parlors and lounge culture. For example, the increasing penetration of cigar parlors in Chicago is generating high demand for cigars and cigarillos. Chicago is home to several cigar parlors such as Jack Schwartz, TESA Cigar Co., and various other known brands.
It is anticipated there will be a significant rise in cigar parlors and lounges, which will generate higher demand for cigars and cigarillos in the U.S. market.
Why are Sales of Cigars and Cigarillos High in France?
France is one of the key markets in Europe for the cigar and cigarillo industry and accounts for a high regional market share. The cigar and cigarillo market in France is expected to expand at a CAGR of 2.7% through 2032.
France has a high number of female smokers and is one of the emerging markets for cigar and cigarillo manufacturers. Therefore, market players are more focused on manufacturing cigars for females with certain upgrades, such as flavored cigars, which will create a robust trend among females in Europe.
As such, an increasing number of female smokers is expected to generate high demand for cigars and cigarillos in the country.
What's Leading to High Demand Growth for Cigars and Cigarillos in China?
China is one of the progressing countries in the cigar and cigarillo market and is anticipated to register a high-value growth rate of 8.3% over the forecast period.
China is one of the prominent countries in the premium cigars and cigarillos segment in the world. High penetration of cigar and cigarillo manufacturers in the market in addition to the growing number of young millionaires in China is likely to boost the domestic market for cigars and cigarillos over the coming years.
Category-wise Insights
Which Price Range is Most Popular among Cigar & Cigarillo Smokers?
According to the analysis under price range, the mass range segment is estimated to hold a major share of 73.3% in the overall cigars and cigarillos market in 2022 and is estimated to maintain its dominance over the decade.
Mass range cigars are machine-made and are economical as compared to handmade premium cigars. Less cost of these cigars attracts more smokers toward mass range cigars. Also, due to their high availability, there is high demand for mass range cigars from young consumers. Besides, the availability of several flavors in mass range cigars will aid in driving overall market expansion.
Which Flavored Cigars & Cigarillos Will Bring in Higher Revenue Streams?
According to this analysis, the other flavors segment is estimated to account for a value share of 50.8% in 2022 and remain the leading segment over the estimated tenure as well.
Smokers demand the original taste of tobacco than flavored cigars. Demand for tobacco and unflavored cigars is high among males and is anticipated to remain steady over the coming years as well.
However, demand for flavored cigars and cigarillos will be driven by the youth population and females due to their high preference for a variety of tastes.
Will Cigar Specialty Stores Continue Accounting for Most Sales?
According to this analysis by Persistence Market Research, cigar specialty stores account for 42.2% market share in 2022. Global sales of cigars and cigarillos are expected to rise faster through cigar specialty stores over the decade as compared to other sales channels.
Cigar specialty stores have a valid license to sell and promote cigars. Moreover, they operate according to the guidelines of governments and have government-issued authority to sell cigars. Apart from this, consumers prefer purchasing cigars from authorized stores as they are assured of premium quality cigars with various options.
Competition Landscape
Cigar and cigarillo manufacturers are strategizing and implementing a variety of market penetration strategies to increase their presence, especially in lucrative markets. These include the launching of new products, partnerships with other key market players, acquisitions, and enhancing their regional and global distribution networks.
For Instance:
In 2018, Dosal Tobacco Corporation launched its Export & International Sales Division. The company launched this division to partner with various dealers across the globe and introduce its product worldwide.
Cigar and Cigarillo Industry Report Scope
Attribute
Details

Forecast Period

2022-2032

Historical Data Available for

2017-2021

Market Analysis

US$ Mn for Value
Units for Volume

Key Regions Covered

North America
Latin America
Europe
East Asia
South Asia
Oceania
MEA

Key Countries Covered

United States
Canada
Brazil
Mexico
Germany
U.K.
France
Spain
Italy
South Africa
Northern Africa
GCC Countries
China
Japan
South Korea
India
Thailand
Malaysia
Indonesia
Australia & New Zealand

Key Market Segments Covered

Product Type
Flavor
Price Range
Sales Channel
Region

Key Companies Profiled

Scandinavian Tobacco Group A/S.
Imperial Brands
Habanos S.A.
Drew Estate LLC.
Swisher International, Inc.
Oettinger Davidoff AG
Swedish Match AB
Agio Cigars
Gurkha Cigars
El Artista Cigars
Arnold André GmbH & Co. KG
Dosal Tobacco Corporation
Oettinger Davidoff AG
Others (on request)

Pricing

Available upon Request
Key Segments Covered in Cigar & Cigarillo Industry Research
Cigar & Cigarillo Market by Product Type:
Cigars
Cigarillos
Little Cigars
Cigar & Cigarillo Market by Flavor:
Fruit/Candy
Mint/Menthol
Chocolate
Others
Cigar & Cigarillo Market by Price Range:
Cigar & Cigarillo Market by Sales Channel:
Direct Sales
Cigar Specialty Stores
Hypermarkets/Supermarkets
Online Retailers
Other Sales Channels
Cigar & Cigarillo Market by Region:
North America
Latin America
Europe
East Asia
South Asia
Oceania
Middle East Africa