DNA and RNA Sample Preparation Market Outlook (2022-2032)
The global DNA and RNA sample preparation market expanded at a CAGR of 5% and reach a size of US$ 1.7 Bn at the end of 2021. The market is estimated to progress further at a CAGR of 5.6% to reach a valuation of around US$ 3.1 Bn by the end of 2032.
Persistence Market Research has assessed that DNA and RNA sample preparation kits accounted for a market value of US$ 996.3 Mn in 2021. Overall, DNA and RNA sample preparation product sales accounted for 23.4% share of the global sample preparation market in 2021.
DNA and RNA sampling is followed in different settings such as hospitals, academic institutes, forensic science laboratories, and contract research organizations (CROs) for analysis. The primary step contains sampling, which is required in clinical testing, research, and diagnosis. DNA and RNA sampling involves multiple pieces of equipment, which creates workstations, kits for systematic sample processing, and reagents for creating a standard operating environment for enzyme regulation.
DNA and RNA samples can be of various types such as blood, tissue, semen, saliva, urine, and others that can be derived from environmental samples, biosamples, or others. The growing demand for testing and analysis in different fields of life sciences such as microbiology, biochemistry, and others, with the requirement of higher throughput, increases the demand for DNA and RNA products and instruments globally.
Kits are required in large quantities in research institutes to address the challenges they go through while experimenting. An experiment has a higher chance of failure due to methodology errors. Many life science institutes are increasing their capacity to train new professionals and providing students with internships and training programs, which are often funded by the government.
Forensic scientists and professionals have faced many challenges over the past decade that are getting resolved by technological advancements. The quantity of samples, for example, bloodstains from crime scenes received is generally very less and cannot be quantified when brought back to the laboratories.
Recent developments and the introduction of easier and more efficient quantification equipment such as PCR machines have aided with sample preparation. Some laboratories have started adopting direct polymerase chain reaction (PCR) methods and microfluidic chip-based rapid DNA isolation with automation.
| Attributes | Key Insights |
| --- | --- |
| DNA and RNA Sample Preparation Market Size (2022) | US$ 1.8 Bn |
| Projected Market Value (2032) | US$ 3.1 Bn |
| Global Market Growth Rate (2022-2032) | 5.6% CAGR |
| Market Share of Top 5 Countries | 55.2% |
What Path Should DNA and RNA Sample Preparation Product Manufacturers Take?
"Increased Throughput and Speed of Nucleic Acid Preparations"
Smaller sample sizes, more complex sample types, and rapid nucleic acid preparation are all aspects of DNA-RNA sample preparation. Steps in sample preparation can be automated to increase production. Multi-well plate systems, such as the illustraTM RNAspin 96 RNA Isolation Kit from GE Healthcare, which consists of a multi-plate, can be utilized in conjunction with novel vacuum purification and single-use centrifuge techniques that are intended to enhance sample workflow and extraction timeframes.
InnoGenomics Technologies, which focuses on innovative genetic testing solutions, resolved problems faced by forensic experts with the help of its patented product, which addresses a range of multiplexing issues with REs (retrotransposable elements), providing high PCR efficiency as well as outstanding sensitivity, repeatability, and durability. The company also introduced the InnoGenomics' InnoXtract system, a new method for the extraction of DNA from bone samples.
With the help of the above-mentioned factors, manufacturers of DNA and RNA sample preparation products will see lucrative growth opportunities over the coming years.
What's Challenging DNA and RNA Sample Preparation Market Expansion?
"Challenges in Methodology and Sample Handling"
Sampling is an intensive method and requires skilled and dedicated personnel. Sampling involves a step-by-step process that needs to be followed rigorously due to the involvement of protein and RNA, which are sensitive and need conceptual and theoretical knowledge. Any error in a step can lead to repetition, leading to a waste of time and effort.
Increasing number of companies operating in the sample preparation market, along with added product specifications and varying value propositions, makes it difficult for clients to conclude which offer best matches their requirements. Along with the price, companies also make alterations in steps and methodology that become difficult for a person with less theoretical knowledge and also those who are new learners. This could potentially affect the overall growth of the DNA-RNA sample preparation market.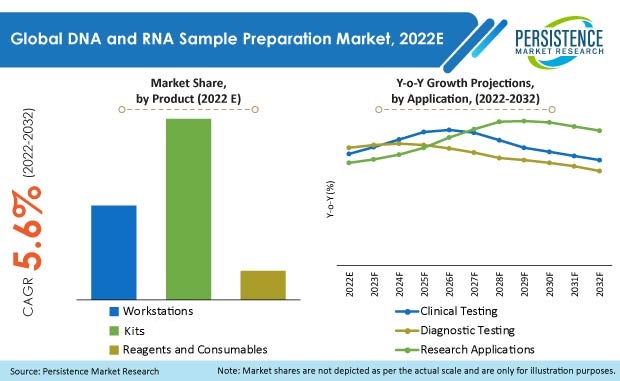 Country-Wise Insights
What's Benefitting the U.S. DNA and RNA Sample Preparation Market?
"Rise of Life Sciences Start-ups"
The U.S. accounted for 29.1% market share of the global DNA and RNA sample preparation market in 2021.
The U.S life science industry is in the era of start-ups that focus on particular segments such as clinical diagnostics, immunotherapy, drug discovery, gene therapy, and others. These start-ups are specific and work on unmet medical needs.
Due to the problems of addressing capacity and solving issues, the U.S. is leading in producing the most number of life science patents worldwide. The FDA has adopted policies that provide support for access to innovation and novel therapy development.
Thus, the U.S. market for DNA and RNA sample preparations is booming due to the increase in start-ups and research capacity.
What Makes China an Emerging Market for DNA and RNA Sample Preparation?
"Regional Expansion to Strengthen Presence"
China held the largest market share of 41.1% of the East Asia DNA and RNA sample preparation market in 2021, holding a market value of US$ 115.1 Mn.
The low-cost manufacturing sector has so far been successful in accelerating China's economic growth. To solidify its current position in the manufacturing industry, particularly in the biopharmaceutical industry, China is evaluating its presence in the regional sector.
China specifically elaborates on supply and value chains when manufactured goods are produced in another market, which is a concept that allows a central hub to continue serving as a hub for regional marketplaces. Therefore, the expansion of local and regional markets is boosting the development of DNA and RNA sample preparations in China.
What is the Stance of the Market in Germany?
"Strengthening Life Sciences Sector in Germany"
Germany held 28.6% share of the European DNA and RNA sample preparation market in 2021.
For decades, foreign businesses have been drawn to Germany's extensive network of internationally renowned universities and research institutions. Berlin, according to Germany Trade & Invest in 2021, has a significant concentration of entrepreneurial ventures, start-ups, academic facilities, and research centers with a focus on life sciences. Greater Berlin is residence to 30 pharmaceutical companies and approximately 240 biotech companies.
Germany is the European nation that submits the most biotech patent applications to the European Patent Office. Germany quickly developed into one of the world's top hubs for vaccine development in the early 2020s, in terms of both creating new vaccines and mass-producing those that already exist. More biotechnology-related EPO patent applications are filed in Germany than in any other nation in Europe.
These developmental factors make Germany a lucrative market for DNA and RNA sample preparation product suppliers.
Category-Wise Insights
Which DNA and RNA Sample Preparation Product is Most Prominent?
"High Demand for DNA and RNA Sampling"
The kits segment held 59.2% share of the overall product segment within the global DNA and RNA sample preparation market in 2021.
Increasing demand for DNA and RNA sampling with a rise in R&D activities, diagnosis, and testing are attributed to the growth of the kits segment. Kits are used in isolation and quantification, which are primary steps; hence, usage is also high as compared to others. These kits come with a set number of tests that can be performed, which increases their adoption rate.
Which Application Drives Most Demand DNA and RNA Sample Preparation?
"Booming Research Applications in Life Sciences"
The research applications segment held 38% share of the global DNA and RNA sample preparation market in 2021.
The most use of DNA and RNA sample preparation is done in research applications as a primary step in the analysis of any life science experiment. Thus, it is contributing substantially to the DNA and RNA sample preparation market.
Research is an integral part of any industry, which provides validation and confirmation related to discoveries and innovations. High research activities in the life science sector make this segment lucrative in terms of growth.
Competitive Landscape
Leading manufacturers of DNA and RNA sample preparation products have been constantly working to develop new product lines to strengthen their existing product portfolios, meanwhile expanding their consumer base around the globe. Similarly, several major competitors in the DNA and RNA sample preparation industry have engaged in activities such as mergers and acquisitions. Moreover, manufacturing companies are receiving certifications for new products to be launched.
In August 2022, Roche announced the release of its first digital polymerase chain reaction (PCR) system, the Digital LightCycler System. In addition to correctly quantifying minuscule amounts of particular DNA and RNA targets that are generally undetectable by conventional PCR techniques, this next-generation device is intended to identify various diseases.
In August 2020, Bio-Rad Laboratories, Inc. announced that it had acquired Celsee, Inc., a company that offers instruments and consumables for the isolation, detection, and analysis of single cells.
DNA and RNA Sample Preparation Industry Report Scope
Attribute
Details

Forecast Period

2022-2032

Historical Data Available for

2012-2021

Market Analysis

USD Million for Value

Key Countries Covered

U.S.
Canada
Brazil
Argentina
Mexico
Germany
France
U.K.
Italy
Spain
Russia
BENELUX
India
Thailand
Malaysia
Indonesia
China
Japan
South Korea
Australia
New Zealand
Turkey
GCC Countries
South Africa

Key Market Segments Covered

Product
Application
End User
Region

Key Companies Profiled

Agilent Technologies, Inc.
Becton, Dickinson and Company
Bio-Rad Laboratories Inc.
DiaSorin S.p.A.
F. Hoffmann-La Roche
Illumina, Inc.
PerkinElmer, Inc.
QIAGEN
Merck Millipore
Tecan Group AG.
Thermo Fisher Scientific, Inc.

Report Coverage

Market Forecast
Competition Intelligence
DROT Analysis
Market Dynamics and Challenges
Strategic Growth Initiatives

Customization & Pricing

Available upon Request
Segmentation of DNA and RNA Sample Preparation Industry Research
By Product:
Workstations
Kits

DNA Sample Preparation
RNA Sample Preparation

Reagents and Consumables
By Application:
Clinical Testing
Diagnostic Testing
Research Applications
By End User:
Hospitals
Diagnostic Centers
Academic & Research Institutes
Forensic Science Laboratories
Contract Research Organizations (CROs)
By Region:
North America
Latin America
Europe
South Asia
East Asia
Oceania
Middle East & Africa