Costing Holding the Bile Duct Cancer Treatment Market back?
As per Persistence Market Research, the global bile duct cancer treatment market is expected to witness a CAGR of over 9% between 2020 and 2030.
Cancer is amongst the leading cause of fatalities across the globe. The WHO states that cancer accounts for close to 8.3 Mn deaths every single year. It further states that around 70% novel cases of cancer are expected to get registered over the subsequent 2 decades.
Incidences of bile duct cancer and liver cancer has increased at an alarming rate all over North America in the last few years. Around 6,000 people contract bile duct cancer every single year in the US. Moreover, majority of cancer-affected people in the US fall between 70 and 75 years of age.
Bile Duct Cancer Treatment market: What's Happening?
Advancements all over endoscopic imaging techniques with minimally-invasive high-tech stone retrieval products are amongst the key drivers to growth of pancreatic and bile duct stone management market. It is, in fact, expected to witness a double-digit CAGR in the years to come.
Perihilar bile duct cancers, better known as "Klarskin tumors", are formed from where the hepatic duct branches do leave liver. More than 60% of the plethora of bile duct cancers fall in the category of perihilar bile duct cancers.
Asians are found to contact bile duct cancers in greater proportion as compared to non-Hispanic blacks and whites. In the current scenario, the very first line of therapy comprises "chemotherapy". This sector is expected to hold the largest market share in the years to come as well, as it will take some time for people to accept the other lines of treatment for bile duct cancers.
Since the passage of Orphan Drug Act in 1983, the treatments for bile duct cancers have picked up speed. RedHill Bio, in Apr 2017, was given the orphan drug designation to drug candidate "YELIVA (ABC294640) for treating bile duct cancers (also known as cholangiocarcinoma). The US FDA has undertaken the process of accelerated approvals for bringing these therapies to the bile duct cancer treatment market at a faster pace, so as to make the patients feel comfortable.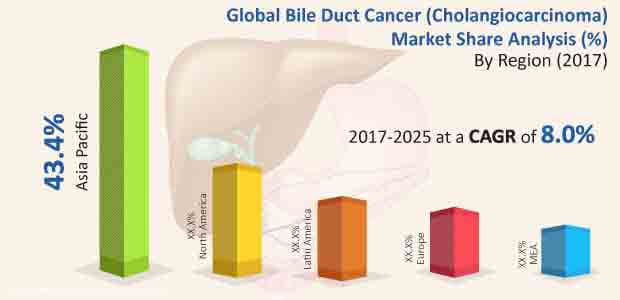 "Cost" factor to restrain the Bile Duct Cancer Treatment Market
The American Society of Clinical Oncology states that there is a yawning gap between cancer treatment costs in the developed and developing countries. Moreover, the US, importing prescription medicines from the foreign countries is not allowed. Also, Patented Medicine Prices Review Board of the government of Canada states that people in the US end up paying more than 100% than any of their counterparts for patented drugs.
These variations in prices are likely to hinder the bile duct cancer treatment market in the US. Though medical tourism is flourishing in the Asian economies like India, Singapore, Malaysia, the outbreak of Covid-19 has imposed travel restrictions. This scenario is expected to remain unchanged atleast till the end of the year 2020. The start of the year 2021 is expected to bring in the new guidelines regarding international travel. The market is expected to witness a major overhaul therein.
The Major Market Participants
The key players in the bile duct cancer treatment market include ConMed Corporation, Bristol-Myers Squibb, Johnson & Johnson, Novartis AG, Sanofi, F. Hoffmann-La Roche Ltd., Pfizer, Inc., Celgene Corp, Bayer AG, and Boston Scientific Corporation.
Market Segmentation
Treatment Type

By Treatment Type

Gemcitabine Combination Therapy
5-fluorouracil Combination Therapy
Capecitabine Combination Therapy
Gemcitabine Single Agent

By Services Spending

Radiation Therapy

Brachytherapy Services
External Beam Radiation Therapy (EBRT)

Surgery

Disease Indication

Intrahepatic Bile Duct Cancer
Extrahepatic Bile Duct Cancer

Perihilar Bile Duct Cancer
Distal Extrahepatic Bile Duct Cancer

Distribution Channel

Hospital Pharmacies
Retail Pharmacies
Online Pharmacies

Region

North America
Latin America
Europe
Asia Pacific (APAC)
Middle East Africa (MEA)
- Companies Covered in This Report -
Pfizer, Inc.
F. Hoffman-La Roche AG
Bristol-Myers Squibb Company
Teva Pharmaceuticals Industries Ltd.
Eli Lilly and Company
Novartis AG
Sanofi
Fresenius Kabi AG
Mylan N.V.
Kyowa Hakko Kirin Co Ltd.
Intercept Pharmaceuticals, Inc.
Accord Healthcare Inc.
Delcath Systems Inc.
Celgene Corporation
Johnson & Johnson
Others.