Introduction
The emergence of e-commerce has paved the way for mobile payment by the consumers. The convenience and comfort offered by such payment technologies are driving the growth of the market.
The rapid adoption of e-commerce platforms by different companies is boosting the adoption rate of these payment methods. Developing economies are estimated to lead the market in terms of growth as well as adoption rate with a surge in the penetration of contactless payment technologies such as e-wallets.
Different positive attributes of mobile transactions including cost-effectiveness, enhanced usability, high efficiency, and security are inflating the demand for such payment methods. Installation of new payment terminals by the retailers is bolstering the scope of contactless payment services.
Introduction of apps such as Apple pay and Samsung pay has increased the number of subscribers, substantially augmenting the market revenue. The high adoption rate of mobile payments by the millennial population is a major factor influencing the prosperity of the market.
With the growth in contactless payment modes, the rate of security breaches has also hiked, challenging the robust market growth. Different solutions such as fingerprint scanners and biometric authorizations have been introduced in the market to increase the security of these payment services. Major players in the market are Samsung Electronics Co., Ltd, Fiserv, Inc., PayPal Holdings, Inc., and Apple Inc.
E-commerce boom and push towards cashless economy are the key drivers in the global market
E-commerce is well and truly here to stay and has revolutionized the retail industry. E-commerce has essentially transformed the world into one big global village, allowing companies to reach customers in far-flung areas. The developing world in particular is predicted to be 'mobile-first' or even 'mobile-only', and smartphone sales have already eclipsed that of traditional PCs.
The comfort and convenience provided by mobile e-commerce is unparalleled and it aims to cater to the demand for niche products as well as traditional ones. Any company that chooses to ignore the mobile e-commerce movement does so at its own peril.
The smartphone explosion has led to mobile wallets and contactless payments being adopted slowly but surely. Developing countries are leading the way when it comes to becoming cashless and they have taken to the mobile phone to transfer funds like no other device.
A few of the factors responsible for widespread adoption of mobile payments include efficiency, cost-effectiveness, usability, transaction security and interoperability.
Even though credit and debit cards currently enjoy a higher rate of usage, the advent of mobile payment Apps and other contactless payments should ensure that they become the go-to-solution for all kinds of payment needs in the future.
Reduced transaction time, convenience and ease of use vital in retail industry
As retailers install new payment terminals to enable contactless payment, this will go a long way in solving logistical constraints. With the introduction of Apple Pay, Samsung Pay and Android Pay, the millennial generation is at the forefront of adopting new technology by embracing mobile payments. With this seismic shift in payment methods, it is logical to assume that even older generations will follow millennials and take to mobile payments in retail.
Adopting and enabling mobile payments allows companies to invest in newer technology that is far more user-friendly and intuitive. Consumers would also be happy to use these services that would make their daily lives immeasurably easier. A smartphone is a gadget that is more of a necessity than a luxury in the 21st century and companies have not been blind to this.
They are well-aware that their customers are using their mobile for anything and everything and therefore, mobile payments would be the next logical step in the journey towards a cashless economy. Mobile contactless payments are quickly becoming the new normal method to pay retailers as the need to visit an ATM to withdraw cash is eliminated.
Security breaches the key concern for mobile payments in retail
With any new technology, security or the lack of it will always be on the back of consumers' minds. There are a number of cases where retail merchants have reported loss of confidential information pertaining to their customers.
This problem is compounded by customer information being stored on the cloud as this can make it potentially vulnerable to a security breach or data theft. Many mobile payment solutions in the global consumer mobile payments market still use the old-fashioned username and password combination that make them ripe for a hacker to attack.
Although steps have been taken to safeguard financial information by including solutions such as fingerprint scanners, biometric authorization and tokenization, additional security will always be welcomed. In addition to this, PCI DSS security standards ensure total financial security by providing a PCI certificate without which a retail merchant cannot store or process any payment.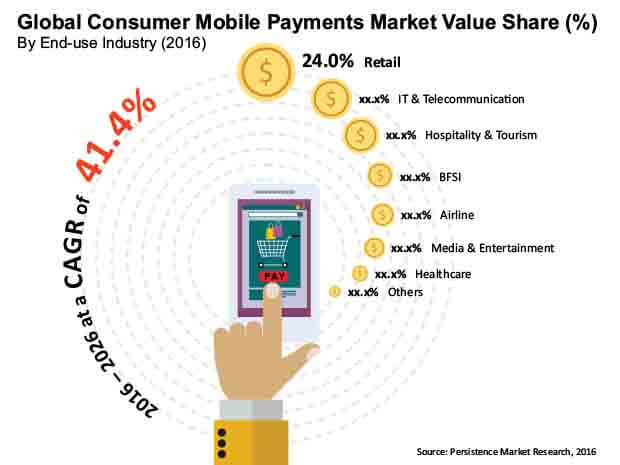 Retail end-use industry segment will continue to dominate the global consumer mobile payments market till 2026
The retail end-use industry segment is anticipated to retain its stronghold in the global consumer mobile payments market till the end of the forecast period. From a value of just over US$ 200 Billion in the year 2016, the retail segment will be worth nearly US$ 9 Trillion by the end of the year 2026, recording a massive CAGR of 45.4%. The retail segment was predicted to account for a value share of 24% of the global consumer mobile payments market in the year 2016 and this share should grow to just under 32% by the end of the forecast period.
Market Segmentation
By Region

APEJ
MEA
North America
Japan
Western Europe
Eastern Europe
Latin America

By End-Use Industry

Retail
Hospitality & Tourism
IT & Telecommunication
BFSI
Media & Entertainment
Healthcare
Airline
Others

By Mode of Payment

Remote
Proximity

Near Field Communication
Barcode