3D Printing Metal Market Outlook (2022-2032)
According to Persistence Market Research's most recent market estimates, the global 3D printing metal market is valued at US$ 422.9 Mn in 2022 and is projected to reach US$ 2.95 Bn by 2032, expanding at an astonishing CAGR of 21.4% over the next ten years.
3D printing metal accounts for around 5% share of the global metal powder market. In the present scenario, across numerous end-use sectors, the need for high-precision and lightweight components is rapidly increasing. To provide fuel-efficient solutions to clients, the automotive and aerospace industries are seeking lightweight components. Traditional manufacturing methods are unable to produce such lightweight components with the high precision demanded by these end-use industries Therefore, the demand for 3D printing metals is increasing day by day in the global market.
Metal powder is used in additive manufacturing to create complex objects such as aircraft engine parts, automotive components, industrial equipment, medical implants, etc. This technique uses metal powders (iron powder, aluminum powder, and titanium powder) to make objects from 3D model data by the addition of thousands of minuscule layers, which combine to create the end product.
The primary factor driving the sales of 3D printing metals is the rapid growth in demand for cutting-edge complex geometrics with excellent strength-to-weight ratio. The emergence of new and innovative additive manufacturing techniques is also augmenting product sales. Increasing vehicle parc around the globe has led to a significant surge in the demand for metal powder. The global automotive sector is leaning toward lightweight, economic vehicles, which, in turn, is fueling the demand for metal powder.
The emerging nature of the market for 3D printing metals and the need for better differentiation in products have been driving manufacturers and government agencies to invest in R&D. Such activities, along with greater efficiencies and integrated solutions comprising product design and simulation, are allowing companies to stay competitive among their peers.
| | |
| --- | --- |
| 3D Printing Metal Market Size (2021A) | US$ 359 Mn |
| Estimated Market Value (2022E) | US$ 422.9 Mn |
| Forecasted Market Value (2032F) | US$ 2.95 Bn |
| Value CAGR (2022-2032) | 21.4% |
| Collective Value Share: Top 3 Countries (2022E) | 68.1% |
Historical (2017-21) v/s Forecast (2022-32) Market Outlook for 3D Printing Metals
Over the historical assessment period (2017-2021), robust changes in the global 3D printing metal space have been observed. The COVID-19 pandemic hurt the world economy, which had an impact on the manufacture and supply of 3D printing metals as well. COVID gave the global auto industry a brand-new, unprecedented problem in 2020 after a miserable 2019, which saw a roughly 5% reduction in global vehicle manufacturing. Sales and market revenue of 3D printing metals in 2020 and 2021 were negatively impacted by the entire shutdown of the transportation and logistics sector and lower output in some countries as a result of lockdowns.
However, robust growth in the exploration of a wide spectrum of applications in the medical sector will escalate the demand growth for 3D printing metals over the forecast period. The business climate in the market is affirmative owing to the growth of the aerospace, automotive, and other end-use industries, and the level of investments in the private sector by both, domestic and international players.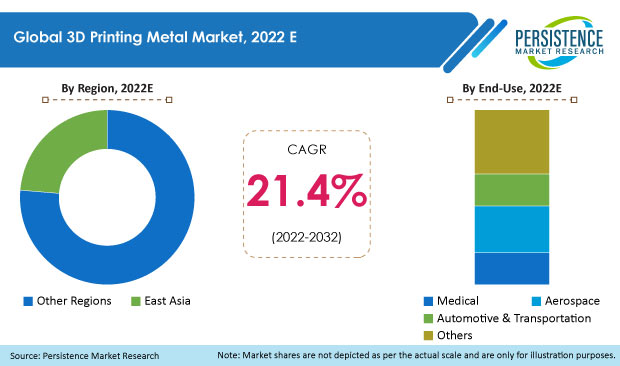 Which Factors are Shaping the Way Ahead for 3D Printing Metal Manufacturers?
"Medical Industry Accounting for Huge Surge in Demand for 3D Printing Metals"
Medical device manufacturers now have more creative latitude when designing new products, thanks to inexpensive, quick prototyping, which has sped up the introduction of new medical technology. The medical industry is benefiting from the capabilities of 3D printing to create devices tailored to individual patients. Implants and prosthetics, for example, can be produced more swiftly and affordably than with traditional manufacturing methods. Today, 3D printing is used to create spinal implants, cranial reconstruction implants, and hip and knee replacements.
Hospitals are increasingly using 3D printing to produce patient-specific anatomy models. These models are typically produced utilizing full-color 3D printing methods such as material jetting based on a patient's MRI and CT scans to guarantee that they are extremely accurate and realistic. The capacity of 3D printing to provide more individualized healthcare, as well as opportunities to enhance presurgical planning and spur device innovation, is a key strength for this industry.
According to current indicators, the usage of 3D printing in healthcare and dentistry will develop further, opening the door for more sophisticated applications and novel treatment options.
"Growing Automotive Sector to Complement Market Expansion"
A linear trend in 3D-printed automobiles is promoting the growth of the automotive sector. With the help of an innovative and swiftly developing technology called additive manufacturing, designers can now quickly prototype complex ideas that would otherwise be impractical to produce using conventional subtractive manufacturing techniques.
The automobile industry benefits from cutting-edge designs, creative freedom, and supply chain knowledge, thanks to cutting-edge technologies. This technology is also used for testing, producing, and assembling vehicle parts and components because of its increased efficiency, cost-effectiveness, and optimization.
The use of additive manufacturing in the automotive sector is growing; US$ 1.4 billion was made in global automotive AM sales in 2019. Revenues associated with additive manufacturing in the production of automotive components are predicted to reach US$ 5.8 billion by 2025. This number only seems to keep increasing, according to a SmarTech report.
In industries such as motorsports and performance racing, design methodologies such as generative design and topology optimization are gradually replacing traditional ways of part designing.
"Requirement of High-end Machinery Obstructing Market Growth"
The advanced production process of additive manufacturing requires advanced machines equipped with cutting-edge technologies. Such machines and related solutions are very expensive when compared to conventional production processes and machines. Owing to such high set-up costs, small- and medium-sized manufacturing industries are unable to install such machinery, which limits the target market of such processes.
However, increasing government initiatives to promote the use of these processes to attract foreign investments in various countries is expected to overcome the challenge in the future; however, there is no solid base for such initiatives taken as of now.
Country-wise Insights
What is the Growth Outlook for 3D Printing Metals in the U.S.?
The U.S. is expected to remain one of the prominent consumers of 3D printing metals globally owing to increasing demand from various end-use industries. Presently, the U.S is estimated to account for a dominating share of 49.3% of the global 3D printing metal market.
Growing passenger density is raising the production of aircraft. Aircraft manufacturers are using metal powder for coating purposes to make lightweight components. The U.S is one of the prominent hubs for aerospace companies, and therefore, the sector majorly accounts for the high consumption of 3D printing metals in the country.
Why are 3D Printing Metal Manufacturers Eyeing China?
The Chinese 3D printing metal industry currently accounts for around 13.3% of the global share. China is anticipated to be one of the top markets for 3D printing metal demand during the course of the projected timeframe.
China is expected to create a huge opportunity for 3D printing metal suppliers over the forecast period owing to the promising growth of end-use industries. The country is expected to cater to a majority of product demand owing to the strong production capacity of manufacturers based in China. Also, the automotive & transportation Industry is expected to account for a significant share of the market as 3D printing metals are used in complex ducts, resilient prototypes, grilles, and others.
Category-wise Insights
How is the Directed Energy Deposition Process Affecting the Demand for 3D Printing Metals?
The Directed Energy Deposition (DED) industry is estimated to utilize 8.4% share of the 3D printing metal produced globally. Direct energy deposition technology is used by many industries, including the automotive and aerospace sectors, to add various layers to freshly manufactured products. Laser technology, which has gained significant popularity for energy deposits with metal powder, has recently boosted the market for metal powder.
Industrial robots are also being used by well-known companies such as KUKA Industries to produce high-performance metal products for the automotive and aerospace industries at cheaper rates. The fusion of these technologies is thereby benefiting the global market for metal powder.
Why is the Aerospace Sector a Huge Consumer of 3D Printing Metals?
The aerospace sector is anticipated to hold a dominating 26.7% share of the global market.
Flexible additive manufacturing options owing to various benefits, such as their lightweight nature for aerospace applications, have increased the demand for additive manufacturing machines in recent years. 3D printing metal has various applications in the aerospace industry, such as they are used to make UAV components, combustor liners, rocket engine components, ECS ducting, oil & fuel tanks, etc.
Key economies are making investments in the aerospace sector. In addition, several Middle Eastern countries are also expected to positively drive the growth of the aerospace and defense sectors.
For Instance,
U.K.'s largest defense manufacturer BAE Systems is manufacturing parts made by additive manufacturing for the maintenance and services of planes used by the Royal Air Force.
Recently, the U.S. Navy decided to increase its naval ship strength by adding nearly 46 ships in the next 5 years. This will collectively increase the number of ships to 326 ships by 2023. In addition to that, leading manufacturers of commercial airplanes such as Airbus and Boeing are having a backlog of nearly 7,000 and 6,000 units, respectively. By implementing additive manufacturing, the production rate will be boosted and it will meet the demand at a lower cost and reduce material wastage.
Competitive Landscape
Major manufacturers are concentrating their efforts on increasing their production capabilities to enhance their market share and meet the rising demand for 3D-printed metal products. The market is expected to expand as a result of the rising number of alliances and collaborations among key companies to strengthen their position in the market.
A wide range of market opportunities has been created by numerous technological advancements and increasing attempts at development through acquisitions, joint ventures, and partnerships.
For instance,
In Aug 2022, 3D Systems acquired DP polar GmbH, a high-speed 3D printing equipment manufacturer for industrial and healthcare production applications.
On May 24, 2022, GKN PLC announced a collaboration with Conflux Technology to develop and design 3D-printed heat exchangers that improve the cooling of automotive, aerospace, and electronic components.
3D Printing Metal Industry Report Scope
Attribute

Details

Forecast Period

2022-2032

Historical Data Available for

2017-2021

Market Analysis

USD Million for Value
Tons for Volume

Key Countries Covered

U.S.
Canada
Brazil
Mexico
Germany
Italy
France
U.K.
Spain
BENELUX
Russia
China
Japan
South Korea
India
ASEAN
ANZ
GCC Countries
Turkey
Northern Africa
South Africa

Key Market Segments Covered

Material
Shape
Production Process
End Use
Region

Key Companies Profiled

Sandvik AB
ATI Powder Metals
Advanced Metallurgical Group
Rio Tinto
American Axle & Manufacturing, Inc.
Carpenter Powered Products
Showa Denko Materials
GKN PLC
Praxair Surface Technologies Inc.
Aubert & Duval
Höganäs AB
voestalpine BÖHLER Edelstahl GmbH & Co KG
Royal Metal Powders
Australian Metal Powders Supplies Pty Ltd.
CNPC Powder Group Co., Ltd.
Renishaw
Materialise NV
Stratasys Ltd.
Optomec, Inc
3D Systems Corporation
Arcam AB

Report Coverage

Market Forecast
Company Share Analysis
Competition Intelligence
DROT Analysis
Market Dynamics and Challenges
Strategic Growth Initiatives

Customization & Pricing

Available Upon Request
3D Printing Metal Industry Research Segmentation
By Material:
Metal Powder

Aluminum
Copper
Iron
Molybdenum
Nickel
Tungsten
Titanium
Others

Metal Alloy Powder

Steel
Stainless Steel
Ni-Based
Cu-Based
Ti-Based
Others
By Shape:
By Production Process:
Powder Bed Fusion
Directed Energy Deposition
Material Jetting
Binder Jetting
Metal Extrusion
Photo Polymerization
By End Use:
Medical

Orthopedic Implant Devices
Dental Devices
Pre-surgery Models
General Tools
Prosthetics
Anatomical Models
Others

Aerospace

ECS Ducting
Rocket Engine Components
Combustor Liners
Oil & Fuel Tanks
UAV Components
Others

Automotive

Complex Ducts
Resilient Prototypes
Elastomeric Models
Grilles
Large Paneling
Others

Electronics

Antennae
Interconnects
Capacitors
Radio Frequency Components
Sensors
Others

Energy

Rotors and Stators
Turbine Nozzles
Down-hole Tool Components
Others

Industrial Equipment
Education and Research
Others
By Region:
North America
Latin America
Europe
East Asia
South Asia & Pacific
Middle East & Africa