Augmenting Application Base Uplifts Industrial Garnet Market Scenario
---
Date : Apr 26, 2018 Author : PMR Editorial Staff Category : Chemical and Material
Rise in Application of Water Jet Cutting to Drive Demand for Industrial Garnet
Garnets, extensively used in jewelry making, also have wide applications as an abrasive. As the Mineral Information Institute indicates, garnets are used as an abrasive blasting material in one of the water filtration techniques, i.e. water jet cutting. Manufacturing of abrasive powders also consumes a huge amount of industrial garnet. With a broadening application base spanning various end-use industries, the global market for garnet has become immensely competitive, which compels key companies in the garnet industry to focus on production of high-grade garnet ores and other mineral products such as mica, marble, and kyanite.
Waterjet Cutting Prevails among Industrial Garnet Applications
Besides being one of the most popular gemstones used in jewelry making, garnet is considered an ideal filtration medium and waterjet abrasive. Application in waterjet cutting consumes the largest amount of garnet, followed by abrasive blasting, manufacturing of abrasive powders, and water filtration. Healthy demand for hard rock-extracted waterjet cutters from mining and manufacturing industries will continue to generate revenues in upcoming years. As far as sand blasting is considered, several end-users have started to replace silica sand with a better alternative, i.e. garnet.
The aforementioned factors are foreseen to provide a major thrust to the industrial garnet market in near future. Furthermore, continuous demand for garnet powder in applications such as glass and ceramic polishing, and manufacturing of anti-slip paints and anti-skid surfaces will sustain the demand for garnet. Governments in Canada, Australia, India, and a few other countries have already banned the use of harmful minerals such as silica and slag in mining, which is anticipated to benefit the industrial garnet market to a great extent.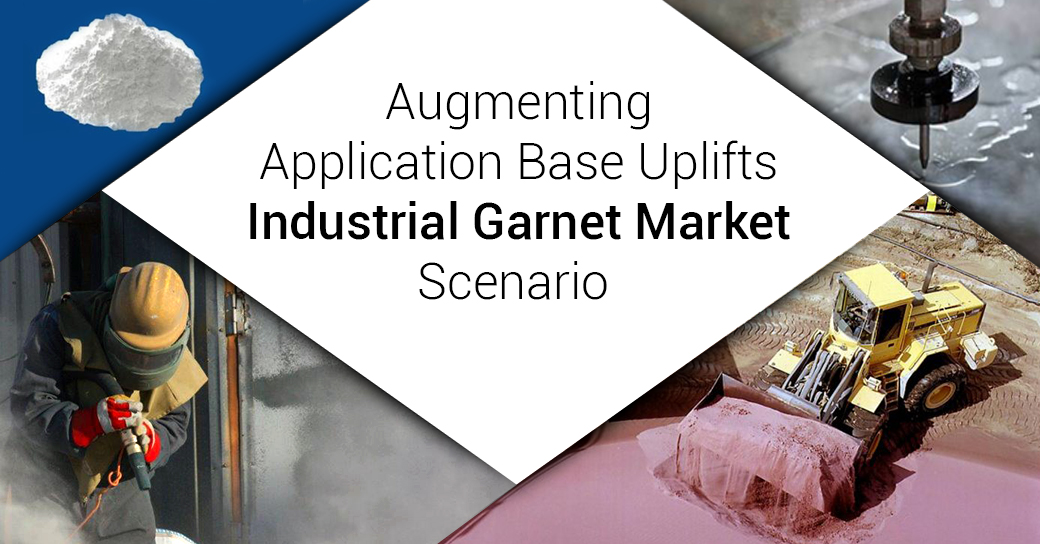 US Remains Top Garnet Source, China & India Emerge with High Output : According to the regional analysis of the global market for industrial garnet, North America is identified to be the leading region holding a maximum share of the global revenues. Persistence Market Research projects the global industrial garnet market to represent a value beyond US$ 720 Mn by the end of 2024, of which around US$ 200 Mn will be contributed by the North American market for industrial garnet.
Dominance of North America in the garnet market is attributed to robust growth of the US market due to consistently healthy demand from the petroleum industry for well casing and drill pipe cleaning, which has been among the largest garnet consumers over the years.
Moreover, garnet suppliers have been delivering high-level customer service due to competitive prices of industrial garnet within the US market. Other sectors raising the demand include glass and ceramic production and cutting, stone cutting, water filtration, blast cleaning, aluminum aircraft manufacturing, shipbuilding, and metalworking.
While the garnet sources are considerably large worldwide, alluvial garnet is specifically found in deposits of gravel and heavy mineral sand. While US will remain the top garnet source throughout the next few years, the output of garnet in China and India has been evidently increasing since the recent past. These developing economies are thus expected to emerge as key sources of industrial garnet for other regional markets.
---