Introduction
A recent study by PMR foretells the global milk protein concentrate market to record an expansion rate of 4.0% over the forecast period of 2019 2027. The milk protein concentrate market is growing at a fast pace with the overall production capacity doubling due to increased demand. Among the wide variety of milk protein ingredients being offered in the market, milk protein concentrates are comparatively recent and is gaining much popularity.
Presently, product developers are using milk protein concentrate in a range of new products for various benefits such as flavor, added functionality, low-lactose products and high-protein formulations. The overall demand for milk protein concentrate has increased significantly in recent years. In North America, ingredient processors have become increasingly specialized and domestic production of milk protein concentrate has almost doubled over the past ten years although countries such as the U.S. still rely on imports due to overarching demand.
The rise in the number of working women, increased birth rates in several countries with higher protein deficiency and the growing awareness among parents about nutritional benefits of infant formula is causing the global milk protein concentrate market to grow at a substantial rate during the forecast period.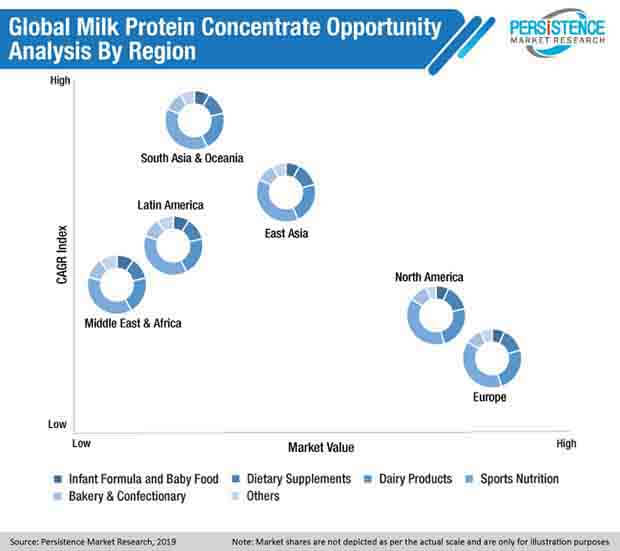 High Protein and Low Lactose Products Are Acting as Growth Levers in the Milk Protein Concentrate Market
The increasing demand for exciting new food products in the global consumer market is driving the development within the global milk protein concentrate market. Milk protein concentrates or MPC's are being used in several food products such as desserts and protein bars to uplift the overall nutritional and functional properties.
Milk protein concentrate is nowadays being widely used in protein-fortified foods as primary meal replacements and in nutritional beverages and bars. Owing to its nutritional qualities, it is also being utilized in pediatric and geriatric nutrition, medical nutrition, weight management products, sports nutrition products and dietary supplements. Moreover, with the demand for high protein and low-lactose beverages, the overall inclusion of milk protein concentrate in these drinks is increasing
Milk Protein Concentrate is all Set to Upstage Caseins, Caseinates and Milk Powders
Traditionally, several food products used caseins, caseinates and milk powders to enhance the overall flavor and stability. However, after several research attempts, micellar casein and its other substitutes have been found to be slightly contaminated with high levels of lead and cadmium. In such a scenario, milk protein concentrates have emerged as the best replacement solution.
Milk protein concentrates are currently widely being used in manufacturing a range of products including processed cheese, analogue cheese, frozen yogurts, ready-to-drink and powdered beverages which are expected to drive the market during the forecasted period. Milk protein concentrates are also being used in food products where the original structure of milk proteins is desired for its functionality such as the standardization of cheese milk and ice cream mixes.
Sports Nutrition Will Continue to be the Revenue Hot-Spot in the Milk Protein Concentrate Market
The sports nutrition arena is the most profitable within the end-use fragment, growing at a CAGR of more than 4%. Milk protein concentrate is primarily being used in sports nutritional products for a variety of needs requiring different functionalities.
Over the last decade, healthy living enthusiasts have emerged as a critical class of consumers that are driving trend in this space. Health and nutrition advocates are being drawn less to whey-based protein and are instead opting for milk protein substitutes due to a cleaner label orientation. Sports protein and non-protein products continue to post health growth results in 2019 and this is likely to continue.
Sports protein ready-to-drink (RTD) remains the most demanded category from consumers. Fast digestion milk protein concentrates are also being developed to be bottled with sports nutritional food and beverages.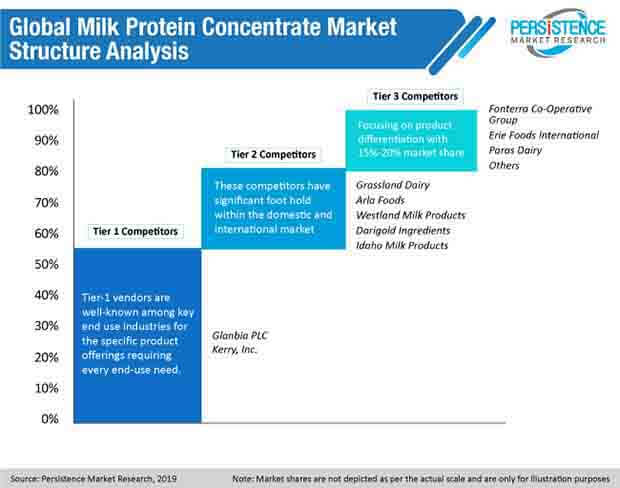 Competitors are Diversifying their Product Portfolio to Develop a Large Consumer Base
The milk protein concentrate market is fairly consolidated with global food giants holding the topmost shares and many emerging vendors carrying out attractive developments to draw attention to themselves. Vendors like Glanbia and Kerry Inc., hold the leading share in the global milk protein concentrate market and their product is well recognized by end-use industries.
However, other tier vendors such as Fonterra and Idaho Milk Products are introducing attractive products to increase their customer base. In 2018, Fonterra's worldwide dairy ingredient brand slated the launch of a fresh range of North American milk protein concentrates. The firm announced the new item to include ready-to-drink high-protein, a dairy protein concentrate. Fonterra also announced its partnership with A2 Milk Company aimed at expanding the company's existing product range including recent additions of organic, high-protein and low-lactose milk products.
Idaho Milk Products declared its plans to develop its milk processing facility by one-third of its current production capacity. Idaho also announced the investment of US$ 26 Mn in the expansion of the facility to accommodate one million pounds of locally sourced milk.
The Analyst's Viewpoint
A comprehensive view of the milk protein concentrate market has led our analysts to conclude that, the market is growing at a moderate rate, with Europe holding a large chunk of the global demand for milk protein concentrate market and its applications.
The rising need for milk protein concentrate in a wide array of food applications is spurring its demand. The impact of high protein content and low lactose food products will remain strong globally. Strong financial position and technological innovations of key market players will also give impetus to the milk protein concentrate market.
Organically improved milk protein concentrate food products and ready to drink, protein enriched sports beverages could provide timely succor as a cost effective and time saving strategy thereby increasing profit margins for market players. Companies with research and development capabilities and prowess will gather momentum and profitability in the milk protein concentrate market.
The leading players who are leveraging technology will continue to grow exponentially and have a vast market revenue share. However, solubility limitations of milk protein concentrate could restrain the growth of the milk protein concentrate market.
Milk Protein Concentrate Market: In-Depth Assessment on Key Segments
The global milk protein concentrate market is segmented on the basis of Composition, Nature, Form, End-Use and Region.
Composition

MPC 40%
MPC 70%
MPC 85%
Others

Nature
Form
End Use

Infant Formula and Baby Foods
Dietary Supplements
Dairy Products
Sports Nutrition
Bakery & Confectionary
Others

Region

North America
Latin America
Europe
East Asia
South Asia & Oceania
MEA
Country-specific assessment on demand for milk protein concentrates have been provided for each regional market, along with the market size valuation and forecast, price point assessment, price index and impact analysis of key regional and country-wise dynamics, which were obtained through quotes from numerous milk protein concentrate producers, experts and suppliers.
Y-o-Y growth projections have also been offered on all regional markets incorporated in the report. Moreover, future trends, growth prospects and other possibilities related to the market have been answered in the report.
The report provides company-level market share analysis, which has been derived on the basis of the company's annual sales and segmental revenue in all the target end-use industries. The market has been forecasted based on constant currency rates. The report provides detailed competitive and company profiles of key participants operating in the global market.
Some of the major companies operating in the milk protein concentrate market are: Fonterra Co-operative Group, Westland Milk Products, Tatura Milk Industries Ltd, Erie Foods International, Nutrinnovate Australia, Idaho Milk Products, Inc., Darigold Ingredients, Grassland Dairy and others.