Laboratory Developed Test Market Outlook (2022-2032)
Worldwide revenue generated by the laboratory developed test market was US$ 7.3 Bn at the end of 2021, with the market estimated to surge ahead at a CAGR of 6.4% to reach a market valuation of US$ 14.4 Bn by the end of 2032.
As assessed by Persistence Market Research, clinical biochemistry tests are expected to account for a market value share of 31.5% by 2032. Revenue from laboratory developed tests accounted for around 3.7% share of the global clinical laboratory service market in 2021.
| Attribute | Key Insights |
| --- | --- |
| Laboratory Developed Test Market Size (2021) | US$ 7.3 Bn |
| Estimated Market Size (2022) | US$ 7.7 Bn |
| Projected Market Value (2032) | US$ 14.4 Bn |
| Global Market Growth Rate (2022-2032) | 6.4% CAGR |
| Market Share of Top 5 Countries | 57.2% |
Demand Analysis of Laboratory Developed Tests (2017 to 2021) Vs Market Outlook (2021 to 2032)
The global laboratory developed test market expanded at 4.7% CAGR from 2017 to 2021.
Factors such as increasing healthcare expenditure on chronic and genetic conditions as well as rising cases of cancer among the population are set to fuel the consumption of laboratory developed tests over the coming years.
Laboratory developed tests are beneficial for the detection and monitoring of oncology, genetics, infections, and autoimmune diseases. These tests are the best option for the population curious about their genetic makeup concerning the presence of any disease-related markers.
Laboratory developed testing offers several advantages such as improved quality of life, monitoring pre-existing conditions, and maintaining one's lifestyle accordingly, which makes them preferable over hospitalization for daily checkups or the treatment of disease occurrence.
Illumina, Inc. announced the release of TruSightTM Oncology (TSO) Comprehensive on March 15, 2022, a single test that examines numerous tumor genes and biomarkers to determine a patient's cancer molecular profile.
As per the Centers for Disease Control and Prevention (CDC), chronic conditions such as cancer, cardiovascular disease, and diabetes are the main causes of disability and death in developed nations such as the United States. They are also the major drivers of the nation's US$ 4.1 trillion in annual healthcare spending.
Rising adoption of laboratory developed tests among patients suffering from chronic conditions and genetic disorders will drive the market over the coming years. The global laboratory developed test market size is thus likely to see positive growth and reach a market valuation of US$ 14.4 Bn by 2032.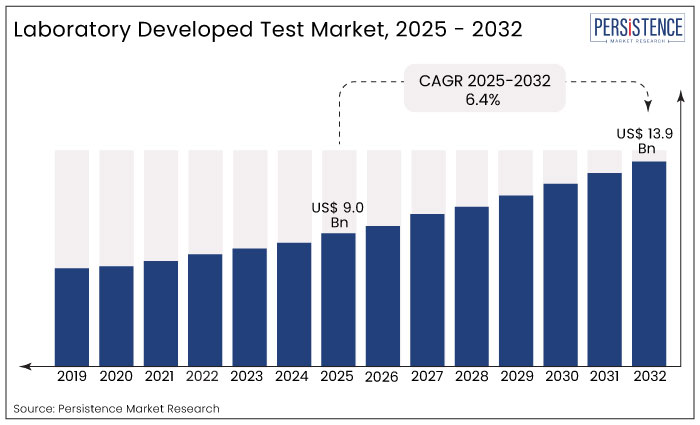 What Opportunities Lie Ahead for the Laboratory Testing Market?
"Increasing Product Offerings Related to Genetic Health Risks"
Manufacturers of laboratory-designed tests across the world will have plenty of lucrative prospects in the years ahead. They have begun to recognize the value of R&D spending to provide a diversified product line.
23andMe and Virgin Group's VG Acquisition Corp. merged to become a publicly-traded company that will transform personalized healthcare and therapeutic advancement using human genetics.
Many companies are taking extensive measures to make their product offerings more versatile through innovations, such as providing data related to genetic health risks, ancestry, and traits.
"Rise in Global Number of Cancer Cases"
According to the World Health Organization, cancer is the leading or second-leading cause of death for those over the age of 70 in 112 of 183 nations, and third or fourth in the other 23 countries. In many countries, the rise of cancer as a significant cause of death is reflected in lower death rates from stroke and coronary heart disease when compared to cancer.
In March 2022, Illumina, Inc. launched an in vitro diagnostic (IVD) kit, which will help facilitate precision medicine decisions for cancer patients across Europe.
How is Laboratory Developed Test Industry Expansion Being Affected?
"Product Recalls Impacting Market Progress"
Recalls of healthcare diagnostic products are a common practice aimed at either reducing any potential errors or eradicating an existing failure. Laboratory developed tests (LDTs) have been developed to treat a variety of disorders, including contagious diseases such as COVID-19, genetic conditions, and different types of cancer.
However, because LDTs, until now, were not centrally registered or tracked, their presence in the market, performance, and usage cannot be compared to FDA-approved diagnostics. Insurance coverage and eHealth do not differentiate between a laboratory-developed test and FDA-approved diagnostics. No comprehensive database of all LDTs exists for use.
In January 2022, LuSys Laboratories recalled 3 of its tests due to a high risk of incorrect outcomes: a saliva antigen test, an IgG/IgM antibody test, and a nasal antigen test.
On October 16, 2021, Abbott Laboratories recalled two of its COVID kits - Alinity m Resp-4-Plex AMP and the Alinity m SARS-CoV-2 AMP test kits as Class I recall.
"Tight CLIA and FDA Control Over Laboratory Developed Tests"
The Clinical Laboratory Improvement Amendments program (CLIA) governs labs that do tests on patient samples to assure accurate and consistent results. LDT is a test that is developed and used within a single laboratory, according to the FDA.
LDTs are often known as 'home brew' tests because they are produced in-house. LDTs are considered as 'devices', comparable to IVDs, as defined by the FFDCA, and are thus subject to FDA regulation.
The FDA made changes to its laboratory developed tests. Key changes to the agency's policy, according to a statement, were: For all serology test developers, the agency provided clear performance threshold guidelines for specificity and sensitivity.
According to the agency, all test kits should be authenticated before being used, because false outcomes can have a negative impact on both, individual patients and society as a whole. Manufacturers should publish directions for use, including a summary of assay performance on their websites prior to obtaining an EUA.
Country-wise Insights
Why is the U.S. a Prominent Market for Laboratory Developed Tests?
"Rising Prevalence of Obesity Due to Sedentary Lifestyle in the U.S."
The U.S. accounted for around 94.9% share in the North America laboratory developed test market in 2021, and is expected to showcase a similar growth trend over the forecast period as well.
The United States is ranked 12th in the world in terms of obesity.
According to U.S. CDC, roughly 36.9% of Americans aged 20 and above were obese in 2015-2016. Obesity is widespread in the country with 37.9% of men and 41.1% of women classified as obese. Obesity-related medical costs were US$ 1,429 more than those who had a healthy weight.
Because of the population's sedentary lifestyle and increased knowledge of bad eating and living habits, the market in the United States is predicted to rise rapidly over the years ahead.
Will Germany Be a Lucrative Market for Laboratory Developed Test Providers?
"Rise in Product Approvals Complying with Stringent Regulations"
Germany held around 19.7% share of the Europe laboratory developed test market in 2021, owing to rising chances of product approvals by regulatory agencies in the country.
Utilization of Bionano Genomics, Inc.'s digital cytogenetics platform, Saphyr, for laboratory-produced assays has been approved by Deutsche Akkreditierungsstelle GmbH (DAkkS), Germany's national accrediting organization, following the most severe evaluation process in Europe. Translocations, inversions, and duplications are among the structural variants (SVs) that will be detected using the Platform.
Continued harmonization of global values can improve the adoption of laboratory developed tests across international markets. As these tests become progressively integrated and capable of producing vast data, analytical developments and ease of analysis will facilitate the adoption and diffusion of these laboratory-developed tests into practice.
Why is China Emerging as a Lucrative Market for Laboratory Developed Testing Services?
"Rising Incidence of Diabetes in China Due to Unhealthy Living Choices"
China held the largest market share of 59.8% of the East Asia laboratory developed test market in 2021, owing to rising unhealthy living conditions and dietary habits of the population.
Order 739 LDT released on Mar 18, 2021, allows the development of laboratory developed tests in China.
Due to rising diabetes incidence, growing senior population, and ongoing research & development by pharmaceutical manufacturers and academics, the Chinese human microbiome market has experienced significant expansion in recent years.
Genetic Analysis AS ("GA"), a microbiome DX firm, and Thalys Medical Technology Group Corporation ("Thalys"), signed an LDT agreement to analyze and develop unique diagnostic solutions for China's rapidly growing human microbiota market. Thalys will continue to develop and commercialize tests based on the Genetic Analysis' GA-map® technology through its Shanghai-based medical lab business.
As showcased above, demand for laboratory developed tests in China is bound to see an upward trend over the coming years.
Category-wise Insights
Which Laboratory Developed Test Type Accounts for Higher Sales?
"Ever-rising Demand for Clinical Biochemistry Tests Being Witnessed"
By test type, clinical biochemistry tests held 33.5% market share at the end of 2021.
Fluids in the body are examined using clinical biochemical testing (blood, abscesses urine, cerebral spinal fluid, and collections in body cavities and joints). They can be used to track the course of disease management in addition to establishing a primary diagnosis. This is the best option for patients to get a basic idea of their illness.
As such, clinical biochemistry test usage is higher, followed by molecular diagnostic tests, and the segment is expected to drive high demand for laboratory tests in the future, globally.
Where is the Application of Laboratory Developed Tests Higher?
"Laboratory Developed Tests Widely Used to Diagnose/Monitor Cancer"
Use of laboratory developed tests for oncology purposes accounted for the highest share of 41.2% in 2021.
Laboratory developed tests can help in the diagnosis of cancer and the monitoring of therapy response. These tests can aid in the diagnosis of cancer recurrence and the assessment of therapy response. Thus, laboratory-derived tests are more widely being used for monitoring the recurrence of cancer to provide early treatment options.
Competitive Landscape
Consolidation activities such as product approval and launches, acquisitions, collaborations, and partnerships are actively looked upon in this market. Such consolidations will help market players expand their product portfolios and increase their market penetration, thereby driving their revenue share in the market.
In September 2021, QIAGEN N.V. received a contract from the United States government to grow its production capacity for consumables for its NeuMoDx 96 and 288 integrated PCR testing systems.
In September 2021, Illumina, Inc. announced going into a partnership with 7 new genomics corporations to build innovative genomic startups in its next global funding cycle application.
Roche launched a high-throughput SARS-CoV-2 antigen test for the diagnosis of SARS-CoV-2 infections, in December 2020.
Laboratory Developed Test Industry Report Scope
Attribute
Details

Forecast Period

2022-2032

Historical Data Available for

2017-2021

Market Analysis

USD Million for Value

Key Countries Covered

U.S.
Germany
U.K.
China
Japan
India
Australia
France
Canada
Italy
Spain
GCC Countries
South Africa
Indonesia
Brazil
BENELUX
South Korea
Thailand
Mexico
Malaysia
New Zealand
Argentina

Key Market Segments Covered

Test Type
Application
End User
Region

Key Companies Profiled

Roche
Adaptive Biotechnologies Corporation
Quest Diagnostics
Illumina
Qiagen
Eurofins
Guardant Health
Biotheranostics
Rosetta Genomics
Helix Amsino International, Inc.
Fuji Systems Corp
Neomed
Smiths Medical (Smiths Group)
23andme, Inc.
Admera Health
Ambry Genetics Corp.
Bruker Corporation
Epic Sciences, Inc.
SCIEX Pte Ltd.
Opko Health, Inc./Opko Diagnostics

Report Coverage

Market Forecast
DROT Analysis
Market Dynamics
Competition Intelligence
Market Challenges
Strategic Growth Initiatives

Customization & Pricing

Available upon Request
Key Segments Covered in Laboratory Developed Test Industry Research
Laboratory Developed Test Market by Test Type:
Clinical Biochemistry
Critical Care
Haematology
Immunology
Microbiology
Molecular Diagnostics
Others
Laboratory Developed Test Market by Application:
Oncology
Genetics
Infectious Diseases
Autoimmune Disorders
Neurology
Laboratory Developed Test Market by End User:
Hospital Laboratories
Specialty Diagnostics Centers
Clinical Research Organizations
Research Institutes
Laboratory Developed Test Market by Region:
North America Laboratory Developed Test Market
Latin America Laboratory Developed Test Market
Europe Laboratory Developed Test Market
South Asia Laboratory Developed Test Market
East Asia Laboratory Developed Test Market
Oceania Laboratory Developed Test Market
Middle East & Africa Laboratory Developed Test Market