Introduction
Industrial greases are used for the lubrication in various machines to reduce the wear and tear from sustained use of such machinery. They are made from mixing base oils, additives and thickeners. Industrial greases are used to maintain the machines used in the manufacturing sector. The automotive industry is the largest segment in the industrial greases market where these are used on a large scale in the production and maintenance of automobiles.
Industrial greases are widely used in several type of applications and are important for machinery due to their water resistant property. Industrial greases have the capability of remaining in contact with the moving surface and in the process lubricating it without suffering from leakages due to gravity, centrifugal forces or other kinds of pressure.
Industrial greases are also able to retain their properties at all temperatures that it would be encountering during its use. With the help of greases, contaminants are blocked, noise is reduced and power consumption is reduced in the machinery, thereby also reducing its wear and tear. Due to such desirable properties of industrial greases, they are used in various end-use industries such as manufacturing, mining, auto manufacturing, construction, etc.
Even though the global market for industrial greases is changing rapidly, the end-use sectors that are dominant are not changing a lot. Typically, machinery that is used in the manufacturing sector, heavy industries and the infrastructure sector have high use of industrial greases.
These are just the dominant sectors and there are several smaller end-use industries where industrial greases are utilized. The global market for industrial greases was valued at US$ 1,537.7 Mn in 2017 and is estimated to reach US$ 1,905.9 Mn in value by 2021, displaying a CAGR of 5.5% during the study period 2017-2021.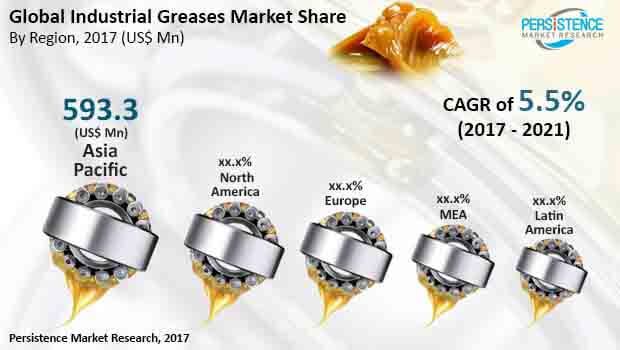 Global Industrial Greases Market: Drivers and Restraints
The global market for industrial greases is impacted by several factors dependent on the economy and the regulatory scenario of a particular market. The legislations related to the environment have a deep impact on the global industrial greases market. Due to the high concerns about environmental preservation, there is a constant need for advanced and effective industrial greases that are safe.
Also, the environmental legislations have a bearing on the composition of industrial greases. Such type of legislations can affect the small and medium industrial grease manufacturers adversely as they have to readily and instantly adapt to the changing rules and this may delay the supplies of their products in the market.
The factors boosting the growth of the industrial greases market include their extensive use in various types of industrial applications and the technological advancements that give rise to more refined products that are efficient. A main factor that accelerates the revenue growth of the industrial greases market is the higher emphasis on quality. On one hand, higher quality industrial greases are attractive and gain a high amount of traction in the market. Also, such type of high quality industrial greases are highly durable, last longer and are more effective in their functioning.
However, on the other hand, it is precisely due to this high quality of industrial greases that users don't need to replace such kind of greases for a long time as compared to their conventional counterparts. This reduces the replacement rate of industrial greases and thus the amount of greases consumed is less, which acts as a restraint.
Trends shaping the global industrial greases market
The main trends influencing the global market for industrial greases pertains to the end-use conditions of such products, wherein they have to encounter high temperature, pressure and speed. Due to this, manufacturers are involved in continuous evolution of new products and lubrication solutions by improving the properties of industrial greases. It is here that bio-based materials come into play.
Another trend that is shaping the industrial greases market is the amount of plastic material used by replacing metals, especially in the case of weight reduction synthetic hydrocarbon greases. In addition, there is a great market opportunity for industrial greases that are made from vegetable oils such as soybean oil. However, such type of industrial greases are expensive due to the type of raw materials used.
Market Taxonomy
By Base Oil type

Base Oil

Mineral Oil
Synthetic Oil
Semi-Synthetic Oil
Bio-Based

End Use

Other Manufacturing
On Road Vehicles
Other Transportation
Mining and Metallurgy
Off Highway and Construction
Auto Manufacturing

By Thickener Type

Thickener

Simple Metal Soaps
Non-Soap Thickener
Complex Metal Soaps

Regions

North America
Latin America
Europe
Asia Pacific
Middle East and Africa
- Companies Covered in This Report -
Some of the market players featured in this report include:
Belray Company LLC
Texaco Inc
Exxon Mobil Corporation
Whitmore Manufacturing Company
Axel Christiernsson International AB
Dow Corning Corporation
Sinopec Lubricant Company
Royal Dutch Shell plc
Other.