Automatic Lubrication Systems Market
Global Market Study on Automatic Lubrication Systems: High Adoption Rate in Heavy-duty Machines to Strengthen Demand
Automatic Lubrication System Market is Segmented by Lubrication Type such as Oil-based Lubrication, Grease-based Lubrication with System Types comprised of Oil and Air Lubrication Systems, Circulating Oil Lubrication Systems, Series Progressive Lubrication Systems, Single-line Lubrication Systems, Dual-line Lubrication Systems, Multi-line Lubrication Systems
Automatic Lubrication Systems Market
Introduction
In large, heavy-duty machines and mining equipment, there is a high of automation to maintain performance levels and minimize or eliminate downtime, which can be supported by automatic lubrication systems.
These systems are robust enough to withstand harsh operating conditions, are simple to fit and set up, and are available with a range of different lubricants. Switching to automatic lubrication systems results in significant increase in bearing life, and offers a fast return on investment. These factors help in pushing the growth of the automatic lubrication system market size.
Find Out More about the Report Coverage
Companies
SKF
Graco Inc.
The Timken Company
ABB Inc.
Pricol Limited
Dropsa
H-T-L Perma USA, LP
Bijur Delimon
LUBE Corporation
Klüber Lubrication
Cenlub Systems
Digilube Systems, Inc.
Reduction in Operating Costs Offered by Automatic Lubrication Systems
Utilizing high-quality automatic lubrication systems pays off in many ways. When a system is installed, lubricated equipment will operate nearly maintenance-free, reducing total cost of production and operation. Automatic lubrication systems can decrease lubricant consumption considerably, and are much cleaner than manual lubrication systems.
Customize this Report
Explore Intelligence Tailored to Your Business Goals.
Higher Productivity Using Automatic Lubrication Systems
Lubrication is a critical aspect in machine reliability. A well-organized and executed automatic lubrication system is a money and labor saving solution. It can save the quantity of lubricant used, extend component life, eliminate downtime caused by improper lubrication, and can increase safety at a manufacturing facility.
High mechanical loads, vibration, moisture, and contamination are all threats to bearing and gear service life. Similar to any mechanical system, moving parts in compressors, pumps, fans & blowers, cranes, generators, valves, thrusters, and shakers need appropriate lubrication to function optimally. Automatic lubrication systems ensure fast and precise lubrication to these components and provide improved productivity.
As such demand is high, which aids in the growth of the automatic lubrication system market.
Market Research Methodology - Perfected through Years of Diligence
A key factor for our unrivaled market research accuracy is our expert- and data-driven research methodologies. We combine an eclectic mix of experience, analytics, machine learning, and data science to develop research methodologies that result in a multi-dimensional, yet realistic analysis of a market.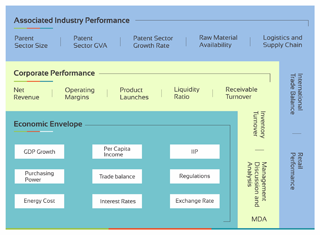 Integration of Smart Sensors in Lubrication Systems
Integrating smart sensors and monitoring devices into lubrication systems results in added advantages of big data. Machine operators can get early warning of equipment failures by recording the whole lubrication process, and can take precautionary actions accordingly.
Versatile and reliable lubrication systems also offer ultrasonic low- and high-level control options. Furthermore, automatic lubrication systems are evolving continually, with the delivery of lubricants being carried out efficiently and easily.
Also, automatic lubrication systems are compatible with Android and iOS apps, and have tool-free set-up, all of which offer the opportunity to create a well-organized and easily managed lubrication regime.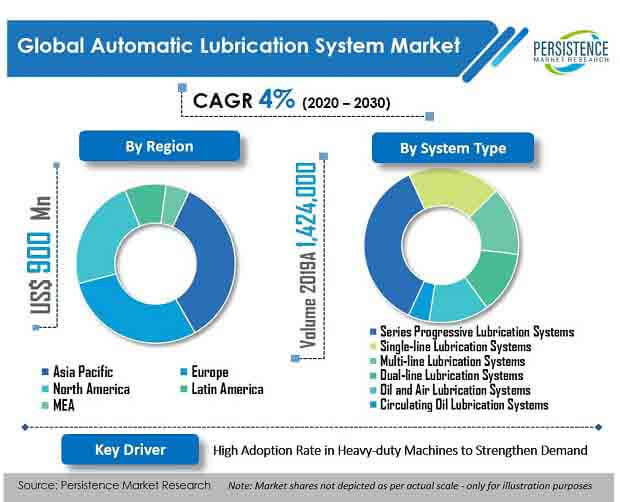 Explore Persistence Market Research's expertise in promulgation of the business !
Automatic Lubrication System Market: Structure Analysis
Prominent players operating in the automatic lubrication system market are focusing on business expansion such as mergers & acquisitions, partnerships, and contracts to further strengthen their market presence in regional and global markets, and new product launches to enhance their product portfolios in lubrication systems.
For instance, in January 2020, Graco Inc. launched the Compact Dyna-Star® (CDS) automatic lubrication system, designed specifically for heavy-duty earth-moving machines used at extreme work environments.
Major players in the automatic lubrication system market include SKF, The Timken Company, Graco Inc., and Kluber Lubrication. However, tier-2 and other automatic lubrication system manufacturers include Dropsa USA, Advanced Fluid Systems, CENLUB SYSTEMS, H-T-L Perma USA, LP, ILC Srl, LUBE Corporation, Oil-Rite Corporation, Lubrite Industries, and Pricol Limited, among others.
Automatic Lubrication System Market – Covid-19 Pandemic Impact
Industrial activities across the world have been adversely affected due to the outbreak of Covid-19. Lockdowns and travel restrictions have led to temporary shutting down of facilities across geographies, which has hit the demand for automatic lubrication systems.
As lockdown restrictions ease across the world, projects will get underway, thereby bringing the progress of the automatic lubrication system market back on track; this would take at least a year's time to get back to normal.
Analysts' Viewpoint
Developing economies such as those in Asia Pacific are expected to witness strong growth in the adoption of automatic lubrication systems for different applications. As a result, the Asia Pacific automatic lubrication system market is expected to be opportunistic, owing to increasing automation in the industry.
The global automatic lubrication system market is projected to witness decent growth over the forecast period, and experience an increase in revenue from US$ 900 Mn in 2020 to US$ 1.4 Bn by the year 2030.
Key Segments of Automatic Lubrication System Market
PMR's study on the automatic lubrication system market is divided into four significant segments - system type, end use, lubrication type and region. This report offers comprehensive data and information about the important market dynamics and growth parameters related to these categories.
System Type

Oil and Air Lubrication Systems
Circulating Oil Lubrication Systems
Series Progressive Lubrication Systems
Single-line Lubrication Systems
Dual-line Lubrication Systems
Multi-line Lubrication Systems

End Use

Steel
Manufacturing
Transportation
Mining
Power
Cement
Construction
Paper & Printing
Agriculture

Lubrication Type

Oil-based Lubrication
Grease-based Lubrication

Region

North America
Latin America
Europe
Asia Pacific
Middle East & Africa
Key Questions Answered in Report
How much is the automatic lubrication systems market worth?

The global automatic lubrication systems market is estimated to be worth US$ 920 Mn in the year 2021.

What will be the demand outlook?

The global automatic lubrication systems market is slated to witness a CAGR of 5% between 2021 and 2031.

What was the last 5 year market CAGR?

The automatic lubrication systems market witnessed a CAGR of 4% between 2015 and 2020.

What are the key trends of automatic lubrication systems market?

The latest trend is that of integration of smart monitoring devices and smart sensors into the automatic lubrication systems, thereby ascertaining precision with respect to control options.

What is driving the demand for automatic lubrication systems?

The fact that automatic lubrication systems ascertain precise and quick lubrication to moving parts in pumps, compressors, blowers & fans, generators, cranes, thrusters, valves, and shakers.

What is the market share of top 5 players?

The top 5 players such as SKF, Graco, Timken, BAIER + KOEPPEL, Bijur Delimon, and Samoa hold more than 30% of the market share.

What are the top 5 countries driving demand?

The top 5 countries driving demand include Sweden, US, Germany, Spain, and Canada.

What is North America's market Outlook?

North America will continue to hold more than 20% of the market share in terms of revenue due to the US and Canada being at the helm of the affairs.

At what percentage automatic lubrication systems market is going to register growth in Europe?

Europe is expected to register growth at the rate of 3% in the automatic lubrication systems market between 202 and 2031.

Which are the key exporters of automatic lubrication systems?

The key exporters of automatic lubrication systems include Sweden, Germany, the US, Italy, and Canada.
Our Clients