Automatic Lubrication Systems Market Outlook (2022-2032)
According to Persistence Market Research, the global automatic lubrication systems market totaled US$ 959.9 Mn at the end of 2021. Worldwide demand for automatic lubrication systems is predicted to accelerate at a CAGR of 4.5% to reach a market valuation of US$ 1.55 Bn by the end of 2032.
The reliability of a machine depends on proper lubrication. A well-planned and implemented automatic lubrication system is a cost- and labor-effective solution. It can reduce the amount of oil used, boost safety at a manufacturing plant, and increase component life. It can also prevent downtime brought on by poor lubrication.
In large, heavy-duty machines and mining equipment, a high degree of automation is employed to increase performance levels and minimize/eliminate downtime, which leads to more preference for automatic lubrication systems. These systems are robust and can withstand difficult operating conditions, are simple to fit and set up, and are available with a wide range of lubricants. Deploying automatic lubrication devices can result in a significant increase in bearing life and can lead to a faster return on investment.
Automatic lubrication system sales currently account for 70% to 80% share of the global lubrication systems market.
| | |
| --- | --- |
| Automatic Lubrication Systems Market Size (2021A) | US$ 959.9 Mn |
| Estimated Market Value (2022E) | US$ 997.4 Mn |
| Projected Market Value (2032F) | US$ 1.55 Bn |
| Value CAGR (2022-2032) | 4.5% |
| Collective Value Share: Top 3 Countries (2022) | 60% |
Sales Analysis of Automatic Lubrication Systems (2017 to 2021) Vs. Market Projections (2022 to 2032)
From 2017 to 2021, the market for automatic lubrication systems increased at 3.5% CAGR and is projected to grow at a value of CAGR of 4.5% during the forecast period 2022 to 2032. This increase in Y-o-Y growth is because of factors such as the rise in various end-use industries and manufacturing units, which has increased the demand for advanced and efficient lubrication in the machinery used in these industries.
Demand for automatic lubrication systems has significantly increased as a result of developing automation in industrial processes, high adoption of machinery in production units, and the various advantages offered by automatic lubrication.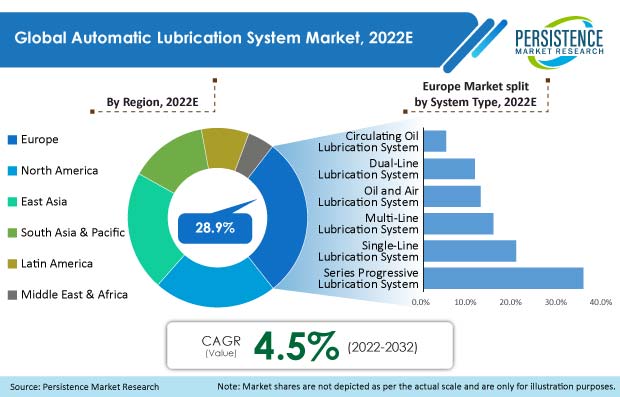 Automatic Lubrication System Usage Increasing Due to Industry 4.0
Growing awareness of the benefits of adopting automatic lubrication systems with industrial automation is the main driver for market expansion. In this era of Industry 4.0, everything is created and engineered to make the process simpler. The manufacturing sector is steadily shifting away from manual lubrication procedures toward automated lubrication in line with the general trend.
The market for automatic lubrication systems is being driven by the transition from manual to automatic lubrication as well as growing applications in several end-use industries. Automatic lubrication systems are used in a wide array of industrial applications, including steel, mining, paper, agriculture, food & beverages, packaging, and mobile off-road and on-road vehicles.
The several advantages of automatic lubrication are driving the demand for these systems. Automatic lubrication systems offer various benefits such as low noise level, less wear & tear, less power consumption, increased reliability, increased production, enhanced machine life, appropriate oil consumption, elimination of human error, and overall increased profitability.
Rising Automation Trend to Bode Well for Market Players
Rising adoption of automation in various industrial sectors and multi-line lubrication systems has also fuelled the targeted market. Increasing automation in the industrial sector has elevated the adoption of complex machines and tools. The use of advanced technologies and machines is augmenting the output of various industries. Automatic lubrication systems prove to be the best choice for the maintenance of this machinery as they reduce the risk of accidents by up to 90%.
Similarly, multiline lubricators, also known as radial lubricators, are a cost-effective and user-friendly solution for the centralized automatic lubrication systems of multiple points in equipment or machines. Multiline lubrication systems combine several pumps into a single unit sharing a common reservoir and drive. The most common applications of multiline lubrication systems are stone crushers, forging hammers, cement plants, sugar mills, rolling mills, hydro-turbines, calendaring machines, and batch mixers.
Country-wise Insights
Where Does Germany Stand in the Market for Automatic Lubrication Systems?
The market in Germany is estimated to expand at a value CAGR of 4% and hold a prominent share of the European automatic lubrication systems market during the forecast period of 2022-2032.
Machinery and equipment are Germany's prominent manufacturing sectors. Germany and other European countries were the first to deploy advanced and new machinery in their industrial plants and manufacturing units, especially in the automotive, metal, and manufacturing sectors.
Over the past decades, leading sectors such as automotive, mining & steel, electronics manufacturing, and agriculture have thrived across Europe, and more so in Germany. The requirement for increased output has compelled the country's industrial sector to resort to increased automation and digitization. This factor has driven the automatic lubrication systems market in Germany.
What is the Outlook for Automatic Lubrication System Manufacturers in China?
The market for automatic lubrication systems in China is anticipated to increase at 4.8% CAGR over the decade.
China is ranked at the top based on manufacturing as well as industry value added in the world. The services industry, agriculture, manufacturing, and technology are some of the key industries and sectors driving China's growth.
Similarly, China's construction industry is huge and widespread and accounts for more than 6% of its GDP. All these sectors are heavily dependent on automatic lubrication systems for machinery purposes.
Why is the U.S. a Lucrative Market for Automatic Lubrication System Suppliers?
Over the forecast period, the U.S. automatic lubrication systems market is projected to create an incremental opportunity of US$ 66.6 Mn.
The U.S. has some of the biggest manufacturing companies in the world and the most advanced and automated industrial sectors. The main drivers of the country's broad adoption of automatic lubrication systems include the country's stringent federal regulations governing the industrial ecosystem, its sizeable manufacturing sector, and the general demand for cutting-edge technological solutions in manufacturing settings.
The U.S. is a major revenue contributor to sectors such as steel, machining tools, agriculture, construction, and automation technology. This is why the country is a lucrative market for automatic lubrication system manufacturers.
Category-wise Insights
Which Type of Automatic Lubrication System is Most Popular?
Sales of series progressive lubrication systems are estimated to account for 28.3% share of the overall market by the end of 2032.
Series progressive systems facilitate continuous lubrication as long as the pump is in process condition. When the pump stops working, the pistons of the progressive metering device stop in their current positions. When the pump begins supplying lubricant again, the pistons carry on from where they left off.
Other benefits of using this system are continuous lubrication, reliable monitoring and control, and effectiveness in harsh conditions. All these factors make series progressive lubrication systems the most popular in the market.
Why Does Oil-based Lubrication Hold a High Market Share?
Oil-based lubrication is projected to hold 64% share of the global automatic lubrication systems market by 2032.
Oil-based lubrication is preferred over greased-based lubrication in most machinery applications. Oil-based lubrication comes with several advantages such as better-cooling properties, i.e., it carries away unwanted heat and does not contain thickeners so there is no risk of incompatible thickeners mixing.
Due to its ability to remove impurities, oil is cleaner than grease and is also simpler to regulate the amount of lubricant used. The oil from lubrication systems can be easily changed without dismantling the machine hardware. Due to these beneficiary factors, oil-based lubrication has the most potential for expansion over the coming years.
Competitive Landscape
The supply chain for automatic lubrication systems has improved over the past several years as a result of an increase in acquisitions and growth operations. Prominent manufacturers of automatic lubrication systems are focusing on business expansion through mergers & acquisitions, partnerships, and contracts to further strengthen their market presence in regional and global markets, and new product launches to enhance their product portfolios in lubrication systems.
For instance, in January 2020, Graco Inc. launched the Compact Dyna-Star® (CDS) automatic lubrication system designed specifically for heavy-duty earth-moving machines used in extreme work environments.
Automatic Lubrication System Industry Report Scope
Attribute

Details

Forecast Period

2022-2032

Historical Data Available for

2017-2021

Market Analysis

USD Million for Value
Units for Volume

Key Regions Covered

North America
Latin America
Europe
East Asia
South Asia and Pacific
The Middle East & Africa

Key Countries Covered

U.S.
Canada
Mexico
Brazil
Germany
Italy
France
U.K.
Spain
BENELUX
Russia
China
Japan
South Korea
India
ASEAN
ANZ
GCC Countries
Northern Africa
South Africa
Turkey

Key Market Segments Covered

System Type
Lubrication Type
End Use
Region

Key Companies Profiled

Lubrication Engineers
Graco Inc.
DropsA USA, Inc.
Application Equipment
a division of Price Engineering
Cenlub Systems
Lubecore International Inc.
H-T-L perma
Digilube Systems, Inc.
Sloan Lubrication Systems
Acumen Technologies Inc.
ALLFETT
Mountain Regional Equipment Solutions
Groeneveld-BEKA
Industrial Autolube International Inc.

Report Coverage

Market Forecast
Brand Share Analysis
Competition Intelligence
DROT Analysis
Market Dynamics and Challenges
Strategic Growth Initiatives

Customization & Pricing

Available upon Request
Key Segments of Automatic Lubrication System Industry Survey
By System Type:
Oil and Air Lubrication Systems
Circulating Oil Lubrication Systems
Series Progressive Lubrication Systems
Single-line Lubrication Systems
Dual-line Lubrication Systems
Multi-line Lubrication Systems
By Lubrication Type:
Oil-based Lubrication
Grease-based Lubrication
By End Use:
Steel
Manufacturing
Transportation
Mining
Power
Cement
Construction
Paper & Printing
Agriculture
By Region:
North America
Latin America
Europe
East Asia
South Asia and Pacific
Middle East & Africa