Industrial Burner Market Outlook (2022 – 2032)
According to Persistence Market Research, global industrial burner market revenue totaled US$ 6.23 Bn at the end of 2021. The overall Industrial Burner industry is expected to reach US$ 10.37 Bn by 2032, growing at a CAGR of 4.8% from 2022 to 2032.
The growing industrial sector in the South Asian region, which is led by India and ASEAN in particular, is anticipated to drive high demand for industrial burners in the region. Increasing energy needs, automotive production, and mining activities, among others, are prominent factors positively impacting regional market growth.
Industrial burner sales account for 30%-40% share of the global burner market.
| | |
| --- | --- |
| Industrial Burner Market Size (2021A) | US$ 6.23 Bn |
| Estimated Market Value (2022E) | US$ 6.48 Bn |
| Projected Market Value (2032F) | US$ 10.37 Bn |
| Value CAGR (2022-2032) | 4.8% |
| Collective Value Share: Top 3 Countries (2021) | 35.6% |
Sales Analysis of Industrial Burners (2017 to 2021) Vs. Market Projections (2022 to 2032)
From 2017 to 2021, the market for industrial burners expanded at 1.7% CAGR and is anticipated to increase by 4% in 2022. This significant increase in Y-o-Y growth in 2022 is because of the sudden increase in manufacturing and other industrial activities post COVID-19 in 2020.
For decades, controlling the fuel-to-air ratio has remained a critical task while employing burners in large-scale industrial applications. Now, almost every other industrial burner is equipped with an electronic module that enables fuel-to-air ratio control functions.
Advantages of modern electronic control systems that are replacing traditional relay control include the availability of diverse functions such as the modulation of burners according to the configured fuel-to-air ratio. Industrial burners are equipped with lambda (AFR) sensors that make the monitoring of this ratio in internal combustion operations highly accurate.
Overall, such stoichiometric sensors and control panels can adjust the burner's circuitry when emission levels soar, and thereby maintain the set operating voltage for combustion and heat treatment operations. Such factors are also projected to positively impact industrial burner sales over the coming years.
Regenerative power generation will be the foundation of the future energy system, in which, industrial burners will play a key role; however, additional energy carriers will be needed to store and transmit the energy. Combustion faces some difficulties, but there is little question that these can be overcome.
Demand for industrial burners in the global market is anticipated to grow 1.6X from 2022 to 2032.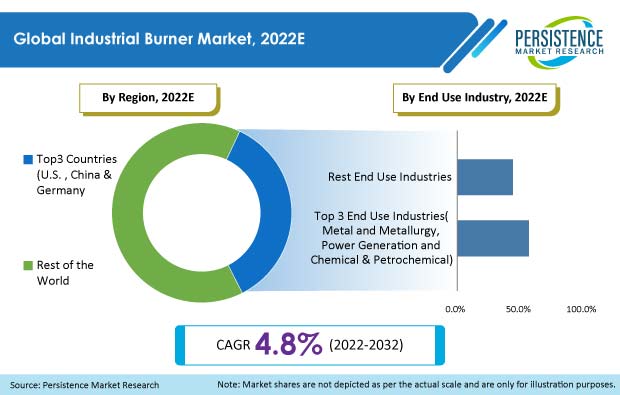 Why is the Market Outlook Bright for Industrial Burner Manufacturers?
"Manufacturers Investing in R&D to Build Advanced Equipment in Bid to Contain Pollutant Levels"
Leading players are significantly investing in improving burner capability to reduce pollutant level, and with a growing focus on reducing carbon footprint, a burner that can decrease or reduce greenhouse gases such as NOx will create significant opportunities for market players.
Growing emphasis on decreasing nitrogen oxide (NOx) emissions is pressuring industrial burner manufacturers to invest in cutting-edge technologies. In this direction, there have been breakthroughs and innovation, as new technology has been successful in reducing NOx levels while maintaining operational efficiency.
The new technology has successfully proven that it can function with NOx emissions of less than or equal to 6ppm when compensated for 3 percent O2. Once-Through Steam Generators (OTSGs) and Enhanced Oil Recovery (EOR) applications have shown success with the technology
What are the Factors Restraining Industrial Burner Market Expansion?
"Manufacturers Distressed by Changing Capacity Regulation Modulations"
Industrial burners are available in a wide range of burning capacities, ranging from 40 kW to 30,000 kW and beyond, to meet a wide range of burning requirements.
Plant operators are responsible for making the best and most efficient use of industrial burners after they have been manufactured. These operators, on the other hand, rarely re-calibrate their heating needs and instead demand more from the installed burners.
Manufacturers are working on the development of industrial burners with multiple-stage capacity regulation capabilities in light of such activities. The need for industrial burners with variable capacity management modulations is projected to increase in the future, putting producers in a difficult position.
Country-wise Insights
Where Does the U.S. Stand in the Market for Industrial Burners?
The United States industrial burner market is anticipated to expand at 4.3% CAGR during the forecast period of 2022-2032.
Increasing regulatory environment in the U.S. has significantly improved burner design and efficiency, which has resulted in manufacturers focusing on providing low-emission, high-efficiency, and high power industrial burners in the country. In addition, metal & mining and power generation remain the prime end-use industries for demand generation.
What is the Outlook for Industrial Burner Manufacturers in China?
China is expected to hold more than 57% share of the East Asian market by 2032 and is estimated to create an absolute dollar opportunity worth US$ 640.1 Mn.
The country generates industry value added of more than US$ 6.9 trillion and also has the largest manufacturing and industrial sector, owing to which, China remains one of the top consumers of industrial burners in the world.
Further, China's industrial burner market is moderately fragmented, owing to which, it is also the preferred location for manufacturing cost-effective and customizable industrial burners.
Why is India Set to Be a Lucrative Market for Industrial Burner Suppliers?
Over the forecast period, the India industrial burner market is projected to expand at a CAGR of 7.2% and gain 370 BPS during the same period.
The COVID-19 pandemic's effects on global industrial activity have not abated, and so, the Indian sector was not exempt from these interruptions. However, its performance in 2021–2022 improved. An improvement in consumer demand, record vaccination rates, ongoing government policy assistance for industries in the shape of the AtmaNirbhar Bharat Abhiyan, and more reinforcements in 2021–2022 have all contributed to a gradual opening up of the economy.
The impact was therefore observed in the industrial sector, which grew by 22.9 percent in the first half of 2021-2022 compared to the same time in 2020-2021, where growth stood at India.
The Indian industrial burner market also moved in similar lines, with a significant decline in sales in 2020 and a V-shaped recovery in 2021. In addition, with growing FDI & financial support from the Indian government, industrial sector growth forecasts seem very promising, which is estimated to benefit the industrial burner market in India over the decade.
Category-wise Insights
Which Industrial Burner Type is Most Widely Used?
High-velocity burners are estimated to dominate the global market through the forecast period on a volume basis and their demand is set to increase at a CAGR of 3.8%.
This type of burner is generally employed when a high rate of recirculation of the combustion products is necessary. To provide a high degree of heat penetration into the work in a furnace, they produce a high-velocity stream of hot gases at the furnace, which results in greater efficiency and lower fuel costs.
In addition, rapid and uniform heat distribution, high efficiency, and highly effective at drying out moisture from refractory materials are some of the key advantages, owing to which, high-velocity industrial burners are used extensively across the world.
Where are Industrial Burners Deployed the Most?
As per this analysis, the metal & metallurgy sector is estimated to hold more than 25% market share by 2032. The segment is expected to witness a collective drop of 200 BPS by 2032.
Industrial burners are widely used in steel, aluminum, and other metal plants for burning applications, owing to which, the metal and metallurgy industry accounts for a prominent share in the global market.
Competitive Landscape
Leading industrial burner manufacturers are focusing on providing high-performance, low-emission, and connected industrial burners. The growing trend of automation and Industry 4.0 has forced leading manufacturers to provide industrial burners with the above-mentioned technology and features.
However, the market has a significant number of small to medium players who are focusing on providing cost-effective industrial burners.
Industrial Burner Industry Report Scope
Attribute

Details

Forecast Period

2022-2032

Historical Data Available for

2017-2021

Market Analysis

Units for Volume
USD Million for Value

Key Regions Covered

North America
Latin America
Europe
East Asia
South Asia & Pacific
The Middle East & Africa

Key Countries Covered

U.S.
Canada
Mexico
Brazil
Germany
France
Italy
Spain
U.K.
Russia
China
Japan
South Korea
India
ASEAN
Australia & New Zealand
GCC
Turkey
South Africa
Northern Africa

Key Market Segments Covered

Burner Type
Burner Design
Application
Fuel Type
End-use Industry
Region

Key Companies Profiled

Andritz AG
Baltur S.p.A
Honeywell International Inc.
John Zink Company, LLC
Limpsfield Combustion Engineering
OILON GROUP OY
Weishaupt Group
Selas Heat Technology Company and Webster Combustion

Report Coverage

Market Forecast
Brand Share Analysis
Competition Intelligence
DROT Analysis
Market Dynamics and Challenges
Strategic Growth Initiatives

Customization & Pricing

Available upon Request
Key Segments Covered in Industrial Burner Industry Analysis
Industrial Burner Market by Burner Type:
Regenerative Burners
High Velocity Burners
Thermal Radiation
Radiant Burners
Customized (Burner Boilers)
Flat Flame Burners
Line Burners
Others
Industrial Burner Market by Burner Design:
Industrial Burner Market by Application:
Boilers
Furnaces/Forges
Air Heating/Drying
Incineration
Others
Industrial Burner Market by Fuel Type:
Gas Burners
Oil Burners
Duel Fuel Burners
Industrial Burner Market by End-use Industry
Metal & Metallurgy
Power Generation
Chemicals & Petrochemicals
Food Processing
Automotive
Pulp & Paper
Textile Industry
Other Industrial
Industrial Burner Market by Region:
North America Industrial Burner Market
Latin America Industrial Burner Market
Europe Industrial Burner Market
East Asia Industrial Burner Market
South Asia & Pacific Industrial Burner Market
Middle East & Africa Industrial Burner Market