Introduction
The global Human Papillomavirus (HPV) testing market is estimated to be valued at nearly US$ 630 Mn in 2017. The market is expected to reach nearly US$ 1,130 Mn by the end of 2025, reflecting a CAGR of 7.6% over the forecast period (2017-2025).
Favorable reimbursement scenario for HPV testing in North America
Various healthcare and government insurance providers are offering reimbursement for the diagnosis of chronic disorders such as cervical cancer. For instance, Medicare – U.S. government-funded health insurance provider provides reimbursement to people who are of age 65 or older and some young people with disabilities. Moreover, for cervical cancer diagnosis, Medicare covers reimbursement for one Pap test every three years or a combination of Pap test & HPV testing every five years.
Favorable government policies in North America are expected to drive the overall HPV testing market during the forecast period. In the United States, the National Breast and Cervical Cancer Early Detection Program (NBCCEDP) for breast and cervical cancer screening for women without health insurance is either free or with a very little cost. This effort is aimed at increasing the number of women undergoing screening for cancer.
High sensitivity of HPV testing in low resource settings is boosting the HPV testing market in Latin America
Developing countries face intense challenges in establishing cytology-based screening programs owing to lack of capacity and resources. Cytology based screening programs require well established infrastructure for processing and interpretation of samples. Cytology based screening programs require adequate healthcare infrastructure, stringent training and quality control for efficient results.
Conventional cytology screening tests offer a moderate sensitivity of 44%-78% whereas HPV DNA testing screening method offers a high sensitivity of 66%-100%. The high sensitivity of the HPV test allows increasing the screening intervals and provides an opportunity to increase screening coverage in high-risk population. The failure of cytology based screening programs in low resource settings has led to alternative methods such as HPV testing.
HPV screening tests are limited to women and this acts as a growth restraint
HPV infections can infect the genital areas of men including the skin on and around the penis or anus. These infections can also be spread to the mouth and the throat. According to CDC, about 1% of sexually active men in the U.S. have genital warts at any given time.
Even when HPV infections are persistent to the male population and can cause severe diseases such as genital warts, anal cancers, penile cancers, and cancers of the oropharynx, there is currently no HPV test recommend for men.
The approved tests available in the market are for screening women for cervical cancers. They are not useful for the screening of HPV-related cancers or genital warts in men. The selective product availability has restricted the growth of the market to a specific gender leading to slow growth over the forecast period.
Global Human Papillomavirus (HPV) Testing Market Attractiveness Analysis by Region
North America dominated the global human papillomavirus (HPV) testing market in revenue terms in 2016 and is projected to continue to do so throughout the forecast period. North America is anticipated to be the most attractive market with an attractiveness index of 2.6 during the forecast period.
Europe is expected to be the second most lucrative market, with a market attractiveness index of 1.1 during the forecast period. The Latin America human papillomavirus (HPV) testing market represents a market attractiveness index of 0.6 and is estimated to account for 8.9% of the market share growing at a CAGR of 11.8% by 2025 end.
The Asia Pacific human papillomavirus (HPV) testing market is estimated to hold 6.8% revenue share by 2017 end and is projected to account for 8.6% share by 2025 end. MEA is expected to be the least attractive market for human papillomavirus (HPV) testing with an attractiveness index of 0.2 over the forecast period.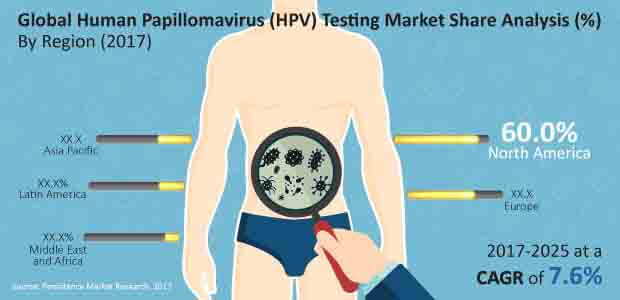 Increasing adoption of HPV testing over Pap Smear test in the North America region
A shift in the adoption rate of HPV diagnostics testing available for screening of cervical cancers has been observed over Pap Smear test since the past few years. Pap cytology based testing was considered as the primary test earlier; however, normal cytology does not always ensure a cancer-free situation. Limitations such as high variability in results, low reproducibility, less specificity and requirement for frequent testing is associated with cytology based testing.
HPV DNA testing on the other hand is more significant and sensitive for detection of precancerous lesions resulting in increasing adoption of HPV testing in the North America region. In 2014, the FDA approved the first HPV test for primary cervical cancer screening in women (aged 25 years and older) after a large study confirmed the effectiveness of HPV tests. These measures will significantly increase the adoption of HPV testing in the U.S.
Market Taxonomy
Attribute
Details

Product

DNA-based Test
RNA-based Test

End User

Hospitals
Clinics
Diagnostic Centers
Research Institutes

Applications

Molecular Diagnostics
Research Use

Region

North America
Latin America
Europe
Asia Pacific
Middle East and Africa
- Companies Covered in This Report -
F. Hoffmann-La Roche Ltd.
Agilent Technologies, Inc.
Becton, Dickinson and Company
Qiagen N.V.
Thermo Fisher Scientific Inc.
Abbott Laboratories
Hologic Inc.
Cepheid Inc.
Seegene Inc.
Takara Bio Inc.
DaAn Gene Co., Ltd. of Sun Yat-Sen University
Promega Corporation
Greiner Bio-One International GmbH (Greiner Holding AG)
Enzo Biochem Inc.
Norgen Biotek Corp.
DiagCor Bioscience Inc Ltd
Hybribio Limited
Zytovision GmbH
Arbor Vita Corporation
Medical & Biological Laboratories Co., Ltd
Fujirebio Diagnostics, Inc.
Others.