Cosmetics ODM Market
Global Market Study on Cosmetics ODM: Mass & Indie Brands to Remain Largest End Users
Cosmetics ODM Market Segmented By Skin Care, Hair Care, Makeup, Body Care Product in Bottles, Compact Cases, Droppers, Folding Cartons, Jars, Pallets, Pouches, Pumps and Dispensers, Roll On, Roll On Sticks, Sachets, Sticks, Tubes, Wraps Packaging Format in Natural/ Organic, Synthetic Nature
About the Report
3D printing technology is being increasingly implemented to personalize cosmetic and skincare products. Be it fitness or personal care, the importance of customization and personalization has become supreme. Brands are incorporating progressive technology to cater to a larger section of consumers. Though 3D printing might not replace injection molding in its entirety, innovations in the 3D printing sector are gaining the attention of consumers. Kolmar Korea has commercialized its newly developed 3D-printed skin cream, and is set to release 3D-printed makeup as lipstick and compact powder. Companies are also entering into strategic partnerships to engage in R&D activities.
Sustainability is gaining dominance in cosmetics packaging innovations, in fact, in every industry. Consumers are giving increased importance to environment-friendly acts, coupled with manufacturers' social responsibility, have augmented the sustainable approach within the beauty industry. Sustainability is driving new solutions in innovative cosmetic packaging, emphasizing on sustainable materials, small size, and hygienic solutions. A prime aspect of sustainability packaging is virtual aesthetics and engineering attributes to product packaging. Sustainability requirements also keep changing over time, necessitating innovation.
Manufacturers nowadays understand the increasing importance of targeted marketing and product development, more so because of the younger generation. Highly personalized experience is being created for a specific audience on the basis of certain criteria, more specifically in the field of packaging and digital marketing. Innovation is enhancing the flexibility and responsiveness of companies, while coping with standardization, so as to balance economies of scale and scope too. Consumer preferences vary demographically and regionally as well; thus, manufacturers are tapping the product development scenario accordingly.
Many more unique growth factors have been analyzed in detail, while a comprehensive assessment of some of the key challenges for cosmetics ODM have also been discussed in the report by Persistence Market Research. The report also has a detailed regional analysis, which points toward Europe holding a lion's share in this highly competitive market space. A detailed COVID-19 impact has also been included in the report, so as to aid readers in taking well-informed business decisions for the present and future.
Find Out More about the Report Coverage
Companies
COSMAX Co., Ltd.
Toyo Beauty Co., Ltd.
Nox Bellcow Cosmetics Co., Ltd.
Picaso Cosmetics Laboratory Ltd.
Kolmar Korea Co.,Ltd.
Ancorotti Comsetics S.p.S.
Cosmo Beauty Co., Ltd.
Cosmecca Korea Co., Ltd.
The fareva Group
B. Kolormakeup & Skincare S.p.a.,
BioTruly Group
ANC Corporation
Intercos Group
Francia Beauty Group
Nowcos Co., Ltd.
Sanshokaken K.K.
Global Cosmetics (HK)
Japan Colmar Co., Ltd.
Quality Plus Aesthetic International Co., Ltd.
Milliona cosmetics
Caolin Cosmetics
Bright Future for Cosmetics ODM
Growing demand for premium cosmetics ODMs has been witnessed over the past decade. The market expanded at a CAGR of 4.9% from 2016 to 2031. Continuous technology improvements are expected to lead to the growth of the cosmetics ODM market across the globe over the coming years. Demand for luxury cosmetics, partnerships among key players, and rising demand for skincare and sun care products are expected to augment sales in this space. Natural cosmetics, sustainable approach, and continuous technology development are factors expected to propel market growth at a CAGR of over 6% through 2031.
Customize this Report
Explore Intelligence Tailored to Your Business Goals.
Will Technology Developments Continue Driving Sales of Cosmetics ODMs?
Cosmetic manufacturers are increasingly focusing on technology development and product innovation. Waves of technology are influencing all aspects of the cosmetic industry, ranging from product ingredients to product packaging. With an aim to gain a competitive edge in the market, cosmetic ODM players are increasingly stepping up their innovation through extensive R&D. For instance, in 2019, Cosmax developed eco-friendly water-based nail enamel with excellent gloss and lasting power. Cosmetics ODM manufacturer Cosmax has also tapped into the microbiome trend with the launch of a new anti-aging microbiome skin care range.
Players operating in the ODM cosmetics market are undertaking numerous efforts to stimulate product design. Specular shift toward sustainable packaging solutions is one such indicator that points toward the evolution in product design.
Market Research Methodology - Perfected through Years of Diligence
A key factor for our unrivaled market research accuracy is our expert- and data-driven research methodologies. We combine an eclectic mix of experience, analytics, machine learning, and data science to develop research methodologies that result in a multi-dimensional, yet realistic analysis of a market.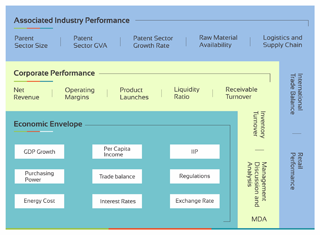 How is Men's Beauty Contributing to Cosmetics ODM Sales?
Male consumers are increasingly considering their appearance and looks to be very important. The men's grooming market is no longer an afterthought to women's beauty products. Currently, players in the market are targeting two different types of male consumers - those who prefer using toiletries to merely satiate their daily needs, and those who prefer adopting personal care products to improve their physical appearance.
Social media has put a spotlight on male beauty. Though bold and expressive looks as on magazine covers and elsewhere aren't mainstream, both, big and small beauty brands are aiming to create a wider appeal of male cosmetics for everyday use. The breaking of stereotype and normalizing of makeup for boys shows potential to drive the market over time. The Man Company is an Indian brand marketing a complete range of premium men's grooming products, enriched with natural essential oils. The brand claims to be free of harmful chemicals, and targets male beauty trends. Within the ODM sector, various manufacturers are focusing on skincare products targeted towards men. Unique Medicare Co., Ltd. is one company that focuses on hair care - products related to follicle and scalp care.
Explore Persistence Market Research's expertise in promulgation of the business !
Are Slow Product Approvals Challenging the Growth Trajectory of Cosmetics ODMs?
Slower regulatory approval procedures is one of the major challenges encountered by players in the market. Players operating in this space often wish to make the first move in order to gain a competitive advantage over others. But stringent and slower regulatory approval procedures often impact company strategies. Apart from this, testing and certification processes also result in delays in launching products. However, agencies and authorities such as the FDA have undertaken numerous initiatives to streamline and stimulate efficiency in the approval process.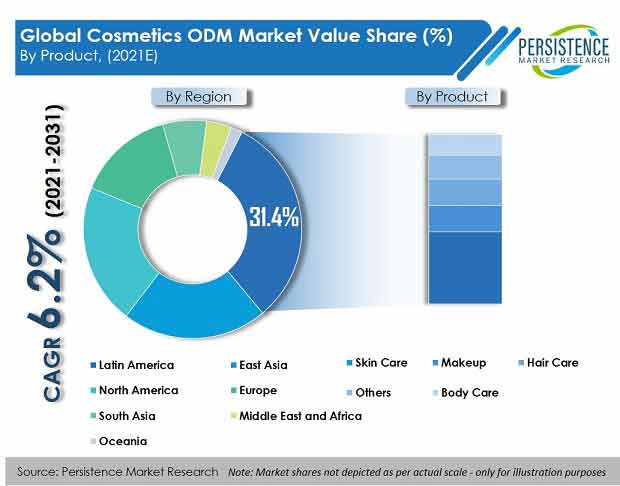 Country-wise Analysis
How is the 'Natural' Theme Boosting Cosmetics ODM Sales in Germany?
Increasing consumer awareness about the benefits of organic consumer products and support from strong local companies for development and product visibility of the same are key factors driving demand for organic or green cosmetics. Development and manufacture of green ingredient products is relatively eco-friendly as compared to that of conventional products. Moreover, organic consumer products also have lesser side effects. As a result, these factors are fuelling the demand for organic products.
Germany is the European leader in natural cosmetics. Demand for natural ingredients used in cosmetics and toiletries is growing, a trend expected to continue into the future. This organic beauty boom is part of the larger recent shift in consumer awareness regarding health, wellness, and the environment. Aligned with this trend, companies are replacing synthetic chemicals with natural ingredients, partly because of consumer demand and partly because of a move toward sustainable raw materials. There is rising demand for chemical-free products, including greater awareness of their harmful effects. Customers increasingly want value-for-money products that are both, natural and beneficial. Apart from rising disposable income, with more and more chemical-based products making their way onto shelves, there have been rising cases of allergies. People are developing various kinds of allergies with increased exposure to chemical beauty products. People with sensitive skin often refrain from the use of such products, thus increasing demand for organic beauty products.
What Role Do Indie Brands Play in the U.S. Cosmetics ODM Space?
Indie cosmetic brands often prefer to outsource tasks if the outsourced party can fill the knowledge gap within the company. Besides, there is always a threat regarding exposure of few tasks or essential information regarding the company's competitive advantage. Hence, the decision regarding key function outsource vs in-house is taken considering numerous factors such as financial benefits, company's competitive advantage, etc.
UOMA Beauty, Thrive Causemtics, Sydney Grace Cosmetics, Sugarpill, Shared Planet, Shroud Cosmetics, Persona Cosmetics, Ofra Cosmetics, Midas Cosmetics, and Give ME Glow Cosmetics are some American Indie cosmetic brands. Various American Indie brands are vegan and cruelty-free, further bolstering demand in the country.
How are Evolving K-Beauty Trends Propelling Demand for Cosmetics ODM in Korea?
K-Beauty has gained popularity worldwide, especially in East Asia, Southeast Asia, South Asia, and the U.S., and focuses on health, hydration, and an emphasis on brightening effects. K-Beauty is ever-changing and has been searched for during the coronavirus pandemic. Latest trend in the sector is clean beauty and the use of herbal ingredients in cosmetic formulations. As consumers are becoming wary of the products they are using, more brands are developing products free from chemical additives, artificial ingredients, and fragrance. Hyphenate and hybrid skincare is picking pace, where more efficient and effective multitasking and versatile products are gaining popularity.
A number of Korean cosmetic brands fall under the middle- and low-end price categories, and have become popular for "fast beauty", which implies shortening the R&D cycle to just four months, where the usual development of most global beauty brands requires more than a year. This fast beauty approach offers customers an opportunity to access new products all the time, along with providing a new level of innovation and differentiation.
Are Skincare Products and Digital Landscape Boosting Sales of Cosmetics ODM in China?
Skincare dominates the Chinese cosmetics industry; however, K-Beauty is losing its grip over the Chinese land. According to data released by the Foundation of Korea Cosmetic Industry Institute in May 2020, exports of Korean cosmetics to Mainland China increased 14.3 percent in 2019, as opposed to the average annual increase between 2013 and 2018 of 41per cent. Counterfeiting is the major reason that K-Beauty is fading away from the Chinese market.
Rise of the millennial generation has largely contributed to higher consumer demand, as well as rapid expansion of the middle class. Both, domestic and international brands, particularly in the makeup and skincare industry, have taken great advantage of the digital landscape, penetrating the online environment with a combination of strong social media presence and e-Commerce platforms.
How is India Faring in the Cosmetics ODM Landscape?
The Indian cosmetic market owes its demand to rising awareness of beauty products, increasing focus on personal grooming, changes in consumption patterns and lifestyles, and improved purchasing power among women. Color cosmetics, apart from fragrances and specialized skincare, are augmenting demand for cosmetics in the Indian landscape. Sunshine Industries, Reveria Overseas, Pincode Cosmetics, and Cosmetic Index are a few Indian ODM cosmetic manufacturers.
Category-wise Insights
Why is Hair Tonic Gaining Popularity across Regions?
Hair care is evolving globally, with increased cases of hair damage, hair loss, and thinning of hair. Air pollution is causing excessive hair loss, and researchers have found that exposure to common pollutants reduced the levels of four proteins responsible for hair growth and hair retention. Hair tonics are often made with natural oils in order to help lubricate and moisturize the hair, reduce split ends, protect the scalp, and reduce skin damage. Additionally, hair tonics help in hair styling, which is trending due to social media influence.
Will Demand for Natural Cosmetics Amplify Sales?
Natural claims have, apart from being important product purchase drivers when combined with product efficacy claims and brand identity, triggered the sustainability quotient. Consumers also have begun demanding full transparency from cosmetic companies on their sourcing methods, product, ingredients, and sustainability practices. Pressure on cosmetics brands and manufacturers to demonstrate their social and environmental credentials is increasing; so more of them are finding ways to transform their own brands through sustainability-focused products, services, and consumer experiences. Vegan products use plant-based formulas that are gentler on the skin, making them ideal for sensitive skin. Animal-based products can be very heavy on the skin, and hence, have been known to clog pores. Overall, the cosmetics industry is shifting toward natural and vegan, thus amplifying organic trend.
How is Sustainable Packaging Surfacing in the Cosmetics ODM Industry?
The packaging trend within the cosmetics industry has restructured into more safe, natural formulas and practical packaging. Increasingly natural solutions within the product arena have showed positive response, and following the trend, natural solutions are being implemented in product packaging as well. Apart from making immediate connection with lucrative packaging design, inculcating natural solutions is the marketing strategy being followed by companies.
Innovation in mass personalization and packaging is the new market trend. In the case of packaging, as the concept of sustainability is gaining significance in the beauty market, cosmetics ODM players are undertaking numerous efforts to match up to the recent trend. For instance, in 2019, Cosmax Co. Ltd. partnered with Innerbottle Co. to develop eco-friendly packaging that is easy to recycle, in a bid to slash plastic use.
How are Prestige Brands Bolstering Demand for Cosmetics ODM?
Premium skin care targets facial treatments and anti-aging products, whereas, a majority of mass sales deal with body care and cleansers. ODM manufacturers are introducing variations within the premium facial sheet masks category to cater to a wider group of skincare-obsessed consumers with inclination toward natural, herbal ingredients. Prestige color cosmetics are experience high growth in the U.K., while mass-market products still dominate within categories such as nail polish, increasingly challenging the more luxurious counterparts.
Competition Landscape
Persistence Market Research has profiled the following prominent manufacturers in its report:
COSMAX Corporation
Toyo Beauty Co. Ltd.
Nox Bellcow Cosmetics Co. Ltd.
Picaso Cosmetic Laboratory Group
Kolmar Korea
Ancorotti Cosmetics S.r.l.
Cosmo Beauty Company Ltd.
Cosmecca Korea
The Fareva Group
B. Kolormakeup & Skincare S.p.a.
BioTruly Group
ANC Corporation
Intercos Group
Francia Beauty
Nowcos Co. Ltd.
Sanshokaken K.K., Global Cosmetics (HK)
Japan Colmar Co. Ltd.
Quality Plus Aesthetic International Co. Ltd.
Milliona Cosmetics
Caolion Cosmetics
Players operating in the market are finding new ways to cut operating costs. These measures and efforts are being undertaken due to rising input costs and retailer power. Well-established firms are taking a hard look at their operational chains and examining them from both, output and input perspectives. In light of this, forging new strategic relations with essential players or suppliers to achieve new levels of efficiency is likely to help players cut down operating costs.
Report Scope
Attribute

Details

Forecast Period

2021-2031

Historical Data Available for

2016-2020

Market Analysis

US$ Mn for Value & Mn Units for Volume

Key Regions Covered

North America
Europe
Latin America
East Asia
South Asia
Oceania
Middle East & Africa

Key Countries Covered

U.S.
Canada
Brazil
Mexico
Germany
Italy
France
U.K.
Spain
Russia
BENELUX
India
Indonesia
Malaysia
Thailand
China
Japan
South Korea
GCC
Northern Africa
South Africa

Key Segments Covered

Product
Nature
Packaging Format
End Use
Region

Key Companies Profiled

COSMAX Corporation
Toyo Beauty Co. Ltd.
Nox Bellcow Cosmetics Co. Ltd.
Picaso Cosmetic Laboratory Group
Kolmar Korea
Ancorotti Cosmetics S.r.l.
Cosmo Beauty Company Ltd.
Cosmecca Korea
The Fareva Group
B. Kolormakeup & Skincare S.p.a.
BioTruly Group
ANC Corporation
Intercos Group
Francia Beauty
Nowcos Co. Ltd.
Sanshokaken K.K., Global Cosmetics (HK)
Japan Colmar Co. Ltd.
Quality Plus Aesthetic International Co. Ltd.
Milliona Cosmetics
Caolion Cosmetics

Customization & Pricing

Available upon Request
Key Questions Answered in Report
How will the cosmetics ODM market expand until 2031?
Persistence Market Research projects the market to register a CAGR of over 6% across the 2021-2031 assessment period. Continuous technology developments, demand for skincare and sun protection products, innovation in packaging, and rising demand for luxury cosmetics are anticipated to provide cosmetics ODM sales increased momentum.
Which is the largest market for cosmetics ODM?
As per Persistence Market Research's projections, skincare dominates the cosmetics ODM industry, and continues to prosper owing to demand for multi-functional skincare products and innovative product designs within other product types such as serum, lotions, and face masks.
What is the impact of product innovation on cosmetics ODM sales?
In recent years, product innovation has taken the lead in generating demand for consumer goods, and consequently, manufacturers are investing in research & development, thereby widening growth prospects. Large-scale players operating in the cosmetics ODM market are focused on investing heavily in research & development. For instance, Kolmar Korea has developed skincare, makeup, personal care, skin science, and various other research & development centers with an aim to lead innovation in the cosmetics field.
Who are the leading players in the cosmetics ODM market?
Prominent players operating in this space include COSMAX Corporation, Toyo Beauty Co. Ltd., Nox Bellcow Cosmetics Co. Ltd., Picaso Cosmetic Laboratory Group, Kolmar Korea, Ancorotti Cosmetics S.r.l., Cosmo Beauty company Ltd., Cosmecca Korea, The Fareva Group, B. Kolormakeup & Skincare S.p.a., BioTruly Group, ANC Corporation, Intercos Group, Francia Beauty, Nowcos Co. Ltd., Sanshokaken K.K., Global Cosmetics (HK), Japan Colmar Co. Ltd., Quality Plus Aesthetic International Co. Ltd., Milliona Cosmetics, and Caolion Cosmetics, among others.
Enquiry before Buying
Is the research conducted by Persistence Market Research?
Yes, the report has been compiled by expert analysts of Persistence Market Research, through a combination of primary and secondary research. To know more about how the research was conducted, you can speak to a research analyst.
What research methodology is followed by Persistence Market Research?
Persistence Market Research follows a methodology that encompasses the demand-side assessment of the market, and triangulates the same through a supply-side analysis. This methodology is based on the use of standard market structure, methods, and definitions.
Who are the respondents for primary research?
Persistence Market Research speaks to stakeholders across the spectrum, including C-level executives, distributors, product manufacturers, and industry experts. For a full list of primary respondents, please reach out to us.
What are the sources of secondary research?
Persistence Market Research conducts extensive secondary research through proprietary databases, paid databases, and information available in the public domain. We refer to industry associations, company press releases, annual reports, investor presentations, and research papers. More information about desk research is available upon request.
Is a sample of this report available for evaluation?
Yes, you can request a sample, and it will be sent to you through an email.
How can I buy this report?
Persistence Market Research provides a secure online payment system to buy reports seamlessly. You can buy the report securely and safely.
Key Segments Covered
Product
Skin Care

Creams
Lotions
Toners
Facial Cleansers
Sunscreen
Face Packs/ Masks
Others

Hair Care

Shampoos
Conditioners
Hair Rinses
Hair Dyes
Hair Tonics
Hair Styling Products

Makeup

Facial Products
Lip Products
Eye Products
Nail Products
Other Color Cosmetics

Body Care

Soaps
Shower Gels
Creams
Foot Creams
Others
Others
Packaging Format
Bottles
Compact Cases
Droppers
Folding Cartons
Jars
Pallets
Pouches
Pumps and Dispensers
Roll On
Roll On Sticks
Sachets
Sticks
Tubes
Wraps
Others
Nature
Natural/ Organic
Synthetic
End Use
Prestige Brands
Private Labels
Mass Brands
Indie Brands
Region
North America
Latin America
Europe
East Asia
South Asia
Oceania
Middle East & Africa (MEA)
Our Clients