Libya Cosmetics Market Outlook (2022-2032)
The Libya cosmetics market is projected to expand at 5.3% CAGR over the next ten years and reach a market valuation of US$ 631.7 Mn by 2032, up from US$ 360 Mn registered at the end of 2021.
Consumption of cosmetics in Libya accounts for around 1%-3% share of the global cosmetics industry at present.
| Attribute | Key Insights |
| --- | --- |
| Libya Cosmetics Market Size (2022) | US$ 376.9 Mn |
| Projected Market Value (2032) | US$ 631.7 Mn |
| Market CAGR (2022 to 2032) | 5.3% |
| Market Share of Top 5 Cosmetic Manufacturers | 5% to 10% |
Demand Analysis of Cosmetics in Libya (2017 to 2021) Vs. Market Projections (2022 to 2032)
From 2017 to 2021, use of cosmetics in Libya increased at a slow rate with the country holding a minor share in the MEA market.
The Libyan cosmetics industry experienced a downturn due to various limitations in the regional market. Major reasons that resulted in the country's declined growth included the Second Libyan Civil War that lasted from 2014 to 2020 and adversely impacted most of the country's economic sectors, such as imports and exports of oil and other consumer durables, manufacturing, service sector, etc.
Between 2022 and 2032, Libya's economy is expected to witness steady growth as the implications of the Second Libyan Civil War subsides. Besides, the country is also experiencing the emergence of the online retail sector amid the current economic and geopolitical conditions.
The cosmetics industry in the country is expected to grow during the forecast period with international trade witnessing a slight upsurge. Moreover, increasing presence of online retailers in the country is expected to boost the market for personal care products, including cosmetics, mostly due to the younger generation.
As per detailed industry analysis by Persistence Market Research, sales of cosmetics across Libya are predicted to increase at a CAGR of 5.3% through 2032 as opposed to the CAGR of 4.5% registered between 2017 and 2021.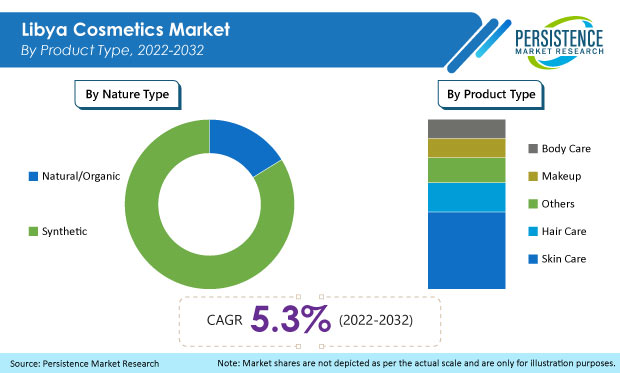 Which Market Factors are Leading to High Sales of Cosmetic Products in Libya?
"Increasing Preference of Customers toward Online Retail Channels"
A major element driving market expansion in Libya is increasing product penetration in the cosmetics market through online retailing channels. Cosmetic sales via e-Commerce are predicted to increase significantly over the coming years owing to increased smartphone usage and rising Internet penetration in potentially untapped areas across Libya.
The availability of a wide range of products, as well as buyers' capacity to compare costs of various products accessible in the market during an online search or through social networking platforms, are credited to this predicted development.
"Increasing Availability of Natural/Organic Cosmetics on Store Shelves"
The use of natural/organic cosmetics products has been a significant way to look glamorous for men and women from ancient times. The degradation of such products happened with the introduction of chemical-based cosmetics that took over the cosmetics industry and boosted the market to new heights.
In today's modern era, with sustainability at its peak, natural/organic cosmetics and beauty care products are witnessing increased demand. With regional and cultural values at its core, the introduction of such natural cosmetic products is appealing to consumers in Libya, and alternatively, will boost the volume of sales in Libya's cosmetics industry.
How is Market Expansion in Libya being Hindered to Some Extent?
"Underdeveloped Sectors in Libya Limiting Market Growth"
Players in the Libya cosmetics market are adapting to a substantial transformation to gain a share of the untapped potential in the local market. The lack of development of manufacturing infrastructure, machinery, and industrialization due to ongoing complications in the region and its effect on the development of key sectors is hampering market growth to some extent.
Based on a survey conducted by Libya Enterprise, other than oil, the country exports a very limited amount of products, including cosmetics, wooden works, etc. According to the survey, less than 3% of Libyan companies exported goods and services in 2017.
Such factors are hampering the growth of the cosmetic industry in Libya and might present a challenge for market players operating in the country.
Category-wise Insights
Which Product Type Holds Major Revenue Share in Cosmetic Sales in Libya?
"Makeup Products to Remain Top-selling Category"
Based on product type, the makeup category is anticipated to remain the most significant in the cosmetics market in Libya. Increased adoption of makeup products by the younger generation has been prompted by unique differentiating branding and marketing strategies by industry participants.
Furthermore, the facial segment categorized under makeup is expected to be a prominent product category that will contribute highly toward market growth. Increased preference of customers toward organic beauty products, and subsequently, the fulfillment of such demands by manufacturers will significantly aid market growth in Libya.
Which End User Category Accounts for Higher Sales in the Libyan Cosmetics Market?
"High Product Adoption by Women in Libya"
In terms of end user, women's increased preference for cosmetics is expected to reflect in the growth of the Libya cosmetics market over the forecast period.
Increase in the number of working women along with their rising need for personal care and the quest to look good is substantially contributing to the augmented demand for cosmetics products from women consumers.
Which Price Range Should Cosmetic Manufacturers in Libya Target?
"Premium Range Cosmetics to Reflect High Growth Opportunities"
In terms of price range, demand for premium price range cosmetics is expected to rise at a higher CAGR than economic price cosmetics.
Increased income levels in addition to higher spending by the millennial and Gen-Z population on premium cosmetics products are anticipated to significantly contribute toward overall market growth.
How are e-Commerce Sales of Cosmetics Expected to Shape Up in Libya?
"Digital Space Accelerating Pace & Power of Cosmetic Suppliers"
Based on sales channel, e-Commerce sales of cosmetics are predicted to propel the market at a higher rate than other sales channels. This segment's growth is projected to be fueled by rising Internet usage and focused marketing by cosmetic manufacturing businesses to all client bases.
As a result of the COVID-19 outbreak, cosmetic companies have been pushed to increase their online web presence. To reach as many potential clients as possible, prominent corporations are increasingly promoting their products on social media networks.
Impact of COVID-19 on Market
During the early stages of the pandemic, panic buying of personal care products, such as cosmetics, was witnessed. Consumers have now become more conscious of their spending habits as a result of the economic downturn.
As a result, low-cost products became more popular than high-priced premium products. Furthermore, the availability of cosmetics in bulk gave consumers more options to choose from. However, the market is getting back on track to pre-pandemic levels.
Competition Landscape
Cosmetic manufacturers in Libya are introducing new products across the country. This is being done by established companies by resorting to collaborations & partnerships and through various exhibitions.
For instance, according to the Libya Herald news, in the month of September 2022, The Libya Health and Beauty Exhibition will be held in the city of Misrata, which will include various specialties and companies in the field, including cosmetic companies present in the region.
Libya Cosmetics Industry Report Scope
Attribute
Details

Forecast Period

2022-2032

Historical Data Available for

2017-2021

Market Analysis

US$ Mn for Value

Key Country Covered

Libya

Key Market Segments Covered

Product Type
End User
Price Range
Nature
Sales Channel

Key Companies Profiled

L'Oréal S.A.
Staked Skincare Inc.
Vichy Laboratoires
The Estée Lauder Companies, Inc.
Elizabeth Arden
Groupe Rocher (Flormar)
Hobby Cosmetics
Suarez Company
LILA Cosmetics
Lorience Paris
Joop
Grupo PYD
ParisVally
Others (As Per Request)

Pricing

Available upon Request
Key Segments Covered in Libya Cosmetics Industry Research
Libya Cosmetics Market by Product Type:
Skin Care

Creams & Lotions
Serums
Face Packs/ Masks
Eye Care
Other Skincare Products

Hair Care

Shampoo
Conditioners
Other Hair Care Products

Body Care

Hand Care
Foot Care
Body Creams

Makeup

Facial Products
Eye Products
Lip Products
Nail Products

Other
Libya Cosmetics Market by Nature:
Natural/Organic Cosmetics
Synthetic Cosmetics
Libya Cosmetics Market by End User:
Libya Cosmetics Market by Price Range:
Economic Cosmetics
Premium Cosmetics
Libya Cosmetics Market by Sales Channel:
Wholesalers/Distributors
Hypermarkets/Supermarkets
Multi-brand Stores
Exclusive Stores/ Franchise Outlets
Beauty Specialist Salons
Independent Small Stores
Online Retailers
Others