Introduction
Cheese is considered to be a prominent food item in regions such as North America and Europe. It is used as an additive or as the main ingredient in many food items. The onset of Westernization and its spread has triggered the consumption of region specific food items across the border. As a result, the consumption of cheese, as a snack mostly has risen extensively in regions such as Asia Pacific and Latin America. The prevalence of packed cheese snacks has also risen across the globe, thus benefitting the market in return.
Cheese snacks to be largely used in households
The changing eating patterns of people has substantially affected their preferences of snacks. The demand for cheese snacks has risen extensively in households owing to the changing patterns and frequent snacking between meals. Furthermore, various age groups are responsible for the increasing snacking trend. Children and teenagers are more likely to satiate hunger by consuming snacks rather than meals.
Cheese has now become an indispensable ingredient for snacks as it adds a savory appeal to normal food. Moreover, cheese is a source of calories, and hence, cheese snacks are viewed as an essential snack in emergency situations. Failure in maintaining a proper diet and inattentiveness towards healthy and nutritious food are becoming increasingly common nowadays, and hence, high calorie snack food is becoming a popular replacement for consumers with an irregular diet pattern.
The introduction of innovative products has also surged the consumption of cheese snacks in households. The definition of snacks is relative for all individuals. Hence, cheese can be experimented with all snacks from all regions, and give birth to a new product. Introducing products with regionally accepted flavors has long been practiced in the food and beverages market. Henceforth, regional snacks, whether baked, fried or frozen, can be produced with cheese as an ingredient.
Globalization is also leading to the universal acceptance of many regional products, including snacks. New product launches have been proven to be an excellent strategy for manufacturers to expand their consumer base. And as manufacturers are well aware that a major portion of their consumer base is at the household front, their strategy has proven to be fruitful.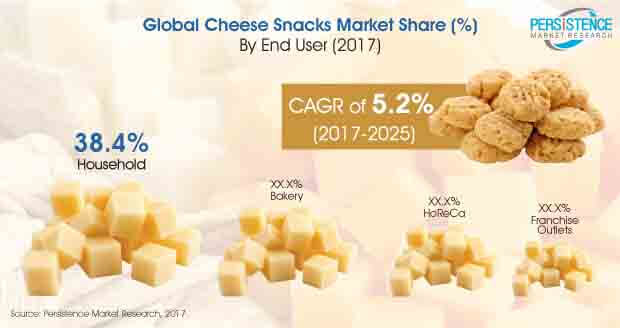 Use of cheese snacks in bakeries to rise extensively
Bakeries and baked products are gaining prominence across the whole world owing to their quick snack service. The demand for cheese snacks is rising from bakeries owing to the fact that along with their products, they also serve savory products to their customers or items according to their customer's taste. Recently, the introduction of gourmet cheese as a snack has caused a positive stir in the market in favor of the product.
The cheese that has been used in cheese snacks also affects consumer acceptability. Cheese fanatics are always experimenting with products with novel varieties of cheese. With the availability for hundreds of different types of cheese, there is huge scope for cheese snack marketers to introduce products containing new types of cheese.
The introduction of different types of cheese in snacks holds a key to immense market potential for the cheese snacks market. A growth in the demand for gourmet and artisanal cheese signifies the essentiality of various types of cheese items in the cheese snacks market. With consumer awareness and willingness to buy these products, the expansion of retail outlets is imperative, which may fuel the growth of the cheese snacks market.
Cheese Snacks Market: Segmentation
By Region

North America
Latin America
Europe
Asia Pacific
The Middle East and Africa

By Product Type

Baked
Fried
Frozen Snacks

By Cheese Type

Cheddar
Mozzarella
Gouda
Others

By End User

Franchise Outlets
Bakery
HoReCa
Household

By Distribution Channel
- Companies Covered in This Report -
Sargento Foods Incorporated
PepsiCo, Inc.
Mars, Incorporated
McCain Foods Limited
TINE SA
UTZ Quality Foods, LLC.
U&S Unismack S.A.
ITC Limited
General Mills, Inc.
EnWave Corporation
Kellogg Company
Parle Products Pvt. Ltd.
Godrej Industries Limited
Amy's Kitchen, Inc.
Fonterra Co-operative Group Limited
Estate Cheese Group LLC
Europe Snacks S.A.
Rich Products Corporation
Kerry Group plc
The Kraft Heinz Company
Others.