Rising Demand for Portable Audio Devices
Wireless audio devices technology plays a vital role in the growth of the electronic devices market. The wireless audio devices market is growing, owing to high production of wireless speakers, mobility on semiconductors for wireless devices, improvement in technologies, and initiation of innovative audio devices. Semiconductors are building blocks that designers use to implement great audio technology ideas into marketable products.
Besides rapid urbanization, adoption of intelligent and smart technology solutions, especially in retail showrooms, metro cities, and others, is increasing. This accessibility factor is anticipated to fuel the growth of the global wireless audio devices market during the forecast period.
In November 2019, Sony Electronics introduced the SRS-WS1 immersive wearable speaker. It features speaker slots, which, when combined with digital music processing, produce a soundtrack. These speakers are equipped with a latent radiator vibration plate, which improves low sound quality and vibration, commonly with bass sounds from film action pictures or at live venues.
Some smart speakers also allow users to stream audio from a variety of sources with voice recognition technology.
Heightening Demand for Smartphones and Other Smart Devices
With the rising demand for audio-based devices among customers, various audio solution vendors are introducing new models and features in the wireless audio devices segment at a competitive pricing of products.
High demand for WSNs (wireless sensor networks) across various industries is expected to drive the wireless audio devices market growth. Adoption of smart home automation systems is anticipated to boost the demand for smart speakers, which can monitor and control connected devices by using voice assistants. These factors are expected to increase the demand for wireless audio devices.
APEJ's Massive Potential for Wireless Audio Devices Market Growth
Asia Pacific Excluding Japan (APEJ) is anticipated to witness impressive growth rate in the wireless audio devices market during the forecast period. Innovative features of wireless audio devices such as remote accessibility, easy manageability, and portability for audio communication result in rapid adoption of wireless audio devices.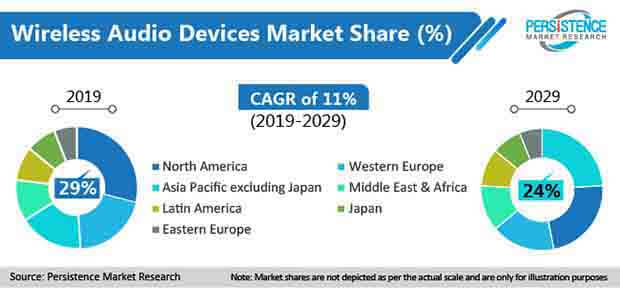 Mobile Devices Penetration Supporting Adoption of Portable Bluetooth Speakers
Adoption of mobile devices, especially tablets and smartphones across the globe is increasing, which can be attributed to increasing Internet penetration and rising popularity of online music streaming. Bluetooth technology allows reliable point-to-point audio streaming from a mobile or PC device to a variety of lightweight wireless devices.
Adoption of smart Bluetooth technology in different mobile devices such as speakers, tablets, and earphones is also increasing. Therefore, rising penetration of smartphones and consumer awareness have positive impact on the demand for Bluetooth speakers.
Technological Advancements in Wireless Speakers
Technological advancements such as the introduction of Bluetooth 4.0 and Qualcomm aptX bought a significant change in the speaker's sound quality, enhancing the adoption of wireless audio devices. Manufacturers focus on AI-ready speakers and wireless speakers to create potential growth opportunities for the wireless audio devices market.
It includes different features such as waterproof speakers, rhythmic lightning, and better battery backup in wireless as well as AI-ready speakers. The developed set of speakers and headphones deliver top sound quality, high-end performance, and durability, which fulfill the demand from various end users.
In August 2019, Bose introduced the portable home speaker, which is compact and ultra-versatile speaker. It combines convenience of battery power and ease of voice control in the new design.
Analyst's Viewpoint
A comprehensive view of the wireless audio devices market has led our analysts to conclude that, speaker manufacturers are adding same voice and audio functionalities to products such as sound-bars, wireless access points, smart home hubs, and smart thermostats.
Asia Pacific is expected to hold a large part of the wireless audio devices market during the forecast period, owing to advancements and innovations of electronic devices in the region. Among products, the earphones segment with wire-free design is expected to grow rapidly in the market.
New product innovation and strong financial position of key market players are expected to give momentum to the wireless audio devices market.
Wireless Audio Devices Market: Segmentation
PMR's research study on the global wireless audio devices market offers a detailed market segmentation, wherein key segments have been discussed in detail. The segmentation of the wireless audio devices market has been offered on the basis of product type, technology, distribution channel, end user and region. Every segment has been analyzed in detail, and data pertaining to the growth of each segment has been included in the study.
Product

Earphones
Headphones
Portable Speakers

Technology
Distribution Channel

Organized Retail
Unorganized Retail
Online/E-commerce

End User
Region

North America
Latin America
Western Europe
Eastern Europe
Asia Pacific excluding Japan
Japan
Middle East & Africa
Wireless Audio Devices Market: Key Questions Answered
The research study on the wireless audio devices market offers inclusive insights about the growth of the market in the most comprehensible manner for better understanding of users. Key insights offered in the report answer some of the most salient questions that assist stakeholders in gauging all emerging possibilities.
How does rapidly changing business environment turn into a major growth engine for the Wireless audio devices market?
How ensuring compliance with industry regulations is boosting the Wireless audio devices market growth?
What are key trends constantly shaping the growth of the Wireless audio devices market?
Which are prominent regions offering plentiful opportunities for the Wireless audio devices market?
What are differential strategies adopted by key players to command a significant chunk of the global market share?