The global market for wireless Bluetooth printers is expected to witness a 1.8x increase in revenue during 2017-2025
As stated by Persistence Market Research, the global wireless Bluetooth printer market is anticipated to grow at a steady rate to reach a significant value by the end of the assessment period. The wireless Bluetooth printer market has been experiencing steady growth during 2012-2016 period. According to this research report, it is expected to grow at a robust rate in the years to follow. It is projected to expand at a value CAGR of 7.65% throughout the period of assessment, 2017-2025 to reach a valuation of more than US$ 43 Bn by the end of the year of assessment from a value a bit under US$ 24 Bn in 2017.
This noteworthy jump in revenue can be attributed towards reduction in usage of cables, reduction in costs, enhanced flexibility and increased productivity. Moreover, trends such as rising adoption of portable printers, rising implementation of POS printers in various industries and growing need for cost efficient printing are also pushing the growth of the global wireless Bluetooth printer market.
Mobile photo printing and touchscreen Bluetooth printers to offer high growth opportunities in the future
With the advancements in technology, companies are developing printers which are pocket-sized, and offer strong connectivity with smartphones via Bluetooth connections. Additionally, the smartphone market is witnessing high growth in market numbers. Moreover, as smartphone penetration increases, mobile photo printers are expected to witness healthy growth in the market. Nowadays, printer manufacturers are shifting their focus towards developing printers with advanced features to captivate users into buying them.
Various new features are replacing traditional devices, making present devices more user-friendly, one among which is touchscreen capability. Touchscreen Bluetooth printers provide an easy-to-use interface, easing the task of changing printer settings, and making the operations more convenient and speedy for customers to use. These features make the devices more captivating, in turn, rising the adoption of Bluetooth printers in the market.
Thermal wireless Bluetooth printers to show high growth potential during the forecast period
Thermal printers are non-impact printers which use the technology of coating the paper with a dry wax-based ink pigment. These printers have a fast printing speed, and are usually deployed in special applications, such as label, ticket, or receipt printing. The thermal wireless Bluetooth printers segment in the printer type category is expected to rise at a high CAGR of 7.5% during the period of forecast. In 2017, this segment stood at US$ 8393 Mn and is estimated to reflect a valuation more than US$ 14 Bn by the end of the period of assessment (2025).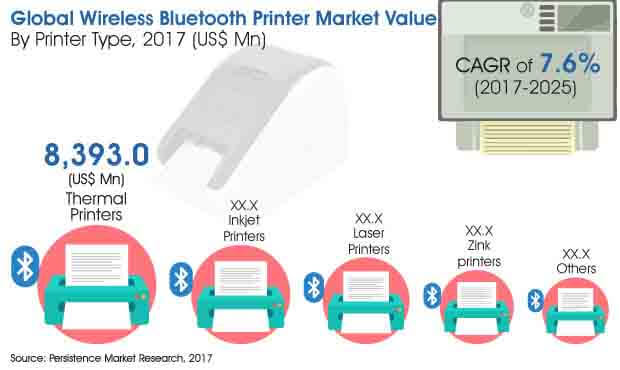 Zink wireless Bluetooth printers segment to witness high speed growth in the coming years
Zink printing technology does not use any ink or toner. This technology works with a specially manufactured paper which is coated with a composite material of cyan, yellow, and magenta dye crystals, which are embedded inside an overcoat. These printers provide high quality printing, and are usually used for printing photos. The zink wireless Bluetooth printer segment is expected to grow at the fastest rate to register a stellar CAGR of 10.59% during the period of forecast, 2017-2025.
Market Segmentation
Attribute
Details

By Printer Type

Thermal
Inkjet
Zink
Laser
Others

By Pricing

100-500
551-1000
1001-3500
More Than 3500

By Sales Channel

By End User Industry

Commercial
Educational Institutions
Healthcare
IT and Telecom
Travel and Hospitality
BFSI
Government and Public Sector
Retail
Others
Residential

By Region

North America
Latin America
Europe
Asia Pacific (APAC)
Middle East and Africa (MEA)
- Companies Covered in This Report -
BROTHER INDUSTRIES, LTD.
Canon Inc.
Zebra Technologies Corporation
HP Development Company, L.P.
Honeywell International Inc.
Seiko Epson Corporation
Ricoh Company, Ltd.
Toshiba Corporation
Lexmark International, Inc.
Polaroid Corporation
Star Micronics America Inc.
Bixolon Co., Ltd.
CognitiveTPG
Able Systems Limited
Others.