Introduction
Tartaric acid is extremely important for the manufacturing of wine, as it helps in controlling their acidity level. Food manufacturers also prefer tartaric acid due to its natural properties, since it is sourced only from grapes or wine residue. Rise in the consumption of wine around the world is a key factor for the expansion of the tartaric acid market size.
Increasing urban population and Western lifestyle across countries such as India and China are other major reasons for the high consumption of wine, which is fueling the growth of the tartaric acid market as well.
Demand for tartaric acid has evolved in the food industry over the past decade, driven by high demand for additives from food manufacturers. Manufacturers in the tartaric acid market space are investing in research & development for sourcing tartaric acid from other sources.
Such investments will boost the growth prospects of the global tartaric acid market through 2030.
Growing Food Industry Supporting Tartaric Acid Market Expansion
The food industry is one of the fastest-growing industries across the globe, which is giving opportunities to new entrants in the market. The tartaric acid market is a consolidated market space, with limited manufacturers and established players focusing on strengthening their production capacities.
Tartaric acid is in great demand from the confectionery industry for the industrial preparation of biscuits and snacks, and as a leavening agent in baking and dessert preparation.
Wide Applicability in Food & Beverages Sector
Rapidly growing food & beverage industry across the globe is a major reason for the high demand for tartaric acid at present. Tartaric acid is a versatile ingredient, and is used as an emulsifier, dough conditioner, acidifying agent, and bulking agent.
Tartaric acid is used as an acidifier in many products to regulate their acidity. Bakers use tartaric acid to improve the dough and also increase the shelf life of baked goods. Tartaric acid is also used as a natural preservative in jams & jellies, and also beverages such as carbonated drinks and fruit juices.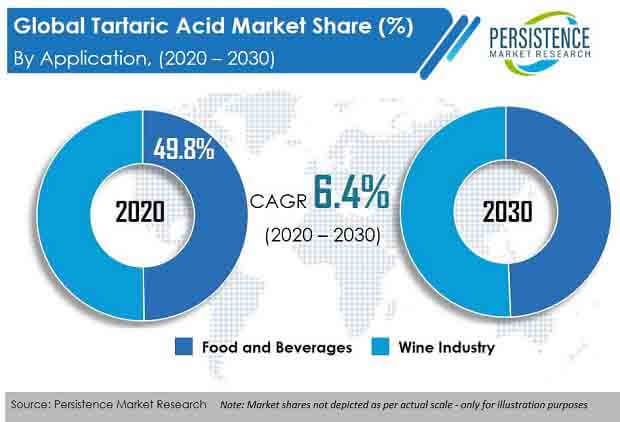 Regional Outlook of Tartaric Acid Market
Europe holds the largest tartaric acid market share among all regions, owing to the large number of wine producers present in the region. Rising consumption of processed foods and unique beverages, owing to increase in urban population in South Asia, is creating lucrative growth opportunities for new market entrants.
Market players are expanding production capacities to meet the requirements of customers and also adopting acquisition strategies to grow in the market. Many wine makers are focusing on circular economy and establishing their own distilleries to reuse waste obtained from wine making.
Tier-1 players are focusing on strengthening their production facilities by installing advanced equipment to increase production capacity as well as provide high standard products to clients.
Impact of COVID-19 on Tartaric Acid Market
The COVID-19 outbreak has affected almost all industries across regions, as most of the manufacturing companies are either closed or are operating with limited production and staff. Despite all this, demand for food remained. High sales of food and beverages was observed, which made manufacturers change their sales methods and shift to online platforms.
However, manufacturers will now have to redefine the supply chain structure. They are changing sourcing patterns and may focus on local providers instead of sourcing from other regions.
The COVID-19 outbreak has slowed down various businesses in most regions. Europe has been highly impacted by coronavirus, which may have a moderate impact on the tartaric acid market.
Analysts' Viewpoint
The global tartaric acid market is expected to witness decent growth during the forecast period of 2020-2030, as South Asia is anticipated to offer growth opportunities for the same period. Rising consumption of wine and processed foods is fueling the global tartaric acid market. Due to the expanding wine industry, the tartaric acid market is estimated to witness 1.5X growth in volume over the forecast period. The market for tartaric acid in wine making applications is expected to reach a total volume of 51KT by the end of 2030.
Key Segments of Global Tartaric Acid Market
PMR's report on the global tartaric acid market offers information divided into three segments – function, application, and region.
Function

Acidifiers
Emulsifiers
Preservatives
Flavor Enhancers
Others

Application

Wine Industry
Food & Beverages

Bakery
Jam & Jellies
Carbonates Drinks
Fruit Juices
Others

Region

North America
Latin America
Europe
South Asia
East Asia
Oceania
Middle East & Africa
Key features of this report
Drivers, restraints, and challenges shaping the Tartaric Acid market dynamics
Latest innovations and key events in the industry
Analysis of business strategies of the top players
Tartaric Acid market estimates and forecasts(2015 -2021)