Asia Pacific and Europe are expected to bolster revenue growth of the global refrigerated trailer gaskets market
Refrigerated trailers are thermally insulated temperature controlled food grade vehicles deployed with a sophisticated refrigeration unit. This trailer is dragged by a traction unit and can be used both for road and rail transportation. The refrigerated trailer gaskets are installed at the periphery of trailer body doors and vents. Our new research on the global refrigerated trailer gaskets market depicts a complete regional analysis of the global market. The report indicates that North America is expected to continue to be the leading market in the global refrigerated trailer gaskets market and this growth is helped by the increasing capital expenditure of third-party logistics businesses across the region.
Truck trailers are major assets for 3PL businesses around the world. These trucks are constantly upgraded with the latest technologies to meet growing consumer demands and to improve operational efficiency. Large fleet owners operate refrigerated trailers for an average period of 3–5 years, after which new trailers are usually purchased. There's also a rise in demand for new refrigerated trailers with the revised emission standards.
Our analysis of this market highlights Asia Pacific and Europe as the upcoming lucrative regions in the global market with a high CAGR projected during the forecast period. The Europe market for refrigerated trailer gaskets is currently on an upward growth trajectory, owing to the need to expand the cold chain capacity in the region. Whereas in Asia Pacific, efforts to improve food preservation and transportation, lower food wastage and increase food safety as well as the prevalent government norms and industry standards are enabling emerging Asian economies such as India and China to create significant demand for refrigerated trailer gaskets.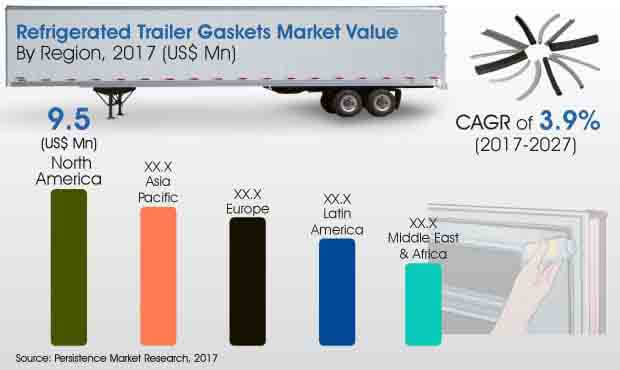 Urbanization in Latin America is contributing to the growth of the region's refrigerated trailer gaskets market
Latin America's economy is on its way to be transformed with the increasing urbanization and growing middle class population density. This has in turn given a boost to the consumption of perishable products such as fruits, vegetables, meat and seafood.
Increasing demand for perishable food is linked with the growth of the refrigerated trailers market and consequently the gaskets used in the doors and vents of these vehicles. However, Latin America is still not a strong economy as compared to the other regions. The refrigerated trailer gaskets market may find some hindrances in its growth. As compared to refrigerated vans and trucks, investment required for refrigerated trailers is significantly higher. Local players prefer refrigerated vans and trucks over refrigerated trailers due to their low production and transportation capacity.
Cost of transportation of products through refrigerated trailers is comparatively higher than transportation through refrigerated vans and trucks. Due to their low production capacity, local manufacturers do not transport their products in bulk quantity and hence there is no major requirement for refrigerated trailers in the region. This can hamper revenue growth of the refrigerated trailer gaskets market.
Product innovation is expected to be a major trend in most of the regional markets
A rapidly expanding population has increased the consumption of frozen food and hence the refrigerator trailers that transport frozen food. However, with the skyrocketing technological advancements taking place in the industry, there is also a need for innovations in refrigerated trailers.
To stay ahead of the competition, several manufacturers are focusing on implementing new technologies for refrigerated trailers as well as refrigerated trailer gaskets. Some of the major upgradations companies are looking to deploy include the adoption of more efficient strengthening processes, a wider product portfolio and long-term supply relations with key end-use industries as well as local manufacturers.
Detailed Market Segmentation
Attribute
Details

Based on Material Type

EPDM
PVC
Neoprene
TPE/TPV
Silicone

Based on Configuration

Straight System
Angled System

Based on Design

Based on Area of Application

Doors

Swing Doors
Roll Up Doors
Side Doors

Vents

Based on Region

North America
Latin America
Europe
Asia Pacific
Middle East & Africa
- Companies Covered in This Report -
Trelleborg AB
Reddiplex Ltd.
Conta Flexible Products
Great Dane
Mantaline Corporation
TODCO
Hebei Shida Seal Group Co., Ltd.
Stoughton Trailers, LLC
Advanced Plastic Corp.
ABCRUBBER INC.
Lokhen PtyLtd.
Fermod Ltd.
Eaget Group Co., Ltd.
Rubber-Cal, Inc.
Hi-Tech Extrusions Inc.