A 2.8x growth in revenue to reshape the entire mobile handset protection market in the coming years
Mobile handset protection offers coverage against mechanical breakdown, theft loss and accidental damage. The mobile handset protection plan is generally offered by the mobile operator or carrier, OEMs and retailers.
Smartphones are a basic necessity in everyone's life and any disturbance in the usage and service of smartphone is undesirable in today's world, especially when connectivity, networking and social media are the main tools of communication.
The programs offering protection to mobile handsets are essential to reduce the possible interruption in case of any accident that could occur. These programs do not prevent accidents but they ensure consumer satisfaction by assisting them in getting their devices back in pain free and quick manner.
Persistence Market Research in its new report on global mobile handset protection market has underlined various facets of the global market that can serve as guidance to upcoming businesses in this sector.
This comprehensive market research report provides pertinent insights on various segments of the global mobile handset protection market, various trends that are giving a direction to the market, different developments, key drivers that are responsible for the growth of the global market, challenges that have a negative effect on the market's growth and opportunities that reflect growth potential of the global mobile handset protection market.
According to this fact based research report, the global market for mobile handset protection is projected to grow at a high CAGR throughout the period of assessment to reach a value higher than US$ 50 Bn by the end of the year of assessment from a valuation of around US$ 18 Bn in 2017.
Direct to consumer services segment to largely contribute to the global market's revenue growth
Direct to consumer services segment in the protection provider category is anticipated to grow at a significant rate throughout the period of forecast and register a CAGR of 13.0%. The direct to consumer services segment is valued at around US$ 5 Bn in 2017 and is expected to reach a value a bit over US$ 16 Bn by the end of the year of assessment (2026).
This segment is likely to lead the global market with a high market share owing to increasing number of consumers opting for mobile handset protection services without relying on the services provided by the manufacturer. Huge number of people opt for separate mobile protection plans with a view to safeguard their own interests.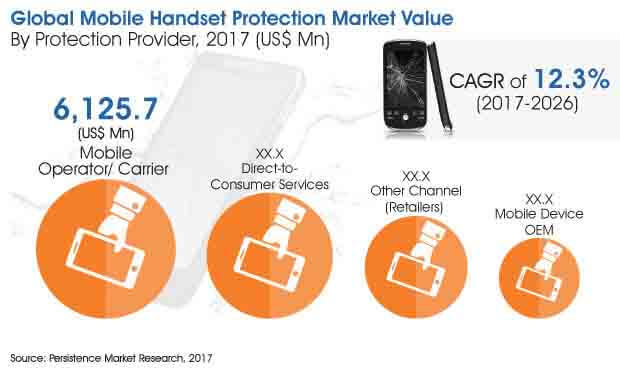 Competition Analysis
The extensive research report on global mobile protection market covers a comprehensive analysis on various market players involved in mobile handset protection. The information on key companies can assist the upcoming businesses to strengthen their base and get grip in the changing market dynamics.
Major companies such as SquareTrade, Liberty Mutual, Asurion LLC, CAN Financial Corp., American International Group, Inc., Verizon Wireless, T-Mobile, AT&T Mobility, Microsoft Corporation, Apple Inc., Best Buy, Walmart, Siemens Healthineers, Toshiba Medical Systems Corporation and Xinapse Systems Ltd., are profiled in this research study.
Market Segmentation
Attribute
Details

Region

North America
Latin America
Europe
Japan
APEJ
MEA

Protection Provider

Mobile Operator/ Carrier
Mobile Device OEM
Direct-to-Consumer Services
Other Channel (Retailers)

Pricing Model

One Time Fee
Monthly Fee
Billed By Carrier/ OEM

Sales Channel

Retail Chains
Brand Stores
E-Commerce /Online
- Companies Covered in This Report -
American International Group, Inc.
Apple Inc.
Asurion LLC
AT&T Mobility
Best Buy Inc.
Verizon Wireless
Liberty Mutual Holding Company Inc
Sprint Corp.
Squaretrade,Inc.
T-Mobile, Inc.
Others.