Recording traffic details for security records a key driver of the electronic locks market
The scope of the electronic locks market has considerably expanded as parking lots, gyms, metro platforms, shopping malls, and other organizations need to keep track of customer footfalls for the sake of security. The deployment process has slowly but surely become easier and the need for security has increased substantially. This has made the general population abandon traditional locks in favor of electronic locks.
Immense growth of smart homes and gadgets, particularly in North America is a major growth booster
There has been massive demand for smart applications and homes in the last five years in North America that is driven by the pervasive use of smartphones and other smart devices. Residential security is a critical concern of people who were early adopters of smart home technology.
Smart home applications include sensors, cameras, electronic locks and security alarms, and cameras with advanced features such as fire alarms, power management devices, climate control, and self-powered lights. People are opting for smart home applications that have advanced security features built-in to improve their quality of living. All these factors are anticipated to boost the electronic locks market.
The U.S dominates the North America electronic locks market
North America accounts for a lion's share of the global electronic locks market with the U.S being the largest market within the continent. Revenue from the U.S electronic locks market was just under US$ 275 Mn in 2016, and this should rise to approximately US$ 305 Mn in 2017 and about US$ 766 Mn by the end of the forecast period largely due to a high CAGR of 12.2% estimated to be recorded during 2017 – 2025. An incremental dollar opportunity of roughly US$ 460 Mn can be exploited in the U.S electronic locks market between 2017 and 2025.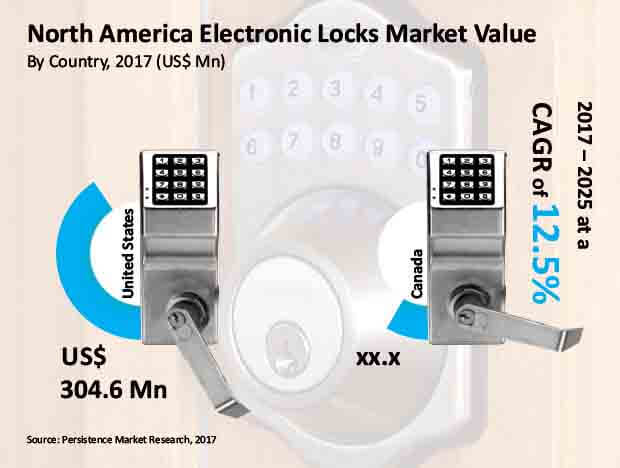 High crime rate in North America to benefit the electronic locks market
As per the U.S Department of Justice, almost 8.7 million property crime offenses were recorded in the country in 2013 alone. According to the FBI, property crime offenses led to losses of nearly US$ 25 Mn that year. That is why there is a need for foolproof door security options such as mobile operated and electronic cylinder door locks along with other options such as electronic alarm sensors and CCTV cameras placed in residential premises. The impact of this trend is predicted to be quite substantial on the electronic locks market.
Wireless segment by Interconnectivity represents a potential goldmine in the North America electronic locks market
While the revenue of the wireless segment in the North America electronic locks market is currently lower than that of the wired segment, it is anticipated to grow at a substantially higher CAGR of 15% during the forecast period. This is poised to make the wireless segment market worth just over US$ 325 Mn by the end of 2025 from slightly under US$ 108 Mn in 2017. The wireless segment alone could have an incremental dollar opportunity of almost US$ 220 Mn during the study period.
Taxonomy
By Product Type

Electromagnetic Locks
Electronic Strikes
Electronic Deadbolts and Latches

By Interconnectivity

By Authentication Method

Numerical Codes and Passwords
Security Tokens
Biometrics

Fingerprint Scanning
Retinal or Iris Scanning
Voice Recognition

By End User

Residential Sector
Commercial Sector
Automotive Sector

By Region

North America
Latin America
Europe
Asia Pacific
Middle East & Africa
- Companies Covered in This Report -
Honeywell International, Inc.
Spectrum Brands Holdings, Inc.
Assa Abloy
Cisco Systems, Inc.
United Technologies Corporation
Salto Systems S. L.
Panasonic Corporation
Vanderbilt Industries
Kiekert Aktiengesellschaft
iLOQ Limited
Others.