Grab a Convenience Food! Grab a Functional Bar!
---
Date : May 29, 2018 Author : PMR Editorial Staff Category : Food and Beverage
Protein bars stand strong, whereas booming popularity of meal-replacement bars will mark a proliferating trend in the functional bars market.
The growth of snacking society has given rise to the population going for convenience foods. Snacking has been a really big part of a busy lifestyle since the past decade, and functional or nutrition bars have been contributing a significant share to the revenue of this category. Energy bars, protein bars, power boosters, nutrition supplement bars, snack bars, or granola bars - irrespective of how people refer to them, it is their versatility and convenience that lure consumers to make this entire segment a big business.
The market has numerous types and the consumer choice solely depends on what they are looking for, in a functional bar. Some may seek extra protein or a fiber boost, and others may look up to these bars a filler between the meals.
Consumers Looking out to Replace Meals with Quick Bars
A growing consumer population is also choosing meal-replacement bars as a nutrition-rich substitute to their meals. Persistence Market Research expects strong growth opportunities for meal-replacement bars in next few years. Widening penetration of these bars into enduring sports and outdoor activities that demand consumers to carry sufficient energy-rich food and hydrating agents, has been identified to be an important factor pushing the sales of meal-replacing bars.?
Moreover, these bars will reportedly remain concentrated around organic and natural ingredients, which is why snack bar manufacturers are focusing more on shredding down artificial agents and additives so that the resultant bars will accurately deliver the exact desired function.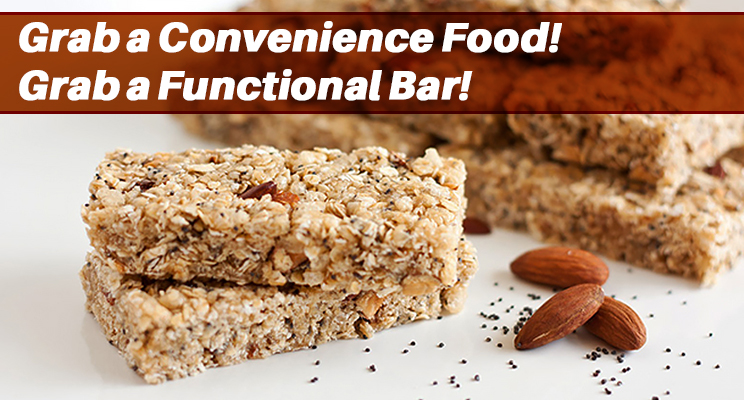 Global Functional Bar Revenue Pegged at over US$ 2 Billion by 2026 : Growing on-the-go dietary habits, expanding sports nutrition market, and worsening obesity concerns, functional bars market has flourished in recent years. The functional bars market represents around 3.8% of the global functional food and beverages industry, which has been projected to exhibit a modest growth outlook over the next eight years. With a compound annual growth rate of over 4% during 2018-2026, the market will possibly reach beyond US$ 2 billion by the end of 2026. This forecast by Persistence Market Research also portrays protein bars as a longstanding dominant segment, while insect bars segment has been expected to bring in an exciting trend.
Functional Bar Shelves Are up for the Entry of New Ones
Gluten-free bars represent a newly growing segment, witnessing rapid retail placement within a short time span. Recently, B.O.S.S. Food Co. has introduced a new line of five gluten-free bars, which are cold-pressed and completely plant-based.
Clean labeling has been another significant trend among both, consumers and manufacturers since the recent past. While snack bar makers are increasingly moving towards clean labeling practices in order to meet the FDA guideline, an expanding consumer base is also seeking clean labels on their foods in a bid to assure easily consumption of recognizable ingredients. Parents are especially observed to be cautious while purchasing functional bars for children, with specific attributes such as natural and quality ingredients.
With visible traction to clean food ingredients in bars, it cannot be overstated that 'consumers are going back to basics.' Furthermore, growing innovation and demand for low-sugar, all natural, organic, non-GMO, high-protein, fiber-rich, whole grain, less processed, low-carb, low-glycemic index, and a few other attributes in functional bars is foreseen to accelerate the growth of market.
Insect Bars Are Going to Make the Next Big Bars
Protein bars fortified with edible insect ingredients are currently being considered as a breakthrough innovation put forth by some of the leading manufacturers. This product trend should significantly shape the functional bars market in near future, according to Persistence Market Research. The ongoing efforts in development of edible insect bars will possibly bring in a change in advertising and marketing strategies, in bid to position these bars as eco-friendly and highly nutritious products.
The next few years may see rapid growth in edible insect bars segment, as it poses itself as a great protein-rich alternative to conventional sources of protein, which are usually animal-based. However, manufacturers are ought to invest substantial efforts in consumer education, awareness, and acceptance.
Protein Bars Are Here to Stay!
With healthy weight management remaining a persisting issue worldwide, protein still is the most desirable macronutrient and holds the most positive image. Besides offering a feeling of satiety, protein bars successfully help consumers to maintain a healthy lifestyle, which will remain a key reason why protein bars are believed to be securing their position in the long run. However, the way in which proteins have been used in making functional bars will continue to change, driven by evolving consumer diet preferences.
---