X-ray Photoelectron Spectroscopy Market Outlook (2022-2032)
The global X-ray photoelectron spectroscopy market was valued at US$ 511 Mn in 2021 and is estimated to expand at a high CAGR of 6.4% over the next ten years. A comprehensive industry study reveals that the market will top a valuation of US$ 1 Bn at the end of 2032.
According to Persistence Market Research, X-ray photoelectron spectroscopy used in polymer & thin film industries held a market value of US$ 139.3 Mn in 2021, accounting for 27.3% of the overall market share.
| Report Attribute | Details |
| --- | --- |
| X-ray Photoelectron Spectroscopy Market Size (2022) | US$ 541 Mn |
| Projected Market Value (2032) | US$ 1.03 Bn |
| Global Market Growth Rate (2022-2032) | 6.4% |
| Share of Top 5 Countries | 54.2% |
Demand Analysis of X-ray Photoelectron Spectroscopy Systems (2012 to 2021) Vs. Market Estimations (2022 to 2032)
The global X-ray photoelectron spectroscopy market expanded at a CAGR of 5.6% over the last nine years (2012-2021) and currently accounts for nearly 4% share of the global spectroscopy market.
If surface chemistry or thickness is crucial for product function and safety, the XPS examination is a reliable choice. The X-ray photoelectron spectroscopy method is frequently used to determine the chemical composition and useful quantitative data about the surface of solid materials.
With detection limits of around 0.1 atomic percent, XPS can identify all elements except for hydrogen and helium. This makes it the appropriate examination method for samples that are either conductive or insulating, such as metals, semiconductors, glasses, ceramics, strongly adsorbed liquids, or gases on surfaces, composite materials, and polymers.
The XPS system utilizes a method that can identify contaminants or impurities existing on the thin layers of polymer or plastic surfaces, providing information that could point to the manufacturing process as the problem's possible source. Additionally, employing XPS analysis can be accomplished in as little as 30 minutes when working in a materials processing lab.
In the pharmaceutical sector, there are fewer analytical techniques available for investigating surface chemistry these days. X-ray photoelectron spectroscopy is one of the two most effective methods for examining the surface chemistry of medications, time-of-flight secondary ion mass spectrometry being the second (TOF-SIMS).
With a vast array of applications of X-ray photoelectron spectroscopy, the global market is expected to witness a surge in terms of demand, as growing R&D activities in the pharmaceutical and biotechnology domains provide traction to the market.
The global X-ray photoelectron spectroscopy market is predicted to surge ahead at a CAGR of 6.4% and record sales worth US$ 1.03 Bn by the end of 2032.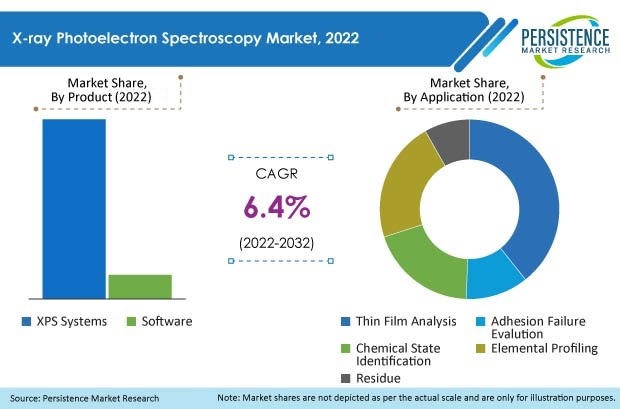 What Opportunities Await X-ray Photoelectron Spectroscopy System Manufacturers?
"Leveraging Application of X-ray Photoelectron Spectroscopy across Several Domains Along with Use in Chemical Imaging of Human Finger Mark"
X-ray photoelectron spectroscopy is essential for getting access to both, quantitative and qualitative data, as well as for spotting the chemical functional group on any material's surface.
Since many forensic techniques used to detect and identify organic/inorganic substances and elements are destructive, it is impossible to conduct a second analysis of the evidence. However, XPS enables quick sample analysis without causing any damage to it.
Recently, a growing number of forensic experts have started looking into specific chemical information on finger marks. The usefulness and strength of XPS imaging in the analysis of finger marks are presented in several study assessments. This technique can also give precise details about the chemical makeup of the finger mark.
Thus, by simulating evidence from a crime scene, XPS can be used to identify the presence of products such as skin care products on latent finger marks, illicit drugs of abuse, and gunshot residue. This range of applicability for the use of XPS systems is expected to offer a lucrative outlook for market expansion over the projected years.
What's Restraining Demand for X-ray Photoelectron Spectroscopy?
"Limited Amount of Organic Information Gained with XPS Systems & Improper Referencing in Database for XPS Techniques"
Despite all the advantages of XPS systems, there are still certain limitations because nothing is absolutely infallible.
For ultra-high vacuum conditions, samples for XPS should be suitable, as the tiny analytical region that XPS can measure is approximately 10 um. There is a limit to the amount of organic information that XPS can reveal because it is a surface method. Since XPS can only test atoms with atomic numbers 3 or higher, it cannot identify hydrogen or helium.
Obtaining XPS spectra results also requires a lot of time. The duration of each experiment can be shortened by using a monochromator. In repeated analyses, XPS has a relative error of 10%, just like other surface analysis methods. Additionally, there may be a 20% difference between the measured or inferred value and its real value.
The sample cannot be larger than 1 inch in any lateral direction for the vast majority of XPS systems, and it should not be larger than 12 inches in height. When the suspect region is larger than the evaluation area, it becomes an issue.
It is also critical to keep in mind that, depending on the sample, size may be a limiting issue. Cutting a sample can result in additional contamination of the area of interest and is always not an option. Therefore, XPS may not be the best method to employ for material examination if the suspect sample may outgas when put under a vacuum.
Country-wise Insights
Why are X-ray Photoelectron Spectrometer Manufacturers Targeting the U.S. Market?
"Increasing Cancer Cases & Growing Focus on Better Treatment Options"
In 2021, the U.S. accounted for a market share of 92.3% in the North American X-ray photoelectron spectroscopy market.
As per a paper published in the American Cancer Society journal, the number of new cancer cases increased by approximately 1.9 Mn in 2021 in the U.S.
These numbers show the rise in the incidence of cancer and the resultant increase in research activities. Because of this fact, the industry is growing faster as XPS is used more often in the creation of nanoparticles for cancer therapy.
How is Demand for X-ray Photoelectron Spectroscopy Shaping Up in Germany?
"High Level of Research Activities Ongoing in Germany"
Germany accounted for 26.7% of the European X-ray photoelectron spectroscopy market share in 2021 and is projected to gain steady growth in the following years.
The level of contamination in medications and their formulations, as well as research and development and chemical evaluation for cancer drugs are all being addressed with the help of the government in Germany.
For instance, due to its simplicity of use, XPS has been suggested by the National Institute of Standards and Technology (NIST) and the Technical University of Munich, Germany, more often than other conventional approaches.
The industry will profit from new reimbursement policies and increased public investments in healthcare infrastructure.
Why is Japan a Prominent Market for X-ray Photoelectron Spectroscopy?
"Constant Technological Advancements in XPS Systems"
In 2021, the Japan X-ray photoelectron spectroscopy market held nearly 40% of share of the East Asian market. It is further estimated to exhibit lucrative growth over the projected period.
Several market players are focusing on launching novel product lines with features for advanced surface analysis, thus contributing to higher market growth in Japan.
In July 2022, Ulvac Phi launched PHI GENESIS, an automated and multifunctional scanning X-ray photoelectron spectroscopy for surface analysis technology.
Such solid devices are aimed to dominate the global market as an indispensable analytical instrument and will drive Japanese market growth.
Category-wise Insights
Which X-ray Photoelectron Spectroscopy Product is Driving High Market Growth?
"High Demand for XPS Systems across the World"
XPS systems, amongst all the products, accounted for the highest market share of 88.1% by revenue in 2021.
The preference for XPS systems in research and development operations for drug discovery, which calls for the surface examination of chemical, synthetic, and biological components, is a major factor driving the demand growth for XPS systems.
Which Application Accounts for High Usage of X-ray Photoelectron Spectrometers?
"Thin Film Analysis Continues to Account for Highest Market Share"
Thin film analysis contributed the highest market share of 39.3% in 2021 and is projected to dominate over the forecast period as well.
These thin films are used in a wide range of industries. For instance, in the pharmaceutical industry, thin films are known as an alternative to conventional dosage forms as they are easy to consume and have a rapid dissolving property.
This property of thin films makes them more convenient for drug delivery. For this, spectroscopy is the most effective way to determine the thickness of the thin film for the purpose of safety.
Competitive Landscape
Leading suppliers of X-ray photoelectron spectroscopy devices are aiming at alliance and accreditation to expand their product demand and sales footprint across countries.
X-ray photoelectron spectroscopy system manufacturers are focused on innovative product launches for gaining higher market revenue.
In April 2022, Shimadzu Scientific Instruments, Inc. and Shimadzu Corporation entered into a strategic partnership to help pharmaceutical companies considerably increase the value of their scientific data through the usage of Tetra R&D, Data Cloud, and LabSolutions Software.
In November 2021, The JSM-IT510 series, a new scanning electron microscope (SEM), was developed and released by JEOL Ltd.
In March 2021, Scienta Sensor Systems purchased Envinet GmbH. Under the combined brand Scienta Envinet, Scienta Sensor Systems and Envinet will jointly develop the new application area of Environmental Protection inside Scienta Scientific.
Similarly, recent developments related to companies manufacturing X-ray photoelectron spectroscopy equipment have been tracked by the team at Persistence Market Research, which are available in the full report.
X-ray Photoelectron Spectroscopy Industry Report Scope
Attribute

Details

Forecast Period

2022-2032

Historical Data Available for

2012-2021

Market Analysis

US$ Million for Value

Key Countries Covered

U.S.
Canada
Brazil
Mexico
Argentina
Germany
France
Spain
Italy
U.K.
BENELUX
Nordics
Russia
India
Thailand
Malaysia
Vietnam
Indonesia
China
Japan
South Korea
Australia
New Zealand
Turkey
GCC Countries
Northern Africa
South Africa

Key Market Segments Covered

Product
Application
End User
Region

Key Companies Profiled

JEOL Ltd.
Shimadzu Corporation
ULVAC-PHI, INCORPORATED
Thermo Fisher Scientific Inc.
Scienta Omicron (Scienta Scientific)
PREVAC SP. Z O.O.
Nova Ltd.
SPECS GmbH

Report Coverage

Market Forecast
Competition Intelligence
DROT Analysis
Market Dynamics and Challenges
Strategic Growth Initiatives

Customization & Pricing

Available upon Request
Key Segments in X-ray Photoelectron Spectroscopy Industry Survey
X-ray Photoelectron Spectroscopy Market by Product:
XPS Systems

Dual Anode (MgKa/AlKa) X-ray Source-based Systems
Monochromated Al Ka X-ray Source-based Systems

Software
X-ray Photoelectron Spectroscopy Market by Application:
Thin Film Analysis
Adhesion Failure Evaluation
Chemical State Identification
Elemental Profiling
Residue
X-ray Photoelectron Spectroscopy Market by End User:
Energy Sector
Medical Organizations
Educational & Research Institutions
Polymer & Thin Film Industries
Metallurgical Industries
Semiconductors & Microelectronics
Others (Aerospace, Automotive, Printing & Packaging)
X-ray Photoelectron Spectroscopy Market by Region:
North America X-ray Photoelectron Spectroscopy Market
Latin America X-ray Photoelectron Spectroscopy Market
Europe X-ray Photoelectron Spectroscopy Market
South Asia X-ray Photoelectron Spectroscopy Market
East Asia X-ray Photoelectron Spectroscopy Market
Oceania X-ray Photoelectron Spectroscopy Market
Middle East & Africa X-ray Photoelectron Spectroscopy Market