Stroke Rehabilitation Market Outlook (2022-2032)
The global stroke rehabilitation market was valued at US$ 266.4 Mn in 2021, with a projected CAGR of 9% for the next ten years, which indicates rapid market expansion. As such, revenue generated from the sales of stroke rehabilitation solutions will surge to US$ 679.6 Mn by the end of 2032.
According to detailed industry analysis by Persistence Market Research, electrical stimulators enjoyed a market value of US$ 188.2 Mn in 2021, accounting for nearly two-fourths of the global market share. Overall, stroke rehabilitation accounted for around 9.4% share of the global neurorehabilitation devices market in 2021.
| Attribute | Key Insights |
| --- | --- |
| Stroke Rehabilitation Market Size (2021) | US$ 266.4 Mn |
| Projected Market Value (2032) | US$ 679.6 Mn |
| Global Market Growth Rate (2022-2032) | 9.0% CAGR |
| Market Share of Top 5 Countries | 58.2% |
Demand Analysis of Stroke Rehabilitation from 2012 to 2021 Vs Market Outlook for 2022 to 2032
The global market for stroke rehabilitation expanded at a high CAGR of 5.2% over the last ten years (2012-2021).
Stroke accounts for the second-highest cause of deaths worldwide, and the third leading cause of disability. According to a study published in NCBI (2019), certain medications and therapeutics have been discovered for the treatment of stroke, but treatment options for hemorrhagic stroke remain limited.
Consequently, the trend of researchers investigating and exploring the areas of post-stroke recovery and rehabilitation treatments has been observed. Therapies aimed at maximizing function in brain areas that survived the event of a stroke, or providing compensatory measures to increase overall function, are used to reach the unexplored goals of post-stroke recovery.
Repetitive transcranial magnetic stimulation (rTMS) rehabilitation devices undergoing clinical trial assessments: The pilot trial intends to see if the non-invasive brain stimulation device is promising and enables safe treatment in the age group of 15-90 years for post-stroke rehabilitation.
Use of technology in stroke rehabilitation has been a beneficial approach. Stimulation devices such as robotic stimulators, wireless stimulators, electrical stimulators, etc., can help provide scientific evidence of the utility of practices and computerized analysis of rehabilitation treatment.
Many medical device companies are coming up with innovative products to enhance their product portfolios, market outreach, and generate more revenue. Innovation in stroke rehabilitation devices also focuses on the post-stroke recovery of the patient.
BIONIK Laboratories Corp released the "InMotion ARM/HAND robotic system" in 2019, for stroke rehabilitation. The sophisticated InMotion ARM/HAND was created employing neuroplasticity concepts and motor learning, as well as data analysis and AI, to deliver patients with personalised therapy and reports.
The global stroke rehabilitation solutions market is predicted to surge ahead at a CAGR of 9% and record sales worth US$ 679.6 Mn by the end of 2032.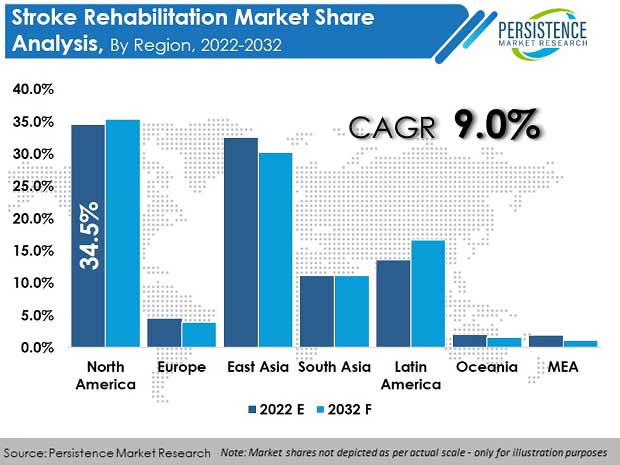 What Lucrative Opportunities are in Store for Stroke Rehabilitation Device Manufacturers?
"Rising Usage of Virtual Reality Applications and Tele Rehabilitation"
Virtual Reality (VR) has recently emerged as a novel stroke rehabilitation therapy solution. VR for stroke rehabilitation with commercial gaming consoles, in particular, is gaining traction within hospital settings. VR includes the treatment of stroke patients carried out in a computer-generated virtual environment, and the collected information is transferred to a specialist for further analysis.
According to a study conducted in Spain with 30 stroke patient respondents, for treatment with a VR rehabilitation program, respondents received 20-45 training sessions three times a week in their home or at the clinic. The study infers that VR-based rehabilitation programs increase locomotor abilities in the same way that in-clinic therapies do.
In July 2017, Saebo, Inc. received U.S. Food and Drug Administration approval for SaeboVR, a virtual reality rehabilitation system developed for neurological patients that face both, cognitive and physical challenges.
Over the last ten years, virtual reality has gained popularity as a new therapeutic option in stroke rehabilitation. This method allows patients to engage in activities that are not possible to do in a physical environment. Furthermore, there are a few other aspects of VR that could engage patients and increase treatment compliance.
Delivery of rehabilitation services using telecommunication networks and the Internet is known as telerehabilitation. Rehabilitation therapy can be carried out without the need for face-to-face interaction between the specialist and the patient. The advent of COVID-19 created a lot of opportunities for telerehabilitation treatment for post-stroke patients.
According to an article published on PubMed, four observational studies were carried out on telerehabilitation. At-home telerehabilitation interventions improved the health of stroke patients while also providing support to caretakers. The satisfaction and acceptance of telerehabilitation therapies were high among health professionals and participants.
Although a majority of trials yielded positive effects, the overall quality of evidence on telerehabilitation in post-stroke therapy was moderate. This creates huge opportunities for stroke rehabilitation service providers.
What Impeding Factors are Affecting Demand for Stroke Rehabilitation?
"Low Focus on Technology-based Rehabilitation & Dearth of Skilled Professionals"
For post-stroke patients to acquire full functional independence while lowering or preventing impairments, rehabilitation is important. In terms of patient function, technological solutions produced to date have primarily focused on physical recovery, since mobility is a key factor in the independence and confidence of impaired patients.
VR-based technology can reduce care cost by replacing hospital-based care with home-based care; however, development of such systems is yet to emerge. This can have a negative impact on the overall growth of the stroke rehabilitation market.
For post-stroke rehabilitation, there is a requisite of skilled specialists such as speech and language pathologists, neurologists, psychologists, physical and occupational therapists, social workers, physiatrists, recreational therapists, rehabilitation nurses, etc. Dearth of skilled professionals in these areas can lower the quality of services offered, ultimately affecting demand growth of stroke rehabilitation.
Country-wise Insights     
Why are Stroke Rehabilitation Service Providers Targeting the U.S. Market?
"Market Rising Due to Increasing Prevalence of Strokes in the U.S."
In terms of market value share, the U.S. accounted for 92.3% of the North America stroke rehabilitation market in 2021.
According to the CDC, stroke accounted for one out of every six fatalities from cardiovascular disease in 2020. A stroke kills someone in the United States every 3.5 minutes.
Furthermore, roughly 795,000 persons in the United States experience a stroke each year, with 610,000 of those being new strokes. Ischemic stroke accounts for 87 percent of the cases. Stroke-related costs in the United States totalled over US$ 53 Bn between 2017 and 2018.
According to an article in the U.S. Pharmacist, risk factors such as obesity (75%), smoking (16.9%), diabetes (11.4%), and insufficient exercise (33.3%) contribute to increasing the prevalence of stroke.
Will Stroke Rehabilitation Equipment Manufacturers Gain Profits in Germany?
"Well-established Healthcare Infrastructure of Post-stroke Care in Germany"
In 2021, the Germany stroke rehabilitation market was valued at US$ 22.9 Mn and held a market share of 26.3% in Europe.
Every year, approximately 196,000 people in Germany suffer their first stroke. Medical rehabilitation, occupational rehabilitation, and social rehabilitation are the three types of rehabilitation available in Germany. Acute treatment, rehabilitation and follow-up costs for stroke patients in Germany are among the highest in the country's healthcare system.
As a result, the market for stroke rehabilitation is expanding rapidly in Germany.
Will the Emerging Market of China for Stroke Rehabilitation Attract More Players?
"Rapid Developments in Post-stroke Patient Care"
East Asia held a market share of 13.3% by value in the global stroke care market in 2021, of which, China accounted for a market share of 38.6%.
Despite a declining trajectory in stroke mortality in China, stroke incidence continues to rise. China has achieved great progress in stroke awareness, stroke care, and research over the past decade.
The next phase of the challenge will be to spend more financial and human resources in order to provide uniform, high-quality stroke care across the country.
The Shanghai International Medical Centre (SIMC) and Boehringer Ingelheim collaborated for the opening of a rehabilitation center for stroke patients and to bring German stroke rehabilitation therapy standards for patients in China.
Category-wise Insights     
Which Stroke Rehabilitation Product Will See High Sales?
"High Demand for Electrical Stimulators to Be Witnessed across the World"
The electrical stimulators segment, amongst all products, accounted for the highest market share of 70.6% by revenue in 2021.
There are two modalities of electrical stimulators, which include table top and wearable. A table top electrical stimulator is a device with a large, feature-rich display and advanced features of optimization, such as customized stimulation according to the need of the individual patient. It's an essential tool for analyzing pathological conditions and compensatory motor methods, as well as measuring progress during rehabilitation, more rationally and objectively than ordinal clinical scale scores. Wearable ambulatory robotic exoskeletons have been made possible by the introduction of wireless wearable sensors.
Increasing awareness about stroke rehabilitation increases the demand for electrical stimulation devices, which ultimately boosts sales of stroke rehabilitation solution.
Which Stroke Type Accounts for the Highest Share?
"High Prevalence of Ischemic Stroke across Geographies"
By stroke type, ischemic stroke accounts for a high share in the global stroke rehabilitation market - 85.9% market share in 2021.
Ischemic stroke is caused when a blood clot formation takes place and the blood flow to the central nervous system is suddenly stopped. Due to lack of the required nutrients and oxygen, the brain cells and tissues start to die. There are two types of ischemic stroke - thrombotic stroke and embolic stroke.
Major risk factors such as high blood pressure, diabetes, high cholesterol levels, lack of focus on physical exercise, and increasing geriatric population are contributing to increasing incidence of ischemic stroke.
Competitive Landscape
Key stroke rehabilitation solution providers are focusing on strategic alliances, product launches, and acquisitions to expand their market presence. Companies are focused on creating stroke rehabilitation equipment with lower costs to boost their market shares.
Market players are entering into mergers and acquisitions to expand their product portfolios and market presence, globally.
In February 2019, Colfax Corporation completed its acquisition of DJO Global, Inc.
In October 2019, BIONIK Laboratories signed a strategic partnership with Intelliware to connect the InMotion™ Robotic Devices with hospitals.
Stroke Rehabilitation Industry Report Scope
Attribute
Details

Forecast Period

2022-2032

Historical Data Available for

2012-2021

Market Analysis

US$ Million for Value

Key Countries Covered

U.S.
Canada
Brazil
Mexico
Argentina
Germany
Italy
France
U.K.
Spain
BENELUX
Russia
Switzerland
Nordic Countries
India
Thailand
Indonesia
Malaysia
Philippines
China
Japan
South Korea
Australia
New Zealand
GCC Countries
Israel
Turkey
Northern Africa
South Africa
Egypt

Key Market Segments Covered

Product
Stroke
End User
Region

Key Companies Profiled

Penumbra, Inc. (REAL System)
Saebo Inc
Shanghai Siyi Intelligent Technology Co., Ltd.
DJO Global.
Shenzhen XFT Medical
Soterix Medical Inc.
Restorative Therapies
Zynex Medical, Inc
MYOLYN
ACP - Accelerated Care Plus
Neurosoft
BIONIK Inc
EB Neuro S.p.A.
Motorika Medical
Ottobock
Guangzhou Longest Science & Technology Co., Ltd.
Roceso Technologies Pte Ltd
Brain Stimulation AB

Report Coverage

Market Forecast
Competition Intelligence
DROT Analysis
Market Dynamics and Challenges
Strategic Growth Initiatives

Customization & Pricing

Available upon Request
Key Segments Covered in Stroke Rehabilitation Industry Survey
Stroke Rehabilitation Market by Product:
Electrical Stimulators
Robotic Stimulators
Wireless Stimulators
Non-Invasive Stimulators
Cognitive Stimulators
Others
Stroke Rehabilitation Market by Stroke:
Ischemic Stroke
Hemorrhagic Stroke
Transient Ischemic Attack
Stroke Rehabilitation Market by End User:
Hospitals
Specialty Clinics
Ambulatory Surgical Centers
Long Term Treatment Centers
Home Care Settings
Rehabilitation Centers
Stroke Rehabilitation Market by Region:
North America Stroke Rehabilitation Market
Latin America Stroke Rehabilitation Market
Europe Stroke Rehabilitation Market
South Asia Stroke Rehabilitation Market
East Asia Stroke Rehabilitation Market
Oceania Stroke Rehabilitation Market
Middle East & Africa Stroke Rehabilitation Market