Polyethylene Wax Market Outlook (2022-2032)
Newly-released data on the global polyethylene wax (PE) market reveals that global sales are expected to be worth US$ 980.2 Mn in 2022, registering Y-o-Y growth of approximately 5.5%. The market is predicted to expand at 5.2% CAGR and reach a valuation of US$ 1.63 Bn by the end of 2032.
| Attribute | Key Insights |
| --- | --- |
| Polyethylene Wax Market Size (2021A) | US$ 929 Mn |
| Market Estimation (2022E) | US$ 980.2 Mn |
| Market Forecast (2032F) | US$ 1.63 Bn |
| Value CAGR (2022-2032) | 5.2% |
| Collective Value Share: Top 3 Countries (2022E) | 42.4% |
In 2021, polyethylene wax consumption accounted for 6% - 8% of the global industrial wax market. South Asia and Pacific is anticipated to remain a key regional market in the polyethylene wax business, estimated to expand at a CAGR of 6.1% during the same period.
Polyethylene Wax Consumption Analysis from 2017 to 2021 Vs Market Outlook for 2022 to 2032
Polyethylene wax is an excellent product for various end formulations to improve physical appearance and thermal properties, including hot melt adhesives, PVC, colour masterbatches, rubber and thermoplastics road marking, etc.
Polyethylene wax usage exhibits superior properties, and thus, finds a wide range of applications in packaging, pharmaceutical, plastic, rubber, cosmetic, candle, sealant & adhesive, and other sectors. PE wax sales witnessed a growth rate of around 2.5% from 2017 to 2021.
End users of polyethylene wax such as paints and coatings, packaging, plastics and rubber, masterbatches, and many other industries are engaging in expansions, collaborations, and key strategic developments to increase their production capacities. Thus, demand for commonly used intermediates such as polyethylene wax is projected to grow in parallel, with the market predicted to rise at 5.2% CAGR through 2032.
What is Predicted to Drive Market Growth of PE Wax?
"Textile Industry Expansion to Open Up New Channels for PE Wax Manufacturers"
Polyethylene wax emulsions are long-lasting softeners. Polyethylene is present in the emulsion as a fine particle dispersion in water. Polyethylene is typically emulsified with a nonionic emulsifier because it is compatible with a majority of finishing ingredients.
The material is most likely to be used extensively in the textile industry. Emulsions made from wax provide consistent softening and are resistant to acids and other chemicals. These emulsions are gentle on the fabric, causing no yellowing, chlorine retention, or color change.
Use of PE emulsion as a softening agent reduces resin finishing defects in cellulosic fabrics and blends, and the emulsion lessens abrasion resistance and strength loss.
Polyethylene wax emulsions are suitable for use on natural and synthetic fiber fabrics. The treated fabrics have improved stitch resistance, which makes sewing easier, no matter what speed conditions are used.
"Growing Popularity of Online Sales Bodes Well for Polyethylene Wax Producers"
A key trend gaining momentum in the polyethylene wax space is increasing use of online methods to market and sell products. The Internet, being a key source of marketing a product, has also played a significant role in raising awareness regarding the various applications of polyethylene wax. Among the various ways of selling or marketing a product, social media stands out as one of the trending mediums.
Several social media platforms such as Facebook, Twitter, LinkedIn, and Google+, contain detailed information (images, videos, links, or written texts) about PE advantages and applications, types, and distinguishing factors between several grades, posted by polyethylene wax manufacturers, distributors, and even consumers.
Social media platforms and search engines are playing a key role in enhancing awareness among consumers, and e-Commerce plays a vital role for small- and medium-scale PE wax producers in the supply chain.
What is Hindering Adoption of Polyethylene Wax?
"Substitutes of PE Wax Can Create Issues for Potential Market Growth"
An obstruction to the growth of the global polyethylene wax market is the emergence of substitute products such as polypropylene wax, polyamide wax, fisher tropsch wax, and others. The viscosity of fisher tropsch wax is much lower than polyethylene wax, but it has good compatibility with PVC and can be used as both, an internal and external lubricant.
Though no other product is observed to offer completely similar solutions as polyethylene wax, several alternatives have emerged in the recent past, fisher tropsch wax being one of them.
Also, products such as fischer tropsch wax have good internal lubrication, which effectively controls shear conditions, promotes flow, and friction and melting, owing to which, PE wax alternatives are witnessing rise in demand from the coatings and adhesives industry.
However, such products are rather expensive as compared to polyethylene wax and fulfil only certain applications. As such, all factors combined are expected to have a medium to low impact on polyethylene wax demand.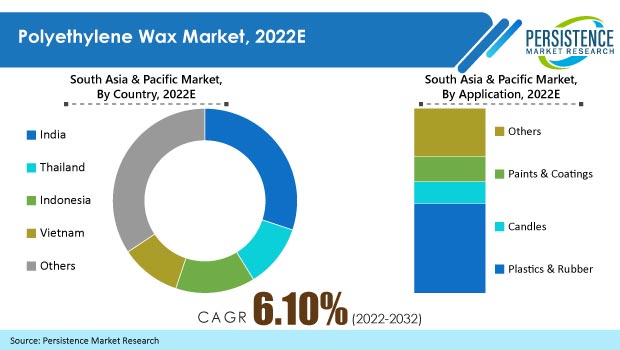 Country-wise Analysis
What is the Sales Outlook of PE Wax in the U.S.?
"U.S. to Remain Major Exporter of Synthetic Wax"
The U.S. is anticipated to remain one of the prominent markets in the global polyethylene wax industry, both, in terms of production as well as consumption. The U.S. is estimated to create US$ 77.4 Mn of incremental dollar opportunity for PE wax over the period of 2022 and 2032.
Owing to the presence of several key manufacturers of paints & coatings, adhesives, plastics & rubber, and other end-use products, consumption of synthetic wax will witness substantial growth over the coming years. Further, USA is also a key exporting country for synthetic wax, as it has a significant presence of key polyethylene wax manufacturers.
Why is Indonesia a Key Market for Polyethylene Wax?
"Large Textile & Apparel Industry Driving PE Was Production"
The Indonesia polyethylene wax market is anticipated to expand at 6.1% CAGR over the forecast period. Indonesia is also expected to remain a key manufacturing country of PE wax, besides a key exporting country. Significant growth in the industrial sector is augmenting the growth of the market in the country.
Strong presence of the textile and apparel industrial sector is expected to boost the consumption rate of polyolefin wax over the coming years. Moreover, significant development in the petroleum industry in the country is bolstering the industry of polyethylene wax from the production side.
Category-wise Insights
Which PE Wax Product Form is Set to Remain Prominent?
"PE Wax Flakes & Prills Most Consumed Form"
The flakes/prills segment is estimated to create an incremental business opportunity of US$ 330.7 Mn during the period of 2022 and 2032. The segment is anticipated to witness a growth rate of 4.9% over the same period.
Increasing demand for polyethylene wax flakes/prills, as compared to polyethylene wax powder and polyethylene wax paste/gels from end-use industries such as paints & coating, packaging, adhesives, printing inks, and others is driving the segment growth. Owing to easy handling and transportation, easy utilization of the product form has augmented segment growth in the market for polyethylene wax.
Which Application is Expected to Remain a Key Consuming Segment of Polyethylene Wax?
"PE Wax Usage Substantial in Plastics & Rubber Industries"
Owing to several applications of polyethylene such as a smoothening agent, performance additive for hot melt adhesives, lubrication and processing aid for plastics, PVC, and rubber, and dry stir-in additive for inks and others, its demand is significantly increasing among end-use industries. The plastics & rubber segment is estimated to create around 50% of the overall incremental market opportunity in the market for PE wax.
PE wax is used as a plastic additive for the manufacturing of plastic products. The wax is mainly used in food packaging, wax papers, films, foils, and corrugated boards to protect food from moisture and increase the lifespan of food products. High production volume of plastics and rubber across the globe has boosted the sales of polyethylene wax.
Did COVID-19 Dent the Sales Prospects of Polyethylene Wax Globally?
The pandemic crisis significantly impacted global economic growth for a couple of quarters in the year 2020. The global polyethylene wax market also witnessed a significant downfall in 2020. PE wax market growth was affected due to decrease in the production of rubber, plastics, paints & coatings, etc., followed by a decrease in demand from printing inks and textile industries.
However, the market is expected to recover sharply after the pandemic owing to growing demand from end users such as paints & coatings, adhesives, candles, and plastics & rubber.
Competitive Landscape
Key PE wax manufacturers are focusing on increasing their share in the global market by expanding their production capacities and entering into emerging markets. Additionally, market players are prioritizing innovations and product developments in order to cater to the growing demand from end-use sectors.
Some of the key developments are:
In May 2016, Trecora Chemical, a wholly-owned subsidiary of Trecora Resources, acquired BASF's former sterols production plant in Pasadena, Texas, for the production of polyethylene wax.
Similarly, other key developments related to companies manufacturing polyethylene wax have been tracked by the team at Persistence Market Research, which are available in the full report.
Polyethylene wax Industry Report Scope
Attribute
Details

Forecast Period

2022-2032

Historical Data Available for

2017-2021

Market Analysis

US$ Mn for Value
Tons for Volume

Key Regions Covered

North America
Latin America
Europe
East Asia
South Asia & Pacific
Middle East and Africa
China

Key Countries Covered

U.S.
Canada
Brazil
Mexico
Germany
U.K.
France
Italy
Spain
Russia
China
Japan
South Korea
India
Indonesia
Vietnam
Singapore
Malaysia
Thailand
Australia and New Zealand
GCC Countries
Turkey
Northern Africa
South Africa

Key Market Segments Covered

Product Form
Production Process
Application
Region

Key Companies Profiled

Innospec Inc.
BASF SE
Mitsui Chemicals America, Inc.
Clariant International
Honeywell International
Trecora Resources
EUROCERAS
Westlake Chemical Corporation
The Lubrizol Corporation
Allied Signal
Qingdao Haihao Chemical Co., Ltd.
Prizm Marketing Inc.
Yimei New Material Technology Co., Ltd.
National Organic Chemicals Ltd., (NOCIL)
Indian Petrochemical Corporation Ltd.

Pricing

Available upon Request
Key Segments Covered in Polyethylene Wax Industry Research
PE Wax Market by Product Form:
Flakes/Prills
Powder
Paste/Gels
PE Wax Market by Production Process:
Polymerization

HDPE Type
LDPE Type
Modified PE Wax

Thermal Degradation

LDPE Cracked Type
PP Cracked Type
PE Wax Market by Application:
Candles
Plastics & Rubber
Paints & Coatings
Printing Inks
Adhesives
Others
PE Wax Market by Region:
North America PE Wax Market
Latin America PE Wax Market
Europe PE Wax Market
East Asia PE Wax Market
South Asia & Pacific PE Wax Market
Middle East & Africa PE Wax Market