Plant-based Vaccines Market Outlook (2022-2032)
Worldwide revenue from the plant-based vaccines market was US$ 1.3 Bn in 2021, with the global market estimated to surge ahead at a CAGR of 7.8% to top a valuation of US$ 3 Bn by the end of 2032.
As assessed by Persistence Market Research, viral vaccines accounted for a market value of around US$ 694.7 Mn in 2021. Overall, plant-based vaccine sales accounted for approximately 3.4% of revenue share in the global recombinant vaccines market, which was valued at around US$ 38.1 Bn in 2021.
The global market for plant-based vaccines recorded a historic CAGR of 5.6% in the last 9 years from 2012 to 2021. Vaccines stimulate antibody synthesis in humans and animals, providing immunological protection against a variety of diseases. However, the lack of vaccines for the treatment of deadly diseases has posed concerns and directed global focus toward the development of safer, simpler, and more efficient vaccines.
The National Institute of Allergy and Infectious Diseases demonstrated for the first time in 1998 that an edible vaccine using the concept of plants as bioreactors might create significant immunogenicity safely.
This technology may give a cheaper alternative for vaccine production because it is easy to handle and does not require elaborate storage, and it is cost-effective and simple to scale up for mass production. Furthermore, plant-based edible vaccines developed in this approach can offer a needleless, simple, and accessible mode of delivery. Tobacco, maize, potatoes, rice, and tomatoes are examples of plants that have been exploited as bioreactors.
Compared to fermentation-based systems, plants have lower infrastructure costs and simpler biomass amplification requirements, which has sparked a lot of interest in their potential as inexpensive biofactories, and, with the suitable crop species, edible vaccines.
As was evident in prior emergency pandemic responses, countries with the ability to manufacture vaccines have had problems in providing them to other nations without compensation. Given the economic implications that the COVID-19 pandemic has already brought, this lack of vaccine distribution is likely to be repeated.
The capacity of plant-based biologics manufacturing facilities to rapidly switch operational pipelines for emergency production runs could be a huge benefit in pandemic crises and should be regarded by government sponsors as an added value of such facilities.
| | |
| --- | --- |
| Plant-based Vaccines Market Size (2022) | US$ 1.4 Bn |
| Projected Market Value (2032) | US$ 3 Bn |
| Global Market Growth Rate (2022-2032) | 7.8% CAGR |
| Market Share of Top 5 Countries | 58.5% |
How Can Plant-based Vaccine Manufacturers Grow in the Market?
"Rapid and Cost-Effective Synthesis of Plant-Based Vaccines"
When compared to transgenic expression systems, the transient expression approach can synthesize a target antigen in one week of inserting an antigen-coding sequence into plants.
Particularly in an event of an emergency such as the COVID-19 pandemic, this particular property of transient expression systems for rapid vaccine manufacturing is typically the first and best alternative to develop a vaccine. After the protein amino acid sequence is obtained, the plant transient expression system produces a vaccine in 20 days, much faster than any other system.
The ability to produce up to 10 million doses of the vaccine every month makes the system perfect for mass manufacturing and a rapid response to an unforeseen disease outbreak.
There are many benefits to plant-based production, including affordability, speed, scalability, and safety. Furthermore, plants can synthesize recombinant proteins post glycosylation, which an E-Coli-based culture system cannot.
With considerations for transient and stable expression, the plant-based system is viable for producing a wide range of vaccine types, including multiepitope vaccines and vaccines with protein subunits, VLP (virus-like particles), and chimeric VLP (cVLP).
A variety of generations of the product can be obtained after the transgenic plant is ready to express the desired antigen, guaranteeing continued production and availability. Stable expression is thus ideal for manufacturing vaccines that are constantly in high demand.
Furthermore, instead of using expensive bioreactors and labor-intensive downstream processing, plant-based systems can be utilized to produce oral vaccines, making them more affordable than traditional expression systems.
Owed to the aforementioned benefits of plant-based vaccine manufacturing, the overall market is set to witness propulsion over the forecasted years.
Can Demand for Plant-based Vaccines Be Affected in Any Way?
"Large Gap in Vaccine Development & Commercialization"
Plant-based platforms still have limitations in terms of the efficiency of modifications, such as glycosylation, methylation, polymerization, the amount and quality of recombinant proteins, and vaccine dose in tissues. In prokaryotic-like operon systems, chloroplast transformation enables the expression of many genes.
However, this technique is hampered by a lack of target plant varieties and trials of only a few plant species employing nuclear transformation. Another disadvantage of chloroplasts is their inability to glycosylate. As a result, the most significant hurdle to the adoption of transplastomic plants is the difficulty of expressing eukaryotic human or virus genes in prokaryotic chloroplasts.
Although the incentive is strong, there is a knowledge gap between the capability to produce and assess plant-based therapeutics in the lab and the ability to market these products, which includes business planning, finance, and regulatory approval.
Thus, due to the aforementioned drawbacks associated with plant-based vaccines and their development and commercialization, the overall market is expected to witness hindered growth over the span of the forecast years.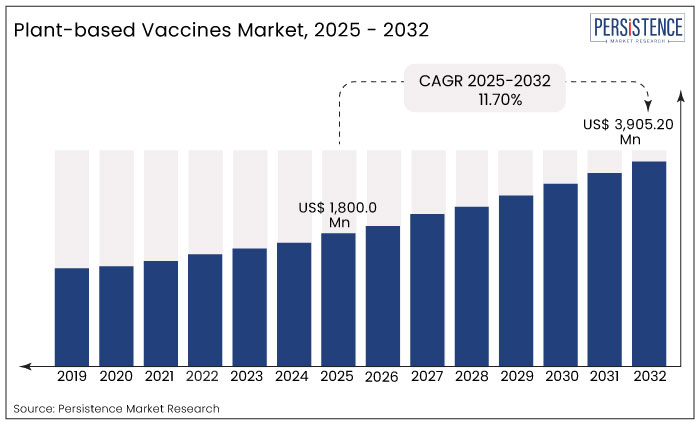 Country-wise Insights
Why is the U.S. Plant-based Vaccines Market Booming?
"Growing R&D and Product Launch Activities in the Country"
The U.S. accounted for around 37% share of the global plant-based vaccines market in 2021.
The country witnesses seasonal variations in pathogenic diseases, and therefore, presses a greater demand for the development of novel plant-based vaccines. The growing number of product launch activities and rising research and development for biological therapeutics are factors set to promote the expansion of the plant-based vaccines market in the country.
Will Germany Be a Lucrative Market for Plant-based Vaccine Suppliers?
"High Burden of Viral Diseases in Germany"
Germany held around 5% share of the global market at the end of 2021.
The Robert Koch Institute (RKI) estimates that an estimated 25,100 persons died in Germany due to influenza during the 2017-2018 flu season, whereas, only 1,674 influenza-related deaths were officially registered.
The high prevalence of influenza within the country has propelled the demand for plant-based vaccines.
How is Japan Emerging as a Prominent Market for Plant-Based Vaccines?
"Impending Vaccine Commercialization Approvals"
Japan held a market share of 6.6% of the global plant-based vaccines market in 2021.
In 2021, clinical trials of the COVID-19 vaccine, manufactured from a variety of tobacco plants and developed by Medicago Inc., commenced in Japan.
Between July and September 2022, Mitsubishi Tanabe Pharma Corp. intended to combine the trial data with those from clinical studies conducted outside of Japan and submit an application for clearance to the Japanese health ministry.
With the upcoming commercialization of plant-based vaccines in the country, the overall market is set to experience a boost in terms of growth over the forecasted years.
Category-wise Insights
Which Type of Plant-based Vaccine is Driving Global Market Growth?
"Enhanced Safety, Efficacy, and Stability of Viral Epitope Expression"
The viral vaccines segment held 53.2% share of the global market for plant-based vaccines in 2021.
Numerous investigations have demonstrated that viral epitopes and bacterial toxin components can be translated and processed adequately in transgenic plants. In comparison to current vaccine technologies, recombinant proteins stimulate immune responses and offer improved safety, economy, stability, adaptability, and efficacy, thus leading to a greater market share.
Where is the Application of Plant-Based Vaccines the Most?
"High Incidence of Influenza Globally"
Influenza held the largest market share of 35.9% in 2021.
The World Health Organization estimates that seasonal influenza causes 290 000-650 000 deaths each year owing to respiratory illnesses alone.
With high mortality associated with the disease, the segment attracts huge focus in terms of the application of plant-based vaccines, thus driving the overall market forward.
Which Source is Widely Preferred for Plant-Based Vaccines?
"Maize an Attractive Host for Vaccine Development & Oral Delivery"
Maize, as a source, held a large market share of 38.6% with a market value of around US$ 503.8 Mn in 2021.
Vaccines based on edible plant sources such as maize provide convenient, needle-less administration. Oral immunization with transgenic maize thus holds a large market share in terms of source, further promoting the growth of the overall plant-based vaccines market.
Competitive Landscape
Companies manufacturing plant-based vaccines are concentrating on the development of next-generation plant-based expression technologies that could help reduce the time and expense associated with conventional vaccinations.
While companies in the market are dealing with issues related to 3rd generation vaccine development, they are focusing on the adoption of next-generation technologies that can assist them in developing edible vaccines that are effective against animal- and human-associated illnesses and provide convenience to end users.
May 2022: According to findings of a Phase III human clinical study, a new plant-based COVID-19 vaccine is around 70% effective against symptomatic diseases brought on by five variants of the coronavirus. Researchers at the Canadian biotechnology company Medicago have developed a vaccine that combines plant-produced coronavirus-like particles (CoVLP) with an adjuvant (ASO3) that improves the efficacy of vaccines.
In February 2022, Canada approved the use of the first plant-derived COVID-19 vaccine in the world, establishing a new approach to immunizing against the virus. A division of Mitsubishi Chemical Holdings Corp. and Philip Morris International developed this vaccine.
Plant-Based Vaccines Industry Report Scope
Attribute

Details

Forecast Period

2022-2032

Historical Data Available for

2012-2021

Market Analysis

USD Million for Value

Key Countries Covered

U.S.
Canada
Brazil
Argentina
Mexico
Germany
France
U.K.
Italy
Spain
Russia
BENELUX
India
Thailand
Malaysia
Indonesia
China
Japan
South Korea
Australia
New Zealand
Turkey
GCC Countries
Northern Africa
South Africa

Key Market Segments Covered

Type
Application
Source
Region

Key Companies Profiled

Creative Biolabs
Medicago Inc.
iBio
ICON
EEA Consulting Engineers
Kentucky BioProcessing, Inc.
Baiya Phytopharm
Protalix Biotherapeutics

Report Coverage

Market Forecast
Competition Intelligence
DROT Analysis
Market Dynamics and Challenges
Strategic Growth Initiatives

Customization & Pricing

Available upon Request
Key Segments of Plant-Based Vaccines Industry Research
By Type:
Viral Vaccines
Bacterial Vaccines
Others
By Application:
Influenza
Zika Virus
Ebola Virus
Others
By Source:
Maize
Tobacco
Potatoes
Others
By Region:
North America
Latin America
Europe
South Asia
East Asia
Oceania
Middle East & Africa