Intracranial Therapeutic Delivery Market Outlook (2022-2032)
The global intracranial therapeutic delivery market is estimated at US$ 1.9 Bn in 2022, with a projected value CAGR of 7.9% for the next ten years, which indicates significant market growth. Detailed industry analysis reveals that revenue from the market for intracranial therapeutic delivery will climb to US$ 4.2 Bn by the end of 2032.
Revenue from intracranial therapeutic delivery accounted for around 6.1% share of the global regenerative medicine market in 2021.
| Report Attribute | Details |
| --- | --- |
| Intracranial Therapeutic Delivery Market Size (2022) | US$ 1.9 Bn |
| Projected Market Value (2032) | US$ 4.2 Bn |
| Global Market Growth Rate (2022-2032) | 7.9% |
| Market Share of Gene Therapy | 75% |
Demand Analysis of Intracranial Therapeutic Delivery (2017 to 2021) Vs. Market Outlook (2022 to 2032)
Intracranial therapeutic delivery has been gaining popularity with beneficial earnings toward cell and gene therapy, causing significant effects across the clinical and social spectrum. Vast improvements in disease prevention, diagnosis, and management have improved patient outcomes that have accelerated developments in gene therapies, which is a strong reason for the fundamental shift in the traditional biopharmaceutical business model.
Effective therapy lines require the desired support, based on funding approvals and consolidated activities to expand the sales footprint that has been gaining more popularity among key players. The potential of cell, gene, and enzyme replacement therapies in treating various diseases has given a light of hope to many patients around the world that the disease can be cured and not just treated.
Cell and gene therapy companies rely on researchers for innovation. Thus, several clinical trials conducted in collaboration with research institutes that can test the safety and effectiveness of devices for neurological diseases for various indications have risen.
Top manufacturers in the biopharmaceutical sector, including Bristol Myers Squibb, Gilead Sciences & Company, LabCorp, and Xcell Biosciences Inc., are concentrating on bolstering their market positions. To increase their sales footprint across nations, these market players are concentrating on acquisition, collaboration, and partnership operations.
The global intracranial therapeutic delivery market is predicted to surge ahead at a CAGR of 7.9% and reach US$ 4.2 Bn by the end of 2032.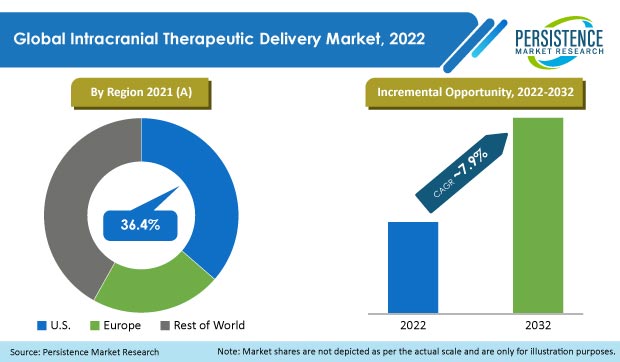 How is the Intracranial Therapeutic Delivery Market Progressing?
"High Focus on Research Extending Pipeline Studies"
Cell, gene, and enzyme replacement therapies, which make up around 12% of the pharmaceutical industry's clinical pipeline and 16% of its preclinical pipeline, are at the forefront of innovation for the treatment of serious illnesses such as cancer as well as uncommon diseases.
As of June 2020, there were more than 750 cell and gene therapy trials involving over 30,000 patients. More than 200 investigational new drug applications (NDAs) are now anticipated by the U.S. FDA, and up to 20 applications are projected to be approved by 2025.
Growing research studies focused on pipeline extensions have explored opportunities to make more effective products available in the market.
"Tangible Shift toward Regenerative Therapies Over Drug-based Treatments"
Cell and gene therapies are a type of regenerative medicine. These therapies are seen as an alternative to conventional drug therapies, and are becoming more attractive due to the potential they have for treating a wide range of diseases such as diabetes and neurodegenerative diseases.
As a result, it is anticipated that favorable government policies in emerging nations will greatly increase the opportunity for industry participants in the intracranial therapeutic delivery market.
Which Factors are Restraining Demand for Intracranial Therapeutic Delivery?
"High Cost of Therapies Impeding Market Progress"
The one-time expense associated with cell and gene therapies can put a financial burden on patients, even though they may offer a paradigm shift in medicine as a whole and enormous value to patients.
For instance, the most expensive single-dose drug in the market right now is Zolgensma, a gene therapy product sold by Novartis for the treatment of spinal muscular atrophy (SMA).
Pricing accounts for both, the high cost and complexity of developing cell and gene therapies and significant benefits produced for patients and their families. Additional cell and gene therapies that are approved for use that affect bigger patient populations could put a significant burden on healthcare financing.
"Lack of Reimbursement Policies"
Medicare and other payers take a while to cover the costs of cell and gene therapy. Research indicates that Medicare's reimbursement for CAR-T therapies does not fully cover the cost of the therapy or the cost of treating any side effects. Medicare covers 65% of the cost of CAR-T therapy via the New Technology Add-on Payment (NTAP) program, with hospitals paying the remaining 35%.
Before deciding on whether to provide patients with clinical-stage medicines, insurance companies weigh a variety of financial factors. As such, it is anticipated that the lack of reimbursement support may hamper market expansion to some extent over the coming years.
Country-wise Insights
Why are Market Players Targeting the U.S.?
"High Focus on R&D and Government Support in the U.S."
The U.S. intracranial therapeutic delivery market accounted for a market share of 36.4%.
Cell, gene, and enzyme replacement therapy-related research and development is expanding in a rapid phase in the U.S., with increasing emphasis on the number of products moving forward in clinical development.
In addition to the emphasis on research, regulatory backing enables the country to hold a substantial market share. The FDA's Center for Biologics Evaluation and Research offers proactive regulatory and scientific guidance to pharmaceutical companies and medical device developers for the development of innovative products for monitoring clinical trials.
Why is Germany a Prominent Market for Intracranial Therapeutic Delivery?
"Several Leading Intracranial Therapeutic Delivery Industry Players Present in Germany"
In terms of value, Germany accounted for one-fourth share of the European intracranial therapeutic delivery market.
Germany sees high healthcare expenditure. The market is projected to enjoy high growth at 8.9% CAGR through 2032.
Major investments in the public and private sectors have sped up the development of new, effective treatments for cancer and rare diseases. Europe is at the forefront of the field of gene therapy, where Germany is actively engaged in the development and testing of novel medications for the benefit of patients and developments in the field of gene therapy.
How is the U.K. Emerging as an Important Market for Intracranial Therapeutic Delivery?
"Tangible Shift toward Regenerative Medicine in the U.K."
In 2021, the U.K. intracranial therapeutic delivery market was valued at US$ 81.9 Mn and held a market share of 22.8% in the European region.
One of the most attractive and promising fields of science is regenerative medicine, and U.K. scientists have been actively engaged in it for a while now. With more than 400 businesses involved in regenerative medicine, Europe boasts of the second-largest regenerative medicine ecosystem in the world.
The U.K. is home to almost one in three small to medium-sized firms (SMEs) operating in Europe for advanced therapeutic pharmaceutical products. For each stage of the development of digital health and care products, several U.K. organizations provide assistance, guidance, or helpful information.
What is the Outlook of the South Korea Intracranial Therapeutic Delivery Industry?
"Rapid Growth of Biopharmaceutical Industry in South Korea"
South Korea holds a remarkable market share in the global intracranial therapeutic delivery market. The country is ranked as the 12th largest healthcare market with a market size of around US$ 20 Bn in 2019.
The government's increased focus on investment and growth in the biopharmaceutical industry has sped up national growth and opened up the market. The South Korean government has committed more than US$ 1.7 Bn to its biopharma and biotech sectors over the next five years to raise the nation's prominence in the global biopharma scene.
Regenerative treatments' full potential to treat and possibly cure several diseases that are currently escaping our best efforts is only now beginning to emerge due to the hard research and development requirements of these medicines. Five of the most promising cell and gene start-ups are currently targets of South Korea's efforts to unlock their potential.
Category-wise Insights
Which Intracranial Therapeutic Delivery Therapy is Anticipated to Drive High Market Growth?
"Gene Therapy Leads Market with High Share"
Gene therapy for intracranial therapeutic delivery accounted for the highest market share of 81.9% by revenue in 2021, anticipating remarkable market growth at a CAGR of 7% during the forecast period.
Factors such as increasing approvals of gene therapy products and rising investments in research and development of gene therapies and are driving segment growth.
Which Indication Accounts for High Revenue Generation?
"Spinal Muscular Atrophy (SMA) Continues to Lead Market Expansion"
Spinal Muscular Atrophy (SMA) holds the highest market share of 81.9% in 2021 and is anticipated to dominate throughout the forecast period. However, the multiple sclerosis segment is set to exhibit significant growth at a CAGR of 7% over the decade.
Gene therapy and splicing modification have made it possible for the treatment of SMA to have positive clinical results. At advanced phases of clinical development, various therapeutic techniques are being introduced, and they are likely to broaden the range of SMA medication options.
Competitive Landscape
Through different market consolidation initiatives, major firms in the intracranial therapeutic delivery sector are collaborating on research, production, and distribution of intracranial therapeutic delivery products. It is anticipated that cooperative business strategies will aid in securing future growth and market position.
Mergers and acquisitions are also anticipated to support the research and development of potent therapeutic lines for the management of the severe disease.
Additionally, leading firms in the intracranial therapeutic delivery market are concentrating on winning approvals, launching new products, and making acquisitions to increase their market revenue.
For instance,
In May 2022, ElevateBio, LLC presented the lentiviral vector production platform, ElevateBio BaseCamp, at the American Society of Gene and Cell Therapy (ASGCT). To address the rising need for the scalable GMP manufacturing of high-quality lentiviral vectors with broad clinical applications, the unique methodology and accompanying analytical methods for lentiviral production were disclosed.
In May 2021, Biogen and Ginkgo Bioworks came to an agreement to work together to reshape the industry norm for producing recombinant AAV-based vectors. To speed up Biogen's efforts to provide innovative gene therapies to patients across the world, a strategic collaboration was inked to build a next-generation AAV production platform.
Similarly, recent developments related to companies involved in intracranial therapeutic delivery have been tracked by the team at Persistence Market Research, which are available in the full report.
Intracranial Therapeutic Delivery Industry Report Scope
Attribute

Details

Forecast Period

2022-2032

Historical Data Available for

2017-2021

Market Analysis

US$ Bn for Value

Key Countries Covered

U.S.
Germany
Italy
France
U.K.
Spain
BENELUX
Nordic Countries
Russia

Key Market Segments Covered

Therapy
Indication
Region

Key Companies Profiled

Novartis AG
BioMarin
CORESTEM Inc.
Alaunos Therapeutics, Inc.
Apic Bio
Stemedica Cell Technologies, Inc.
Voyager Therapeutics
Bayer AG
Abeona Therapeutics
Spark Therapeutics

Report Coverage

Market Forecast
Competition Intelligence
DROT Analysis
Market Dynamics and Challenges
Strategic Growth Initiatives

Customization & Pricing

Available upon Request
Segmentation of Intracranial Therapeutic Delivery Industry Survey
Intracranial Therapeutic Delivery Market by Therapy:
Cell-based Therapy
Gene Therapy
Enzyme Replacement Therapy
Intracranial Therapeutic Delivery Market by Indication:
Spinal Muscular Atrophy (SMA)
Multiple Sclerosis
Batten Disease
Amyotrophic Lateral Sclerosis
Intracranial Therapeutic Delivery Market by Region:
U.S. Intracranial Therapeutic Delivery Market
Europe Intracranial Therapeutic Delivery Market
Rest of the World (ROW) Intracranial Therapeutic Delivery Market