Intracranial Pressure (ICP) Monitoring Market Outlook (2021-2031)
The Global Intracranial Pressure (ICP) Monitoring Market recorded a market value of US$ 219.1 Mn in 2021, and is projected to expand at a CAGR of 4.9% over the next ten years to reach a market valuation of US$ 353.5 Mn by 2031.
| Attribute | Key Insights |
| --- | --- |
| ICP Monitoring Market Size (2020) | US$ 210.4 Mn |
| Projected Market Value (2031) | US$ 353.5 Mn |
| Global Market Growth Rate (2021-2031) | 4.9% CAGR |
| Share of Top 5 Countries | 79.9% |
Revenue from intracranial pressure monitoring accounted for approximately 0.5% of the global brain monitoring market in 2020, which was valued at around US$ 5.5 Bn. Intracranial pressure monitoring products held a market value of US$ 187.1 Mn in 2021, accounting for a share of more than 84% in the overall market.
Sales Analysis of ICP Monitoring Devices from 2016 to 2020 Vs Market Outlook for 2021 to 2031
The global intracranial pressure monitoring market recorded a CAGR of 2.7% over the last 5 years from 2016 to 2020.
Traumatic Brain Injury (TBI) is a disruption in the normal function of the brain that can be caused by a blow, bump, or jolt to the head. With increased number of road traffic mishaps, cases of traumatic brain injury are rising. Severe traumatic brain injury leads to increased Intracranial Pressure (ICP). Thus, with increasing traumatic brain injury, demand for ICP monitoring devices also rises in parallel.
Key manufacturers of intracranial pressure monitoring devices are actively expanding their presence in various regions of the world wherever there is opportunity to grow.
For instance, in December 2020, IRRAS AB teamed up with Anade SA to expand the commercial availability of its IRRAflow product line for neuro-critical care to physicians and patients throughout multiple markets in Latin America.
Other factors that have a positive impact on ICP monitoring market growth include growing investments in the healthcare sector in both, developed and developing nations, frequent approvals of ICP monitoring products, and innovative technologies such as wireless ICP monitoring devices.
The global intracranial pressure monitoring market is set to witness steady growth over the forecast period of 2021 to 2031 at a CAGR of 4.9%.
What Opportunities Lie Ahead for ICP Monitoring Devices Manufacturers?
"Rising Incidence of Neurological Conditions Major Market Driver"
The coming years are set to offer many lucrative opportunities for manufacturers of ICP monitoring systems around the world. The industry is consolidated by a few market key players. Emerging economies are set to emerge as competition to these players.
In countries such as China, Japan, and India, manufacturers of ICP monitoring devices have great opportunity to grow their businesses due to the large number of older population who are at the highest risk of neurological disorders. As such, they require ICP monitoring devices for regular monitoring of any neurological-related disease.
According to the Population Reference Bureau, China, India, and Japan had 166.37 million, 84.9 million, and 35.58 million older adults, respectively, in the year 2019.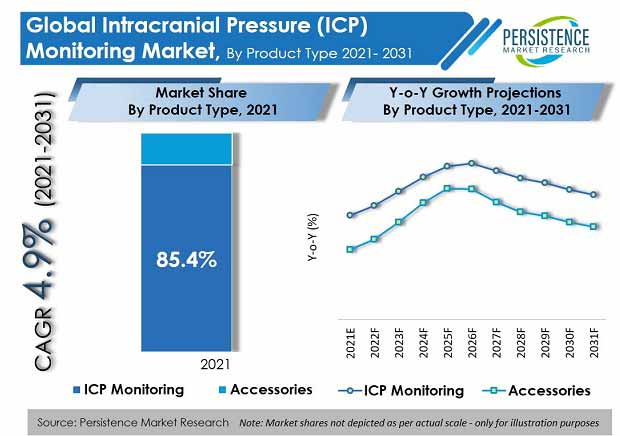 Are There any Restraining Factors for ICP Monitoring Equipment Sales?
"High ICP Monitoring Product Cost Hampering Market Expansion"
The cost of ICP monitoring devices and procedures is quite high, which is not affordable for a large group of people, especially in developing nations such as India.
For instance, the price of Digitimer's NL108T4 Re-Useable Physiological Pressure Transducer is US$ 801, which can't be afforded by people belonging to the weaker economic background around the world. Thus, this high cost of the product impacts its sales and revenue and restraints market growth to some extent.
ICP monitoring procedures are complex and require trained and skilled medical professionals. Since it's an invasive process and surgery is required, it increases the sensitivity of the procedure manifold. Any mistake during the procedure can lead to a serious medical condition. Mistakes while placing the probe in the brain can even lead to death. There is lack of skilled medical professionals, which negatively affects growth of the market.
Country-wise Insights
Why Market Should ICP Monitoring Device Suppliers Focus On?
"U.S. Leading Market for ICP Monitoring Procedures"
North America is one of the major contributors to the global intracranial pressure monitoring market. The U.S. accounted for more than 95% market share of the North America ICP monitoring market in 2021, and a similar trend is expected over the forecast period.
Dominance of the U.S. is mainly attributed to advanced healthcare infrastructure, high adoption of advanced ICP monitoring devices, and the presence of a large patient pool.
Additionally, presence of large number of key ICP monitoring equipment manufacturers has a positive impact on the market. More number of manufacturers leads to the sale of more products, which increases the revenue generated by them, and thus, drives the growth of the market in the country.
Which is the Leading ICP Monitoring Market in Europe?
"Convenient Reimbursement Policies Complementing Market Expansion in Germany"
Germany held more than 28% share of the Europe intracranial pressure monitoring market in 2021. This is because of the country's advanced medical facilities and reimbursement policy for products, which make adoption easier and give players an opportunity to grow faster.
Europe accounts for a large number of cases related to brain injuries and dysfunctionalities, which, in turn, is boosting market growth in the region.
Why is China Emerging as a Prominent Market for ICP Monitoring Systems?
"Huge Patient Pool in China Augmenting Market Progress"
China held approximately 40% share of the East Asia ICP monitoring market in 2021, owing to the presence of various well-established hospitals and critical care centers, besides increasing government initiatives in the country
There is a great opportunity for manufacturers to grow in the country. According to the Lancet journal, China is one of the mostly populated countries in the world with a large number of people suffering from neurological disorders every year. These neurological disorders require proper monitoring, which can be done using ICP monitoring devices. This is offering great opportunity for ICP monitoring system manufacturers in the country.
Category-wise Insights
Which ICP Monitoring Device Type is Driving Market Growth?
"High Need for Advanced Intracranial Pressure Sensors"
The ICP monitoring product segment, led by ICP monitoring sensors, held more than 85% of the total market by value in the year 2021. The reason for this high market share is high demand for measuring increased intracranial pressure due to any injury or disorder.
ICP monitoring devices provide a diagnostic test that helps doctors determine the pressure of cerebrospinal fluid, whether is high or low, by way of using a small pressure sensitive probe inserted through the skull.
Which Indication Drives Most Need for ICP Monitoring Devices?
"High Incidence of TBI - Main Market Driver"
Traumatic brain injury held a high market share of more than 37% in 2021, by indication. This is due to the large number of people suffering from traumatic brain injury owing to road accidents.
TBI leads to increased intracranial pressure, which needs to be monitored and managed using intracranial pressure monitoring devices. This drives high need for intracranial pressure monitoring products across the world.
Impact of COVID-19 on the Industry
The COVID-19 pandemic and resulting lockdowns had a negative impact on most industries across the world. Many pharmaceutical, biotechnological, and medical device industries experienced both, positive and negative impacts of the pandemic, depending upon the segment they were dealing with.
The global market for intracranial pressure monitoring also experienced negative impact due to the pandemic. It resulted in shifting the focus of the world towards the virology sector, and most other sectors experienced adverse effects.
There were an overall decrease in the footfall at clinics due to lesser road accidents and traumatic injury cases, leading to reduced ICP monitoring need and subsequently less demand for ICP monitoring devices.
Competitive Landscape
Strategies of gaining approvals from various regulatory authorities around the world and forming joint ventures for increasing their market presence are some of the key strategies undertaken by prominent intracranial pressure monitoring device suppliers.
In the month of July 2020, Integra LifeSciences Holdings Corporation acquired FDA clearance for the CUSA® Clarity Ultrasonic Surgical Aspirator System.
In December 2019, Medtronic plc's Stealth Autoguide™ system cleared the U.S. Food and Drug Administration (FDA), which helped physicians seamlessly provide high-quality care for cranial and other procedures.
In February 2021, DePuy Synthes collaborated with Expanding Innovations Inc. to distribute the X-Pac Expandable Lumbar Cage System in the U.S. It helped the company expand its presence in the country.
ICP Monitoring Industry Report Scope
Attribute
Details

Forecast Period

2021-2031

Historical Data Available for

2016-2020

Market Analysis

US$ Million for Value

Key Countries Covered

U.S.
Canada
Germany
U.K.
France
Italy
Spain
BENELUX
Russia
China
Japan
South Korea
India
Thailand
Malaysia
Indonesia
Australia
New Zealand
GCC Countries
Turkey
South Africa

Key Market Segments Covered

Product
Route of Intervention
Indication
End User
Region

Key Companies Profiled

Integra Lifesciences Corporation,
Medtronic Plc.,
J&J,
Sophysa Ltd.,
Spiegelberg GmbH & Co,
Natus Medical Incorporated,
RAUMEDIC, Inc,
Digitimer Ltd,
IRRAS AB,
Nisonic

Report Coverage

Market Forecast
Competition Intelligence
DROT Analysis
Market Dynamics and Challenges
Strategic Growth Initiatives

Customization & Pricing

Available upon Request
Key Segments Covered in ICP Monitoring Industry Research
ICP Monitoring Market by Product:
ICP Monitoring
Accessories

Intraventricular Catheters
Subdural Catheters
Parenchymal Catheters
Epidural Sensors
Sub Arachnoid Screws
ICP Monitoring Market by Route of Intervention:
Intraventricular ICP Monitoring
Subdural ICP Monitoring
Epidural ICP Monitoring
Parenchymal ICP Monitoring
Subarachnoid ICP Monitoring
ICP Monitoring Market by Indication:
Traumatic Brain Injury
Intracerebral Haemorrhage
Subarachnoid haemorrhage
Hydrocephalus
Malignant Cerebral Infarction (MCI)
Cerebral Edema
CNS infections
Others
ICP Monitoring Market by End User:
Hospitals
Ambulatory Surgical Centers
Trauma Centers
Neurosurgery Centers
ICP Monitoring Market by Region:
North America ICP Monitoring Market
Latin America ICP Monitoring Market
Europe ICP Monitoring Market
South Asia ICP Monitoring Market
East Asia ICP Monitoring Market
Oceania ICP Monitoring Market
Middle East & Africa ICP Monitoring Market