Hearing Protection Devices Market Outlook (2021-2031)
Worldwide revenue from the hearing protection devices market reached US$ 1.7 Bn in 2021, with the global market estimated to surge ahead at a CAGR of 10.1% and reach a market valuation of US$ 5 Bn by the end of 2031. As per Persistence Market Research analysis, passive hearing protection devices are expected to account for a market value of US$ 2.8 Bn by 2031.
Overall, hearing protection product sales accounted for approximately 18.9% revenue share in the global audiology market in 2021.
| | |
| --- | --- |
| Hearing Protection Devices Market Size (2021) | US$ 1.7 Bn |
| Projected Market Value (2031) | US$ 5 Bn |
| Global Market Growth Rate (2021-2031) | 10.1% CAGR |
| Market Share of Top 5 Countries | 60.2% |
Sales Analysis of Hearing Protection Devices from 2016 to 2020 Vs Market Outlook for 2021 to 2031
The global market for hearing protection devices recorded a historic CAGR of 9.2% in the last 5 years from 2016 to 2020.
Hearing protectors are devices used to prevent noise-induced hearing loss. These devices are recommended when a user is exposed to noise levels of over 80 dB for 8 hours or more. These devices find major applications in areas such as military, construction, generators, compressor rooms, etc.
According to the World Health Organization (2019 statistics), the annual unaddressed cost of hearing loss is around US$ 750 Bn worldwide, and also around 460 million people worldwide suffer from some sort of hearing disability.
Acoustic filters, when fitted inside a earplug, filter out the excessive noise that can pose potential long-term damage to the ear and reduce its pressure to a clear, yet audible level, thus maintaining acoustical fidelity. As music professionals and event organizers are constantly exposed to high noise levels, they need hearing protection equipment to reduce acoustic noise without hindering their hearing ability. This is driving the demand for sophisticated hearing protection devices with acoustic filters as individuals want hearing protection that can provide crystal-clear audio.
For instance, in October 2021, Earlabs announced the launch of its new product - dBud U, a wireless earbud set offering complete noise protection and also enhancing the hearing ability of the user.
Owing to increasing prevalence of hearing loss among all walks of life such as war veterans, children, geriatric population, industrial workers, etc., the Centre for Disease Control has set up a surveillance system under the NOISH hearing loss surveillance project. A survey was conducted in every industrial sector and on a personal level to check the percentage of people suffering from hearing loss.
NIOSH, or National Institute of Occupational Safety & Health, published statistics stating that 46% of workers in the manufacturing & industrial sector have been exposed to hazardous noises and around 28% of those do not use any kind of hearing protection.
Furthermore, hearing impairment was noticed in approximately 18% of workers, which has the potential of further developing into a loss of hearing.
The global hearing protection devices market is thus likely to experience high growth at over 10% CAGR owing to the rising geriatric population susceptible to hearing impairment, advancing technology to develop state-of-the-art hearing aid devices, and favorable reimbursement policies in emerging markets.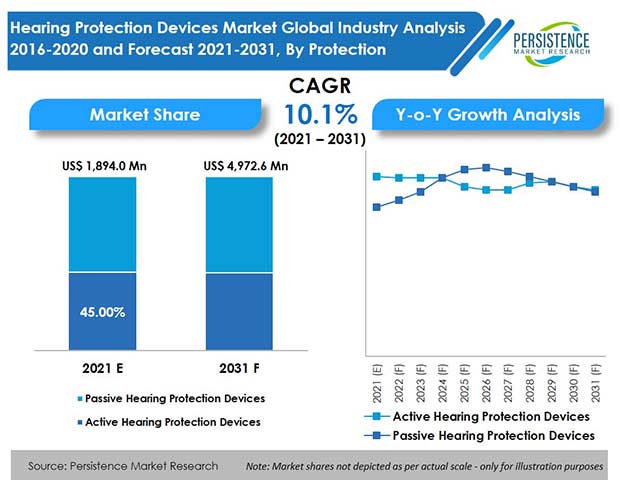 What Should Hearing Protection Device Manufacturers Focus On?
"First Preference to User Comfort & Safety"
The factor of patient ease and comfort is set to create many lucrative opportunities for hearing protection device manufacturers. Demand for innovative products for hearing protection is on the rise as consumers are inclined toward devices that are comfortable and offer superior hearing protection.
The level of comfort improves with better fitting. As such, patients with hearing loss can benefit from improved fittings and comfort.
In November 2021, Mack's Ear Plugs launched the Mack's Hi Viz Banded Foam Shooting Ear Plug, which provides swift and easy insertion along with enhanced comfort to the user.
"Cater to Rising Demand for Smart Hearing Protection Devices"
Owing to constant innovation and advancements in digital platforms across the healthcare sector, the market for hearing protection devices has become a technologically-driven space. With technological advancements, digital hearing protection devices have gained more popularity in the market as compared to traditional analog hearing protection devices.
Digital hearing protection equipment is the perfect combination of smart cutting-edge technology and user-friendly interactive AI, which drives wearer protection and comfort. Smart hearing protection devices have various other features along with a better hearing experience, such as are rechargeable, have Bluetooth connectivity, and are waterproof.
In May 2021, QuietOn launched QuietOn 3, the world's smallest active noise cancelling technology-combined earbuds to optimize sleep patterns among the youth.
All such opportunities await hearing aid device producers in the years ahead.
Which Factors Dent Demand Growth of Hearing Protection Devices to Some Extent?
"Stigma Associated with Hearing Impairment"
The perceived stigma relating to hearing loss has emerged as an important decision-making factor in this space. People are afraid to seek treatment because their sense of insecurity is heightened since they feel that they will be perceived as poor communicators, old, and cognitively diminished if they start wearing hearing aids. The size and visibility of hearing protection products have always been associated with the reluctance to use them.
To break this stigma, it is important to create awareness and make hearing protection devices trendy with advanced features. Hearing problems are often associated with old age, which also restricts the younger population from hearing protection device usage.
"Improper Attenuation of Earplugs"
Suppression of more of high-frequency noise and less of low-frequency noise is seen in a number of hearing aid devices available in the market. This affects the hearing capacity of people and can be hazardous at the workplace.
One of the main reasons why workers in industrial settings receive less-than-adequate protection is because of the improper wearing of earplugs. Noise-induced hearing loss can often go unnoticed due to the absence of visible symptoms; however, established players such as 3M are focussing on the uniform attenuation of earplugs that can help address this issue and prevent hearing loss and tinnitus worldwide.
Country-wise Insights
How is the U.S. Hearing Protection Devices Market Performing?
"Increased Incidence of Noise-induced Hearing Impairment"
The U.S. accounted for more than 88% share by value in the North America hearing protection devices market in 2021.
As per CDC statistics, around 26 million people aged between 20-69 years in the U.S. have experienced permanent damage to their hearing upon exposure to loud noises.
Rapid industrialization has led to ignorance of the fact that many industry workers are suffering from hearing issues because of exposure to loud noises. As a result, increasing noise pollution levels and high incidence of noise-induced hearing impairment will facilitate demand growth of hearing protection devices in the U.S.
Why is the U.K. a Lucrative Market for Hearing Protection Device Providers?
"High Demand for Next-Gen Hearing Protection Devices"
The U.K. held around 23.4% share of the Europe hearing protection devices market in 2021 owing to enhanced digitization of healthcare processes and advancements in hearing protection devices, especially for war veterans, in the country.
Since the past two decades, joint military exercises have witnessed an increase due to rise in international defense agreements between countries. Hearing protection devices have thus witnessed huge demand from the military sector in the U.K.
3M U.K. offers a wide variety of earmuffs that have rigid soft cups and soft plastic cushions, which creates a seal around the ears to block noise.
The government of U.K. has established a hearing loss compensation service where individuals working for the British Army, Royal Air Force, Royal Navy, and the Ministry of Defence can claim for their hearing loss.
Will China Be an Emerging Market for Hearing Protection Devices?
"Surge in Noise Pollution across China Driving Market Growth"
China held around 44.9% share of the East Asia hearing protection devices market in 2021, mainly due to rising exposure to noise among individuals on a daily basis. Hearing loss among senior Chinese citizens is quite high in today's world thanks to lifestyle changes and rapid urbanization in the country.
As the economic condition of the Chinese people improves, a large amount of time is spent on leisure activities, which involve exposure to loud sounds. This has raised the incidence of noise-induced hearing loss among young individuals.
However, the Chinese government is actively taking initiatives to educate people about the association between noise and potential health risks. Increasing R&D activities to develop the best and latest hearing protection devices is also being adopted by manufacturers, and this will positively drive market growth in the future.
Category-wise Insights
Which Hearing Protection Products are in High Demand?
"Huge Demand for Earplugs over Earmuffs"
By product, earplugs accounted for 43.4% market share by value in 2021. This is because earplugs directly fit into the ear canal and offer a higher level of protection from noise as compared to earmuffs. They are easy to carry around as they are lightweight. Owing to their small size, they are an ideal candidate for working in confined and tight spaces.
Earplugs confer many advantages to users, and hence, they have registered such a high share among the various products in the global hearing protection devices market.
Which Protection Category Accounts for Highest Sales of Hearing Protection Devices?
"Hearing Protection Best Offered Using Passive Hearing Protection Devices"
Passive hearing protection devices held the largest market share of 55.4% in 2021.
These hearing devices work best for those who have lost high frequency hearing. These devices can attenuate incoming acoustic pressure waves in a pre-described frequency range. They are comparatively cost-effective, require no additional power supply, and are also lightweight and compact in size.
These benefits leads to the higher adoption of passive hearing protection devices, and hence, the segment will continue to dominate the market during the forecast period as well.
Where is the Employment of Hearing Protection Devices the Most?
"High Incidence of Hearing Impairment among Construction Site Workers"
Deployment of hearing protection devices at construction sites accounted for the highest market share of 18% by value in 2021.
As per CDC, approximately 15% of construction workers suffer from some kind of hearing difficulty, and around 7% are reported to have tinnitus.
There is high demand for hearing protection devices at construction sites since these sites record the highest noise levels above 90dB, which has detrimental effects on the hearing capabilities of workers. This has made construction sites the largest end user category of hearing protection devices.
Competitive Landscape
Mergers and acquisitions are mainly looked upon in this market. Also, various new product launches with the latest technology have been undertaken by several key manufacturers of hearing protection devices.
For instance,
In September 2021, Constant Aviation partnered with hearing protection leader Decibullz on innovative products for the aviation sector.
In August 2021, EAR Inc. entered into a partnership with AudioCardio in relation with the E.A.R. Customized hearing product line.
In March 2021, Honeywell International Inc. introduced a new earplug dispenser with enhanced antimicrobial protection.
Hearing Protection Devices Industry Report Scope
Attribute

Details

Forecast Period

2021-2031

Historical Data Available for

2016-2020

Market Analysis

USD Million for Value

Key Countries Covered

U.S.
China
Germany
U.K
Benelux
India
France
Canada
Australia
Japan
Brazil
South Korea
Italy
Malaysia
GCC Countries
Spain
Mexico
Russia
South Africa
Turkey
Argentina
New Zealand
Thailand
Indonesia

Key Market Segments Covered

Product
Protection
End User
Region

Key Companies Profiled

The 3M Company
Cotral Lab Inc
Custom Protect Ear Inc
David Clark Company
EAR Inc
Elevex Corporation (Delta Plus)
Etymotic Research, Inc.
Gentex Corporation
HONEYWELL INTERNATIONAL INC.
Insta-Mold Products Inc
Moldex-Metric, Inc.
Pacific Coast Laboratories
ReadyMax
Sensear Pty Ltd
North Safety Product
Sonova Holding AG (Phonak AG Holding)
Tasco Corporation
Westone Laboratories
Earlabs AB (dBud)
Happy Ears
Eargasm
Alpine Hearing Protection
NoNoise
Mack's Ear Plugs
Quies
UVEX group
Decibullz
EAROS, Inc.
Vibes
Wavy Ocean earplugs
EARJOBS
QuietOn
Loop Earplugs
Tympro

Report Coverage

Market Forecast
Competition Intelligence
DROT Analysis
Market Dynamics and Challenges
Strategic Growth Initiatives

Customization & Pricing

Available upon Request
Key Segments Covered in Hearing Protection Devices Industry Research
Hearing Protection Devices Market by Product:
Earplugs

Foam Earplugs

PVC
Polyurethane
Silicone & TPE

Molded Plugs
Attenuation Earplugs
Canal Caps

Ear Muffs
Metal Detectable
Hearing Protection Devices Market by Protection:
Active Hearing Protection Devices
Passive Hearing Protection Devices
Hearing Protection Devices Market by End User:
Construction Sites
Industrial/Factories
Recreational Activities
Transportation
Defense
Firearm Shooting
Sleeping
Live Music Concerts
Biking/Motorbikes
Do It Yourself Work
Others
Hearing Protection Devices Market by Region:
North America Hearing Protection Devices Market
Latin America Hearing Protection Devices Market
Europe Hearing Protection Devices Market
South Asia Hearing Protection Devices Market
East Asia Hearing Protection Devices Market
Oceania Hearing Protection Devices Market
Middle East & Africa Hearing Protection Devices Market