Increase in the use of advanced dental products to back the growth of the dental implant abutment systems market
Dental implants are artificial tooth roots made of materials such as titanium or zirconium that could be inserted into the jaw. They not only allow the replacement of the missing tooth for cosmetic and practical reasons, but also preserve the jaw structure by preventing bone restoration or atrophy. Compared to conventional fixed bridges or dentures, they require no grinding down of healthy neighboring teeth, do not cause discomfort when eating or speaking, and are long-lasting with a natural appearance.
Another variation is when the crown and abutment are one piece and the lag-screw traverses both to secure the one-piece structure to the internal thread on the implant. Regardless of the type of abutment, after the abutment is attached to the implant, an impression is made and the designed restoration is constructed at the dental laboratory.
The preference for dental implants as a treatment option over conventional devices such as crowns, bridges, or dentures is therefore unsurprising. People are more inclined towards usage of new technologies. People across the world have false teeth or bridges, but dental implants are a relatively new technology. There is also a visible increase in the usage of premium price dental products. This is due to the increase in health consciousness among people.
Increasing prevalence of local manufacturers for high end products in the global dental implant abutment systems market
A growing prevalence of local manufacturers and an increasingly cost sensitive consumer demographic is contributing to the overall price depreciation and the declining market share of premium implants. Historically, premium dental implant abutment companies have dominated the global competitive landscape but have recently faced rising competition from value and discount brands.
The latest and advanced production technologies have also encouraged manufacturers to increase the production of dental implants. Companies have also expanded their dental offerings to meet the demands of cost-conscious patients as well as physicians.
However there are a few factors that may hamper the growth of manufacturers. The stringent regulatory scenario may restrict production growth in some regions with the increase in regulations on medical devices and materials. Some regions like Japan even restrict the entry of foreign manufacturers.
There is also a decrease in the reimbursements pertaining to the treatment a patient goes through. Looking at the long-term benefits of dental implant abutment systems, people choose this over any other form of dental treatment. However, insurance companies do not prefer reimbursing that amount and include a lot of clauses or regulations.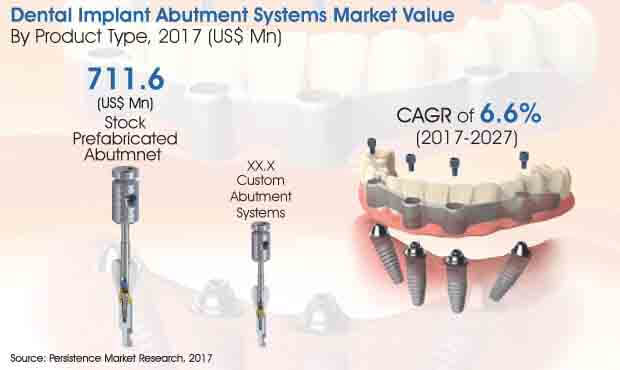 Analysis of various product types in different regions
According to the market research by Persistence Market Research, North America is expected to dominate the global dental implant abutment systems market. Stock/prefabricated abutment systems segment is anticipated to hold the maximum market share in North America's dental implant abutment systems market.
This segment is projected to reach a market value of US$ 254 Mn by the end of 2017, and is estimated to be valued at more than US$ 420 Mn by the end of the forecast period in 2027, growing at a CAGR of 5.2%. However the custom abutment systems product type segment is ahead of the stock/prefabricated abutment systems segment in terms of higher CAGR, witnessing a growth rate of 6.8% during the forecast period.
Global Dental Implant Abutment Systems Market: Segmentation
By Product Type

Stock/Prefabricated Abutment Systems
Custom Abutment Systems

By Application

By End Use

Hospitals
Dental Clinics
Others

By Region

North America
Latin America
Western Europe
Eastern Europe
APEJ
MEA
Japan
- Companies Covered in This Report -
Zest Anchors
Zimmer Dental
Nobel Biocare Services AG
Dynamic Abutment Solutions
Institut Straumann AG
Ditron Dental
Friadent GmbH
Glidewell Laboratories
Cendres+Métaux USA Inc.
Adin Global
Bioconcept Co., Ltd
Cortex Dental
Others.