Banana Puree Market Outlook (2022-2032)
The global banana puree market is predicted to increase from a value of US$ 1.33 Bn in 2022 to US$ 2.24 Bn by 2032, expanding at a CAGR of 5.3% over the said period.
China, Japan, the U.K., the U.S, India, and Germany are major markets for banana puree.
| | |
| --- | --- |
| Banana Puree Market Size (2022E) | US$ 1.33 Bn |
| Projected Sales of Banana Puree (2032F) | US$ 2.24 Mn |
| Value CAGR (2022-2032) | 5.3% |
| Value Share of Top 5 Countries (2021A) | 44.8% |
Banana Puree Consumption Analysis (2017-2021) Vs. Market Estimations (2022-2032)
The global banana puree market expanded at 5% CAGR from 2017 to 2021.
Banana puree consumption is increasing as consumers are incorporating healthy eating practices. In food products, more consumers now prefer natural or organic ingredients over synthetic flavors.
Banana puree is blended by mixing bananas into a thick and mushy pulp. It is high in dietary fiber and also potassium. These minerals found in banana puree assist in reducing the risk of heart disease and lowering blood pressure.
More spending on functional and healthy meals that boost the immune system is facilitating the sales of banana puree. The top-selling categories are classified as organic, canned, ready-to-eat, vegan, clean-label sweeteners, bio-based, and sustainable due to rising health, ingredient, and environmental consciousness, as well as the ongoing COVID public health emergency.
According to Persistence Market Research's study on banana puree, between 2022 and 2032, the market is projected to rise at a CAGR of 5.3%.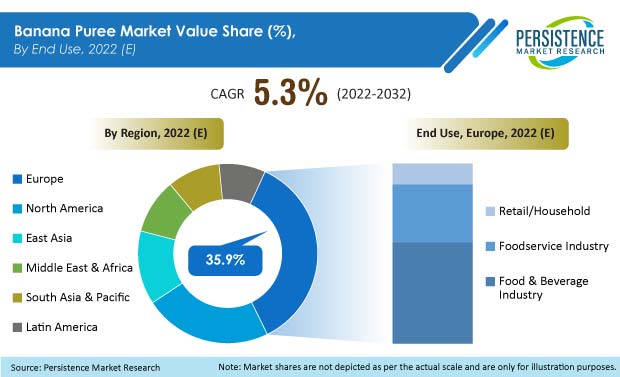 What are the Key Trends Prevalent in the Market for Banana Puree?
"Surging Utilization of Banana Puree in F&B Sector"
The bakery industry in developed countries has been growing at a faster rate in the last few years and has undergone significant changes as a result of rising disposable incomes, increasing health concerns, and high demand for convenient food products. Traditional packaged baked products face significant competition from other ready-to-eat foods and traditional packaged foods.
The development of bakery ingredients with high health and wellness benefits is a positive trend supporting the demand growth for banana puree. The bakery industry in developed and developing countries specializes in the production of baked cakes of different flavors, and banana cakes are highly prominent and high in demand. These cakes are usually made with banana puree. Hence, increasing utilization of banana puree in baked products will drive market growth globally.
"Rising Demand for Natural Ingredients in Cosmetics"
Natural ingredients are raw materials obtained from plants or animals that are utilized in the production of personal care and cosmetic products. The growing level of consumer awareness regarding the usage of synthetic chemicals in cosmetics can be used to justify the increase in demand for natural ingredients in cosmetics. Consumers are concerned about the chemicals associated with health hazards, which has led to a shift in preference for cosmetics derived from natural ingredients to prevent the use of chemicals.
Banana puree is not only associated with different health benefits but is also known to offer multiple benefits for the skin and hair. Banana puree is a popular raw material used in the production of cosmetic products for the appropriate nourishment of the skin and hair. Banana puree's significant antioxidant content is well known for its anti-aging properties. The product is also associated with other benefits such as skin moisturizing, oil control, dandruff control, hair growth, and many more.
For instance, The Body Shop offers a range of cosmetic products, including banana puree, banana hair masks, banana shampoo, and banana conditioners, among others.
"Growing Development of Modernized Trade Channels to Bolster Sales of Banana Puree"
The rise of e-Commerce in the food and beverage industry has had a positive impact on the day-to-day purchasing patterns of customers. Online retail channels have cemented their position as one of the most prominent forms of buying in the modern world. A large number of key players operating in the fruit processing industry are eyeing e-Commerce channels for the expansion of their businesses.
Manufacturers have initiated the distribution of their fruit purees through e-Commerce platforms such as Alibaba, eBay, and Amazon, amongst others. Alibaba is most widely utilized by puree manufacturers and suppliers for their product distribution to distant countries.
The emergence of e-Commerce channels allows manufacturers to offer banana puree at affordable prices. Improved social media campaigns raising awareness regarding the different health benefits associated with the consumption of fruit purees is another factor that has led to the improved sales of banana puree via online retail channels.
For instance, Gerber, a subsidiary of Nestle S.A., offers banana puree through different online retail channels such as Walmart, Amazon, and others.
"Consumers Increasingly Seeking Plant-based Ingredients"
Applications of plant-derived ingredients such as apple, banana, citrus fruits, and others are producing relatively stable conditions for food and beverage manufacturers. Due to the numerous health benefits that plant-based ingredients offer, producers are increasingly accepting and incorporating them into a wide range of foods.
Consumers' preferences are being influenced by both, growing awareness of the benefits of plant-based ingredients and environmental issues. Due to the substantial availability of fiber and other beneficial ingredients, plant-based products aid in blood sugar management and heart health. Furthermore, plant-based ingredients support intestinal health, which enhances immunity by facilitating greater nutrient absorption from the diet.
Due to such multifunctional benefits, the demand for banana puree as a suitable plant-based ingredient is anticipated to rise rapidly in the near future.
What's Restraining the Sales Growth of Banana Puree?
"Environmental Conditions Affecting Banana Produce"
A major factor confining the market growth is uneven environmental conditions that have had a significant impact on the production rates of bananas, which, in turn, affects the prices of banana puree. Unfavorable climatic conditions have led to a widening of the demand-supply gap, leading to challenges to the food safety programs of various nations.
Severe climatic conditions such as extreme or limited rainfall, extreme cold or hot weather, and others affect fruit production, which leads to fluctuations in import prices, posing a challenge to banana puree producers. Apart from this, the short shelf life of bananas, the banana browning problem, and challenges in fruit processing are some of the major factors affecting the sales growth of banana puree.
Furthermore, the retail sales of banana puree products are comparatively low. This factor is also expected to hinder the growth of the market. However, with increasing market penetration and brand awareness, banana puree manufacturers could gain a substantial consumer base.
Country-wise Insights
Which Country Leads the South Asia & Pacific Market?
India is a major stakeholder in the banana puree market, enjoying a valuation of US$ 59 Mn in 2022. India is a large consumer base of banana puree as Indian bananas are considered best due to their superior & rich flavor, size, and thickness.
Why the U.S. is a Favourable Market for Banana Puree Suppliers?
In recent years, low-sugar and sugar-free products have become more popular in the U.S. Manufacturers have begun substituting sugar with natural and artificial sweeteners derived from fruits.
Bananas are often used as a sweetener by manufacturers of beverages and snacks. As such, the market for banana puree in the U.S. is set to expand at a value CAGR of 4.1% to reach US$ 411.8 Mn by the end of 2032.
Category-wise Insights
Which End Use of Banana Puree Will Bring in Higher Revenue Streams?
Banana puree is commonly used in snacks and is most popular in the baking and snack industry. Consumer preferences for a smooth texture and robust flavor have influenced the bakery industry in emerging and developed countries worldwide.
The value of banana puree in the bakery and snacks industry is pegged at US$ 285.6 Mn in 2022 and is slated to increase at a CAGR of 4.3% between 2022 and 2032.
How is the Rapidly Growing F&B Industry Offering Lucrative Opportunities for Market Players?
Smoothies, juices, and milkshakes are beverages that are produced using banana puree. These products have a pure, natural taste and also have a full-bodied texture. Banana puree is preferred here because it has a more homemade appearance with little chunks of banana that are visible.
Banana puree usage in beverages is estimated to be worth US$ 183.7 Mn in 2022 and register growth at a CAGR of 4.1% over the forecast period.
Competitive Landscape
Companies that are part of the fruit supply chain are entering into partnerships with various stakeholders of the market. These agreements are supporting them to ensure a traceable and transparent supply chain and gain access to continuous banana supply. Industry players are also focusing on innovation and are investing in their R&D activities to gain a competitive advantage.
In December 2021, Tree Top Inc. announced the expansion of its manufacturing operation in Prosser by 2023. The investment in new technology will enhance its production capacity while relocating manufacturing closer to fruit suppliers, allowing the company to increase its pureed product market share.
In 2018, Kiril Mischeff invested in the development of its packaging to enhance the shelf life of its products. The company has invested in machines specifically designed for aseptic packing to meet the growing demand from customers for food products with extended shelf life. This also helped the company in lowering its distribution and shipping expenses.
Banana Puree Industry Report Scope
Attribute

Details

Forecast period

2022-2032

Historical data available for

2017-2021

Market analysis

USD Million for Value

Key regions covered

North America
Latin America
Europe
East Asia
South Asia & Pacific
Middle East & Africa

Key countries covered

U.S.
Canada
Germany
U.K.
France
Italy
Spain
Russia
China
Japan
South Korea
India
ASEAN
Oceania
GCC Countries
South Africa

Key market segments covered

Nature
End Use
Distribution Channel
Region

Key companies profiled

Symrise AG (Cobel Ltd)
Döhler GmbH
Kiril Mischeff
Riviana Foods Pty Ltd.
Nestlé S.A
The Hain Celestial Group, Inc.
The Kraft Heinz Co.
Ariza B.V.
Newberry International Produce Limited
Grünewald Fruchtsaft GmbH
Tree Top Inc.
Hiltfields Ltd.
Shimla Hills Offerings Pvt. Ltd.
Antigua Processors S.A.
SunOpta Grains and Foods Inc.
FructaCR S.A.
Others

Report Coverage

Market Forecasts
Company Share Analysis
Competition Intelligence
DROT Analysis
Market Dynamics and Challenges
Strategic Growth Initiatives

Customization & pricing

Available upon request
Banana Puree Industry Research by Category
By Nature:
By End Use:
Food & Beverage Industry

Infant Food
Dairy and Desserts
Dressings and Sauces
Beverages
Bakery and Snacks
Others

Foodservice Industry
Retail/Household
By Distribution Channel:
Business to Business
Business to Consumer

Hypermarkets/Supermarkets
Convenience Stores
Online Retail
Other Retail Formats
By Region:
North America
Latin America
Europe
South Asia & Pacific
East Asia
Middle East & Africa