Banana Flour Market
Global Market Study on Banana Flour: Growing Demand for Gluten-free Food Products Stimulating Market Progress
Banana Flour Market Segmented By Organic and Conventional Nature with Freeze Dried Process, Spray Dried Process, Sun Dried Process in Ripe, Unripe Form
Banana Flour Market: About the Report
Rising demand for gluten-free food products across regions is a prime factor for the growth of the global banana flour market. It is also highly preferable for babies as far as digestion is concerned, and in the prevention of various disease in adults.
PMR, in its report, elaborates on how players the banana flour market space are focusing on advanced and state-of-the-art manufacturing techniques, and also organically-produced banana flour, to enhance their market standings. The Middle East & Africa will be a region to look at for maximum sales, closely followed by North America, Latin America, and South Asia.
Find Out More about the Report Coverage
Companies
Natural Evolution
International Agriculture Group
Absolute Organic
Pereg Gourmet Spices
Saipro Biotech Private Limited
Banatone Food Industries
Seawind International LLC
Woodland Foods
Hearthy Foods
Green Enviro Management Systems Inc
LiveKuna
Messina Verpakkings
Miski Organics
Divine Foods
APKA Industries
Banana Health Ltd
NCEF Technology & FB Tropical Food
Ceres Organics
Edward & Sons Trading Co
Blue Lily Organics LLC
Banana Flour as Alternative to Wheat Flour Escalating Market Growth
Banana flour has come up as an alternative to regular wheat flour. Banana flour is made by milling dehydrated green bananas, which results in a flour that has high levels of resistant starch.
Green banana flour bakes well and is a very rare gluten-free flour. Less banana flour is usually required in baking than regular flour. Banana flour is versatile enough to work in nearly any dish that calls for all-purpose wheat flour. It is low on the glycemic index, which means that it also doesn't spike blood sugar levels.
Natural Evolution produces green banana baking flour, which is a nutrient-packed, delicious, light, natural, gluten-free flour made from green Cavendish bananas grown on the Atherton Tablelands in tropical Far North Queensland, Australia.
Customize this Report
Explore Intelligence Tailored to Your Business Goals.
Demand for Organic Products to Fuel Growth of Banana Flour Market
There has been significant increase in demand for organic products with rising clean eating habits among consumers. Availability of organically-produced banana flour has attracted a lot of consumers looking for chemical- and pesticide-free products. It has also helped the foodservice industry offer organic products made using organic banana flour.
Manufactures in the banana flour market are also working closely with suppliers and farmers to understand the quality of bananas used for making the flour. Demand for organic banana flour is expected to positively influence the expansion of the banana flour market size.
For instance, Miski Organics offers certified organic green banana flour that is a source of powerful antioxidants, which have a positive effect on human health and wellbeing.
Market Research Methodology - Perfected through Years of Diligence
A key factor for our unrivaled market research accuracy is our expert- and data-driven research methodologies. We combine an eclectic mix of experience, analytics, machine learning, and data science to develop research methodologies that result in a multi-dimensional, yet realistic analysis of a market.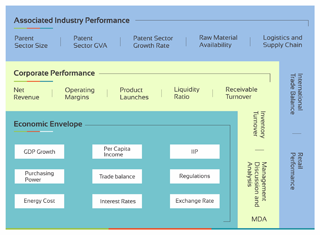 Use of Banana Flour in Infant Food Products Offering Potential Opportunities
Banana, having high nutritional benefits, is finding its way into infant food products. Milk alone cannot meet a baby's nutritional requirements beyond six months of age. It requires easily digestible supplements along with a mother's milk until it is ready to eat solid, adult food. Protein and energy malnutrition generally occurs during this crucial transitional phase when children are being transitioned from liquid to semi-solid or fully adult foods.
Banana flour can be used as a complementary food that helps the child's growth and development. Banana flour benefits help in building immunity in babies, along with development of a healthy brain. It is packed with protein, potassium, and other vital nutrients. It offers an instant source of energy and is easy to digest for babies. Increasing use of banana flour in infant food products is expected to create opportunities for increased sales and expansion of the global banana flour market.
For instance, BanaTone offers banana powder for babies, a natural banana flour made from traditional green bananas.
Explore Persistence Market Research's expertise in promulgation of the business !
Banana, Being Natural Source for Resistant Starch, to Attract Health-conscious Consumers
A whole green banana, including the peel, is considered as a rich source of resistant starch that is resistant to digestive enzymes in the stomach and small intestine. It is not absorbed in the stomach and small intestine like most other starches, and goes on till the large intestine, where it feeds good bacteria into the gut and does not have any side effects, acting as a healthy dietary fiber.
It enhances the growth of probiotics in the large intestine, which may have a positive indirect effect regarding colorectal cancer. Introducing green banana flour into the diet can be beneficial in the treatment of patients with intestinal inflammation. Green banana flour uses include functional food purposes in the prevention or reduction of cholesterol, constipation, diverticulitis, and colon cancer.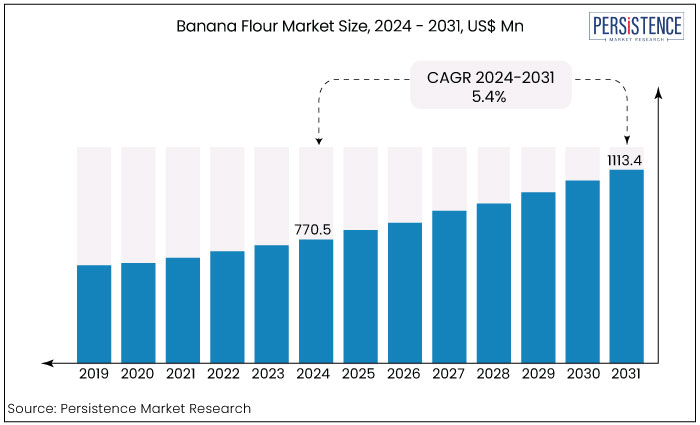 Regional Outlook of Banana Flour Market
The Middle East & Africa is witnessing higher consumption of banana flour, owing to higher utilization across households and regional markets in African countries. The African continent is one of the major producers of bananas, which is considered as a staple fruit in various countries such as Kenya, Angola, and others. Consumers in these countries having been utilizing banana flour from long as a substitute for wheat flour, in different food products such as bakery, confectionery, and others.
Other major regions are North America, Latin America, and South Asia, also exhibiting significant banana flour market value share. In North America, banana flour is increasingly being used, especially in bakery and confectionery products. South Asian countries such as India, Indonesia, Thailand, and others are one of the prime consuming countries of banana and banana-processed products, mainly due to higher availability. Additionally, Europe is expected to experience a substantial CAGR during the forecast period (2020-2030), in the global banana flour market, owing to the rising gluten-free population across the region.
COVID-19 Impact on Banana Flour Market
The COVID-19 pandemic has disturbed food consumption patterns and subsequently impacted the banana flour market. Rise of gluten-free food products has increased demand for banana flour. Nevertheless, supply chain and trade blockages have decreased production of banana flour due to the disease outbreak. Consumers are progressively adopting healthy eating habits, which is further flourishing demand for products such as banana flour.
Moreover, the pandemic has also changed consumer perception toward food consumption, and choosing healthy ingredients has become a top priority. As such, the COVID-19 pandemic impact on the banana flour market is expected to be low to moderate.
Analysts' Viewpoint
The global banana flour market is anticipated to witness substantial growth during the forecast period, with North America and Europe projected to offer potential growth opportunities. Food manufacturers are preferring banana flour due to its high content of resistant starch and gluten-free properties, which is further supporting the growth of the global banana flour market.
Leading market players such as Natural Evolution, International Agriculture Group, True Nutrition, and others are focusing on geographical expansion and targeting quality enhancement to strengthen their positions in the global banana flour market. Increasing production capacity and improvement in distribution networks are other strategies being adopted by key players to gain a competitive edge in the global banana flour market space.
Our Clients