Wool Industry: Is the Future Bright
The wool industry has been undergoing significant transformation over the years, as technological advancements in knitting and improvement in textures and fabric quality continue to speak of a new wave of aesthetic appreciation. The real growth opportunities, however, lie with millennial consumers whose purchasing behavior such as preference for quality, authenticity, and transparency are characteristics inherent to wool.
However, it is pertinent to note that the production of wool has decreased over the years and the emergence of cheaper alternatives has affected its market, which warrant a detailed understanding.
Persistence Market Research (PMR), in its new study, brings to fore actionable insights on 'Global Wool Market' and its impact on fashion and other related industries. With growing number of consumers willing to try new products, and in some cases, pay even more for them, the study also analyzes how wool manufacturers will leverage existing properties of their products and capitalize on the new demand.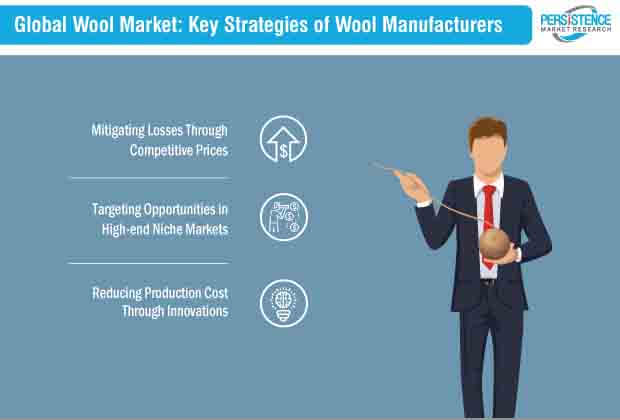 Wool Market: A Deep Dive into Historical and Evolutionary Landscape
Wool has come a long way since its first use to clothe primitive human tribes. Advances in wool manufacturing industry had been weighing on the same scale with rapid development of spinning and weaving machine tools and increasing sales of clothing across the globe. However, drastic variations in seasonal conditions and drought-enforced herd reduction in top wool producing countries such as Australia and New Zealand have led to drastic fall in wool production activities since 2014. The wool market witnessed a passive growth in the past five years, as its valuation dropped from ~US$ 49 billion in 2014 to just ~US$ 33 billion in 2018.
The year 2019 remains important for the wool manufacturers, as the market has been recovered from a low period and improved to a level where manufacturers can leverage new opportunities and increase their sales through innovations in products. Although the market is witnessing a steady demand and consumption of wool, the production remains constant and is unlikely to increase in the coming years; as spike in food production and competition for arable land due to swelling global population has led to breeding of sheep for meat, instead of wool.
Merino Wool Gathers Great Interest from Consumers
Due to fluctuations in wool production and increase in the preference for cheap, petro-chemical heater based fibers, the global demand for wool is currently based on market where consumers value wool properties such as comfort, elasticity, durability, and breathability. As merino wool – a natural fiber obtained from merino sheep – is emerging as a key fabric for sportswear and even shoes, higher innovation and investments are directed towards this specific source of wool.
The emerging trends of 'athleisure' in fashion industry and increase in number of people embracing the trends of sporting athletic wear outside of gym has led to realignment of the strategy. Given the advancements in spinning and knitting technologies, merino wool are also available in fine counts, delivering a soft-touch to the consumers and contributing to the overall growth of the market.
As sustainability has forayed into woolen and textile industry on the account of large number of fast fashion garments ending up in landmines due to short lifespans, merino wool is expected to be increasingly appreciated by discerning consumers. In addition, despite the entry of other natural fibers such as cotton and silk into performance and sustainability sectors, the anti-odor benefits of merino wool will continue to give it a heads up in a number of applications.
Strategic Initiatives Taken by the Stakeholders
The global wool production and consumption have been fallen into hard times as farmers shift from wool to meat production and cotton farming that provided greater returns. As the consumption descends across different geographies and the demand is expected to remain unchanged, manufacturers are focusing on mitigating their losses through competitive pricing. Further, increasing import of wool in countries such as China along with demand governed by high quality has allowed the price to continue to rise.
Sensing the instability of production as well as demand, manufacturers are targeted towards opportunities in high-end niche wool markets such as luxury clothing and athleisure, rather than interior wool textile. Increasing adoption of synthetic and relatively cheap fibers for interior textiles have also widen the gap between apparel wool and interior textile wool.
R&D initiatives and innovations in wool production to reduce the current price also remain a key focus area of the manufacturers. Leading companies such as Australian Wool Innovation Limited (AWI), owned by over 24,000 Australian wool levy payers are focused on high levels of innovations and investments in R&D, which is expected to influence other stakeholders.
The Competitive Landscape
The global wool market shows a very high level of fragmentation with a large number of country-level players catering to demand from local consumers. Despite a strong history, the wool market players are being challenged with decrease in production of wool and rapid influx of cheaper and highly adaptable synthetics and other natural fabrics into the end-use industries. As rapid shearing of wool remains an influencing factor to increase the wool production, to stay competitive, market players are also directing their focus towards robotic shearing and other technologies.
An emerging trend away from synthetic, man-made fibers, and towards natural fibers including wool is also likely to work to the advantage of wool producers. Several companies are organizing campaigns to raise awareness regarding the benefits of wool and promote their products as well as advertise wool as a performance fibers. In addition, innovation has been forthcoming for manufacturing process of merino wool to reaffirm it as a better alternative other existing fibers.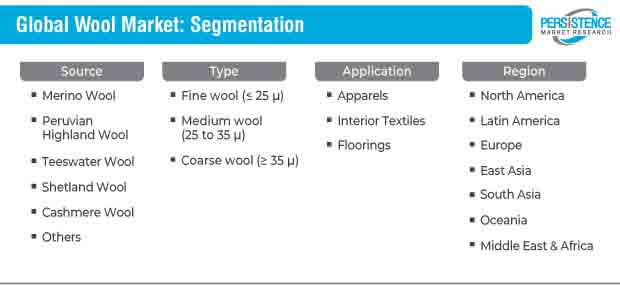 The Analyst Viewpoint
Report authors predicted that the wool market will experience a moderate growth, expanding at a CAGR of ~3.5% during the period, 2019-2029. Although the gradual increase in demand from existing and new markets such as sportswear continues to favor the current prices of wool, manufacturers will need to innovate the production process to reducing the overall cost and expand the customer base. Considering the demand for fine wool for apparels and footwear, analysts feel that, wool producers will need to strengthen their partnership with companies operating in fashion industry to stay ahead of the pack.
Market Ovrview
The report covers detailed information about the market trends, volume (tons) and value (US$ Mn) forecasts, market dynamics, competition, and recent developments in the global wool market for the study period 2019 to 2029.
The global wool market is estimated to be valued at ~35 Bn by the end of 2019, and is expected to reach ~48 Bn by the end of 2029, expanding at a CAGR of 3.6% during the forecast period.
Wool Market: Introduction
Wool is a textile fiber obtained from certain mammals. Sheep and goats are the main sources of wool, however, other mammals such as camels, rabbits, alpacas, llamas, and musk ox are also good sources of wool. Wool falls under the category of natural fiber, and is prominently used in the textile industry. Wool fibers are used in the manufacturing of clothing, blankets, carpets, and other interior textiles. Angora wool is obtained from certain types of rabbits & cashmere, mohair wool is sourced from goats, and qiviut wool is obtained from a musk ox. Wool fabrics can be cleaned easily, can absorb moisture, and insulate in cold climate.
Wool Market to witness High Growth over the Forecast Period
In the recent times, the retail sales of clothing have witnessed substantial growth owing to the changing lifestyle and increase in consumer spending in emerging economies. The aggressive marketing strategies adopted by the fashion industry has increased the popularity of woolen athleisure among the youth population. Moreover, the increasing demand for natural fibers for the manufacturing of casual and sports apparel is positively influencing the demand for wool.
Wool has been witnessed to be an important raw material in the manufacturing of various types of wool yarn, which is widely consumed in the manufacturing of apparels and other fabrics. World trade in fabric and finished products has expanded rapidly as retailers source goods from manufacturers across the globe. Changing consumer sentiments toward the adoption of natural fibers has positively influenced the global wool trade.
Increasing consumer preference toward light-weight apparel fabrics has boosted the demand for fine-quality merino wool for apparel manufacturing. Manufacturers can focus on maintaining the steady availability of wool, which can further leverage uniformity in the pricing of the product. The demand for wool is expected to increase over the forecast period owing to growth in the penetration of organized retail, favorable demographics, and rising income levels.
The changing consumer sentiments toward luxury and sustainability of clothing is further propelling the demand for wool in apparel manufacturing applications. Moreover, the inclination of customers toward natural fiber is boosting the demand for wool in several applications.
East Asia to Dominate the Global Wool Market over the Forecast Period
The East Asia and South Asia markets are estimated to hold a significant share in terms of volume growth in the wool market during the forecast period.
Improved economic growth in key countries such as India, China, and others has had a positive impact on the global wool market. Rising urbanization, growing middle-class population, and increasing sustainability in the Asia Pacific region are also among factors boosting the wool market. With rising economic affluence and increasing spending capital, people are moving toward the use of products that were earlier considered to be too expensive. This has, in turn, resulted in growth in the demand for consumer products such as apparels & accessories. The steady growth of end-user industries in the Asia Pacific region is expected to drive the demand for wool.
The East Asia market is among the key markets that account for a major share in the global wool market. The market in this region is expected to register a relatively high CAGR during the forecast period and represent great opportunities in the global wool market.
Limitations Posed by Animal Welfare Organizations & Government Regulations
Wool shearers are known to ill-treat sheep herds for the mass production of wool to gain maximum profits. Practices such as animal slaughtering by some of the herders to fulfil the demand for wool leads to the negative depiction of the entire community. Fast and careless shearing of wool leads to frequent injuries among sheep, which are not treated with the necessary care. Owing to such shearing activities and sheep breading culture, protection and animal welfare acts are being imposed by various government organizations, which is further limiting the production of wool.
Key Questions Answered in the Report
How has the wool market evolved in the past four years?
What shape is the wool market expected to take in terms of volume and value during the study period?
What are some of the prevailing market dynamics in the wool market?
What are some of the underlying macroeconomic and industry factors impacting the growth of the wool market?
What are the important key challenges, opportunities, and improvement factors for market players?
What are the important market positioning and key strategies adopted by manufacturers as per the market taxonomy?
What is wool consumption scenario in terms of value and volume in the global wool market?
Wool Market: Segmentation
The wool market has been classified into four broader categories – source, type, application, and region. The report covers an elaborate analysis on various dynamics and evolving trends associated with each segment, and how they influence the development of wool market during the forecast period.
Attribute
Details
Source

Merino Wool
Peruvian Highland Wool
Teeswater Wool
Shetland Wool
Cashmere Wool
others

Type

Fine wool (≤ 25 µ)
Medium wool (25 to 35 μ)
Coarse wool (≥ 35 µ)

Application

Apparels
Interior Textiles

Region

North America
Latin America
Europe
East Asia
South Asia
Oceania
Middle East and Africa (MEA)