Introduction
Majority of the industrial products are manufactured using welding processes. Hence, to carry out welding process the demand for welding equipment is rising globally. However, the use of new materials in various industries has led to the requirement of innovative welding technology. Therefore, manufacturers are focusing on developing new welding machines and equipment to fulfill the growing demand and meet the need for product development on time.
The concept of robotic laser welding is also gaining popularity in the global welding equipment market. With help of robotic welding, manufacturers can weld parts faster, better, consistently and safely. The demand for robotic laser welding is high in the automotive industry owing to the constant need for the perfect joining of two parts.
Welding equipment manufacturers are also introducing new technologies to improve quality, safety and productivity across industries. Automation in welding equipment is being achieved by providing pre-configured weld cells.
These cells allow users to adapt the welding system for wide range of operations. Manufacturers of welding equipment are also focusing on developing technologies that can help in training welding operators and save cost on training for companies. These systems deliver results by tracking motion using sensors.
According to the report by Persistence Market Research, the global market for welding equipment is likely to see a substantial growth between 2017 and 2024. By the end of the forecast period, the global welding equipment market is projected to bring in US$ 19,165.2 Million in terms of value.
Arc Welding Technology to Gain Maximum Traction in the Global Market for Welding Equipment
Arc welding is the most preferred technology used in manufacturing pipelines, offshore structures, and other process equipment. Arc welding technology is widely applied for chassis parts owing to the ease of continues joining and providing high strength and rigidity of joints. Advanced arc welding technologies are also being introduced to improve productivity and efficiency. The increasing trend of weight reduction of car bodies is also driving the demand for advanced arc welding technologies.
However, arc welding is still finding a large application in connecting heavy plates to build a large structure of steel. Meanwhile, compared to the traditional arc welding technology, advanced arc welding technology is boosting productivity and efficiency. Gas metal arc welding, submerged arc welding, flux cored arc welding, and gas tungsten arc welding are some of the arc welding processes being used on a large scale in different industries.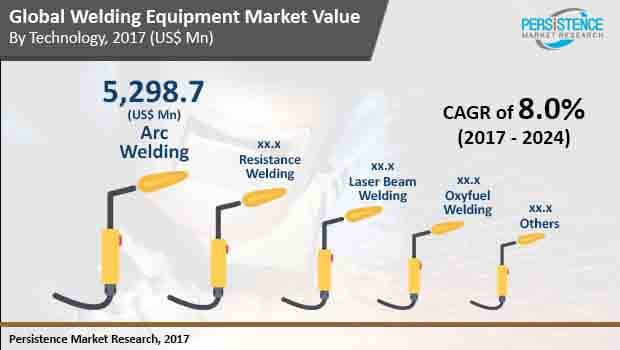 Automatic Welding Equipment to be Highly Preferred Across Industries
Automatic welding machines are being adopted on a large scale across industries to accelerate the production process and produce a quality product. Manufacturing units in various industries are installing automated welding assembly lines to gain maximum speed in the process of welding and result in the better product.
To implement automation on a large scale, manufacturers are offering robotic welding cells that are pre-configured. This is resulting in the reduction in over-welding, improved quality, and faster overall production.
Various industries including automotive, and building & construction are becoming highly automated. Hence, companies are adopting automatic welding machines. Manufacturers of welding equipment are also conducting extensive research to develop welding technology and equipment that can help in welding new types of materials being used by various industries.
- Companies Covered in This Report -
DAIHEN Corporation
The Lincoln Electric Company
Colfax Corporation
Fronius International GmbH
Arcon Welding Equipment
Obara Corporation
Panasonic Corporation
voestalpine AG
Rofin-Sinar Technologies
Sonics and Materials, Inc.
Amada Miyachi, Inc.
Nelson Stud Welding (Doncasters Group, Ltd.)
Illinois Tool Works, Inc.
Others