Welding Torch Market
Global Market Study on Welding Torch - Moving Past the Skilled Labor, the Future Is Held by 'Robots'
Welding Torch Market Segmented By MIG Welding Torch, MAG Welding Torch, TIG Welding Torch, Plasma Torch with Waterd and Air Cooling
Introduction
The latest Persistence Market Research (PMR) report mined relevant insights that cover significant trends and drivers galvanizing the welding torch market and measured its growth prospects during 2019-2029. As per the research, the spurt in the growth of the welding torch market will come from general fabrication applications. High repair, maintenance, and overhaul activities, ongoing across North America, Europe, and Asia Pacific at top speed hold strong market potential for welding torch manufacturers.
Growth of the welding torch market will also remain supplemented by the growing focus on the development of contemporary vehicles. Increasing vehicle production activities in India, Brazil, China, and South Korea coupled with the demand for light commercial vehicles will unlock market opportunities for welding torch manufacturers in developing countries.
Currently, the welding torch market stands at a value of ~US$ 31 billion and is growing at a compound annual growth rate of ~6% during the forecast period 2019-2029. However, fire, toxic atmospheres, and electric shocks are the health hazards that often restrict workers to opt for the profession. As a result, the lack of skilled workers is likely to take a toll on the market growth.
However, robotic technology will remain integral to offset this challenge. End-use industries will look at the highly affordable ergonomic welding torch, on account of its increased productivity, improved quality, and reduced overhead charges, which is likely to uptake its adoption rate in the coming decade.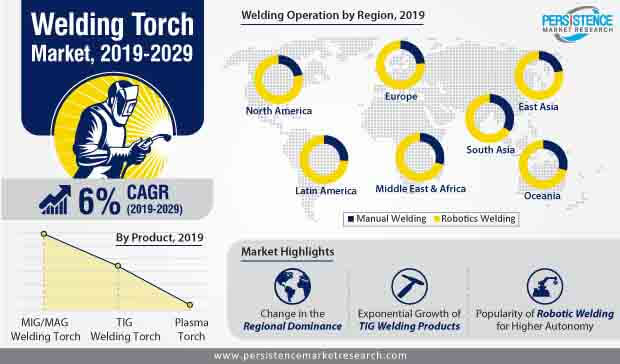 Find Out More about the Report Coverage
Companies
Company Profiles
Tokin Corporation
SKS Welding systems
The Lincoln Electric Company
Illinois Tool Works Inc.
ABICOR BINZEL USA, Inc.
EWM AG
Parweld Ltd
Panasonic Welding
Fronius International GmbH
Miller Electric Mfg. LLC
TBi Industries GmbH
Uniarc Limited
DINSE Inc
Sumig USA Corporation
Tregaskiss
Bernard
Tweco (ESAB)
Environmental Sustainability Implications to Nudge the Market Growth
A large number of small and mid-sized enterprises suffer from poor working conditions, which flags the concerns regarding the safety of welders. Welders working in construction, shipbuilding, mining, petrochemical heater, and metallurgy industries suffer from pulmonary infection, respiratory illness, headache, and drowsiness. Besides the critical health challenges posed to welders, emission of welding fumes and excess noise equally damages the ideal environment.
Tightly clasped claws of environmental regulations, imposed on the manufacturing processes of end-use industries have incited a market shift towards the convergence of green techniques. As a result, manufacturers look at the green and clean processes throughout the lifecycle of welded products and progress towards the integration of environmentally-benign advanced technologies for the development of welding torch.
An innovative approach taken by manufacturers with the development of extractor welding torch aligns with the environmental sustainability implications. The new energy-efficient technologies are being integrated for reducing the emission of fumes in the environment, which are likely to aid manufacturers hold on to their position and advance towards a higher market share.
Customize this Report
Explore Intelligence Tailored to Your Business Goals.
Exponential Improvements in the Sales of TIG Welding Products
The modern-day manufacturers intently focus on aligning their business processes with workforce safety norms, which has widened the scope of innovation in the welding torch market. Introduction of software-driven solutions that are developed for gathering weld data and monitoring the entire welding process have been encouraging the welding torch market to arrive at a higher value. Specialized MIG welding that offers visual guidance regarding proper gun angle, travel speed, and boost the productivity of welding operations are the newly found innovation in the welding torch market.
Currently, MIG/MAG welding products account for ~45 percent of the volume sales in the welding torch market, which is ~15% more than that of TIG welding products. As MIG welding leverages electrode as a filler material, they tend to perform better for welding thicker objects. However, TIG welding products can join materials without using any filler for creating neater welds and are deemed suitable for thin objects, which has been leading to an exponential improvement in their sales.
Market Research Methodology - Perfected through Years of Diligence
A key factor for our unrivaled market research accuracy is our expert- and data-driven research methodologies. We combine an eclectic mix of experience, analytics, machine learning, and data science to develop research methodologies that result in a multi-dimensional, yet realistic analysis of a market.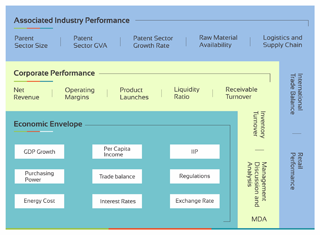 Welding Torch Market Alert: East Asia to Outperform Europe
An exciting time for the welding torch manufacturers concentrated in East Asia
A majority of the global welding torch market share remained under the acquisition of Europe, with the region's monopoly in the automotive industry. However, 2019 will be a game-changer for the welding torch market in terms of regional dominance.
Though the proactivity of Europe in taking an initiative towards the conceptualization and working model of green and futuristic cars - electric cars and autonomous vehicles - stringent environmental norms have been instigating a shift of East Asian carmakers towards rethinking their production processes and products. These norms are integral to causing a shift from traditional welding torches to the automated and green welding torches across the region.
East Asia is anticipated to witness high volume sales during the forecast period and present an incremental opportunity worth ~US$ 900 million between 2019 and 2029. The impressive performance of China, Japan, and South Korea in the automobile sector will reflect on the sales performance of welding torch market, as automotive giants not only focus on the production of vehicles, but also on the differentiation of their products.
As these countries further embrace digitalization to harvest the benefits of automation, the advent of light-manual, ergonomic, and flexible welding torches will witness a high adoption rate to complement the production of futuristic vehicles.
In addition, high population density in the region further leads to the rise in the constructional activities, which acts as a critical lever to make purchasing of a welding torch attractive, especially for general fabrication end users. With this, it is highly likely that East Asia will hold on to its leading stance during the forecast period.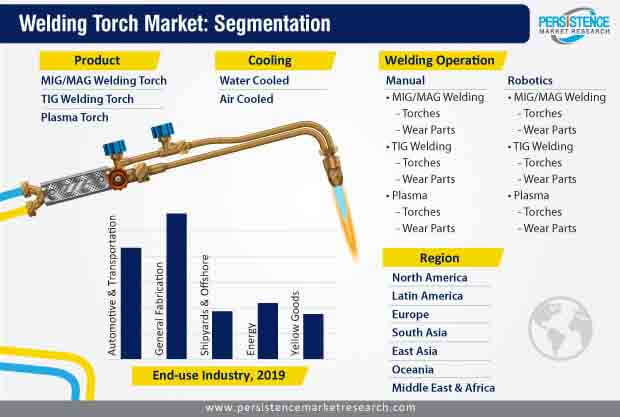 Explore Persistence Market Research's expertise in promulgation of the business !
What Should the Welding Torch Manufacturers Look at?
Since welding torch solutions are subjected to the different welding tasks, manufacturers can magnify their focus on the growth of the end-use industry and target their production, and post to that, their supply chain and distribution channels.
Manufacturers can analyze the end-use applications and then develop a live product. For example, MIG welding outperforms TIG welding for thicker objects; however, TIG welding products can be used for thinner objects, as these guns do not use any filler materials and directly weld the objects.
Inspiration regarding the distribution channel can be drawn from the market leader - Illinois Tool Works Inc. Over the past few years, the company has made a huge capital investment into the development of an online platform, thereby, adding a new sales dimension to the company.
Another example of a good strategy to move to a higher value in the welding torch market is demonstrated by The Lincoln Electric Company. The company has been focusing on the integration of advanced technology to its torches, which helps it practice a differentiated pricing strategy, especially in the new welding torch markets.
While squeezing of profit margins in developing regions can help at better penetration into new markets, an increase in the investment towards the development of robotic welding to achieve higher autonomy can strike the right balance between growth and profitability, as end-use industries seek value for the price they pay. All-in-all, manufacturers of welding torch should brace themselves for a decade of steady market growth, product-level innovation, and leading stance of East Asia.
About report
Welding torches are used in welding systems to direct the electrode into the arc, conduct welding power to the electrode, and provide shielding. The use of welding torch depends on the usage of welding process, welding current, shielding medium, and process variation.
Welding torches can be categorized according to the way, in which they are cooled. By cooling type, the global welding torch market is segmented into water cooled and air-cooled. For a consumable electrode welding process, gas metal arc, flux-cored arc welding, and shielding gas is used. Repair industries and fabrication industries are more benefitted by water cooled systems, which can handle the heat of the application. Providing welding current to the electrode is a major function of the torch as the electrode moves through the torch.
On the basis on welding operation, the global welding torch market is segmented into manual welding and robotic welding. Manual welding and robotic welding are further segmented into MIG/MAG welding, TIG welding, and plasma welding, which further are segmented into torches and wear parts.
Manual welding is a process in which the welding is controlled manually with the equipment at the welding conditions whereas in robotic welding, automated programmable tools are used, which automate the welding process completely by both handling the parts used for welding and performing the weld.
The robotic segment is expected to hold for more than half of the market size, owing to its efficiency and increased output with less scrap. The global welding torch market is projected to produce an incremental $ opportunity ~US$ 2.5 Bn during the forecast, registering a CAGR of ~6%.
Progressive View of Industries Projected to Present Significant Opportunities to the Market
The global welding torch market is projected to observe significant growth in the upcoming years, owing to the significant demand from several end-use industries such as automotive, general fabrication, transportation, energy, yellow goods, and shipyards and offshore, and others.
Shifting preference towards semi-automated and automated welding torches by the end use have been subsidizing the growth of the welding torch market in several uses, such as thin sheet welding and heavy equipment welding such as bulldozers and front-end loaders.
Additionally, the crane construction covers a wide range of machinery for loading and load lifting, which have hollow structural sections that are demanding applications for welding.
MIG/MAG welding is the most preferred welding type due to its high speed, which provides an opportunity for rational welding of materials that are difficult to weld. TIG welding provides concentrated heating of the workplace, which results in a slow process leading to no slag or spatters production.
Key Developments: Global Welding Torch Market
Mergers, expansions, acquisitions, and the introduction of innovative products are the key strategies market participants are emphasizing to fulfil the high demand from end-use markets. Such strategies across the competitive landscape practice a notable trend in the global welding torch market.
In FY 2019, The Lincoln Electric Company acquired Baker Industries, Inc. and related assets. Baker Industries is a prominent provider of custom parts, tooling, and fixtures primarily serving aerospace and automotive markets. Further, Lincoln Electric Company is the leader in cutting and arc welding solutions, celebrated its new welding technology & training center grand opening in Cleveland.
In 2017, EWM AG opened a branch in Bergkirchen near Munich and Stettin in Poland and in 2010, the company acquired BV SCHWEISSTECHNIK GmbH, a prominent company that has automated welding machines and robotics under one roof.
Global Welding Torch Market Segmentation
The global welding torch market can be segmented on the basis of product type, welding operation, cooling type, end use, and region. On the basis of product type, the global welding torch market is segmented into three segments – MIG/MAG welding, TIG welding, and plasma welding.
On the basis of welding operation, the market is segmented into two segments such as manual welding and robotic welding. Based on the cooling type, it is segmented as water cooled and air-cooled. On the basis of end use, the market is segmented as automotive and transportation, general fabrication, shipyards and offshore, energy and yellow goods. The general fabrication segment is expected to grow with a CAGR of ~6% during the forecast period (2019–2029).
South Asia Welding Torch Market Anticipated to Be a High Value – High Growth Market
The global welding torch market is estimated to register a significant growth rate in the near future. South Asia is estimated to be a prominent region in terms of both volume and value share in the global welding torch market.
India is a major consumer in the welding torch market due to the presence of several small-sized manufacturing players, especially, automotive and transportation, and general fabrication industries.
Cumulatively, developed markets, such as Europe and North America, are anticipated to hold half of the market value share in the global welding torch market during the forecast period.
Key Players in the Global Welding Torch Market
The global welding torch market report focuses on some of the prominent industry players such as
Illinois Tool Works Inc.
ESAB, Panasonic Welding
TBi Industries GmbH
SKS Welding Systems
Tokin Corporation
EWM AG, Parweld Ltd
Lincoln Electric Company
DINSE Inc.
SUMIG USA Corporation
Uniarc Ltd, Oximig Do Sul
Tregaskiss, Bernard
Abicor Binzel USA, Inc.
Fronius International GmbH
Miller Electric Mfg., LLC
Tweco, among others.
Welding Torch Market - Segmentation
In order to present a macroscopic as well as a microscopic view of the welding torch market, analysts and researchers of the
Report have segmented the welding torch market on the basis of product, cooling, welding operation, end-use industry, and region. This detailed global study also assesses the incremental opportunity available in the welding torch market during the forecast period. The key segments of the welding torch market are as mentioned below:
Product

MIG/MAG Welding Torch
TIG Welding Torch
Plasma Torch

Cooling
Welding Operation

Manual

MIG/MAG Welding
TIG Welding
Plasma

Robotics

MIG/MAG Welding
TIG Welding
Plasma

End-use Industry

Automotive and Transportation
General Fabrication
Shipyards and Offshore
Energy
Yellow Goods (Earth Moving Equipment, Fork Lifts, Agriculture Equipment)

Region

Latin America
Europe
South Asia
East Asia
Oceania
Middle East and Africa

Welding Torch Market - Key Questions Answered
This exclusive research report assesses and answers the key questions encircling the growth of the welding torch market during the forecast period 2019-2029. Some of the key questions answered in this research report are:
What are the recent developments and market shifts observed in the welding torch market during the forecast period?
What are the key winning imperatives for leading and prominent players functioning in the welding torch market?
What are the significant trends stimulating the growth of the welding torch market?
Which end-use industry will exert a strong influence on the welding torch market?
Our Clients