Spices and Herbs Market Outlook (2022-2032)
The global spices and herbs market is currently valued at US$ 79.1 Bn, and is anticipated to progress at a value CAGR of 4.8% to register a valuation of US$ 126 Bn by 2032.
| Attribute | Key Insights |
| --- | --- |
| Spices and Herbs Market Size (2022E) | US$ 79.1 Bn |
| Projected Sales of Spices and Herbs (2032F) | US$ 126 Bn |
| Value CAGR (2022-2032) | 4.8% |
| Value Share of Top 5 Countries (2021A) | 72.6% |
The South Asia spices and herbs market currently dominates the global landscape with a value share of over 35%, and is anticipated to top US$ 45 Bn by 2032.
Spices and Herbs Consumption Analysis (2017-2021) Vs Market Outlook (2022-2032)
The global market for spice and herbs expanded at a CAGR of 4.8% during 2017-2021. Increasing health consciousness among consumers along with rising interest in exotic flavours is driving demand for organic spice and herbs. The millennial population is fascinated by different types of cuisines and flavours that vary according to the culture specific to their regions.
Salts and herbs offer consumers numerous health benefits such as lowering blood sugar levels, improving brain functioning, boosting immunity, having anti-inflammatory properties, and many more. Additionally, spices and herbs are also a rich source of essential vitamins and minerals, which makes them a crucial food ingredient for creating various dishes that taste good and improve health as well. These food ingredients also impart aroma, flavor, and colour to the foods.
The global spices and herbs market is expected to expand at a value CAGR of 4.8% through 2032.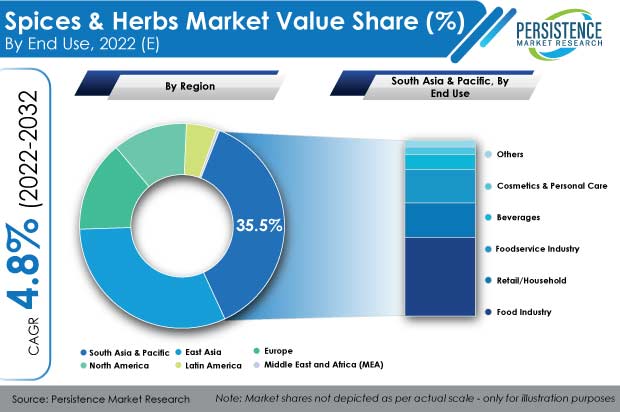 Why is There Increasing Utilization of Spices and Herbs in the Foodservice Industry?
"Numerous Health Benefits of Spices and Seasonings Driving Demand"
The foodservice industry is anticipated to expand with a value CAGR 5.3% due to factors such as increased preference for novel food products and rising disposable income.
The foodservice business has seen enormous expansion over the last decade. Consumers' preferences are influenced by a number of variables, including their busy lifestyles and the growing working population. Changes in customer preferences, purchasing patterns, and behaviors have also contributed to a greater desire for restaurant-prepared cuisines.
This has provided new opportunities for food and ingredient manufacturers. Spices and herbs are also an example of adaptable food ingredients, as they can be used in a variety of ways. Various spices and herbs are used in seasonings, flavorings, salad dressings, beverage formulas, and many more across the foodservice industry.
Furthermore, the numerous health benefits linked with spices and herbs have made them a necessary ingredient for foodservice operators because of the appeal to health-conscious customers. There are some spices such as fenugreek that are used to enhance the texture of food as well.
As a result, the market for spice and herb extracts is growing steadily, which will also have a positive impact on the food flavor market.
Many top manufacturers of organic spices and herbs are focusing on product development in order to provide customers with added functionalities. These product development and expansion capabilities helps companies come up with new salts and herbs to cater to the growing needs of consumers.
Will Growing Quest for Dietary Supplements Drive Consumption of Spices and Herbs?
"Rising Demand for Spice and Herb Extracts for Use in Supplements"
Spices and herbs are widely utilized in the food & beverage business as a flavoring, coloring, and aromatic ingredients. These culinary ingredients are becoming increasingly popular as a result of their numerous applications.
A plethora of continuing research focuses on the health benefits of vitamins and minerals, as well as various types of nutrition, and have been published in major scientific journals. Due to changes in lifestyle and eating habits, consumers around the world are failing to meet the recommended levels of nutrients and vitamins, leading in an increase in the use of dietary supplements.
Due to their health benefits and nutritional properties, spices and herbs are employed in the nutraceutical industry for a number of applications. Basil has anti-diarrheal properties. Cardamom is a spice that promotes digestion and absorption as well as reducing congestion. Garlic is an antibiotic that is antibacterial, antifungal, and anti-parasitic.
As a result, nutraceutical businesses are increasingly including spices and herbs in dietary supplements to provide natural health benefits to consumers. Spice and herb extract producers are anticipated to benefit from this development.
General Nutrition Centers, Inc. offers GNC HERBAL PLUS GINGER ROOT, a dietary supplement with ginger ingredients to support digestive health.
Which End-use Industry is Rising Rapidly as a Spice & Herb Consumer?
"Rising Application of Spices and Herbs in Cosmetics & Personal Care Products"
By 2032, global value of the cosmetics and personal care market is estimated to cross US$ 5.5 Bn. Herbs and spices have been used to maintain and enhance human beauty for thousands of years. Indian and Chinese cuisines have long been associated with the use of spices and herbs for a variety of purposes. Women in these areas have used turmeric and sandal wood for skincare, as well as various spices for scents, among others.
Consumer spending on cosmetics and personal care is on the rise, as buyers strive for a presentable and fashionable appearance. Natural ingredients are being used by beauty product producers, cosmetic ODMs, and contract manufacturers to provide benefits to consumers without any negative effects. Herbs and spices, as natural substances, are in high demand.
Calendula is used for repairing dry skin and reducing acne, nutmeg is used for its antiseptic properties, ginger aids in the appearance of a refreshed and radiant appearance, basil oil is used to reduce roughness and moisturize the skin, and cinnamon oil is used in creams for its blemish-eliminating property.
Cosmetic chemists are being compelled by the 'Clean Beauty' and 'Green Beauty' trends to incorporate more natural components into new formulations. As a result, manufacturers of spices and herbs will have greater options to sell their products on a global scale.
What's Stunting Growth of Spice and Herb Suppliers to a Certain Extent?
"Adulteration of Spices and Seasonings Major Headache for Market Players"
Despite the fact that botanicals are becoming increasingly popular, increased adulteration and lack of tight regulations are posing a danger to the global spices and herbs sector. With rising demand for spices and herbs in the food and beverage business, adulteration of these commodities is becoming more common.
Furthermore, high manufacturing costs of spices and herbs, especially organic spices and herbs would function as a stumbling block to market growth. Majority of spices and herbs are grown in developing countries such as India and China. This production necessitates a significant amount of processing power and is a labour-intensive activity, making it costly.
Wide price swings are frequently caused by lack of processing processes, dearth of testing facilities at procurement and trade centres, and unscrupulous market management, all affecting market expansion.
Country-wise insights
Who is Leading the Spices and Herbs Market in the Asian Region?
The market for spices and herbs is witnessing significant growth in India at a value CAGR 4.8%. Demand growth of spices and herbs in the South Asian region is rising at a significant rate, which provides a favourable market growth opportunity for spice and herb producers in India. Also, there is high demand for oregano masala, origanum spices, and oregano powder in India.
Which Country is Prominent in the East Asia Market?
China holds a major share in the East Asia spices and herbs market. This is due to the growing health and nutritional benefits of spices and herbs being seen by consumers. Market value CAGR of China is slated to be around 4% through 2032.
Category-wise Insights
Which Type of Spices and Herbs is Most Popular in the World?
Based on type, garlic spice is mostly demanded and consumed in the spices and herbs category. Market value share of garlic is 31.5%. Demand for garlic in the food industry is high owing to its popularity among consumers and due to the perceived health benefits.
Which Distribution Channel is Offering New Opportunity for Suppliers of Spices and Herbs?
Market value of spices and herbs in the business-to-business distribution channel category is expected to reach US$ 95.6 Bn by the end of the forecast period. Business to business sales of spices and herbs is leading market progress across geographies.
Competitive Landscape
Major manufacturers of spices and herbs are their existing capacity of production. Leading market players such as McCormick & Company, Inc. and DF World of Spices GmbH are focused on partnerships to launch new products. Several key players are also investing in research & development to innovate and come up with new functionalities of spices and herbs.
In 2021, McCormik partnered with Tabitha for the launch an exclusive new seasoning, which is co-developed and is a limited-edition blend. This seasoning includes garlic along with traditional Caribbean herbs and spices.
In 2021, Olam Food Ingredients announced the acquisition of Olde Thompson, a leading private label manufacturer of spices and seasonings in U.S.
In 2019, Koninklijke Euroma BV set up a new Prima Pura steam treatment plant in the city of Zwolle, the Netherlands. This plant was set up for production tests for internal validation and decontamination of herbs and spices.
Spices and Herbs Industry Report Scope
Attribute
Details

Forecast period

2022-2032

Historical data available for

2017-2021

Market analysis

US$ million for value

Key regions covered

North America
Latin America
Europe
East Asia
South Asia
Oceania
Middle East & Africa

Key countries covered

U.S.
Canada
Germany
U.K.
France
Italy
Spain
Russia
China
Japan
South Korea
India
Thailand
Malaysia
Indonesia
Australia
New Zealand
GCC Countries
Turkey
Northern Africa
South Africa

Key market segments covered

Type
Nature
Form
End Use
Distribution Channel
Region

Key companies profiled

McCormick & Company, Inc.
Worlée NaturProdukte GmbH
Prymat sp. z o. o.
Sleaford Quality Foods Ltd.
Olam International
Kräuter Mix GmbH
RAMÓN SABATER S.A.U.
Royal Spices
Elite Spice
El Clarín Spices S.L
DF World of Spices GmbH
Everest Spices
Koninklijke Euroma BV
The British Pepper & Spice Company Limited
Mahashian Di Hatti Pvt. Ltd.
Paulig Group
Cinnatopia
SOLINA GROUP
TOUTON S.A.
Verstegen Spices & Sauces B.V.

Report coverage

Market Forecast
Company Share Analysis
Competition Intelligence
DROT Analysis
Market Dynamics and Challenges
Strategic Growth Initiatives

Customization & pricing

Available upon request
Spices and Herbs Industry Survey by Category
Spices and Herbs Market by Product:
Spices

Cardamom
Cinnamon
Clove
Nutmeg
Paprika
Pepper
Turmeric
Cumin Seed
Garlic
Mustard

Herbs

Oregano
Parsley
Mint
Basil
Rosemary
Spices and Herbs Market by Nature:
Organic Spices and Herbs
Conventional Spices and Herbs
Spices and Herbs Market by Form:
Whole
Powder/ Granule
Oil
Spices and Herbs Market by End Use:
Food Industry

Soups, Sauces and Dressings
Processed Food
Bakery & Confectionery
Meat & Seafood
Dairy & Frozen Products
Others

Beverage Industry

Alcoholic Beverages
Non-alcoholic Beverages

Foodservice Industry
Personal Care & Cosmetics
Household/Retail
Others
Spices and Herbs Market by Distribution Channel:
Business to Business Sales of Spices and Herbs
Business to Consumer Sales of Spices and Herbs

Hypermarkets/Supermarkets
Convenience Stores
Specialty Stores
Online Retail
Spices and Herbs Market by Region:
North America Spices and Herbs Market
Latin America Spices and Herbs Market
Europe Spices and Herbs Market
East Asia Spices and Herbs Market
South Asia Spices and Herbs Market
Oceania Spices and Herbs Market
Middle East & Africa Spices and Herbs Market